This site contains affiliate links. As an Amazon Associate, I earn a commission from qualifying purchases at no extra cost to you. Full Disclosure Here.
With the CDC and the Coronavirus task force recommending that Americans wear masks when leaving their homes, a lot of people are facing a dilemma because there are so few disposables available.
In this article, we are going to talk about what options are out there. Some of you reading this are only allowed to wear a very basic N-95 style mask or cloth mask due to workplace rules. Others, like myself, can wear whatever, including military-style gas masks that look a little hardcore and that are not allowed in many workplaces.
Personally, I think we are at the point where people need to stop caring about how scary or weird something looks and wear what we need to not get sick. It is pretty disgusting to me that some employers such as grocery stores are still not officially allowing their employees to wear masks because it might scare a customer. My sister is in Washington state and her employer finally allowed it but she had to supply her own.
How about putting a sign up that says "Employees are wearing masks to help reduce the spread of COVID-19. It does not mean they are sick. Our store is trying to take every precaution so as to ensure the safety and health of both customers and employees. Thank you for understanding."
I think most people would get the gist of it and appreciate the effort.
That being said, let's consider what options are out there for those that want a more discreet and inexpensive mask option. If you want something like a military grade gas mask then skip down to that section for some options.
One last thing: Something is better than nothing. Even a very basic face covering is better than nothing at all. Even a balacalva or Buff is better than nothing.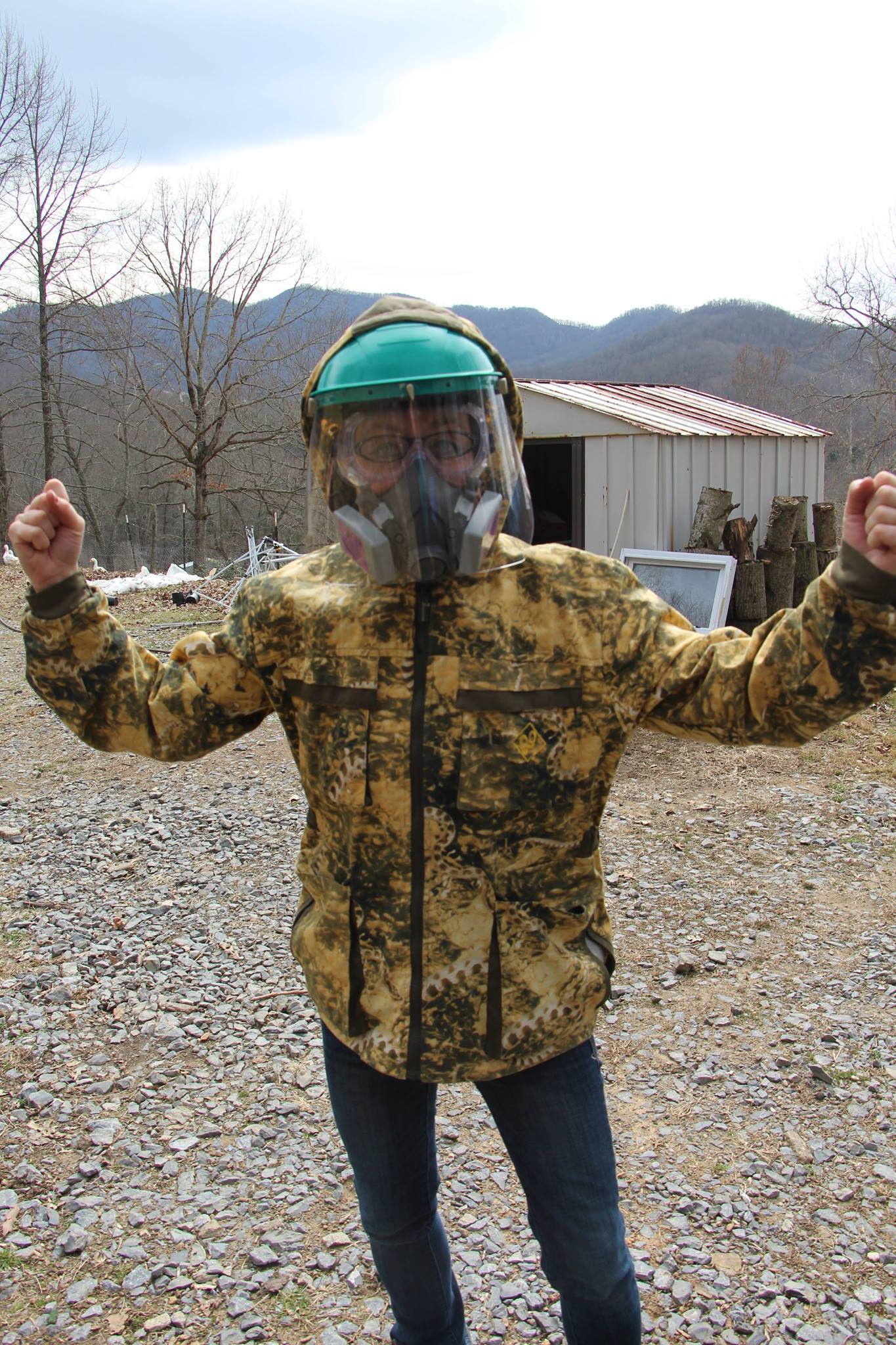 Home Made Cloth Masks
If you have some basic sewing skills and a few materials you can make masks. Plenty of people are making masks at home using their sewing machines. I have seen many ladies on Facebook sewing masks and selling them for very reasonable prices too. This can help someone that is at home and not able to go to their regular job.
There are a lot of people out of work right now so buying masks from them can help them out. If you don't want to make your own or cannot do it, check out local message boards on social media and see if anyone nearby is making masks.
There are some patterns available as well if you want to make your own. I have not made a mask before so I am just going to link to some videos and instructions that can get you started. There are a lot of people that have instructions and videos on Youtube so you may want to check out a few beyond those shown here.
I do want to mention that some sewers have mentioned having a hard time finding some supplies for sewing masks just so you are aware.
Here is a link to the pattern and instructions that this lady uses. The same videos as above are available on this link as well.
Homemade Furnace Filter Masks
Warning: MAKE SURE THAT YOU GET SYNTHETIC MATERIAL FILTERS. THE REALLY CHEAP FURNACE FILTERS ARE MADE OF FIBERGLASS AND YOU DEFINITELY DO NOT WANT TO BREATHE THROUGH THOSE!
Here is a video demonstrating how you can make a mask with a furnace filter.
Some other innovative people are making masks using vacuum cleaner filter bags.
Some of you may have read my review of the Garden Tower planter. Well these innovative folks have come up with a face mask frame that allows you to use whatever fabric or filter cloth that you desire. This is really neat because if you are using something like cloth you can just pop it out and wash it to reuse.
These are affordable options that allow you to use old clothing. Does your husband have some old white t-shirts that are stained like crazy from work? I know mine does. Well one of those would make a lot of face mask clothes and they can be easily bleached or washed in a standard washing machine.
Note: Garden Tower is asking that customers limit themselves to two packs each so everyone has a chance to get these frames. They are also encouraging people to buy them and make masks for health care workers and the elderly. At $9 per 6 pack, they are a bargain in the amount of time they save.
Respirators
We keep some of these around for using when spraying crops or doing construction or painting work. You can still find these online sometimes. You will want to be sure to buy extra cartridges.
There are several levels of cartridges that can work well. P100 is better than N-95. You can also use the Organic and Volatile Vapor Cartridges but the P100 level is usually less expensive and perfectly fine for virus protection.
I do not have a link for you to buy this style of respirator. Amazon has stopped selling them to the public. You may be able to find one at a hardware or paint store if you are lucky.
Note on Lead Times and eBay Items: It can take a bit of time to get a gas mask after you place your order. I have listed the current times for orders to ship at the time of publication of this article. This could change at any time.
There are places selling masks on eBay. I recommend only buying gas masks on eBay after you have done some research to make sure you know what you are getting. It is good to ask what the date of manufacture is on any filter cartridges and make sure that masks are new. Make sure you are getting a real gas mask and not one that is just intended for costume only.
Military Gas Masks
A lot of people may be surprised to know that there are still plenty of military surplus gas masks available that are sealed up and brand new. A lot of people just don't like the idea of using these masks nor are they allowed to wear them in their workplace. For someone like me, they are fine. If things continue to be really bad then you might wish you had one of these. You can even get sizes that are appropriate for children.
There are disadvantages to these masks though. For starters, you are looking at around $150 per mask give or take including a single cartridge.
There are companies like MIRA that are making new masks too. I have one of these myself and plan on using it when I go out the few times that I may have to in 2020.
For more information on MIRA masks, please check out my review of the CM-6 mask. Their lead time for a mask is currently 8-12 weeks. There are no exceptions nor any way to get to the top of the list. They are very clear about this. Orders are processed in the order received with production time for specific products to be considered as well. They make several styles of masks and various products so some may have better availability than others.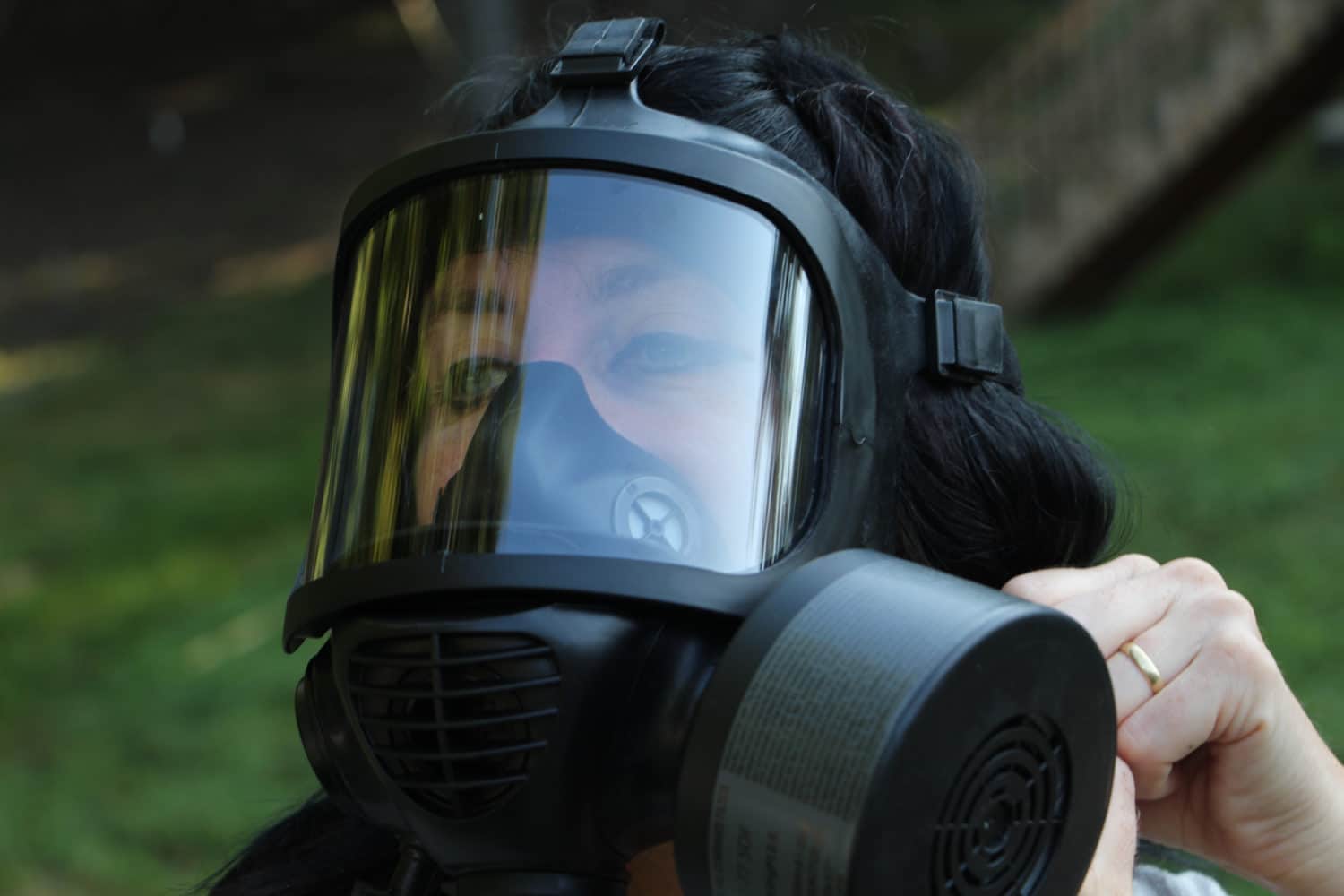 I found RDD just yesterday. While Matt and I have a single MIRA mask and we have some respirators, the fact that we had only one military-grade gas mask led me to see if I could find one that was available to ship in a shorter period of time. I was pleased to find RDD. They specialize in military surplus and have a variety of gas masks available for purchase. You can even get masks that are sized for kids and they have solutions for infants as well.
The style we settled on was the Israeli M-15 with just the filter cartridge. You can get the mask with a hose, canteen, or carry bag if you want. We just stuck to the basics and got the mask and filter. Since I am a cautious shopper I called to verify that the masks were sealed and new. Even though I know that companies like RDD are very busy, the phone was immediately answered by a real person that knew the answers to all my questions.
The Israeli M-15 masks and cartridges they sell are new and sealed and the manufacture date ranges from 2006-2009. A NATO 40 mm gas mask cartridge is listed as having a shelf life of 20 years so that means that the cartridges have a shelf life of 6-9 years remaining. Considering that most of us are planning on using ours immediately or in the very near future, that is plenty of time and a great deal. I asked how soon I would get the mask and they said that due to the high demand that it takes 7-10 days to ship out. That is really good considering how swamped with orders a lot of places are.
The beauty of getting either the Israeli M-15 or Czech 10 mask is that they use standard NATO cartridge threading so you can get any cartridges from MIRA or other manufactures and they will work with your mask.
I plan on getting an inexpensive pack of 6 virus filters from MIRA even if it takes a little time for them to ship out. Between Matt and I each having a good standard nuclear and biological filter and the pack from MIRA we should have what we need even if this situation lasts a lot longer than what some are predicting. I really admire MIRA for quickly putting out some very affordable virus filters that fit all standard gas masks.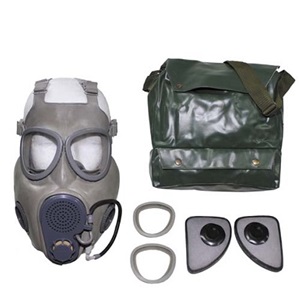 Other Things To Keep In Mind About Masks
Disposables offer the advantage of not having to worry about re sanitizing and possibly not doing it well enough and then using a contaminated mask.
Remember that just because you have a mask doesn't mean that you should feel like it is ok to go places if you really don't have too.
Part of the reasons masks and gloves help so much is that they remind you to not touch your face as much.
Filters have a lifespan. A brand new military NATO gas mask filter has a shelf life of 20 years. Some of the surplus masks were manufactured as far back as 2006 which means the filter is good until 2026. You get a discount for buying filters that only have that much shelf life left. It is a good way to get something that is usable for the current crisis without paying as much as you would for a filter made this year. If you are going to use it within the next year or two anyway then it really doesn't matter that it is older so long as it is sealed and unused when you purchase it.
It is important to wear other protective gear in addition to masks even if the CDC is not recommending or requiring it.
Remember to add gloves and eye protection too. A mask helps but gloves and eye protection add even more layers of defense. Many doctors warn that COVID-19 can infect people via their eyes too. Wearing larger glasses or goggles can prevent contact with droplets and keep you from rubbing your eyes throughout the time you are out and about.
Make the most of disposables if you have them and develop a routine for getting the most out of reusable and washable masks.
While basically all of us are supposed to be staying at home as much as possible, there is no ordinance in places saying you cannot make multiple "essential trips" per day. I know a lot of you are taking care of multiple errands on each trip. Try to avoid using a mask on a trip and then coming back home, laying it on the countertop, and then putting it on again later in the day. That is not safe. Only use a mask for one trip out and then put on another disposable or another homemade mask. Don't enter your home wearing a dirty mask.
Washable Masks
I recommend having a bag that you put masks in that need to be washed or a bucket of hot soapy water that you can dump the mask into for later washing.
If you have a household with multiple people that have to make trips in and out then consider having a larger bucket that you dump masks in and then you can wash them in batches. The bucket may have a solution of soap already in it so that masks can be chucked in the bucket as people enter the home and then washed once a day or similar.
You don't have to do it exactly that way, but I am saying to develop a system and routine that everyone in your home can follow so that you can lower the risk of contamination as much as possible and ensure that clean masks are used on each and every trip.
Military Grade Gas Masks and Respirators
As stated before, one of the biggest drawbacks of military-grade gas masks and respirators used for carpentry or painting is that they require great care to disinfect.
A lot of the videos and websites that talk about gas mask disinfection recommend hot soapy water for the facepiece. No one says a lot about disinfecting the outside of the actual filter but I have heard people talk about wiping down masks with 91% alcohol so I imagine you could get away with wiping down the outside of the filter.
I asked my friend David Grasty at Piked Antler Project's Survival Skills Center and WNC Bushcraft and Survival. He is retired from the Air Force and has far more experience with that style of mask than I do. My experience is mostly with half-face respirators for spraying crops.He recommended leaving your mask out in the sun if that is possible. The UV light will sanitize it. David also mentioned wiping it down with a solution of bleach after you remove the filter. Some people just throw the whole mask in a 5% bleach solution and then wipe it down and let it air dry.
Some people that I have talked to have bought UV lights for sanitizing so if you have one of those you can put masks under it.
Here is a useful article I found that includes instructions for cleaning and disinfecting a variety of mask types.
What type of mask are you using? Do you have a link to a good pattern for a homemade mask? Are you wearing a mask when you go out? Please share in the comments below.