Updated:  January 3, 2015
Back in September 2011, when I first wrote about 12 Months of Prepping, I was excited and highly motivated to share monthly checklists with the beginning prepper.
Leading up to the 12 months article, I had done a lot of reading and a lot of research.  It was overwhelming to learn and to recognize just how much I did not know.  I tried not to become alarmed and applied my typical pragmatic approach to moving forward, not only for the readers of Backdoor Survival, but also for myself.  Most assuredly, I had some gaping holes in my own preps and what better way to fill the gaps then to break things down into manageable chunks?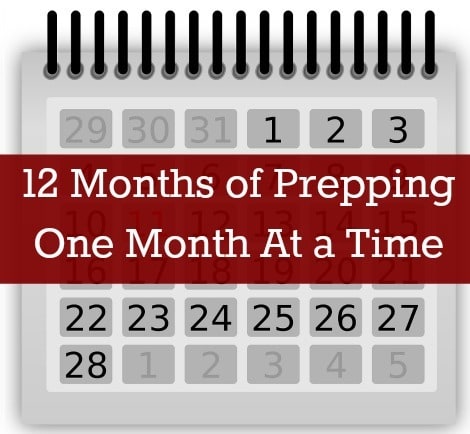 The overwhelming popularity of the 12 Months of Prepping series took me by surprise.  I was astounded.   What started as a basic roadmap for a modest number of readers, expanded and grew to where in each month, I was receiving hundreds of emails asking me questions, offering tips and lending support for my monthly prepping articles.
Thrilling?  Yes.  Humbling?  You bet.  Challenging?  You have no idea.
Now, as we approach the end of the calendar year, I am updating the original article and posting it again with a few more tips plus links to the individual monthly posts.  For those of you getting started, I hope you will find this useful as begin your journey toward self-reliance.
And for the experienced prepper?  Please take this time to review your supplies, gear and skills and fill in any blanks just as I have done.  We have twelve new months of prepping starting soon and for sure, you will want to be ready.
12 Months of Prepping – Year One
The roadblocks to getting started on the journey toward preparedness are many.
Time, money and the lack of moral support from reluctant family members all play a role in putting off or procrastinating when it comes to your prepping efforts.  And then there is fear; not only the fear that something may happen and you will not be ready but also the fear of the something itself.
Let us put those fears and concerns aside for now and instead, focus on moving forward.  Let me help you  break down the overwhelming task of emergency and disaster preparedness ("prepping") by providing you with a month by month roadmap of things to do, tasks to complete, and items to purchase.
The goal is to have a manageable number of things to do in a finite amount of time. At the same time, you will be able to do so with a limited cash outlay.  And instead of looking at a task list 10 pages long, you will have a short list that is eminently doable in 30 days or less.
Does this sound like a good plan?  And are you ready to start?
MONTH 1
Link:  Getting Prepared Month 1: Supplies, Gear and Tasks to Get You Started
SUPPLIES & GEAR:

Water-3 gallons per person and per pet
Hand-operated can opener and bottle opener
Canned meat, stew, or pasta meals – 5 per person
2 flashlights with batteries

TASKS:

Inventory the disaster supplies you already have on hand, including your camping gear
If you fill your own water containers, mark them with the date they were filled
Date cans of food and food containers if you have not already done so
MONTH 2
Link:  Getting Prepared Month 2: First Aid, Personal Hygiene and Home Safety
SUPPLIES & GEAR:

Canned vegetables – 4 per person
Toilet paper – 3 rolls per person
Sanitary napkins – 2 months' supply
Instant drinks (coffee, tea, powdered soft drinks)
Family sized first aid kit

TASKS:

Change the batteries and test your smoke detectors. Purchase and install smoke detectors if you don't have them
Make an inventory of home contents for insurance purposes. Take photographs (digital are easiest) of your house and contents. Store a copy away from your home.
MONTH 3
Link:  Getting Prepared Month 3: Special Foods, Fire Drills and Home Safety
SUPPLIES & GEAR:

Canned fruits – 3 cans per person
Any foods for special dietary needs (enough for 3 days)
A bag or two of hard candies
A large plastic tub or bin for storage of food and other emergency supplies

TASKS:

Conduct a home fire drill
Locate the gas meter and water shutoff points and attach/store a wrench or shutoff tool near them. Also store special shutoff instruction, if any.
Establish and out-of-state contact to call in case of an emergency
Identify a location for your storage of plastic bin or tub.
MONTH 4
Link:  Getting Prepared Month 4: Prescription Medicine, Cash, and Things to Keep Us Warm
SUPPLIES & GEAR:

A Minimum of a 7 day Supply of Critical Prescription Medicines
$100 (or more) in Small Bills
Pet Supplies
Infant Supplies
Extra Storage Containers

TASKS:

Package your prescription medications in a storage container and date for annual rotation purposes
Pack up warm blankets, sleeping bags, socks and other cold weather items
Review your storage area and put stray items in containers that are well marked
MONTH 5
Link:  Getting Prepared Month 5: Sanitation Supplies and Establishing a Community of Like Minded Folks
SUPPLIES & GEAR:

Liquid dish soap
Plain liquid bleach
White vinegar
Empty spray bottle
Liquid hand soap and hand sanitizer
Bar of soap
Disposable hand wipes
Disposable latex or nutile gloves
Canned, ready-to-eat soup – 4 per person
Portable AM/FM radio with batteries

TASKS:

Make two photocopies of important papers and put one with your emergency storage and one away from your home.
File an electronic copy of your important papers on a flash drive
Talk with neighbors about organizing a neighborhood preparedness group.
MONTH 6
Link:  Getting Prepared Month 6: Fitness, Energy Bars and Face Masks
SUPPLIES & GEAR:

Box of granola or power bars – 1 per person
6 rolls of paper towels
Box of N-95 or N-100 face masks – 1 per person.

TASKS:

Check to see if stored water has expired and needs to be replaced
Put an extra pair of eyeglasses in the supply container
Find out about your workplace disaster plans and the disaster plans at your children's schools
MONTH 7
Link:  Getting Prepared Month 7: Gear, Tools and Skills to Save Lives
SUPPLIES & GEAR:

NOAA Alert Weather Radio
ABC fire extinguisher
Jug of juice – 1 per person
Adult and children's vitamins
A pair of pliers and/or vise grip
100 feet of paracord

TASKS:

Take a first aid/CPR class
Show family members where and how to shut off utilities
MONTH 8
Link:  Getting Prepared Month 8: Adding Supplies, Tasks, and an Emergency Preparedness Kit for Your Vehicle
SUPPLIES & GEAR:

Box of crackers or graham crackers – 1 per person
Dry cereal or instant oatmeal – 1 weeks' worth per person
1 box of large, heavy-duty garbage bags

TASKS:

Make a small preparedness kit for your car. Include food, water, blanket, small first aid kit, a list of important phone numbers
Secure water heaters to wall studs (if not already done)
MONTH 9
Link:  Getting Prepared Month 9: Duct Tape and Drills
SUPPLIES & GEAR:

Extra batteries for flashlights, radio and hearing aids (if needed)
Duct tape
Add an additional 3 days of water to your supply per person and per pet
TASKS:

Follow up on efforts to organize your family and your neighborhood
Conduct an earthquake drill at home: stop, drop and hold, then go outside. (Remember, and earthquake can happen anywhere as recent events have demonstrated.)
Swap out stored medications with fresh versions. Review your prescription medicines and add those that are missing from your kit.
MONTH 10
Link:  Getting Prepared Month 10: Practice Going Off Grid
SUPPLIES & GEAR:

Take the month off from purchases. Yay!
Or, for extra credit, add:

Axe
Hatchet
Pocket Knife
Portable (Folding) Shovel
TASKS:

Become earthquake ready by taking steps to secure appliances, shelves, cabinets and drawers to prevent them from falling and/or opening during a tremor.
Imagine your house with no electricity. Better yet, shut off the power for 4 to 24 hours and try to live off-grid.
MONTH 11
Link:  Getting Prepared Month 11: Stock Up on Disposables & Build a Neighborhood Contact List
SUPPLIES & GEAR:

Package of paper plates
Package of napkins
Package of eating utensils
Package of paper cups
TASKS:

Exchange work, home and emergency contact phone numbers with neighbors for use during an emergency
MONTH 12
Link:  Getting Prepared Month 12: Food, Water and the Motivation to Keep Going
SUPPLIES & GEAR:

Expand your food supply
Purchase some comfort food or condiments
Heavy work gloves

TASKS:

Check your water supply and rotate if necessary
Check over your stored food and rotate if necessary
MONTH 13
Congratulations. You have completed your year of preparations. Now is a good time to go back to month 1 and review, replenish, rotate and drill. Good job!
Moving Forward to 12 Months of Prepping – Year 2
Now that you have been bit by the prepping bug, your life has undoubtedly changed.  Trips to the grocery store now include searching out bargains on dry goods and canned goods so that you can purchase one for now and one for later.  Family outings now focus not only on having a good time, but on learning how to cope in the outdoors and making do without all of the creature comforts that come with a roof over your head.
As we move forward to year two, you will find a greater focus on singular skills such as building a shelter, learning how to start and maintain a campfire and cooking with the merest of basics.  These things and more are topics found at Backdoor Survival, In addition, you will find insight, tips, and strategies to help with food preservation, gardening and the gear you will need if you are required to bug out (hopefully not) or shelter in place.
In each article there are suggested activities, recommended purchases, viable alternatives, budget saving strategies and references to more reading material.  I hope you will  join me.
The Final Word
Perhaps not readily evident is that as I write and as I research, I am standing side by side with you during this prepping journey.  Like you, I continually strive to expand my knowledge and increase my survival skills.  For us, our common goal is to learn to depend on ourselves not others for our basic well-being – no matter what. 
I consider myself to be an ordinary citizen, who again like you, is just trying to get by in these uncertain and chaotic times.  And as trite as it sounds, I hope that what I learn, what I do and what I share will make the road to self-reliance just a bit easier for the next person.
The final word for today is this:
Emergency preparation is your journey and should be unique to your circumstances, your family, your geographical location and your financial resources. Yes, it can be a chore. But as I have said before, it should be a chore with a happy ending.
Enjoy your next adventure through common sense and thoughtful preparation!
Gaye
New:  Click Here To Vote For Me at Top Prepper Websites!
If you have not done so already, please be sure to like Facebook which is updated every time there is an awesome new article, news byte, or link to a free survival, prepping or homesteading book on Amazon.  You can also follow Backdoor Survival on Twitter, Pinterest, and Google+ and purchase my book, The Prepper's Guide to Food Storage from Amazon.
In addition, when you sign up to receive email updates you will receive a free, downloadable copy of my e-book The Emergency Food Buyer's Guide.
~~~~~~~~~~~~~~~~~~~~~~~~~~~~
A Prepper's Guide to Whole Food at Half the Price – Now Available
Bargain Bin: Below you will find some personal and BDS reader favorites plus items from the Amazon Top 10.
BaoFeng UV-5R  Dual-Band Ham Radio:  The Baofeng UV-5R is a compact hand held transceiver providing 4 watts in the frequency range of 136-174 MHz and 400-480 MHz. It is a compact, economical HT that includes a special VHF receive band from 65 – 108 MHz which includes the regular FM broadcast band. Dual watch and dual reception is supported.  Here is the antenna I ordered:  NAGOYA Antenna for BAOFENG UV-5R (thanks to a recommendation from my pal, George Ure).
Blocklite Ultra Bright 9V LED Flashlight: I now own six of these little gems. There is a similar flashlight called the Pak-Lite (which is more expensive) but it does not have a high-low switch like this one. These little flashlights just go and go, plus, they make good use of those re-purposed 9V alkaline batteries that you have recharged with your Maximal Power FC999 Universal Battery Charger.
FordEx Group 300lm Mini Cree Led Flashlight Torch Adjustable Focus Zoom Light Lamp:  Here we go with another flashlight.    It is super mini sized, bright and waterproof.  Plus, it uses a single, standard AA sized battery.
Morakniv Craftline Q Allround Fixed Blade Utility Knife: Also known as the Mora 511, this is now my favorite knife.  It is made of Swedish steel and is super sharp.
LifeStraw Personal Water Filter:  The LifeStraw is considered the most advanced, compact, ultra light personal water filter available. It contains no chemicals or iodinated resin, no batteries and no moving parts to break or wear out. It weighs only 2oz.  making it perfect for the prepper. For more information, see my LifeStraw review.
__________________________________
Shop the Emergency Essentials Monthly Specials:  The monthly specials at Emergency Essentials feature discounts of up to 35% off sometimes a bit more.
Every family should have at least one Tote-able Toilet.  I have priced purchasing the bucket and toilet seat lid separately and found that it was more economical to pick up this kit.  I have filled my portable potty with sanitation supplies plus, of course, plenty of TP.
I also recommend the Mobile Washer. This is hand operated washing machine. Like a plunger, it uses a technique of pushing and pulling the water through clothes to clean them well without wearing them out. It uses a minimum of water and less soap due to the agitation motion. Use in a bucket (5-gallon suggested), sink or tub.
________________________
I earn a small commission from purchases made when you begin your Amazon shopping experience here.
The Amazon Top Ten Most Wanted Survival and Outdoor Items
Emergency Preparedness Items from Amazon.com
Shop Amazon Tactical – Great Selection of Optics, Knives, Cases, Equipment
Amazon's Most Wished For Items in Sports and Outdoors
The Amazon Canning Store

Help support Backdoor Survival. Purchases earn a small commission and for that I thank you!
My book, The Prepper's Guide to Food Storage will provide you with everything you need to create an affordable food storage plan, including what to buy and how to store it. Nothing scary and nothing overwhelming – you really can do this!  Now available at Amazon.