Gadgets and Gizmos Under $5 – Almost Free Survival Gear
Updated November 30, 2014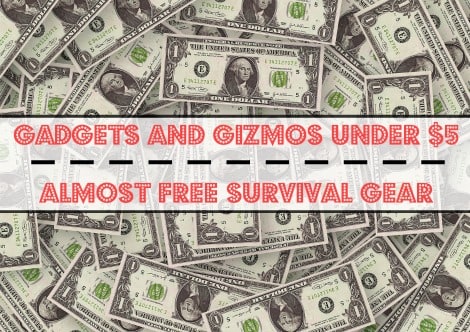 ~~~~~~~~~~~~~~~~~~~~~~~
ProForce Commando Wire Saw Bulk, Ideal For Survival Kits
These are less than $2 with free shipping. Here is what one reviewer had to say:
"When I got the saw, I thought it was a dinky little wire. My expectations were blown away!! I can cut a three inch tree in three min. I would much so recommend that you get this saw."
Shelly has used this portable saw to cut branches off some of the pine trees and agrees that this is a terrific gizmo to keep in your pack.
~~~~~~~~~~~~~~~~~~~~~~~

5 Piece Survival Whistles with Key Chain
These took about a month to arrive and I am very pleased with how they work.  They are small, lightweight and they all work although two are a lot louder than the other three.  Still, they all produce very loud whistle-noise with little effort.  Currently under $4.00 with free shipping although sometimes the price drops even lower.
~~~~~~~~~~~~~~~~~~~~~~~
FordEx Group 300lm Mini Cree LED Flashlight
This flashlight is amazing.  It throws a strong beam that can also be adjusted by pulling out the head to create a smaller, more focused light.  Because it requires just a single AA battery, it is lightweight and feels comfortable to use in spite of its small size.  It even has a clip so you can clip it to a belt or inside a pocket.
At the time of this writing, it is less than $3.50 with free shipping.
~~~~~~~~~~~~~~~~~~~~~~~

Portable Extra-Large Head Windproof Waterproof Matches
I tried to drown these matches in salt water but could not get them to fail.  When I purchased them,I was actually looking for a waterproof case but for abut $2, I got both the matches and the case.
~~~~~~~~~~~~~~~~~~~~~~~~~~~~~~~~~~~
Kikkerland CD401 Classic Survival Tool
This is one of those handy credit-card sized all-in-one tools that includes a saw blade, 2 position wrench, key chain hole, bottle opener, direction auxiliary indication, can opener, knife edge, screwdriver, ruler, 4 position wrench, butterfly screw wrench, and carrying pouch.  As of this writing, $1.68 with free shipping.
~~~~~~~~~~~~~~~~~~~~~~~~~~~~~~~~~~~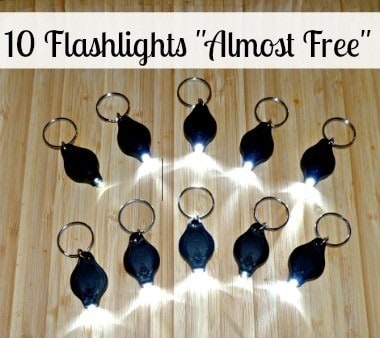 10 mini flashlights on a key ring including button batteries.  I have used these and agree with the following reviewer:
"I've given these to a number of people, and in every case, they seem to cause amnesia. No remembers how they got by without it. The battery lasts seemingly forever, given light use, and they're durable enough to withstand the harsh environment of my pocket and keychain. And, at this price, you can stash them in the car, purse, pocket, tool box and by the circuit breaker box, and still have some left over as stocking stuffers."
As of this writing, all 10 are under $4.50 and shipping is free.
~~~~~~~~~~~~~~~~~~~~~~~
Military P38 & P51 Can Opener Combo Pack
These small can openers are one of the army's greatest tools. Besides being used as an emergency can opener, they can be used as a sharp cutting edge, a screw drive, a tool to clean under fingernails, a seam ripper and more.  They are made in the USA by the Shelby Co. and although it is difficult to see, these are holes in each so that you can add them to a key ring or lanyard.
As you can see, there are two sizes and at the time of this writing, the price is $1.99 for both with free shipping.  Sometimes the price is even lower.
I hope this has been helpful for you. If you are looking for more products, be sure to check out my exhaustive list of survival gear.