This site contains affiliate links. As an Amazon Associate, I earn a commission from qualifying purchases at no extra cost to you. Full Disclosure Here.
After months of hints, innuendo and promises, "The Prepper's Guide to Food Storage " is golden.  That's right, after putting in a couple of all-nighters, I was able to complete the final formatting and get my new e-book launched on Amazon.  I am both thrilled and relieved – mostly because I know this is an up-to-date resource that will be useful to anyone and everyone that is serious about storing food for the long term.
Before I describe the book, I would like to mention that traditionally, when a new book title launches, there is a big hoopla.  Reviewers are lined up in advance, websites are flooded with ads, and readers are asked to make their purchase on a single pre-selected date.  If all goes well, there is a book bomb (meaning the book is dropped into the public eye like a "bomb") and the title soars to the top of the rankings.  That all sounds great – for someone else.
My preference is to take things a bit slower and more relaxed.  After all, the information is not going to get tired and out-of-date.  But even if it did, I am providing purchasers of the book with a resource page that will include updates, bonus materials and downloads.
But I digress as a night without sleep takes it toll.  Here is the official description from Amazon:
The Prepper's Guide to Food Storage –  A Practical Guide to Storing Food For the Long Term

When most people start thinking about family preparedness, they focus on food. Not shelter, gear, sanitation, power, self-defense or the myriad of other concerns that need to be addressed following an emergency or disaster situation. Quite simply, food is the number one concern people have second only to their concern for having an adequate supply of water.

The Prepper's Guide to Food Storage is a book about food: What to store, how to store it and best practices. It is a roadmap for showing ordinary citizens that long-term food storage is not something that will overwhelm or burden the family budget.

This book is based upon the author's own tried and true personal experience as someone who has learned to live the preparedness lifestyle by approaching emergency preparedness and planning in a systematic, step-by-step manner.

This book covers:

Store What You Eat and Eat What you Store
20 Items to Kick Start Your Food Storage Pantry

Tips for Building an Emergency Food Supply

Common Food Storage Mistakes

Moving Beyond Pre-packaged Foods
and much, much more!

Whether you simply want to prepare for natural disasters or whether you believe the world is headed toward a major food crisis, this book is for you. It covers basic tips and techniques you can use to stock your food storage pantry so that you can be assured that your family will have food to eat, no matter what.
If some of this looks familiar, it is because some of the material in The Prepper's Guide to Food Storage has it roots in previously published articles on Backdoor Survival.  In the book, however, these topics have been updated and expanded upon.  Plus, of course, there is a ton of new material.
Everything You Wanted to Know But Were Afraid to Ask
At 59 pages, you will find The Prepper's Guide to Food Storage to be concise and to the point. Perhaps even more important, it is a reference guide, pure and simple.  There are no sales pitches, no links to buy stuff and no innuendo about doing anything other than putting together a food storage program for yourself and your family.  (Those of you that follow my Facebook page know that Amazon e-books fronting as sales pitches are one of my extreme peeves.)
That said, my focus next year will be to completely rewrite and expand the 12 Months of Prepping series so that it too, can be published on Amazon.
The Final Word
I am ecstatic that you have put your trust and faith in my work at Backdoor Survival.  I hope you will choose to purchase my book, read it, learn form it, and recommend it to your friends.  Enjoy the book – be sure to let me know if you like it.
Enjoy your next adventure through common sense and thoughtful preparation!
Gaye
If you have not done so already, please be sure to like Facebook which is updated every time there is an awesome new article, news byte, or link to a free survival, prepping or homesteading book on Amazon.  You can also follow Backdoor Survival on Twitter, Pinterest, and Google+.
In addition, when you sign up to receive email updates you will receive a free, downloadable copy of my e-book The Emergency Food Buyer's Guide.
Spotlight Item:  The Prepper's Guide to Food Storage. Need I say more?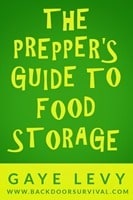 Bargain Bin:  Since were on the topic of books, I did some testing and wrote the foreword in Ron Brown's The Amazing 2000-Hour Flashlight.  This short little e-book will give you detailed instructions for adding a cheap resistor to a cheap flashlight and create a light that produces useful illumination for 2000 hours on the same battery.
Eveready 3-LED 6Volt Floating Lantern (battery included): If you are planning to build a 2000-hour flashlight, this is the one that you need.
Coleman Rugged Battery Powered Lantern: This sturdy Coleman has a runtime of up to 28 hours on the low setting and 18 hours on the high setting but does require D cell batteries. Personally, I have both a battery operated and propane lantern. Of course by now you know that I like redundancy with my preps.
FordEx Group 300lm Mini Cree LED Flashlight:  This is a flashlight fav.  It is amazing in that it throws a strong beam that can also be adjusted by pulling out the head to create a smaller, more focused light.  Because it requires just a single AA battery, it is lightweight and feels comfortable to use in spite of its small size.  It even has a clip so you can clip it to a belt or inside a pocket.
Coleman One-Mantle Compact Propane Lantern: Easy to use and portable. This Coleman compact lantern lights with matches and is pressure-regulated for consistent light, regardless of weather. The porcelain ventilators will prevent rusting and help this lantern last you a long time.
Coleman PefectFlow 1-Burner Stove:  This Coleman One-burner Propane Stove is an easy-to-use portable stove that should meet almost any camp cooking need. The PerfectFlow regulator provides consistent cooking performance by producing a steady fuel stream, even in cold weather, high altitudes, or when fuel is low. Equipped with one 10,000 BTU burner, this fully adjustable stove will last for 2.2 hours on high or up to nine hours on low.
I am pretty excited by the Trekker II Emergency Kits.  The kit includes 2 packs – one large and one medium – filled with basic survival gear for two people to survive for three days.
Don't let its compact size fool you—it is loaded with basics and even some extras that lots of kits leave out like water purification tablets, sunscreen, and hygiene items to help you feel more comfortable in a crisis situation. The best part is that it is on sale this month for $87.99 or 40% off.
Note:  Emergency Essentials will guarantee Christmas delivery if an order is placed on or before December 16th.  If you live in the West, the guarantee date is even later – up to December 19th in some areas.  Click here for a chart showing drop dead holiday delivery dates.
Shop the Emergency Essentials Monthly Specials
_______________________ 
Like this and want more?
Follow Backdoor Survival on Facebook
Follow Backdoor Survival on Twitter
Follow Backdoor Survival on Pinterest
Follow Backdoor Survival on Google+
I earn a small commission from purchases made when you begin your Amazon shopping experience here.
The Amazon Top Ten Most Wanted Survival and Outdoor Items
Emergency Preparedness Items from Amazon.com
Shop Amazon – Holiday Gift Cards with a Free Gift Box and Free One-Day Shipping
Help support Backdoor Survival. Purchases earn a small commission and for that I thank you!
_______________________
Almost Free: I just found this Kikkerland CD401 Classic Survival Tool and ordered one.  This is one of those credit-card sized all-in-one tools that includes a saw blade, 2 position wrench, key chain hole, bottle opener, direction auxiliary indication, can opener, knife edge, screwdriver, ruler, 4 position wrench, butterfly screw wrench, and carrying pouch.  Now that is what I call a deal!