This site contains affiliate links. As an Amazon Associate, I earn a commission from qualifying purchases at no extra cost to you. Full Disclosure Here.
The Big Berkey has long been a sought after filter for those living off the grid or that just want to have better quality water during and emergency or question the quality of their well or local water. Over the years there have been some competitors come on the market that offer outstanding value and results and sometimes at less cost. Filter replacements are also easy to find and order.
Here are some alternatives to the Big Berkey that are worth looking at. No doubt that there will be more on the market as time goes on but right now most of the new filter companies are producing smaller units made for bugging out rather than sheltering in place.
To find alternatives to the Big Berkey, I had to expand out and consider that some of the filter systems that are gravity fed but not necessarily made for your counter-top.
Top Big Berkey Water Filter Alternatives Comparison Table
ProPur Big
Long lasting filters
2.75 Gallons Capacity
High Quality Steel Construction
Removes up to 99.9999% of 200+ water impurities, including lead, bacteria, viruses, cysts, chlorine, fluoride, TCP, E. coli
Gravity block core filter with hybrid ceramic shell
Pour unfiltered water in and AlexaPure does the rest
Raw water capacity: 8.5 liters (2.25 gallons) – Filtered water capacity: 8.5 liters (2.25 gallons)
Dimensions: 22.5 in. H 8.25 in. W cylinder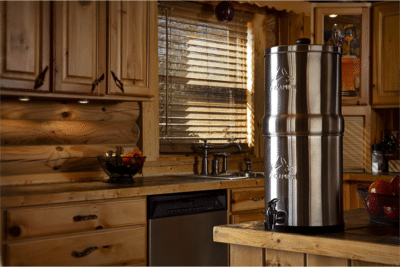 The AlexaPure (Full review here!) comes with a hybrid ceramic and charcoal filter that is capable of filtering up to 5,000 gallons of water. There is space for adding up to three more additional filters for a faster flow rate and longer overall filtration capacity. For example, if you add in 3 additional filters then your AlexaPure should filter at least 20,000 gallons of water. The filter can be cleaned with a scour pad for longer life.
The disadvantage of the AlexaPure when I tested it was that it took a long time to get the filter cleared of the alcohols that it is packed in. The first filtration of water took a long time and it still seems a little slow at times. Also if you do not use your filter for a week then you have to store the filter in water to keep it from drying out. This means if you are using it at your cabin that you are not at that often or a similar situation then you have to make sure to pack it up and seal it in water in a place where there is no danger of it freezing when you are not there.
75 gallon capacity
Standard # of filters: 2
Height: 22.5″
Diameter: 9.25″
High quality premium 304 polished stainless steel
Includes solid 304 stainless steel spigot and non-slip pad
While this filter does put you in Big Berkey price ranges, there are a lot of positive reviews regarding capacity and flow rate. You get two filter elements which definitely helps out and you can expand it to have one more filter for a total of three. Customers do report that the 2.75 gallon capacity filter system does take all night to filter. Still though, this is enough filtration capacity for a family of up to 4 under most circumstances.
I do love that this filter system comes with a stainless steel spigot rather than the plastic ones that are seen on so many filters of all types. If you are not a fan of plastic, then there is something to be said for dropping the money on this filter for off grid or use at home. It does remove fluoride so that may be a deal breaker for anyone that is worried about getting some for their teeth.
Personally, the fluoride issue has led me to be of the opinion that if I need fluoride, I can use mouthwash and then spit it out. Swallowing fluoride regularly is probably not the best idea for your overall health.
Compact roll-bag reservoir can be suspended in a variety of places.
Carrying strap and stuff sack for storage and portability
Lifetime filtration capacity of 18,000 liters (4,755 gallons); produces flow-rate of 9-12 liters (2.4-3.4 gallons) of purified water per hour
Removes bacteria (99.9999%), protozoa (99.99%), and viruses (99.999%) and is easy to fill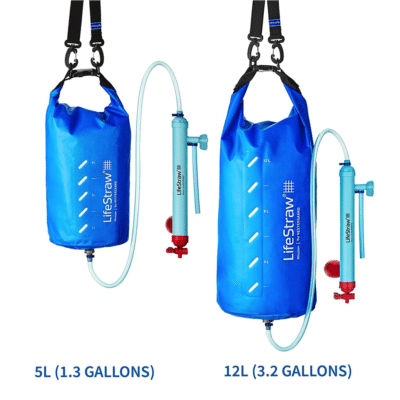 This filter (Full review here!) is a major bargain because it offers protection against viruses, bacteria, protozoa, and removes heavy metals and other contaminants. For those that don't have a lot of space to spare for a big stainless steel gravity filter, this bag style gravity fed filter makes an excellent choice for off the grid or a long term emergency. I have to say that I like the fact that I don't have to worry about storing the filter in water when not in use like with the AlexaPure.
I would advise getting the larger version. The filtration rate is the same. The reservoir you fill up is what varies in size. Unless it is just you and maybe one other person, you might find yourself filling up the smaller one a little more often than you would like. At the same time lifting a bag containing 5 liters (1.3 gallons) of water is easier than lifting a bag that holds 12 liters (3.1 gallons)
With this style of filter, you fill and hang up and water comes out the bottom into your vessel of choice when you open the valve so you have to either wait for your water bottle to fill or if you want to filter a bunch at once, you can set it up and fill containers well ahead of time.
This filter is designed to be used by a large group if needed with its outstanding flow rate of 2 liters per minute. Of course this is going to vary based on just how dirty the water you have access to is. It is always recommended that water that has sediment either be filtered through cheesecloth or a clean piece of cloth or at the very least allowed to settle out. This will significantly increase flow rates and help your filter to last much longer than usual.
Cost:
Purifies 18,000 liters/4755 gallons
Flow rate of 9 -12 liters per hour
Removes 99.99% viruses, 99.9999% bacteria and 99.9% protozoan cysts to 0.02 microns
Lifestraw makes the list again due to being inexpensive, effective, and ease of use. This very basic filter is easy to keep in the kitchen and can be stored or moved with ease so if you ever find you need to change locations in a hurry, this filter can still meet your needs. The flow rate is good enough to provide clean and pure drinking water for even a very large group. The prefilter helps make the actual filter last a lot longer and can be cleaned easily if a clog happens.
This filter is a good gift idea for friends and family that are not as prepared as you would like them to be. It doesn't take much of an emergency for water quality to be a major concern. A simple water main break can lead to boil water advisory in any town across the country.
This filter is so lightweight. At 11 x 9 x 4.5 inches and 1.2 pounds you could backpack with this even. For a group out on the trail this is a worthy filter. Since this filter can be hung on a wall or suspended it can be used in places that counter top filters like the Big Berkey and AlexaPure cannot. Also if you don't have a bunch of time to wait around on counter top gravity filtration or have sporadic water needs then a filter like this may be less frustrating for you to use.
Cost: Check this listing
2 gallon capacity
10 x 10 x 14 inches Dimensions
Inexpensive replacement filter candles $45 for Pack Of 2
Doulton is a UK based water filter company that I had not heard of until researching for alternatives to the Berkey. They are a very popular filter with disaster relief organizations. The price point is far less than a Berkey and the replacement filters are extremely economical when compared to the cost of those required by AlexaPure and Berkey.
Doulton claims that this filter system can produce up to 20 gallons per day of water. Finding information on how long the silver enhanced filter candles last or are rated to is challenging at best. The answer turns out to depend on what type of filter candle you get. Doulton has a chart that lists the filtration expectations of various ones but plenty of satisfied customers claim to get a lot more use out of them than what is listed.
6.
Xpor 25 Liter Water Filter
This is a unique filter in that it is backpack style and has a 25L capacity which is double that of even the largest Lifestraw Mission. Of course when full this is going to be extremely heavy. The filter has a lifetime capacity of 3500 liters. I know this is not a well known brand but I do find the concept of this design intriguing.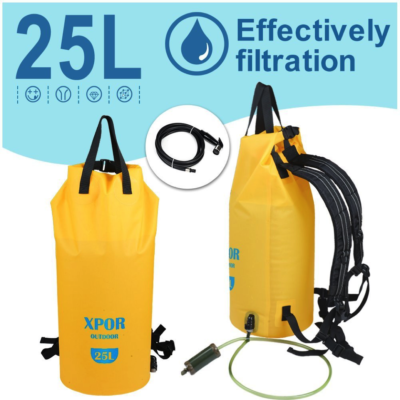 While I am usually very hesitant about new comer water filters, I think this filter deserves some attention at hope to be able to find out more about this. Some reviews indicate that some people store clothing in the bag and then use it as a filter later which sounds innovative but I am not sure I would want to do that. I question how sturdy the straps are as well. Xpor claims that the filter takes care of bacteria, protozoa, and more with a flow rate of 1 liter a minute. This also includes a shower head so you can use it for that as well.
I would like to be able to find out a bit more about this system since it seems to have a lot of features that would make it good for a major group situation. If you have ever tried out an Xpor please comment below. I hope to see other water filter companies that are more well known create systems like this.
Which One to Choose?
The best value out there is the AlexaPure by far if you want a stainless steel countertop model. If I was going to spend $280, I would just get a Berkey and be done with it. The thing is that you can get two AlexaPures for what a single Berkey or Propur would cost when you compare the models with similar capacities.
It is also really important to remember that there are different sizes and capacities within the Berkey and Propur lines. I would advise making sure to get one that is big enough and then you can add in extra filters for faster filter times.
The smallest counter top gravity filter is likely not going to be able to provide enough water for a family, especially when you consider that if times are tough and people are having to work hard plus there is not a lot of other liquids to drink, water consumption is going to increase substantially.
There are plenty of households where not much water is consumed at home but you might be quite amazed how easily you could go from only needing a gallon of drinking water a day to needing three or four.
For just basic use and emergencies then the Lifestraw series of filters in this article is going to offer the most affordable and space efficient filtering of your water.
Off Brand Water Filtration Systems
When it comes down to water filters, make sure to do your research before deciding to buy a brand that has not been out for long. If there are barely any reviews or the replacement filters are hard to find, approach buying with caution. Water is your first line of survival and that means there is no room for skimping on it.
Alternatives and Back-Ups To High Capacity Water Filters
With the cost of some of the gravity fed systems and the fact that you are relying on a single filter system, you may want to consider just having a personal filter for each member of your family. Regardless of having any type of main filter for group use, there should always be other filters on hand.
A lot of the filters I have talked about are not as portable as one might want. Always remember too that any filter has its limits when it comes to sediment. I see too many reviews where people are disappointed due to clogs. There is no filter that can handle excessive sediment for long without some care or having some issues.
1. Recommended Water Filtration Accessories
There are some things that you need to have in order to care for and increase the life of your filter. They are not expensive.
2. Pre Filtering
Cheesecloth or a pre filter that is made to be used with your specific filter will save you from having to take apart and clean your main filter as often.
3. Scour Pads
A lot of filters can be cleaned with a scour pad. No soap is used but a scour pad gets rid of debris like grit, sand, and mineral deposits. This will help filters last longer and keep your flow rate faster.
4. Extra Filters
It is always advisable if your filter has replaceable filters to have a complete set on hand at all times. This puts you in a much better position for being prepared for a long term emergency or even just in case a filter gets damaged.
Get Your Filter Now
If you don't have a good water filter then there is no time like the present to correct this.
The cheaper Lifestraw family has the same filter capacity and can be stored in a drawer.
Amazon Prime may be able to get a filter to you within a few days in good times but if you wait until something happens, availability may be zero.
Have we missed a good Big Berkey alternative?
Please comment below with your experiences and suggestions!
ALSO: If you are still stuck, try out the new BDS water filter selector quiz below!
[v4_product_quiz_wp quiz-slug='water-filter-quiz']
If you enjoyed this article, consider following our Facebook page.