This site contains affiliate links. As an Amazon Associate, I earn a commission from qualifying purchases at no extra cost to you. Full Disclosure Here.
A gas mask is something I have been meaning to add to my preps for quite some time. To be honest, I was at a loss what mask to trust because the price range for a good gas mask is vast.
Would you trust a $50 gas mask from a major online retailer when some mask systems cost as much as $1,000? I concluded that if I was going to invest in something like a gas mask, it would be good to have one that was moderately priced and well designed. Like any piece of gear, my philosophy is that while you don't want to buy the cheapest one on the market, buying in the high-end range is probably not the best idea either. With most gear and tools you get into diminishing returns for the extra amount you are spending.
Around the time I was thinking about a gas mask, the founder of MIRA Safety approached me about his products. I was lucky enough to get to try out a gas mask they make that has a ton of features I had not considered. My big concern was temporarily being able to breathe during a chemical spill, nuclear incident, or biological attack. While it may sound silly, I had never considered just how important it would be to have the ability to drink water while wearing a gas mask for example.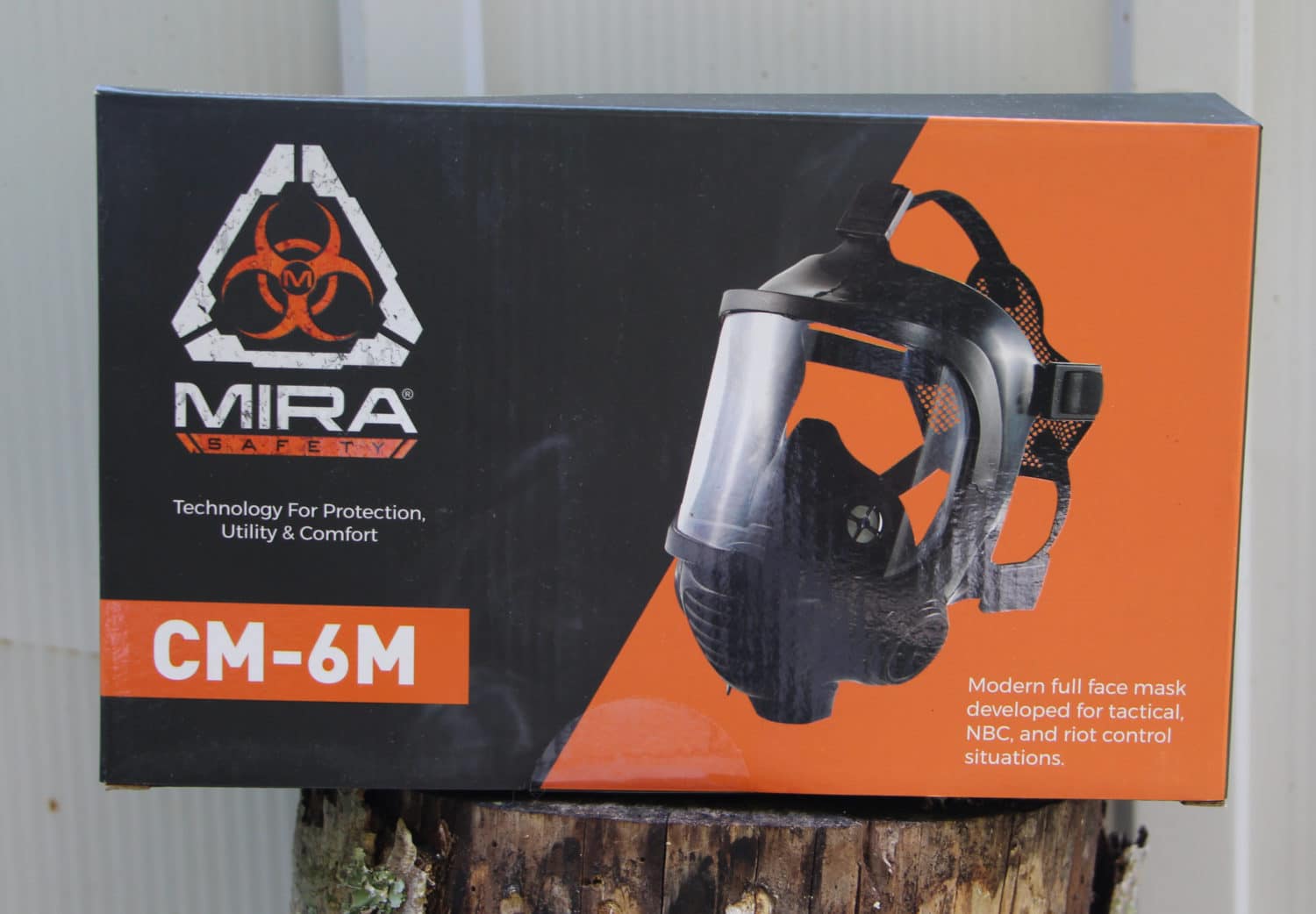 Gas masks are not just for nuclear incidents. There are many other situations where a gas mask may come in handy. Industrial accidents near your home or business are another example.
The Mira Safety CM-6M mask protects the face and internal organs from the harmful or even lethal effects of Chemical Warfare Agents (CWA) and other CBRN agents that come in the form of gas, vapor, aerosol, or radioactive dust-based toxins. It is rated to withstand 30 hours of exposure to mustard gas. Let's hope none of us are ever in that situation.
You can actually talk to others when using this mask!
Have you ever wore a civilian respirator or any type of mask?
Do you remember how hard it was for others to understand you?
Matt and I wear respirators more than the average person due to the farm activities we have to do and it is very hard to hear each other speak. The Mira gas mask is designed with a speech diaphragm that makes it a lot easier to hear and understand others. Consider how important this may be during a real emergency.
Since MIRA Safety masks are designed to professional standards, you can enjoy easy communication.
While someone at a distance might not hear what you are saying those that are working with you or within normal conversational distance will understand you without you having to speak up to the point of yelling or anything like that.
You get a canteen and tube for drinking through.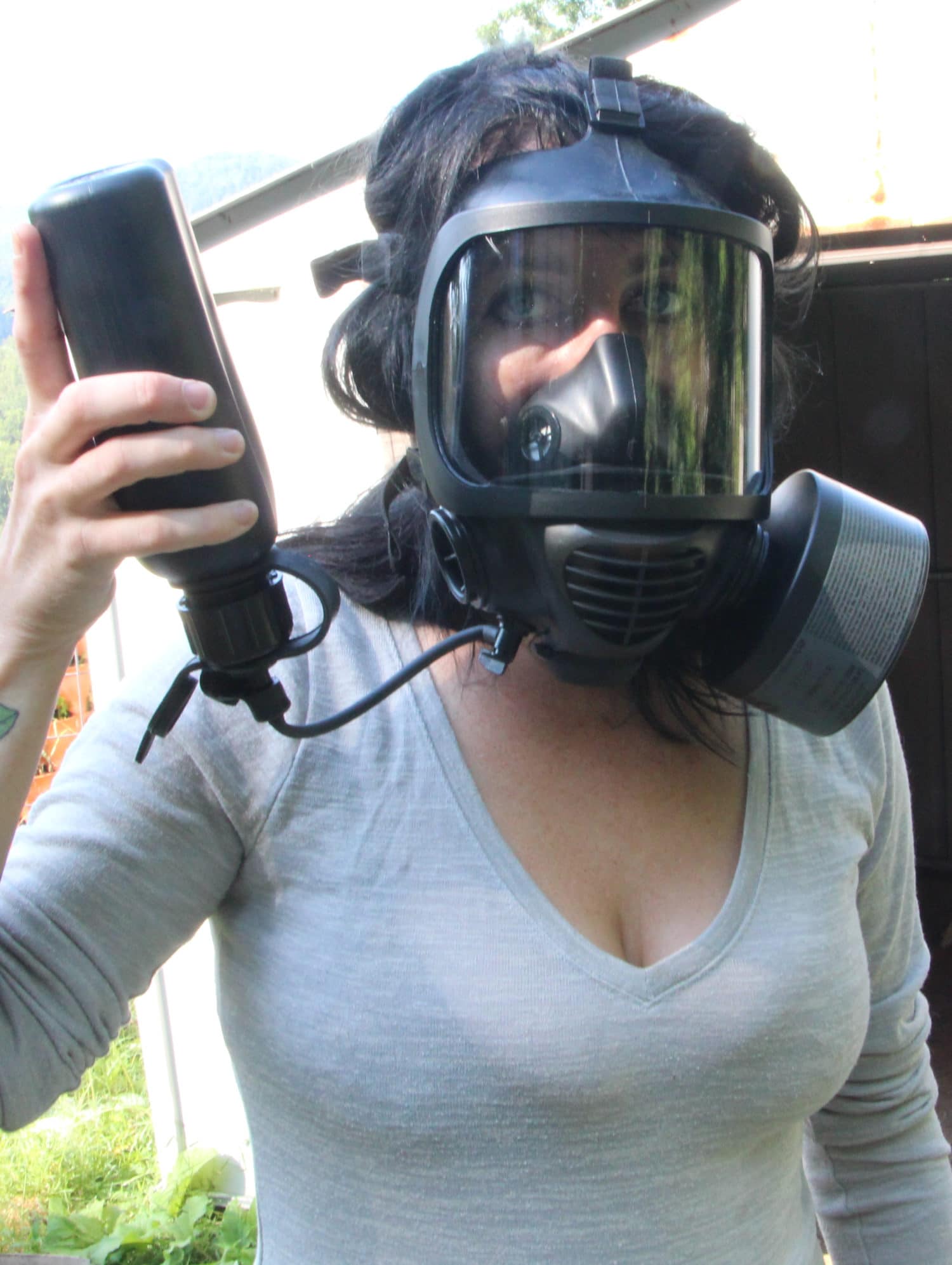 If you prefer a hydration bladder, you can buy an adaptor so you can have a lot of water on hand if desired. The canteen is a decent size but might not be as convenient as a hydration bladder for some applications.
There is not a straw inside of the included canteen so you do have to hold it up and suck a bit to get any water. Inside the mask is a drinking straw that you can use your tongue to get in your mouth when needed.
Since the canteen is smaller, in a real situation you would either want a lot of canteens on hand or a large hydration bladder because chances are you are going to be sweating a lot and that means you will want to make sure to drink a lot of water.
The facepiece is made of bromobutyl rubber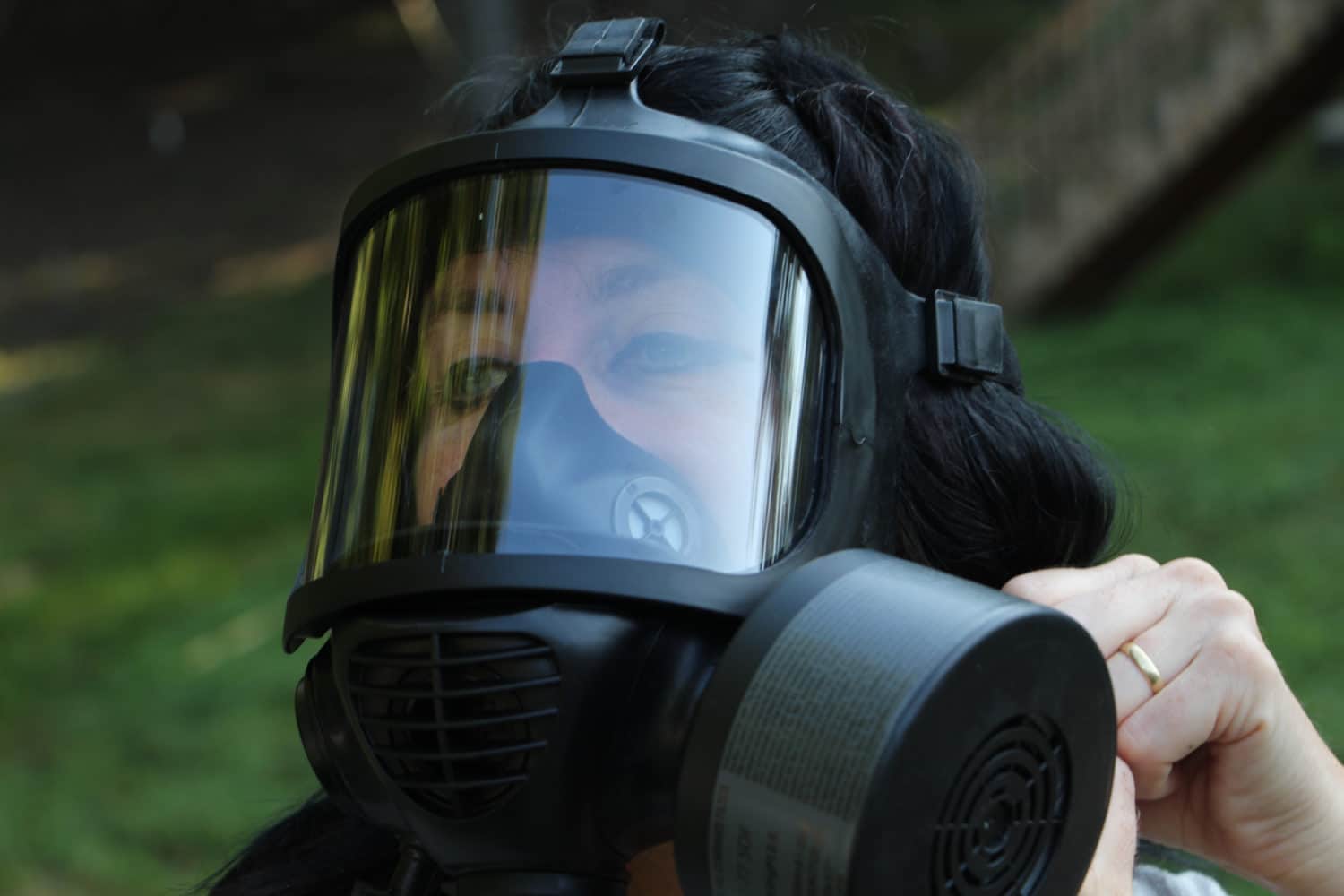 The entire facepiece is made of bromobutyl rubber so you get a very high resistance to a variety of toxic industrial chemicals and chemical warfare agents.
For those that have sensitive skin, you will be pleased to hear that the inner mask is made of a hypo-allergenic material that keeps the mask tight to your face. Since this seals the visor off from exhaled air, you don't have to worry about your mask fogging up.
I was really happy to see this feature because I have a lot of experience wearing respirators and goggles while spraying crops or doing carpentry work and it is extremely difficult to find a setup that doesn't eventually fog up. I am so glad that it lived up to the claim.
Filters are not included but you get a discount when purchased with a mask
If you choose to order a gas mask from Mira, make sure to add the filters at the same time you add the mask. With the current pricing structure, this will save you about $20 per filter.
There are different filters available and your mask has space for up to two. The advantage of having two filters is that your mask will be easier to breathe through and it will last longer under a high level of contamination.
You can just use a single filter too and the mask will provide a high level of protection. Having just a single filter allows you to choose what side to put it on which will make it easier to use rifle sights.
The mask and cartridges are effective against the following:
Solid and liquid aerosols, smoke-producing substances, radioactive fallout, bacteria, viruses, vapors of organic and inorganic acids, hydroxides, organic solvents with a boiling point less than 65 degrees Celsius, inorganic acids, hydroxides, ammonia, amines, acid gases, mercury vapors, agricultural chemical combustion products, tear-producing, irritant, choking, blister, and nerve agents e.g. bromoacetone, OC, CR, CS substances, organic compounds of arsenic, phosgene, hydrogen cyanide, cyanogen chloride, mustard gas, organophosphates e.g. sarn, soman, IVA, VX, and other toxic substances e.g benzene, toluene, vinyl chloride, fluorine, hydrogen fluoride, sulfur oxide, phosgene, phosphoric acid and its organic derivatives, chloroacetic acid, nitric acid, nitrogen dioxide, aldehydes, and mixtures of organic and inorganic substances.
The 5-point head harness is super comfortable.
I have long hair and that can cause complications when wearing any headgear. This mask is made so you can take it on and off with ease and it has a built-in hairnet in the back so you don't pull your hair out or get it ridiculously tangled. During an emergency, it is best to minimize any aggravations like that.
A large and clear viewing area makes this mask stand out.
I am not a big fan of peeping through small eyeholes. I often wear glasses as well so a mask that cannot accommodate glasses is a bit of a problem. I am happy to say that you have a really big viewing area that doesn't fog up. The large viewing space makes this mask more versatile since any adult can use it.
It can be used in an atmosphere that is at least 19.5% oxygen when used with a filter.
It is important that those that are new to gas masks realize that they have some limitations. They don't allow you to safely breathe in very low oxygen environments. If you are in a situation where oxygen displacement is a concern, a breathing apparatus must be used. Chlorine gas is one example of a chemical agent that will displace all the oxygen in an area. How long this type of displacement lasts depends on a lot of factors such as wind and how enclosed space is.
The Smoke Bomb Test
We have an old metal tool shed that measures about 8 feet by 10 feet. Recently we cleaned it out because it is getting a bit worn. We have moved this shed several times. In fact, it was the first building we put together up here back in 2008. I bought some smoke bombs and had Matt splice them together and light them while I was in the building.
I could see through the mask and breathe just fine. I am really glad to report that it did not fog up, and I was able to talk to him. The Mira mask costs substantially more than my old 3M respirator unfortunately but that is to be expected for something that offers this level of protection.
If it was comparable in price, I would be very tempted to wear it when spraying grapes because it is exponentially more comfortable and I would not have to worry about a separate set of goggles that are guaranteed to eventually fog up.
The interior is really soft on the skin and there are no unpleasant rubber smells whatsoever.
Save the caps to your filters for storage.
Each filter comes with a screw cap and a fitted protector for the part the air comes in through. I advise keeping these on hand so you can store your mask in a way that keeps debris and such out. Since I opened this just for a test, I definitely took off the filter after testing and replaced the protective caps.
I might go as far as lightly vacuum sealing the filter to offer it further protection until I feel the need to use it again. At $80 per filter, I want to take care of this mask and filter set and not screw it up in storage.
Other masks from Mira Safety
Mira makes several other mask styles and they make gas masks and systems for infants and children so you can have something on hand for everyone in the family in case of a nuclear, biological, or chemical attack. Remember that it is important for a gas mask to fit correctly if it is going to actually protect someone well. An adult gas mask will not work for a child.
The children's gas masks fit kids from 1.5 -15 years old. You will need to choose between two sizes. A size 1 kid's gas mask is suitable for children 1.5-6 years old while the size 2 is suitable for those 6-15 years old. Any child under 1.5 years old will need a baby gas mask system.
The baby and infant system is costly and only offers protection for so long but if you want protection for a child under 18 months or for a small pet, this is what you are going to need. Mira also says it can be used for pets up to 30 lbs or up to two cats.
If a kid is smaller or larger for their age, that may affect what size mask you need to buy. If you happen to get the wrong size, you can return and exchange the mask at no cost.
You can return your mask within 30 days of purchase if you are not comfortable with it but I think you will like the quality and comfort. I just like to let folks know when a company stands behind their products because survival gear is not a small investment. Mira also offers a 5-year warranty on all their products and excellent customer service.
This mask is constructed similarly to the mask I tested, but it is made to be more easily used with optics such as night vision goggles. If you plan on using any type of advanced optics, you may want to consider getting this version. Personally, I prefer the mask design I tested because I like a big viewing window.
At the same time, I know that using binoculars and such would be more challenging. There is a minuscule price difference between the two masks so cost should not be a factor in your decision as to what style to buy.
If you have a gas mask, practice with it and know how to use all of its features.
This is the first gas mask I have ever worn and after testing it out I would advise anyone that adds a gas mask to their preps to thoroughly review how to use it, the specs, and the limitations. It took me a while to get the mask adjusted to my head and face. I also had to learn how to use the drinking straw. Getting a good seal on your mask is critical and you will need to be able to do that fast if you are every in a real chemical or nuclear situation. You do not want to be fumbling around.
Final Thoughts
I am impressed with the comfort and quality of Mira products. If you are looking for a well-made gas mask, then I advise giving them a try. I stand by what I said before about not trusting gas masks with too good to be true pricing. While something may work briefly or provide some protection, do you really want to trust cheap gas mask manufacturers with your life and your long-term health? What about the health of your family?
For even more info and advice on gas masks, be sure to check out Mira Safety Founder, Roman Zrazhevskiy's "Gas Mask Buyer's Guide". You can also get a free copy of the guide in pdf format by submitting your email address.