This site contains affiliate links. As an Amazon Associate, I earn a commission from qualifying purchases at no extra cost to you. Full Disclosure Here.
The next book in the Backdoor Survival Spring 2014 Book Festival is The Pantry Primer: How to Build a One Year Food Supply in Three Months.  Daisy Luther, the author, is a prolific writer and blogger.  She is also a member of  my "Prepared Bloggers" group – a very special community of abut 100 bloggers with prepping, homesteading and self-reliance websites.
Naturally, I have a print copy of Daisy's book to giveaway, but first, enjoy the interview!
An Interview with Daisy Luther
Tell me about your book, The Pantry Primer. What is it about?
The Pantry Primer is a book that is written with the beginner in mind. The idea of building a one year food supply is very daunting for people who are accustomed to having enough in the cupboards for two weeks or less. This is a guide to break the process down into easy, weekly steps and it also focuses on making the healthiest possible choices on a budget.
What type of research did you have to do while writing your book?
Actually the book is almost like a journal. My daughter and I moved last year from Central Ontario to the Pacific Northwest.

For several reasons, we were unable to bring our preps with us. First, there were many restrictions with Customs for bringing food into the country. Secondly, our belongings were in a metal trailer in the middle of summer, and the inside of that trailer reached well over 120 degrees Fahrenheit, so anything we brought would most likely have spoiled.

As we rebuilt our stockpile, starting from nothing, I wrote about the experience in the hopes that it would be a helpful guide to those just starting out.
How long did it take to write?
It took me 3 months to build my supply, during which time I tracked the journey on my website, The Organic Prepper. Then it took perhaps another month to compile the articles and information into a book format, edit it, and submit it for publication.
Every book, fiction and non-fiction, includes a message. What message do you hope my readers will take with them after reading The Pantry Primer?
I want to let people know that even when your budget is tight, you can still prepare for the future and do so in a healthful, budget-conscious fashion.
Can you tell us a little bit more about yourself?
I'm a single mama of two wonderful daughters. I work from home as a freelance writer. I have previously worked in the health and fitness industry, so I particularly enjoy tying together my interest in health and my interest in preparedness.

We find that a very simple lifestyle is very gratifying – it really helps you to slow down and enjoy those little things that lots of people overlook because they're so busy looking at the bigger picture.
As an author in the survival, prepping and/or homesteading niche, what are you personally preparing for?
I can't really narrow it down like that. I believe that if you have a preparedness mindset, it means you're ready for whatever life throws at you. That could be a bad storm that leaves you stranded at home without power for a couple of weeks, a job loss, encroaching tyranny, a national economic collapse or something even more long term and devastating like an EMP-type disaster that takes down the grid permanently or war on American soil.
Do you have plans for another book?
Yes, definitely. My next book is being edited and illustrated right now, and will hopefully be out before summer. It is called The Organic Canner, and it's a cookbook and canning guide, loaded with individual canned items as well as complete nutritious meals.
Is there anything else you would like to share with my readers?
No matter how small the amount of money you can allot to preparedness, every small amount of food you put back is insurance against the time when food might not be as readily available as it is today. There is no step too small – it all adds up, so just start.
The Book Giveaway
A copy of The Pantry Primer has been reserved for one lucky reader.  Here is this week's poll:
Which of the following food storage accessories have you used?  (Indicate all that apply.)

A – Vacuum Sealer (such as a FoodSaver)  or similar device
B – Pressure Canner
C – Mylar Bags with or without  Oxygen Absorbers
D – Large Buckets
E – Other (Describe)
F – None of the Above

To enter the giveaway, you need to answer this question by responding in the comments area at the end of this article. The deadline is 6:00 PM Pacific next Thursday with the winner notified by email and announced in the Sunday Survival Buzz on June 8th.  You will have 48 hours to claim the winning book.
Note: If you are reading this article in your email client, you must go to the Backdoor Survival website to enter this giveaway in the comments area at the bottom of the article.
The Final Word
Starting an emergency food pantry from ground zero and with limited funds is daunting.  Add to that the desire to store only wholesome, nutritious and predominantly organic foods and, oh my, you have a challenge ahead of you.
Not to worry.  In Daisy's book, you will learn of some strategies you can use to build your pantry while keeping your budget and health concerns intact.  She has done it herself and will show you that you can do it, too, in just three months!
Enjoy your next adventure through common sense and thoughtful preparation!
Gaye
Reminder: Click Here To Vote For Me at Top Prepper Websites!
If you have not done so already, please be sure to like Facebook which is updated every time there is an awesome new article, news byte, or link to a free survival, prepping or homesteading book on Amazon.  You can also follow Backdoor Survival on Twitter, Pinterest, and Google+ and purchase my book, The Prepper's Guide to Food Storage from Amazon.
In addition, when you sign up to receive email updates you will receive a free, downloadable copy of my e-book The Emergency Food Buyer's Guide.
Spotlight Item:  The Pantry Primer: How to Build a One Year Food Supply in Three Months
A one year food supply means freedom. It means that you are less subject to the whims of the economy. You can handle small disasters with aplomb. You aren't reliant on the government if a crisis occurs. Being self-reliant begins with a pantry full of food.

Learn how to build a pantry on a budget with this easy 12-week outline.   Don't be discouraged by all of the doom and gloom out there. You can take the most important step towards security today…the step of getting started. In this book, learn about the different types of pantries, how to expand your pantry with home canning, and how to develop a well-balanced, nutritious stockpile to see your family through difficult times.
Bargain Bin:  Today is all about books.  Listed below are all of the books in the current Backdoor Survival Book Festival. There are both fiction and non-fiction titles and a bit of something for everyone.
And if not, at the very least pick up the free Kindle app so that you can read Kindle books on your PC or favorite electronic device.
Spring 2014 Book Festival #5 – Fiction
Brushfire Plague: Reckoning
Through Many Fires: Strengthen What Remains
Flight of the Bowyer
The Jakarta Pandemic
The Perseid Collapse
Leaving The Trees
Fury of the Fifth Angel
Fugitives from Northwoods
Phoenix Island: A Tale of Disaster, Survival, and Rebirth
Spring 2014 Book Festival #5 – Non-Fiction
The Prepper's Complete Book of Disaster Readiness: Life-Saving Skills, Supplies, Tactics and Plans
Simply Canning: Survival Guide to Safe Home Canning
The Prepper's Pocket Guide: 101 Easy Things You Can Do to Ready Your Home for a Disaster
The Prepper's Cookbook: 365 Recipes to Turn Your Emergency Food into Nutritious, Delicious, Life-Saving Meals
Jake and Miller's Big Adventure: A Prepper's Book for Kids
The Pantry Primer: How to Build a One Year Food Supply in Three Months
~~~~~~~~~~~~~~~~~~~~~~~~~~~~~~
Shop the Emergency Essentials Monthly Specials: The monthly specials at Emergency Essentials feature discounts of up to 35% off sometimes a bit more.
Although I have plenty of flashlights and batteries (you might even say I have a flashlight fetish) I also stay stocked up with a dozen of these Clear Mist 100 Hour Plus Emergency Candles
as well.  For the best deal, purchase a dozen at a time to get a discounted price.  Be sure to also check out the Clear Globe attachment.
~~~~~~~~~~~~~~~~~~~~~~~~~~~~~~
I earn a small commission from purchases made when you begin your Amazon shopping experience here.
The Amazon Top Ten Most Wanted Survival and Outdoor Items
Emergency Preparedness Items from Amazon.com
Help support Backdoor Survival. Purchases earn a small commission and for that I thank you!
~~~~~~~~~~~~~~~~~~~~~~~~~~~~~~
No list of books would be complete without my own e-book, The Prepper's Guide to Food Storage.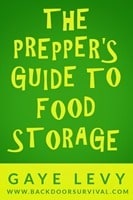 The Prepper's Guide to Food Storage is a book about food: What to store, how to store it and best practices. It is a roadmap for showing ordinary citizens that long-term food storage is not something that will overwhelm or burden the family budget.   It is based on my own tried and true experience as someone who has learned to live the preparedness lifestyle by approaching emergency preparedness and planning in a systematic, step-by-step manner.

Whether you simply want to prepare for natural disasters or whether you believe the world is headed toward a major food crisis, this book is for you. It covers basic tips and techniques you can use to stock your food storage pantry so that you can be assured that your family will have food to eat, no matter what.