This site contains affiliate links. As an Amazon Associate, I earn a commission from qualifying purchases at no extra cost to you. Full Disclosure Here.
Are you ready to start reading again?  Today I am thrilled to announce the latest Backdoor Survival Book Festival.  If I am counting correctly, this is Book Festival number five and once again,  I have lined up some terrific authors and their books plus of course, interviews and book giveaways.
There is truly something for everyone this time around: survival fiction, prepping books, cookbooks, a children's book and a book on canning.  Before I start, for the benefit of the Backdoor Survival newbies, let me tell about the Backdoor Survival book festivals and how they work.
What the heck is a book festival?
Glad you asked.  Over the course of the next few of months, I will be featuring survival and prepping book giveaways coupled with exclusive one on one author interviews.  In most cases I will follow up with my own mini-reviews as well.
For each book giveaway, I will ask a question and request that you provide an answer in the comments section of the article.  A winner will be selected at random and the book or e-book will be sent directly by the author or the publisher.
I could go on but why not just get into it?  Here is the list of books and their descriptions.
Spring 2014 Book Festival #5 – Fiction
After Cooper Adams tells the world the shocking truth about the origin of the catastrophic Brushfire Plague, he faces a series of dire consequences.

Driven from his home by betrayal, he flees with his son and others to a remote hideaway. Their dangerous journey brings them face to face with a desperate world spiraling into collapse and new challenges that cost Cooper dearly. He soon finds himself embroiled in a deadly conflict with a local strongman bent on domination of the local population. When he strikes a blow for freedom against this petty tyrant, he faces impossible choices in trying to save his son's life – and to protect his innocence.

Amidst their daily battle to survive, Cooper is shocked to learn that the Brushfire Plague has new layers of treachery and conspiracy that continue to upend their world. Can Cooper Adams survive the violence, hunger, and a world racing toward Armageddon? What will it take to elude those pursuing him to silence the truth? Will his son survive and at what cost? How will Cooper resolve the growing tension between two women that offer their own set of impossible choices? In the end, Cooper faces this reckoning with only a small band of trusted friends, his faith in the truth, and his fading hope that the crumbling world around them can somehow be salvaged.

Author:  R.P. Ruggiero
Through Many Fires: Strengthen What Remains
Terrorists smuggle a nuclear bomb into Washington D.C. and detonate it during the State of the Union Address. Army veteran and congressional staffer Caden Westmore is in nearby Bethesda and watches as a mushroom cloud grows over the capital. The next day, as he drives away from the still burning city, he learns that another city has been destroyed and then another. America is under siege. Panic ensues and society starts to unravel.

Author:  Kyle Pratt
After six long years of political genocide carried out against the American people by the administration of President Benjamin Franklin Luder, the nation is stunned when Luder announces that he is issuing an executive order to suspend the next presidential election for "the good of the country," giving him an unprecedented, and unconstitutional, third term as president.

Luder has slowly, and systematically, robbed the citizens of various liberties and freedoms through similar acts, and in the process, he has nearly destroyed the once greatest country on earth. However, his environmental policy of "green communism" has done the most damage of all, resulting in a nationwide energy slowdown which has crippled every level of industry.

This is the story of Soon how one man is forced to choose between saving his country and saving the life of his son, choosing who will live and who must die—including himself.

Author:  Kenneth R. Lewis
The People's Republic of China announces strict travel restrictions.  Indonesia goes dark.  Cases of an uncategorized influenza virus appear in major cities around the globe.  Department of Health and Human Services officials claim that measures have been taken to safeguard the American public.

Most ignore the warnings and few prepare.

Alex Fletcher, Iraq War veteran, has read the signs for years. A seasoned sales representative for Biosphere Pharmaceuticals, he understands the unique dangers of a pandemic flu and has taken the necessary steps to prepare. With his family and home mobilized to endure an extended period of seclusion, Alex thinks he's ready for the pandemic. He's not even close.

Author:  Steven Konkoly
Six years after the Jakarta Pandemic "decimated" the world's population; life is back to normal for the Fletchers and most Americans. The United States stands at the brink of a complete domestic and international resurgence, with stories of confidence and prosperity dominating the headlines. Appearances can be deceiving.

An undercurrent of paranoia and fear still runs strong below the surface; the collective angst of 28 million American deaths forever stamped into population's fragile psyche. Suppressed memories of helplessness and desperation, anger and jealousy–waiting to be released.

On August 19, 2019, an inconceivable "event" will cripple most of North America's critical infrastructure, spreading fear of a possible EMP or nuclear attack across the United States. With the power grid down and communications nonexistent, persistent rumors of a government takeover cast a darkness over the people. A human darkness with a vast appetite for destruction and violence.

Alex Fletcher will wake to this new world, catapulted headfirst into an impossible journey through a brutally hostile landscape–where the forged bonds of friendship and family remain the only true constant.

Author:  Steven Konkoly
LEAVING THE TREES is a fictional account of the meltdown of our global society, as we know it. It has at its root cause a malevolent cyber attack on the global financial networks and systems by China that finally causes everything to spin out of control. It is initially set in Washington D.C. with political leaders who do not deal effectively with this calamity.

As things begin to unravel, and society loses the ability to cope, things just stop working. At this point he novel sharply transitions to the future and the aftermath of this global meltdown. The last two thirds of the book focuses and how a small community in Montana must pick up the pieces and learn how to survive, with what they have left and how they must live. It is suspense novel about trust, deception, betrayal and revenge that is filled with many twists, and turns.

Author:  Richard Broome
The president of the United States faces some extremely difficult decisions at the White House regarding the threat of a severe meteorite storm bombarding the earth. The information must be taken seriously, as it was confirmed by Ben Cohen, one of the most respected astronomers the world has ever known. To make the president and his Cabinet's matters worse, the popular Reverend Randall P. Davis from Wheeling, West Virginia, follows his own heart simply because the reverend has always reported to a higher authority than President Jameson Coleridge.

In upstate New York, John Halloran, an electric power grid control operator knows something is going on; however, it takes some time for him to put all of the pieces together with his new "friend," Devon Grant, from the office of the National Oceanic and Atmospheric Administration (NOAA) in Boulder, Colorado. John knows of the threats of electromagnetic pulses to the power grid, but he is sure this is not one. Whatever is happening is different, very different-this seems more real to him than the fictional EMP disaster novels he has read. All of John's training, experience, and gut instincts send him the signals that something is wrong, but nobody is talking.

Authors:  Albert Hoffman and Chris Hoffman
Eight teenagers escape imprisonment at a work camp to brave the wilderness. Tested to their limits, they struggle to survive their terrifying dash for freedom. After the total collapse of the world economy, the United States could not stand together. So they failed separately.

In the small region-state of Winnkota, poverty and greed are turning the idyllic Northwoods of Minnesota into a barren wasteland of clear-cut forests and over-fished lakes. Every able-bodied teenager is conscripted into a labor force and sent to work in harsh, prison-like conditions. They are enslaved young so they never learn to think for themselves. But Penn is different. He's determined to win back freedom—for himself, his friends, and someday for his homeland.

Adversity and loss abound, and should any of them survive to reach the border, will the freedom found equal all that they expected?

Author:  Chris Bostic
Phoenix Island: A Tale of Disaster, Survival, and Rebirth
ONE LONELY ISLAND, ONE TIDAL WAVE, NINE SURVIVORS.  A tsunami is one of the last things Dr. Andrew Held expects while entertaining guests on Phoenix Island, the tiny, isolated outpost of Washington State he has made his private home. But when a French nuclear bomb test in the South Pacific goes awry, the ensuing tidal wave destroys his island estate and severs all ties to the mainland.

The survivors are nine with little in common and histories setting them far apart, yet each with unique, unexpected strengths, virtues, and talents. As hopes of quick rescue dim, their only chance of survival is to bridge their differences, transcend their conflicts, and learn to live in harmony with each other — and in some cases, with themselves.

Author:  Charlotte Paul  Editor: Mark Shepard
Spring 2014 Book Festival #5 – Non-Fiction
The Prepper's Complete Book of Disaster Readiness: Life-Saving Skills, Supplies, Tactics and Plans
Is your survival plan complete from A to Z? Are you truly 100 percent prepared? Because if you overlook one vital area, fail to stock one critical supply or underestimate one potential danger, your whole plan could come crashing down. The Prepper's Complete Book of Disaster Readiness guarantees you won't miss a thing as you prepare for the most important moment in your life.

This bible of prepping shows each and every life-saving step necessary to keep your family alive and well when the world around you is in chaos, including how to:

• Efficiently store water and acquire additional fresh water after a collapse
• Build a shelf-stable food stock and supplement it by harvesting edible wild plants
• Strengthen the security of your home as well as have a back-up bug-out plan
• Treat illness and stay healthy when there are no doctors or hospitals
• Build a safe and secure survival retreat that allows for long-term off-the-grid living

Author:  Jim Cobb
Simply Canning: Survival Guide to Safe Home Canning
Do you know the most important information for safely home canning? Simply Canning the book… will lead you step by step through the most important canning safety information for both Pressure Canning and Water bath Canning. This book also includes canning directions for most basic foods.

Learn how to can tomatoes, green beans, canning meat and fruit. Then have fun and create jam and jelly, marmalade and fruit butters.

Learn what canning equipment you really need, why a pressure canner is imperative in some situations, and when waterbath canning is perfectly acceptable. Home Canning can be fun and rewarding. Do it right and you will be providing a pantry full of safe healthy foods for your family. Canning Methods, Canning with a pressure canner and a waterbath canner. What is botulism? How can it be easily avoided. Canning Vegetables, canning meat and more.

Author:  Sharon Peterson
The Prepper's Pocket Guide: 101 Easy Things You Can Do to Ready Your Home for a Disaster
Be prepared and be safe.  From California earthquakes and Rocky Mountain wildfires to Midwest floods and Atlantic hurricanes, you can't escape that inevitable day when catastrophe strikes your home town — but you can be prepared!

Offering a simple DIY approach, this book breaks down the vital steps you should take into 101 quick, smart and inexpensive projects:

#6 Make a Master List of Passwords
#16 Calculate How Much Water You Need
#33 Start a Food Storage Plan for $5 a Week
#60 Make a Safe from a Hollowed-out Book
#77 Assemble an Inexpensive First Aid kit
#89 Learn to Cook Without Electricity
#94 Pack a Bug-out Bag

Author:  Bernie Carr
The Prepper's Cookbook: 365 Recipes to Turn Your Emergency Food into Nutritious, Delicious, Life-Saving Meals
Stock your pantry to survive any disaster!  When a catastrophic collapse cripples society, grocery store shelves will empty within days. But if you follow this book's plan for stocking, organizing and maintaining a proper emergency food supply, your family will have plenty to eat for weeks, months or even years, with meals such as:

• French Toast
• Black Bean Soup
• Chicken Pot Pie
• Beef Stroganoff
• Fish Tacos
• Potatoes Croquette
• Asian Ramen Salad
• Quinoa Tabouli
• Rice Pilaf
• Buttermilk Biscuits
• Peach Cobbler

Packed with tips for off-grid cooking, canning charts for over 20 fruits and vegetables, and checklists for the best emergency pantry items, The Prepper's Cookbook will have you turning shelf-stable, freeze-dried and dehydrated foods into delicious, nutritious dishes your family will love eating.

Author:  Tess Pennington
Jake and Miller's Big Adventure: A Prepper's Book for Kids
Being prepared is a ton of fun!  The world can be a scary place! There are snowstorms and mean snakes, hot jungles and wild rivers. But intrepid adventurer Jake and his dog Miller aren't scared —they're prepared!

In Jake & Miller's Big Adventure, young readers discover it's never too early to start prepping. Learning how to use life-saving survival equipment like canned goods, water filters, first aid kits, Mylar blankets and emergency radios can keep you safe, healthy and happy even in the scariest of adventures—whether you're deep in the jungle or hunkering down at home.

Author:  Bernie Carr
The Pantry Primer: How to Build a One Year Food Supply in Three Months
A one year food supply means freedom. It means that you are less subject to the whims of the economy. You can handle small disasters with aplomb. You aren't reliant on the government if a crisis occurs. Being self-reliant begins with a pantry full of food.

Learn how to build a pantry on a budget with this easy 12-week outline.   Don't be discouraged by all of the doom and gloom out there. You can take the most important step towards security today…the step of getting started. In this book, learn about the different types of pantries, how to expand your pantry with home canning, and how to develop a well-balanced, nutritious stockpile to see your family through difficult times.

Author:  Daisy Luther
The Final Word
So what do you think? Isn't this a terrific lineup?
My thanks to the authors and their publishers for making this happen.  The first author interview and book will appear in two weeks following next week's featured review and giveaway of The New Artisan Bread in Five Minutes a Day: The Discovery That Revolutionizes Home Baking.
Enjoy your next adventure through common sense and thoughtful preparation!
Gaye
Click Here To Vote For Me at Top Prepper Websites!
If you have not done so already, please be sure to like Facebook which is updated every time there is an awesome new article, news byte, or link to a free survival, prepping or homesteading book on Amazon.  You can also follow Backdoor Survival on Twitter, Pinterest, and Google+ and purchase my book, The Prepper's Guide to Food Storage from Amazon.
Spotlight:  No list of books would be complete without my own e-book, The Prepper's Guide to Food Storage.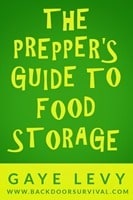 The Prepper's Guide to Food Storage is a book about food: What to store, how to store it and best practices. It is a roadmap for showing ordinary citizens that long-term food storage is not something that will overwhelm or burden the family budget.   It is based on my own tried and true experience as someone who has learned to live the preparedness lifestyle by approaching emergency preparedness and planning in a systematic, step-by-step manner.

Whether you simply want to prepare for natural disasters or whether you believe the world is headed toward a major food crisis, this book is for you. It covers basic tips and techniques you can use to stock your food storage pantry so that you can be assured that your family will have food to eat, no matter what.
Bargain Bin:  For your reference and convenience, here is a handy list of all of the books in the current book festival.
Spring 2014 Book Festival #5 – Fiction
Brushfire Plague: Reckoning
Through Many Fires: Strengthen What Remains
Flight of the Bowyer
The Jakarta Pandemic
The Perseid Collapse
Leaving The Trees
Fury of the Fifth Angel
Fugitives from Northwoods
Phoenix Island: A Tale of Disaster, Survival, and Rebirth
Spring 2014 Book Festival #5 – Non-Fiction
The Prepper's Complete Book of Disaster Readiness: Life-Saving Skills, Supplies, Tactics and Plans
Simply Canning: Survival Guide to Safe Home Canning
The Prepper's Pocket Guide: 101 Easy Things You Can Do to Ready Your Home for a Disaster
The Prepper's Cookbook: 365 Recipes to Turn Your Emergency Food into Nutritious, Delicious, Life-Saving Meals
Jake and Miller's Big Adventure: A Prepper's Book for Kids
The Pantry Primer: How to Build a One Year Food Supply in Three Months
~~~~~~~~~~~~~~~~~~~~~~~~~~~~~~~~~
I earn a small commission from purchases made when you begin your .
The Amazon Top Ten Most Wanted Survival and Outdoor Items
Emergency Preparedness Items from Amazon.com
Shop Amazon Tactical – Great Selection of Optics, Knives, Cases, Equipment

Help support Backdoor Survival. Purchases earn a small commission and for that I thank you!