This site contains affiliate links. As an Amazon Associate, I earn a commission from qualifying purchases at no extra cost to you. Full Disclosure Here.
Editor's Note: This is an updated and revised edition for 2021.
Having a functional and reliable hatchet and ax is a must for any well-prepared person. Hatchets and axes are just so versatile for a lot of situations. Matt and I have been at this prepping and homesteading thing a long time and as a result, we have learned just how valuable having the right tool can be.
When you are first starting out on the place, it is amazing how much you come to appreciate anything that makes getting the job done a little easier even if it is a non-mechanical hand tool like an ax or hatchet.
Here is a short list of some of the things you can do with an ax or hatchet:
Cut down trees
Chop up firewood
A good hatchet and knife are all you need for basic butchering
Self-defense
Hatchets can be used for some food preparation
Building survival shelters, shacks, and shanties
Hatchets Comparison Table
I bought Matt the hatchet and knife combo about 12 years ago when we were living in Ketchikan, Alaska and we still have it today. It has been one of the most useful small hand tools we have! The hatchet is excellent for cutting through rib cages and separating joints while the small knife takes care of the rest.
The knife is held into the handle of the ax with a magnet which has made it possible to keep this combo together over this many years. For the prepper that wants a good combo that lasts at an unbeatable price, I cannot recommend this one enough.
Wood Versus Synthetic Handles
A wood handle feels and looks good but synthetics are stronger and tend to last longer for most people. Replacing a wood handle on an ax takes time and costs money.
In fact, the handles are often expensive enough that a lot of people just buy a new ax because between the cost and the time and work involved they feel they are better off and I can't say that they are not right about that one. Synthetic handles hold up to wet and damp environments better over time as well.
This is a traditional felling ax that packs a lot of heft. The 3.5 lb head makes this an ax that it takes a bit more to swing. Council Tools is a USA company and all axes are made in country.
This ax is up to taking on some big jobs and has a 36″ hickory handle that is tested for moisture to avoid the ax head slipping over time and different climatic conditions. I advise checking out more options from Council Tools if this is not the ax for you because they have a lot to offer.
What type of hatchet and ax article would this be without including Cold Steel? This 22″ long tomahawk style hatchet has a genuine hickory handle.
One side offers a powerful carbon steel blade while the other is a hammer headstrong enough to drive big spikes or nails. This is designed to be able to withstand a heavy workload while being comfortable to use all while weighing a mere 26 ounces.
Hults Bruk makes a large line of quality axes and hatchets. This ax is made for those that want an ax that can take on larger sized trees and logs if necessary. The handle is 28″ meaning it is comfortable for a lot of people to use. Some ax handles can be a lot longer and not as comfortable.
The 2.25 lb head is made to hold a sharp edge even if used a lot. I like that the head is so light so you can chop longer with less fatigue than really large ax heads. We are all not huge lumberjacks that want a heavy ax head. The ax comes with a storage case and a very nice leather sheath for the head.
Estwing is made to last and offers a full tang forged steel design and shock resistant handle that reduces strain and fatigue.  Estwing is proud of their drop forged and tempered process that adds strength and durability for a lifetime of use. This 16″ hatchet is great for kindling and small felling and cutting jobs.
You get a heavy duty nylon sheath for storage and transport. Estwing hatchets are made in the USA and backed by a good warranty. Each hatchet is hand sharpened and polished so it has a good edge right out of the box.
I am putting this unique ax on the list for those that want something a little bit different. I have been a big fan of CRKT for many years. Their blades are truly made to stand up to a high level of use over the years. My husband has had one of their knives for 15 years and used it a lot.
It was his everyday carry knife when we first met! This "ax" has the look and feel of a hatchet in many ways. CRKT designed it to deliver the strength and power of an ax. The hot forged carbon steel blade keeps a good edge. I like that it has a hammer head on the other side so you can drive a wedge, stakes, or even pound in nails if needed.
Prandi makes a wide range of hatchets and axes. Although they are made in Italy they have German Styling. This 15″ hatchet has an American Hickory handle and a  good sized carbon steel head.
The handy lanyard  hole is a bonus. Simply run some paracord through it. This is a basic hatchet with not any frills or extras. For those that like a traditional hatchet, this one is made to last.
Gerber makes a solid hatchet at a low price. This hatchet has a 3.5″ inch blade. The full tang design means it strong and made to last. Carbon steel makes for easy sharpening and a great edge. A synthetic no-slip handle makes it useful in all types of weather. The included nylon sheath is mildew resistant.
This is a compact size hatchet that could be a good option for those bugging out, backpacking, apartment, and urban preppers. It only weighs a mere 1.4 lbs! If you are a smaller person and don't like the size of a lot of hatchets then this Bear Grylls tested and approved hatchet is worth considering.
At 15.7 inches long this is a larger hatchet. The stainless steel blade is titanium coated. The handle is glass fiber filled PA & TPE rubber material and it is cold resistant. Schrade has been around a long time.
Although they may not all be made in the USA now, they still offer some quality tools that affordable. This ax reminds me a bit of the Gerber Gator in how it is made. It weighs just 1.4 lbs so it is an option for those hitting the trail. 
I felt that I should put a leather handled hatchet on this list. Some people really like the look and feel of wrapped leather. Like all Estwings, this one is made in the USA and forged as a single piece of tool grade drop forged steel.
At under 2 lbs, this is an easy one to carry. A durable nylon sheath is included for storage and safe transport. Satisfied customers report that this hatchet cuts down small trees with no problem and keeps an edge well.
Hatchet and Axe Safety
While hatchets and axes are great survival tools they also can be quite dangerous. Not everyone grows up chopping wood or cutting down trees to build a survival shelter. Take the time to practice using a hatchet or axe.
Any type of plastic glasses or goggles can be used to offer protection from bits that might fly out when you strike through something. If you accidentally hit metal, shards can go far. You would be amazed how many nails can be found in some trees.
Always keep your fingers out of the way
I know it sounds like a no-brainer but I see a lot of examples on Youtube of people that have used hatchets for years even, using their opposing hand to hold a piece of wood while they chop it into kindling. This is a terrible idea. While it helps to have something held, one little miss and you can find yourself in some dire circumstances.
Plenty of people have lost fingers or permanently maimed their hands doing things like that. During a survival situation or SHTF scenario, something that serious could mean life or death, especially if you don't have the greatest medical kit at your disposal. In short, you need to take care of your hands. If SHTF you are going to be using them more than ever.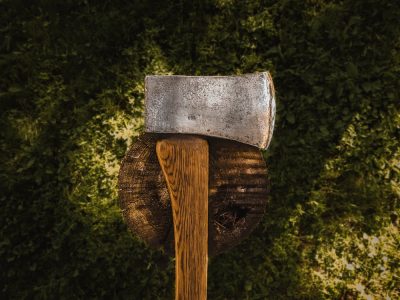 Hatchets and Axes For Bugging Out Versus Staying In Place
Some of the axes and hatchets on this list are lighter and smaller than others. For those that want to bug out on foot, the Gerber Bear Grylls or the Gator hatchet and Knife Combo are what I would choose.  Of course, the Gator Combo costs more than twice what the Bear Grylls model does so that is something that one might consider too.
Any ax is going to be a bit heavy for bugging out on foot but it could sure come in handy if you plan on building any type of shelter out in the woods. Just because you are bugging out doesn't mean you might not want to create a shelter to get through the winter and stay in place for a few months. It can be difficult to predict all the factors and decisions one would have to make in an extended SHTF scenario.
Stainless Steel Versus Carbon
Carbon and stainless steel both have their advantages and disadvantages. Some people feel strongly about one over the other. Here are a few things to consider so you make the best choice for your hatchet or ax.
Stainless resists abuse, neglect, and corrosive environments
Stainless steel is good for those that sometimes forget tool maintenance or live in corrosive environments such as near salt water. Storing stainless in a sheath for an extended period of time is doable without opening it up to a ton of rust or pitting.
Carbon sharpens and stays sharp more easily
Carbon steel is a popular choice for those that really are concerned about keeping a sharp edge on their hatchet or ax. It is important to consider that while stainless steel is good stuff, it doesn't take and keep an edge as easily as carbon blades.
Carbon steel is generally stronger than stainless
Although there are some improved stainless steels out there, carbon steel is stronger a lot of the time.  The difference is usually not a major factor for a lot of users.
Care and Maintenance
Carbon steel sometimes needs to be oiled
Some carbon steel blades are coated to resist corrosion except at the very edge. Standard carbon steel benefits from being wiped down with a coating of oil before being stored in a sheath. Even cooking oil will do. If your blade stays stored for a long time, take it out every once in a while and check it.
Nylon is better for storing hatchets and axes under moister conditions. Leather can absorb moisture and lead to rust and corrosion. Make sure that you keep up with oiling your carbon steel blades
Sharpening
If you are going to have an ax or hatchet than you need a good sharpener to go with it. Don't ever torture yourself with a tool that is dull. A sharp ax or hatchet will get the job done faster and with less frustration. Here are a few stones that offer a good value and size for the practical prepper.
This is an affordable dual grit puck style sharpener that is often used for axes and hatches. This is bargain priced and small enough to stash a few. This is one to consider if you are on a budget and want a good stone.
This is just a light mineral oil but it makes sharpening go a lot better and you could also use it to coat a carbon blade to resist corrosion.
This set of 3 Diamond Whetstones are lightweight and durable. These are a bargain for what you get. Coarse, Fine, and Extra Fine grits are all you need to get a perfect edge.
I like that they are not as thick and heavy so they can be added to a bag without adding a lot of weight. If you are depending on your hatchet, ax, and knives in a survival situation, you need to have the ability to keep a good edge.
You don't have to spend a fortune to get a good quality ax or hatchet.
As you can see from this list, you don't have to spend a ton of money to get a quality ax or hatchet for long-term use.  There are many other brands out there that offer good quality.
Read reviews and pay attention to size and the type of materials any tool is made of. If a price seems too good to be true then approach buying with caution but remember that sometimes an off-brand can surprise you.
Do you have a favorite ax or hatchet? Please share your favorites below but also let us know if you have had a negative experience with any particular one too!
If you enjoyed this article, consider following our Facebook page.
Looking for more prepper gear reviews? Get Backdoor Survival LIFELINE