This site contains affiliate links. As an Amazon Associate, I earn a commission from qualifying purchases at no extra cost to you. Full Disclosure Here.
MRE's (or Meals, Ready-to-Eat) are compacted meals devised to resist rough conditions and survive long lifespans. They were created for the United States Armed Forces, however, they've also found their way into the backpacks of survivalists.
Though MRE's are convenient, there's ongoing disdain over how sufficient they really are (check out out this article for more disdain). They're bulky, heavy, expensive, and highly temperature sensitive.
It's been noted that leaving an MRE in over 100-degree weather for just one day takes the life expectancy down by an entire month.
On top of this, MRE's are loaded with an excessive amount of MSG (monosodium glutamate). This chemical has been associated with numerous diseases and poor conditions (as well as addiction).
Due to these offsets, people are looking for alternatives for an MRE. Though there are only products to be compared to, it shouldn't be forgotten that an MRE is nothing more than long lasting food.

1. Humanitarian Daily Ration
Referred to as HDRs, Humanitarian Daily Ration is a spin-off of MRE. Meant to supply food for large amounts of displaced people or refugees under emergency situations.
They are cheaper (by 1/5th of the cost) and available at places like Salvation Army to aid victims of poverty.
The biggest difference between HDRs and MREs is the fact that they don't contain animal products or by-products. This was implemented as a way to provide for a variety of people with religious and/or dietary limitation.
Also, HDRs don't have a flameless ration heater like MREs.
Each HDR is meant to provide a full day's worth of nutrients, supplying 2,200 calories.
The meal is ready to eat from the package. However, just like with MREs, they're more desirable when heated in boiling water.
These include the entrees:
Lentil or barley stew
Yellow or herb rice
Red beans and rice
Beans and rice with tomato sauce
Peas in tomato soup
Beans with tomato
The sides:
Shortbread
Fig bar
Vegetable crackers
Peanut butter
Strawberry jam
Fruit pastry
The accessories:
Book of matches
Salt, pepper, and sugar packets
Packet of crushed red pepper
Moist towelette
Paper napkin
Plastic spoon
The only major difference between the two products that might throw consumers off is that HDRs don't last as long as MREs. Each HDR has an expectancy of around three years while MREs have been known to last for up to a decade.
Still, this is the only product out there that can truly compare to the MRE while complying to a vegetarian's lifestyle.
If you're looking for something healthier than an MRE, yet, sufficient in the way MREs are supplied, the HDR is a rational choice. Unfortunately, it's hard to find HDR's readily. Online supplies are spotty at best, but you can sometimes find them locally at surplus stores. If you DO get your hands on some, it might be worth stocking up as they are not readily available to the public.
2. Eversafe
One of the civilian products for an MRE. It can be said that it was created for survivalists like you and me.
Due to the fact that Wornick (Eversafe's manufacturer) was getting so many requests for MREs, they decided to create a product offered to anyone.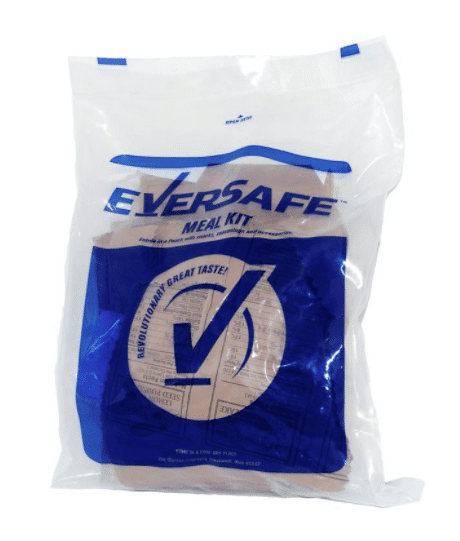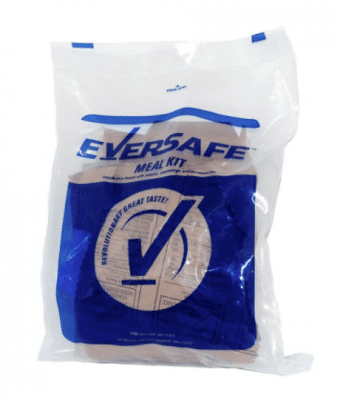 The comparisons between Eversafe and MREs are substantial.
Besides some minor differences (like spoon sizes and beverage options) the two are nearly identical. Though it should be noted, there is less of a variety with Eversafe than there is with MREs.
There are six menu options to chose from. Within each meal, you'll find instant coffee, creamer, salt, pepper, napkin, and a spoon.
*With these first three meals, you're given chunky peanut butter, crackers, and cinnamon imperials in each.
Menu 1:
Spaghetti with meatball sauce
Cran-apple ranger bar
Calorie count: 1,240
Menu 2:
Chili and macaroni
Granola with milk and blueberries
Calorie count: 1,340
Menu 3:
Chicken with noodles
Pepperoni pizza cheese crackers
Calorie count: 1,280
*With the following three meals, you're given pepperoni pizza cheese crackers, jalapeño cheese spread, vegetable crackers, and cinnamon imperials in each.
Menu 4: spicy penne pasta
Calorie count: 1,240
Menu 5: chili with beans
Calorie count: 1,270
Menu 6: vegetable lasagna
Calorie count: 1,220
This is an alternative for those interested in using MREs for their personal explorations. That being said, it might seem like the perfect choice for us survivalist.
It's affordable, it's made for the public, and it's made practically the same as an MRE.
However, there are brands outside of Warnick that have been producing MREs for the United States Armed Forces. Likewise, they're creating civilian MREs.
3. Ameriqual APack
Ameriqual happens to be the largest manufacturer of MREs for the U.S. military.
The civilian pack they released in 2006, is identical to that which they give the Armed Forces (except for the beverage mix).
Therefore, if you're a veteran and have been looking for the meals you enjoyed in service, Ameriqual has you covered.
Their product is just as sustainable as an MRE. You can expect it to last the same longevity and resist similar conditions.
Likewise, you'll find the flame ration heater to be an exact duplicate of the military version.
Unlike with Eversafe, the menu items show much more of a variety.
*Within each of these APacks, you're given crackers and raisins.
Menu 1:
Beef stew
Peanut butter
Strawberry toaster pastry
Oatmeal cookie
Beverage tube, orange
Calorie count: 1,300
Menu 2:
Spaghetti with meat and sauce
Peanut butter
Strawberry toaster pastry
Oatmeal cookie
Beverage tube, fruit punch
Calorie count: 1,300
Menu 3:
Chicken, noodles, vegetables
Cheese spread
Fig bar
Shortbread cookie
Beverage tube, lemonade
Calorie count: 1,180
Menu 4:
Chicken tetrazzini
Cheese spread
Fig bar
Shortbread cookie
Beverage tube, orange
Calorie count: 1,140
Menu 5:
Chili with beans
Peanut butter
Fig bar
2 shortbread cookies
Beverage tube, fruit punch
Calorie count: 1,220
Menu 6:
Chicken with black beans and rice
Cheese spread
Fig bar
Shortbread cookie
Beverage tube, fruit punch
Calorie count: 1,190
4. Coyote Camp Fireline Chow
Originally created by firefighters for use in firefighting environments, SAR events, and disaster relief efforts, Coyote Camp has created a different kind of alternative to MREs.
The packaging is all very similar to what you'd find in the other alternatives above, however, that is the only similarity.
The major difference between Coyote Camp Fireline Chow and other MREs is the fact that it is entirely implemented of commercial off-the-shelf items. Everything you'll find in the package is an immediately recognizable brand.
The reason it's on the list is that I know some people out there will prefer eating something with a familiar look and taste. This is one of the advantages Coyote Camp has over other MREs.
The biggest concern with this product is the fact that it doesn't have a shelf-life that lasts as long as the other products on this list.
Also, being that you can purchase all the items in any convenient store, you can easily make up your own Coyote Camp Fireline Chow. One with flavors that will better suit your tastes.
There are five different meal options to choose from. It should be noted that the brands contained in each are random.
Therefore, I've listed the food you can expect to get with each option.
Standard Meal:
One entree of a rotating variety (beef, poultry, pork, vegetarian)
Fruit cup and fruit juice
Energy component
Granola bar and cookie
Electrolyte replacement
Multivitamin
Flatware/napkin
Calorie count: 1,100-1,300
Super Meal:
Two entrees of a rotating variety (beef, poultry, pork, vegetarian)
Fruit cup and juice
Energy component
Granola bar and cookie
Electrolyte replacement
Multivitamin
Flatware/napkin
Calorie count: 1,400-1,650
Hotline Meal:
This is the exact same menu as the Standard Meal except for a water-activated heating element.
Calorie count: 1,100-1,300
Sportsman-Pac:
One entree of a rotating variety (beef, poultry, pork, vegetarian)
Fruit pouch
Energy component
Snacks (cookies, crackers)
Candy
Juice pouch
Multivitamin
Flatware/napkin
Water-activated heating element
Calorie count: 1,100-1,300
Rec-Pac:
This is the exact same menu as the Sportsman-Pac without the fruit pouch and multivitamin.
Calorie count: 650-750
5. Do-It-Yourself MRE
As mentioned above, you can always go to your local market, buy long-lasting food items, and put it together just as you'd find in an MRE (this can be easily done through a Mylar Bag).
However, the purpose of our last option is to give you a list of recipe items with long-lasting shelf-life. Some cooking talent is going to be necessary, but at the end of the day, this is a sufficient means of survival food.
If you're looking for the essentials of starting your food storage, click here.
First, I'm going to note the four flavorings known for their extensive expiration:
Salt
Sugar (brown or white)
Raw honey
Alcohol (whiskey, rum, vodka, etc.)
The following are the foundations common in most cooking recipes and can last for nearly a decade:
Buckwheat
Dry corn
Kamut
Hard red wheat
Soft white wheat
Millet
Durum wheat
Spelt
Barley
Oat groats
Quinoa
Rye
Pinto beans
Kidney beans
Lentils
Lima beans
Adzuki beans
Garbanzo beans
Mung beans
Black turtle beans
Blackeye beans
All purpose flour
White flour
Whole wheat flour
Cornmeal
Pasta
White rice
Coconut oil
In terms of short-term emergency, the following items will last around half a decade:
Canned tuna
Canned meats
Canned vegetables and fruit
Peanut butter
Coffee
Tea
Ramen noodles
Hard candy
Powdered milk
Dried herbs and spices
Apple cider vinegar
Baking soda
Lastly, all MREs contain non-food items. Usually, instruments for eating.
But being that this is your own survival kit, you can take it one step further and add some basic necessities.
Bic lighters
Toilet paper
Soaps
Bottled water
Vitamins
Medicines
Bandages
Peroxide
Lighter fluid
Canning supplies
Charcoal
Mixing and matching any of the above listed will ensure your survival adventures just as well as an MRE, if not better.
Final Word
These are what I have chosen as my top MRE alternatives. I made my decisions to comply with the majority of people.
I have an option for vegetarians, affordability, similarity to MREs given out in the U.S. army, brand-named MREs, and a personal collection of what's necessary for survival.
Also, if you are looking for some mid term food options, be sure to check out out this review of Mountain House.
In fact, there are a whole bunch of great survival food companies here that you should check out. While these meal options are not MREs per se, they are another good long term emergency food solution
What About Gluten Free?
If the DIY option is not feasible, see this post here on Gluten free meal pouches.
Otherwise, the ones discussed in this article are the most versatile, giving options to everyone's circumstance.