This site contains affiliate links. As an Amazon Associate, I earn a commission from qualifying purchases at no extra cost to you. Full Disclosure Here.
Editor's Note: This resource has been consolidated and updated for 2018.
Over the years, I have not been shy about stating my personal preferences when it comes to food storage.  It is not that I want you to emulate exactly what I do, but rather that you consider the pros and cons of my decisions as you develop your own food storage strategy.
It is because of those preferences that most of you may already be familiar with Mountain House meal pouches.  Even if you are not, I want to give you an update on why I prefer Mountain House as a go-to food supply resource.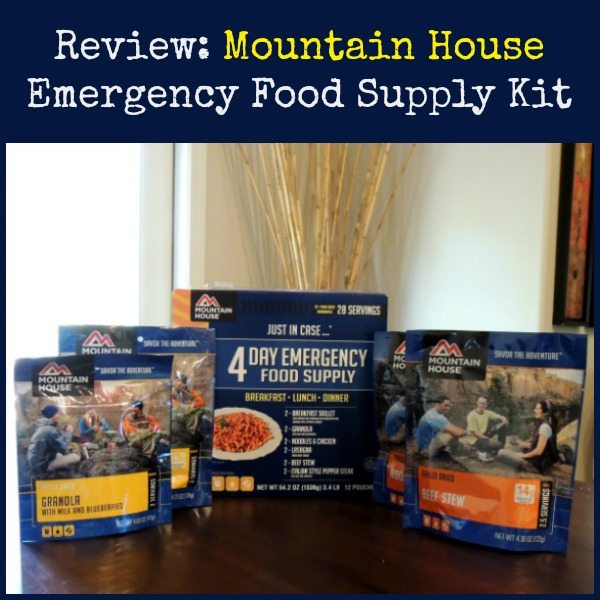 The Story Behind Mountain House
Not a lot of people know this, but Mountain House had its beginnings during the Vietnam war.  Perhaps I knew that but forgot.  I have always assumed they got their start as a provider of light-weight, easy to prepare meals for backpackers, campers, and other outdoor enthusiasts.
Here is the official story from the Mountain House website:
During the Vietnam Conflict, the military put out a request for food that tasted better, lasted longer and weighed less than old K and C rations. Our parent Company, OFD Foods, LLC (then called Oregon Freeze Dry) responded to that request and won the contract. We immediately started making freeze dried food as Long Range Patrol rations for the military. We've continued making food for the United States Special Forces and other branches of the military ever since.
As the war began to wind down, we took our surplus rations to military surplus and sporting goods stores, where they rapidly sold out. It was then in 1968 that we realized the great consumer demand for good tasting, easy to prepare freeze dried food and Mountain House was born.
The Mountain House Meal Pouch Advantage
Here are six reasons why Mountain House has become a cornerstone of my food storage strategy.
1.  Easy to prepare.
This may not seem like a big deal, but Mountain House meals are prepared right in the pouch. No pots, pans, or tools are needed other than a fork, spoon, Spork, or another utensil for eating.  The amount of water is typically just two cups for their lunch and dinner entrees.

Note: When I first started using Mountain House meal pouches, the bottom of the pouch became very hot – almost too hot to hold.  That is no longer the case because I can easily hold the pouch full of steaming food comfortably.
2.  Many entrees include meat.
This also may not seem like a big deal but for many, it can be.  Is anyone raising their hand?  Overall, this means fewer carbs and more protein.  Don't get me wrong.  I both store and enjoy non-meat entrees but in order to mitigate food fatigue, a bit of meat makes for a nice change.
3. "Cooking" is quick.
Not including opening the pouch itself, the total cooking time is less than 10 minutes.
4.  Cleanup is a cinch.
Because there is none.  All you need to do is to dispose of the pouch when you are done.  I do, however, recommend separate reusable eating utensils for each family member.
5.  Mountain House has some of the best-tasting meal entrees in the industry.
MH is one of just two meal entrée brands that I actually enjoy eating.  I even eat them when I am overworked, tired, or too lazy to cook a regular meal.  (The case in point is while packing and moving.  I ate freeze dried meals for a week – something I will be writing about soon.)

On the negative side, Mountain House is not going to be your bargain priced food storage choice.  Then again, it is still a good value, especially if food quality and taste are important to you.
6.  The shelf life is written in plain English.
Need I say more?  This picture says it all.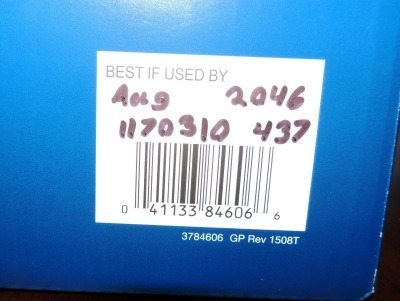 Here are a few more pictures I took at dinner earlier this week.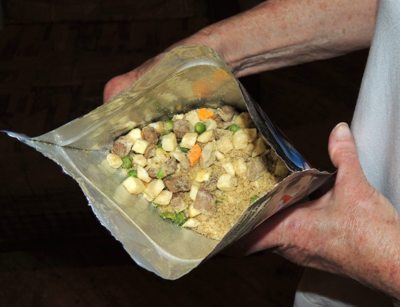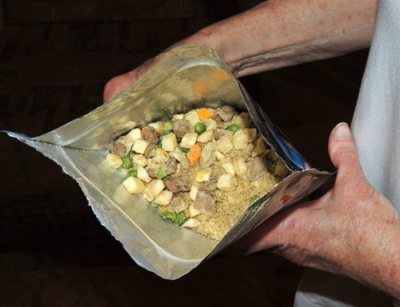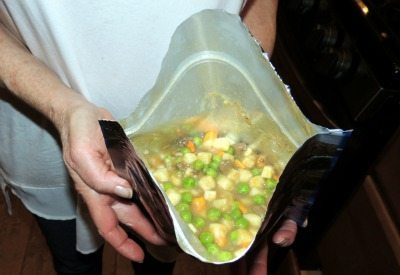 What's In the Just in Case Day Emergency Food Supply Kit?
Glad you asked.  Each stackable box in the "Just in Case" series contains approximately 1,650 calories for one person for the stated number of days. Or two people for half that time.
Using the 4-day kit as an example, you get 2 pouches of each of the following:
Breakfast Skillet: Hash browns, scrambled eggs and pork sausage paired with peppers and onions. Each pouch yields two 1-cup servings.

Granola with Milk & Blueberries:  Great hot or cold!. Crunchy granola with real milk and blueberries. Each pouch makes two half-cup servings.

Beef Stew:  A comforting classic. Tender beef, potatoes, peas, and carrots in a savory broth. Each pouch yields 2.5 1-cup servings.

Lasagna with Meat Sauce: Tender pasta noodles and cheese with a rich meat sauce. Each pouch yields 2.5 1 ¼-cup servings.

Noodles & Chicken:  Chicken and noodles mixed with red peppers and a rich, creamy sauce. Each pouch yields 2.5 1-cup servings.  ** This has become my new favorite. I could, if I wanted to, eat the whole pouch myself in a single sitting.  It is that good! **

Italian Style Pepper Steak with Rice & Tomatoes:  Tender steak with bell peppers, tomatoes, onions, and rice. Each pouch yields 2.5 1-cup servings.
I should mention that in addition to kits and entrees, Mountain House sells #10 cans of meal items and sides.  If you have not tried their FD ice cream sandwich, you are in for a treat!
Can Chicken and Dumplings be Freeze Dried?
To be honest, when I received the pouches of chicken and dumplings, I had my doubts.  I just could not imagine how reconstituting with water would result in an old fashioned, chicken and dumpling experience.  But it did.  It was delicious albeit more in a chicken pot pie type of way.
Each pouch holds 2 one cup servings.  You already know that to me, that is meaningless. What really counts is the calories.  The entire pouch is 610 calories so assuming that is all you will be eating while in emergency survival mode, this could be construed as 1 large serving.
After making that calculation, I prepared both pouches by adding 3 cups of water that I boiled on my Solo Stove (more about that next week ** hint hint wink wink **).  In hindsight, I forgot that most meal pouches call for too much water and I should have cut back a little.  That said, we devoured our meal even though it turned out to be a lot of food.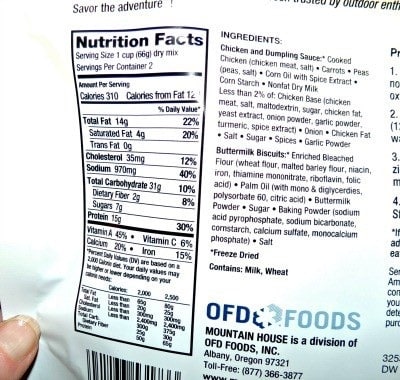 Always try to check the nutritional value before making a purchase.  Note that this pouch contains a total of 30 grams of protein.
We added a green salad and to round things off, and for dessert, tried the cheesecake bites which are eaten out of hand,  Open the pouch and eat; no cooking required. The cheesecake bites look like little cookie-cubes and, to me, taste like Lorna Doone shortbread cookies.  Does anyone remember those?
Okay, enough about my gastronomic adventures.  Kenny Larson is here to answer your questions.  Be sure to check in below for the giveaway.
Mountain House Responds to Questions from Backdoor Survival Readers
How does the cooking-freeze-drying process affect the vitamin and nutritional content of your food?
Our cooking process is the same as what you do at home, granted our cook pot is a bit bigger :).

The freeze drying process has negligible, if any, effect on the nutritional content. Compare this to other dehydration methods, often used in other popular dry-mix survival meals, that can have significant effect on overall nutritional content.
I've never seen freeze-dried food in a can, only in pouches. Is the quality better, worse or the same in a can?
Cans provide a sturdier structure than pouches. The primary benefit is greater pest and environmental protection and potentially longer shelf-life.

While I can't speak for other brands, foods in Mountain House cans are identical quality to the foods in our pouches. That is to say, pretty darn tasty!
Can I rehydrate Mountain House foods with tap water? What if boiling water is not available?
Yes you can but it will take longer for the food to hydrate in cold water. Beyond the fact that hot food generally tastes better, the heat energy in boiling water helps drive water deep into the dried food for maximum hydration in the shortest period of time.
How would your freeze-dried foods hold up in extreme temperature fluctuations (such as a vehicle or garage). Where I live it is well below zero in the winter and gets into the 100's in the summer?
Extreme temperature fluctuations have the potential to shorten shelf life of all foods (including those other than survival food) depending on other environmental factors like humidity.

That being said, our products are the most rigorously tested in the market. We use real-world conditions and not extrapolations from accelerated lab-testing. While I can't speak for other brands, we stand by our stated shelf life. The technical expertise and experience that goes into making Mountain House is the same as what goes into meals we make for the United States Special Forces.

MREs prepared and packed for the US Military
Similarly, can Mountain House take the extreme cold or will it degrade the product?
There is no need to worry about extreme cold. Our meals regularly feed people on expeditions in Antarctica, the Himalayas, the Andes and everywhere in between. Our meals are made with extreme expeditions in mind. Due to the proprietary techniques and technology we use, they have the longest proven shelf life of any freeze dried survival meal on the market.
What are some of the new meals you have available? How often do you offer new ones? Do any get discontinued and why?
For the past few years, we've launched new meals at the beginning of the year. This year, we launched Chicken & Dumplings, New York Style Cheesecake Bites and Homestyle Chicken Noodle Casserole.

Due to the nature of how brick & mortar retailers stock their shelves, they may or may not be available in your area.

If you would like to help us decide what meals to make in the future, we encourage you to like our Facebook page and join our Email list. We always go to our fans first to help decide what meals to cook-up next.
The Final Word on Mountain House Survival Food
Any article on food storage, including a review, would be remiss if it did not mention more traditional forms of food storage including bulk foods and canned goods.  For the longest time, beans, rice, oatmeal, powdered milk, canned meats, and canned vegetables were the largest component of my food storage strategy.
During my recent move, I learned how important freeze dried meals were to my overall food storage plan.  Because they were lightweight and space efficient, they were easily transported to my new location.  I did not have to give them away or toss them in the garbage because no one would take them.  It was such a shame.  In hindsight, and going forward, my focus is more on freeze dried foods and Mountain House it right up there on my list of favorites.
Further Reading:
Where to Buy Mountain House? You can order directly from Mountain House here and use code "MHAFFILIATE20" to save 20% off your entire order.
If you enjoyed this article, consider subscribing to email updates.  When you do, you will receive a free, downloadable copy of our e-Book, The Emergency Food Buyer's Guide.   Also check the Facebook page regularly for links to free or almost free eBooks that we personally review just for you.
You can also vote for Backdoor Survival daily at Top Prepper Websites!
[related-posts]
~~~~~~