This site contains affiliate links. As an Amazon Associate, I earn a commission from qualifying purchases at no extra cost to you. Full Disclosure Here.
Editor's Note: This guide has been revised and updated for 2021.
When it's time to prepare the ultimate emergency food kit, you'll need the very best brands on your side. Right from their shelf-life to their nutrition and even their cost per serving, it's important to consider every aspect.
The good news is that there are a number of stellar companies out there dishing out some pretty great options. From buckets to single-serve pouches, freeze-dried to dehydrated, gluten-free, dairy-free, and so on — you're bound to find something for every need.
To make things just a little bit easier for you, this article takes a good look at the top five survival food brands and discusses exactly what sets them apart from the rest.
Mountain House
Both Survival and Casual Prepared Foods
A leading name in emergency food kits, Mountain House offers a wide array of non-perishable food rations with a prolonged shelf life both for emergency preparedness as well as casual use such as camping, hiking, and backpacking. Their product list includes: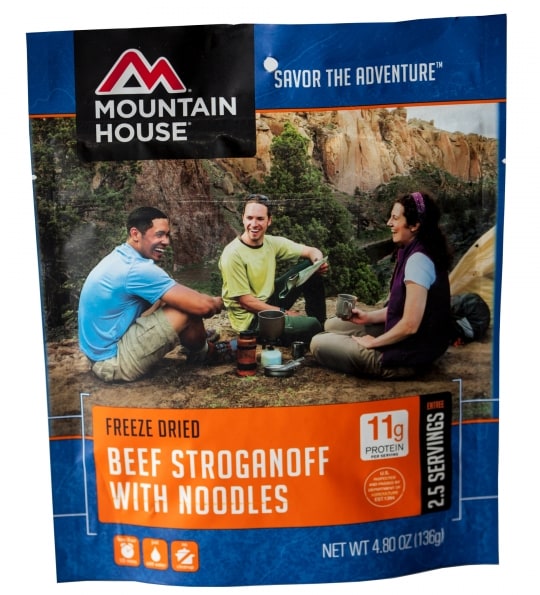 Pouches: You can prepare these using hot water. These are perfect for casual use, emergency supplies, or survival situations, especially if you want to add specific meals to bolster an emergency food kit.
Serving Size: Available in a single serving (small portion) or pouches (large single-serving portion)
Cost: Under $6 for a single serving and under $9 for a pouch
Sample Item: Beef Stroganoff

First three ingredients: Cooked beef, sour cream, and mushrooms
Calories per serving: 260
Total Fat: 11 grams
Total Carbs: 29 grams
Total Protein: 11 grams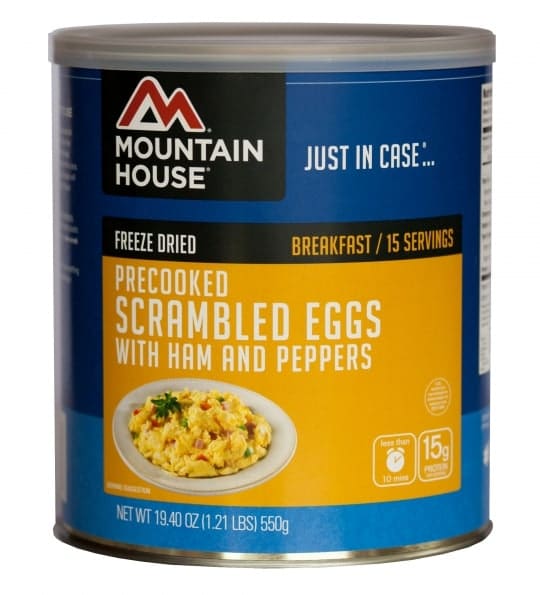 Mountain House #10 cans: If you're looking for something more wholesome, these cans include a completely prepared meal that can be reconstituted using hot water. Expect an impressive 30-year shelf life with these cans.
Serving Size: Approximately 10 servings per #10 Can
Cost: Under $45 per can, depending on the meal
Sample Item: Scrambled Eggs with Ham and Peppers

First three ingredients: Pre-cooked scrambled eggs, ham, red and green peppers
Calories per serving: 190 (2/3 cup)
Total Fat: 11 grams
Total Carbs: 7 grams
Total Protein: 15 grams
Mountain House #10 cans also include staples such as Diced Beef and Diced Chicken. They have a wide variety of #10 can meals available and to top it off, the brand promises a proven 30-year shelf life.
Pro-Pak: Basically the same as a pouch except that the Pro-Pak packaging features high-altitude stability so that packages do not rupture due to the increased pressure. Serving Size: Single Serving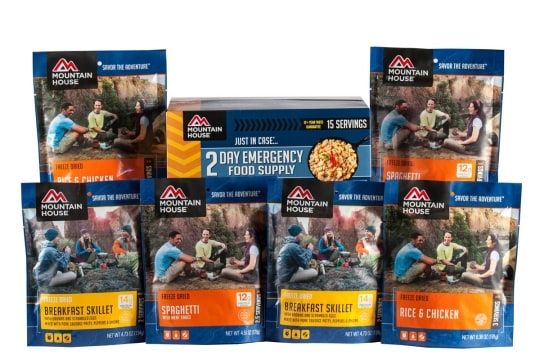 Emergency Meal Kits: Food supplies from 2-14 days
Serving Size: Available 2-day, 3-day, 4-day, 5-day, and 14-day kits and buckets
Cost: Under $50 for a 2-day kit (feeds one person and contains 15 servings). Alternatively, you can opt for the 14-day kit  (100 servings) which contains 14 breakfasts and 28 lunch/dinner options. This kit is best suitable for one person for 14 days or two people for seven days. These are the perfect prolonged shelf life prepper food to throw in your emergency food kits.
With 50 years of experience under their belt, Mountain House dishes out some of the best quality freeze-dried food that reconstitutes using hot or cold water. They also boast the longest (30 years) shelf life of all the brands discussed here. As such, they are a must-have for any survival kit, be it for doomsday preppers or casual hikers.
Wise Company
For Supplies That Are Helpful for Prepping
Wise Company offers many products for emergency preparedness. They have complete emergency food kits, and freeze-dried staples, such as meats, eggs, fruits, and veggies. Per information on Wise Company's site, these meals are good for daily use or long-term food storage for upwards of 25 years. All the ingredients are preserved by freeze-drying or dehydration that reconstitute with water. Their product list includes: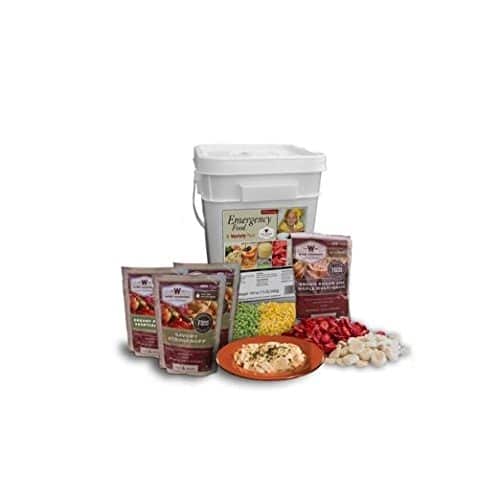 Emergency Food Kits: These are grab-and-go buckets that range by meal type and servings per bucket.
Cost: Around $1.25 per serving
Sample Item: Creamy Pasta with Vegetable Rotini (Included in the 52-Serving Bucket = 16 lunch/entrée servings, 8 breakfast servings, 16 servings of Orange Delight drink, and 12 servings of Whey Milk Alternative)

First three ingredients: Pasta, freeze-dried carrots, peas
Calories per serving: 200
Total Fat: 4 grams
Total Carbs: 35 grams
Total Protein: 6 grams
Overall, Wise Company's Emergency Food Buckets are well-balanced meals. In addition to buckets, they offer emergency supplies in quantities up to one year for about $1,000.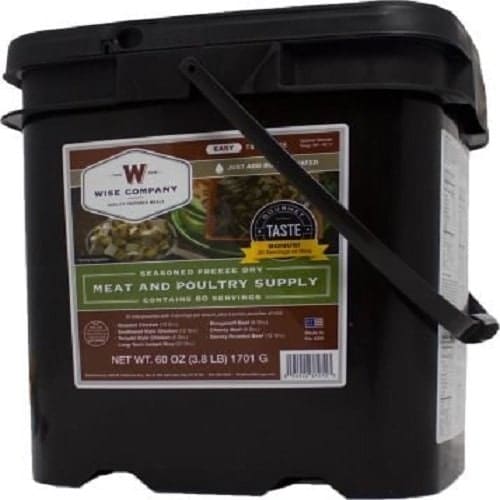 Freeze Dried Meats: With a 15-year shelf life, these meals are prepared with a variety of meats and are packaged in pouches along with servings of rice that are reconstituted using hot water. Buckets range from 60 servings to 1080 servings. You can browse through a bunch of options like chicken and beef.
Serving Size: Approximately 4 servings per pouch. 60 servings include added pouches of rice
Sample Item: Roasted Chicken

First three ingredients: Freeze-dried chicken, chicken broth flavor, and roasted chicken flavor
Calories per serving: 50
Total Fat: 0 grams
Total Carbs: 0 grams *nutrition from the included rice, not available
Total Protein: 9 grams
The advantage of this system is that the consumer can choose staples or meals and customize their emergency food stores to fit their preparedness style and needs. The best benefit is undoubtedly the low cost ($0.83/serving for their big kits and $1.94/serving for meat).
Valley Food Storage
Wholesome, Clean Ingredients with No Added Fillers
Valley Food Storage offers emergency food kits that can easily feed four people about two to three meals per day. They also offer individual buckets so that you can add food in quantities that meet your preparedness plans.
Combo Kits: Each kit ranges from a one-month supply to a full year's worth of food for a family of four. Expect balanced meals with either entrée or breakfast with fruits, vegetables, or both. They also offer individual buckets that let you customize your emergency food kit without having to worry about long-term storage. Shelf life is 25 years.

Serving Size: Available in family-sized buckets and large bags that range from two meals per day to three meals per day
Sample Item: Italian Wild Risotto

First three ingredients: Cooked white rice, chicken broth, sour cream powder
Calories per serving: 270
Total Fat: 4.5 grams
Total Carbs: 51 grams
Total Protein: 6 grams
What sets Valley Food Storage apart from many other brands is the fact that they consider larger-sized groups rather than individuals. A quick glance at their website and you may just find yourself a sweet deal with their extended payment plans.
Another great perk is that they offer a number of gluten-free options, dairy-free options, and don't have a bunch of fillers or GMOs. This might impact shelf life, but personally, it's worth diversifying a bit because I'd prefer NOT to have fillers. If you follow this link and use the Promo Code "BDS" at checkout here, you can get an additional 10% off your entire order!
Legacy Food Storage
A One-Stop-Shop for Pretty Much Everything Preparedness
Legacy offers a wide range of emergency preparedness products. Their offerings include a range of sample packets — which are handy for trying before you go all in. They also offer single buckets and bulk options.
Bulk Meal Packages: Individual meals in Mylar pouches with a shelf life of 25 years. You can easily prepare them using hot water and the average calorie count per serving is 372. These packages range from a 64-pound 240 serving kit and end with a 1,107 pound 4,320 serving kit. Their bulk meal packages come with enough options to feed one person three meals per day for an amazing four-year period.
Serving Size: Available in kits based on total servings
Sample Item: Stroganoff

First three ingredients: Pasta, corn starch, onion
Calories per serving: 330
Total Fat: 4.5 grams
Total Carbs: 61 grams (likely from the corn starch)
Total Protein: 10 grams
In addition to their bulk meal packages, they also offer dairy, vegetables, grains, protein, and fruit in bulk. For those who prefer packages, take a look at their single buckets and specific meals that include breakfast, lunch, or dinner.

Meals aside, you can even choose a variety of drinks and specialty items such as probiotics. While their price per serving is higher than most of the emergency food manufacturers on this list, they do offer meals with high-calorie scores. This comes in handy during survival situations when going to the grocery store is no longer an option.
Honeyville
A Wide Range of Emergency Food Storage Products, Including Freeze-Dried Foods
Honeyville offers foods for long-term emergency food storage or casual everyday use. With a shelf life of 10-15 years, their emergency meals easily reconstitute with water. They sell freeze-dried and dehydrated dairy products like powdered milk, complete meals, freeze-dried fruits, meats, veggies, and plenty of grains, rice, and beans.
#10 Cans: Each #10 can hold about 20 servings. You can buy these as a single can or in a case of six #10 cans. These work just as well for casual use or emergency preparedness.

Serving Size: Available in single #10 cans (20 servings) or cases of six #10 cans (120 servings)
Sample Item: Rotini with Meat Sauce

First three ingredients: Rotini Noodles, niacin, iron
Calories per serving: 210
Total Fat: 3 grams
Total Carbs: 36 grams
Total Protein: 9 grams
Overall, Honeyville has a large selection of products for every palate. You can either opt for complete meals or staples such as a single #10 can of elbow macaroni or freeze-dried white chicken meat.
The benefit of buying here is that they make it easy for you to find products that fit exactly into your emergency food preparedness plan and you don't have to buy their food kits. You can simply buy emergency food staples and add them to your home food preservation plan. That is a plus for anyone who wants to build meals to hit specific calorie goals or energy-packed meals and wants more ready to eat and less of the standard freeze-dried prepared meals.
At a Glance: Comparing the Best Kits
While there are a number of great brands out there, choosing the right meals for your emergency kit really comes down to your individual needs. Once you know exactly how many servings, days, or people you're prepping for, you can then begin shortlisting from your list of products.
If you're still unsure about where to start, take a look at the table below for a quick comparison.
Brand
Product
Price Range
Number of
Servings
Calories per
Serving
Mountain House
14-day kit
$337
84 servings
260 calories
Wise Company
Variety food kit
Under $115
60 servings
200 calories
Valley Food Storage
Combo kits
$249
175 servings
270 calories
Legacy Food Storage
Bulk Meals
$599
240 servings
330 calories
Other Great Survival Food Companies
While we may have highlighted some of the best brands out there, there's no denying that there are many other reputable brands that are widely loved by many preppers.

With this in mind, we've listed a handful of emergency food companies that do a great job at equipping you with high-quality products.
Emergency Essentials
By popular request, it's worth mentioning that Emergency Essentials carries a robust line of emergency food. While they aren't exclusively in the food business, they've got an assortment of products to suit your needs.
The Ready Store
The Ready Store stocks a variety of prepper items, but has a heavy emphasis on survival essentials. They carry lines like EasyPrep and Saratoga Farms in addition to your standard variety of traditional MREs.
A
ugason Farms
The guys at Augason Farms have over 40 years of experience in prepper food kits, which definitely shows if you've tried any of their products. They offer a wide range of emergency food storage options and their kits have a shelf life of 25 years — a sweet deal given their price.
Bear Essentials
Relatively new to the emergency food market, Bear Essentials are slowly gaining popularity, and for good reason. Their 15-day emergency food supply kit is a simple way of stocking up with some variation.
The Survival Tabs
If you want to be sure that you're getting a wider range of nutrients, not to mention some nicer flavors, check out The Survival Tabs. They provide a wide range of emergency rations worth trying.
A Word on the Best Emergency Canned Meat
Most survival food companies offer meat as part of their packages. While it can be tasty, it's usually not the same as having quality canned meat.
Recently, BDS contributor David was able to try out and review Wertz Canned Meats. Safe to say, Wertz is now a BDS favorite if you are looking specifically for canned meats. An alternative is Keystone's canned meats.
Both companies are family-owned and operated, offering non-GMO products.  These are items definitely worth adding to your pantry.
What about the Best Freeze Dried Foods?
Some of the brands previously mentioned above are specifically freeze-dried offerings, but not all of them. This might seem like a subtle difference, but it's important.
For this guide, I would specifically recommend the freeze-dried offerings from Mountain House. They have many dehydrated options, but their freeze-dried food is also premium quality (and doesn't taste like gruel).
Because they also serve the hiking and backpacking community, their meals have to taste better than the standard food storage brand that will sit on a shelf for 30 years.
Freeze Dried vs Dehydrated Food
These terms are often used interchangeably to describe long-term food storage products. Of course, there IS a difference and it can be significant.
In general, dehydration removes about 90 to 95% of the moisture. On the other hand, freeze-drying removes about 98-99% of moisture (if done in a commercial kitchen/setting).
The main thing to note here is how this affects shelf life. Freeze-dried foods will have a significantly longer shelf life. You can expect 25-30 years shelf life for freeze-drying and 15-20 years shelf life for dehydrated foods.
So why would anyone buy dehydrated food? Well, mainly for nutritional content. Dehydrated foods tend to retain more vitamins and minerals. Specifically, niacin, riboflavin, thiamine, and Vitamin C and A. Yes, it's true that processes generally decrease these nutrients, but the effects are more pronounced in freeze-dried food.
That said, waiting a full 30 years to rotate your emergency food stash is probably not materially significant to most people, so in many cases, dehydrated foods will suffice.
Additional Resources: You can check out some good supplemental reading here:
Food For Special Diets
If you're on a restricted diet or happen to be prepping for someone who is, it can be a challenge to find foods that are already packaged and ready for storage.
When designing a survival kit for those on a special diet here are a few things to keep in mind.
Less Salt, Shorter Shelf Life
One reason salt is so pervasive in survival foods is that it is one of the cheapest ways to increase shelf life. It is important to remember that although shelf life is a big factor in creating a long-term survival plan, you don't necessarily need a 20-year shelf life on your preps. 5-10 years is still pretty good and if you rotate some of your food supply, you can always have a stash that will last a long time.
Remember that you can vacuum seal portions however you like. Putting your own vacuum or mylar sealed foods into storage may be more cost-effective and easier to budget and source.
This also gives you amazing versatility when it comes to what recipes you can have on hand and you have ultimate control over ingredients.  You can also just put back various foods and open up a few bags of this or that to cook meals over the course of a week or two.
On the other hand, don't eliminate salt completely because it is necessary up to a point. During hard times you may find that you need more because you are working harder and sweating. Instead, vacuum-seal some salt and use it as needed. If you have extra then rest assured that it will not go bad as long as it is kept dry. Salt is also an excellent trade item and could be worth more than you ever thought possible if a long emergency happens and there are major supply disruptions.
Sugar
Out of the food buckets I have reviewed and various company sites I have looked at, it appears that a lot of survival foods leave out a lot of sugar, which can be helpful for those that are diabetic and concerned about getting too much.  At the same time, those with blood sugar issues should have some higher sugar foods put back in case they need to stabilize their blood sugar levels quickly.
Freeze-dried fruits are a good choice but something like a few bags of hard candy or similar are less expensive and may be easier to use since they just dissolve.
Put Back Staples Rather Than Whole Meals
A lot of the survival food companies in this post sell buckets and cans of basic foods that you can combine to create meals as needed. If you don't want to buy and seal your own stuff, this is the way to go.
Regardless of whether you choose to buy shelf-stable pantry staples from places like Augason Farms or Valley Food Storage, the list below can get you started on thinking about what to put back to get by during hard times if you have diet restrictions.
Ideal Cooking Foods For Special Diets
Powdered dairy: Choose cultured products like powdered cheese, butter, yogurt, buttermilk, or sour cream if you are lactose intolerant.

Flours and Grains: There are plenty of flours and grains that can be put back for baking and cooking even if you have sensitivities to some.

Beans: All beans are high in protein and keep very well. Dried beans take a lot of time to cook. You can get powdered dried bean flakes that can be ready in minutes by just adding boiling water.

Dried Vegetables: While these don't add a lot of calories, they do add some vitamins and texture to dishes. 10 lbs of dried veggies can help make a lot of soup especially if you throw in some pasta and a little meat if you have it.

Canned fish and other low-sodium meats: You can get sardines that are canned in just water or olive oil that are lower in salt than a lot of other meats.

Pasta: Different types of grains can be used to make pasta so even if you don't eat wheat, you can get rice or vegetable pasta to use in meals.

Spices: As a prepper, you should consider including spices. They're essential for making bland foods taste good and for putting together meals from basic prepper pantry staples.
What About Fat Content In Prepper Foods?
If you have been told by your doctor to cut down on fats then you probably should. At the same time, you should realize that there is a big difference between good fats and bad. Over the years we have been told that fat is generally bad and that it will make you overweight.
While it is true that fat is calorie-dense, it is not all bad for you and it doesn't necessarily make you gain weight. What makes you gain weight is not burning as many calories as you are consuming. There is no shortcut to weight loss.
Fats from grass-fed animals are better for you than highly refined fats and oils. To learn more about how to put back your own quality fats and oils for cooking, check out the posts below.
Limiting Calories
Your calorie needs are going to vary based on a lot of factors. The number of calories you need during good times may vary greatly from what you need to maintain a healthy disposition during a survival situation. Chores and physical activity levels may go through the roof if you bug out or find that you have to do a lot of things the hard way rather than with a machine.
A lot of pre-packaged convenience foods are very calorie-dense. I recently reviewed some food buckets that allowed for as much as 3,000 calories per day per person! That is far more calories than most people need. An active working man may need 2,000 while women and younger kids need less. If you are watching calories you need to make sure to measure out portions correctly. If your weight drops too much during a survival situation then increase the amount you are eating.
Some people may benefit from weight loss and increased physical fitness during a long emergency but it is important to not go overboard. Weight loss of more than a few pounds a week can start to take its toll on your body and energy levels.
Food Allergies During SHTF
I feel for those that have food allergies during an emergency. I remember getting emergency meals from the Red Cross when I was a kid and there was a once every 100-year flood that destroyed a lot of the town I grew up in on the Skagit River. Let's just say those meals are full of wheat and dairy! There is also a lot of peanut butter served during times like that.
I bring this up because those with food allergies need to be extremely careful. Just because a dried food says that it doesn't have something in it doesn't mean it wasn't manufactured or packaged using equipment that was previously used for something you are allergic to. A lot of manufacturers go the extra mile and have a statement that says that they share equipment that is used to process dairy, nuts, eggs, etc.
Dealing with an emergency allergic reaction can be a lot harder in a survival situation. Make sure you have the right foods to meet your needs. Getting food from others can be risky if you have a severe food allergy.
If you can manage it keep an Epi-Pen, injectable epinephrine ( I don't care if it says animal use only, not dying of an allergic reaction is more important), and Benadryl and other allergy medications on hand in all your medical kits.
Organic and GMO-Free
Although I try to eat mostly organic and GMO-free meals, during a survival situation I am not going to be as picky. Putting together your own food packs with a vacuum sealer can make it less expensive if you are determined to go organic or GMO-free. A lot of companies on the list at the beginning of this post do offer organic and non-GMO options but they usually cost significantly more.
Other Important Considerations
Emergency food supply is no joke, and the cost is a significant barrier to setting up a survival food storage system. However, the products we've mentioned aren't products you can simply pick up at the average grocery store because they just don't offer the same shelf life as a prepper food kit.
To truly build a solid emergency kit, you need non-perishable food that will do well in long-term storage. Quality food, good calories, health, and nutrition are just a few of the things that are important considerations.
That isn't to say that beans, canned meats, powdered milk, and food bars aren't handy. They just don't offer the same shelf life as the food kits listed above.
And that's not all! An effective prepper food kit also includes mylar bags, oxygen absorbers, food-grade buckets, and a fireless cooker. Since most of your dehydrated meals will need to be simmered, a fireless cooker can save you from the exhausting task of having to rely on wood fires.
Most importantly, be sure you have lots of water in storage with which to mix the food and hydrate yourself.
It is also important to consider what you need and compare those needs to what you get for the dollars spent. So how much food should you buy? Check out our Emergency Food Buyers Guide to answer your questions.
Final Word on the Best Survival Food
This article looks at many factors when considering the best food for emergencies and survival kits, but we encourage you to do your own research too. Every emergency food plan is different because the needs of the people it must serve are different.
So, what's on your "bucket" list for preparing the best survival kit? Let us know in the comments below and speak up if you have a favorite brand that we did not discuss here.