This site contains affiliate links. As an Amazon Associate, I earn a commission from qualifying purchases at no extra cost to you. Full Disclosure Here.
Matt has some brilliant ideas and this one definitely qualifies. We were perusing the aisles on our big monthly grocery store shopping extravaganza when he saw a BBQ Charcoal starter and got the idea that it could be made into an inexpensive rocket stove with just a few modifications.
Ours is painted black and just what was available at our local Ingles. You can get this style of charcoal starter in unpainted aluminum or aluminized steel for a decent price. I will provide some links later on in the post. Most are in the $14-$25 range online.
Very few tools were used to convert the charcoal starter to a rocket stove. Besides the tin snips and Leatherman showed, only a screwdriver was used.
The top needed to be cut in order to provide some ventilation while still providing a sturdy burner base for a cooking pot.
The Leatherman was used to bend the cut tabs down as seen in the picture below.
The edges of the metal are a bit sharp. If this is a concern you can use sandpaper or a Dremel to make the edges smoother.
A screwdriver was used to punch through the metal to allow a place to get the tin snips started to create the hole necessary for a firebox.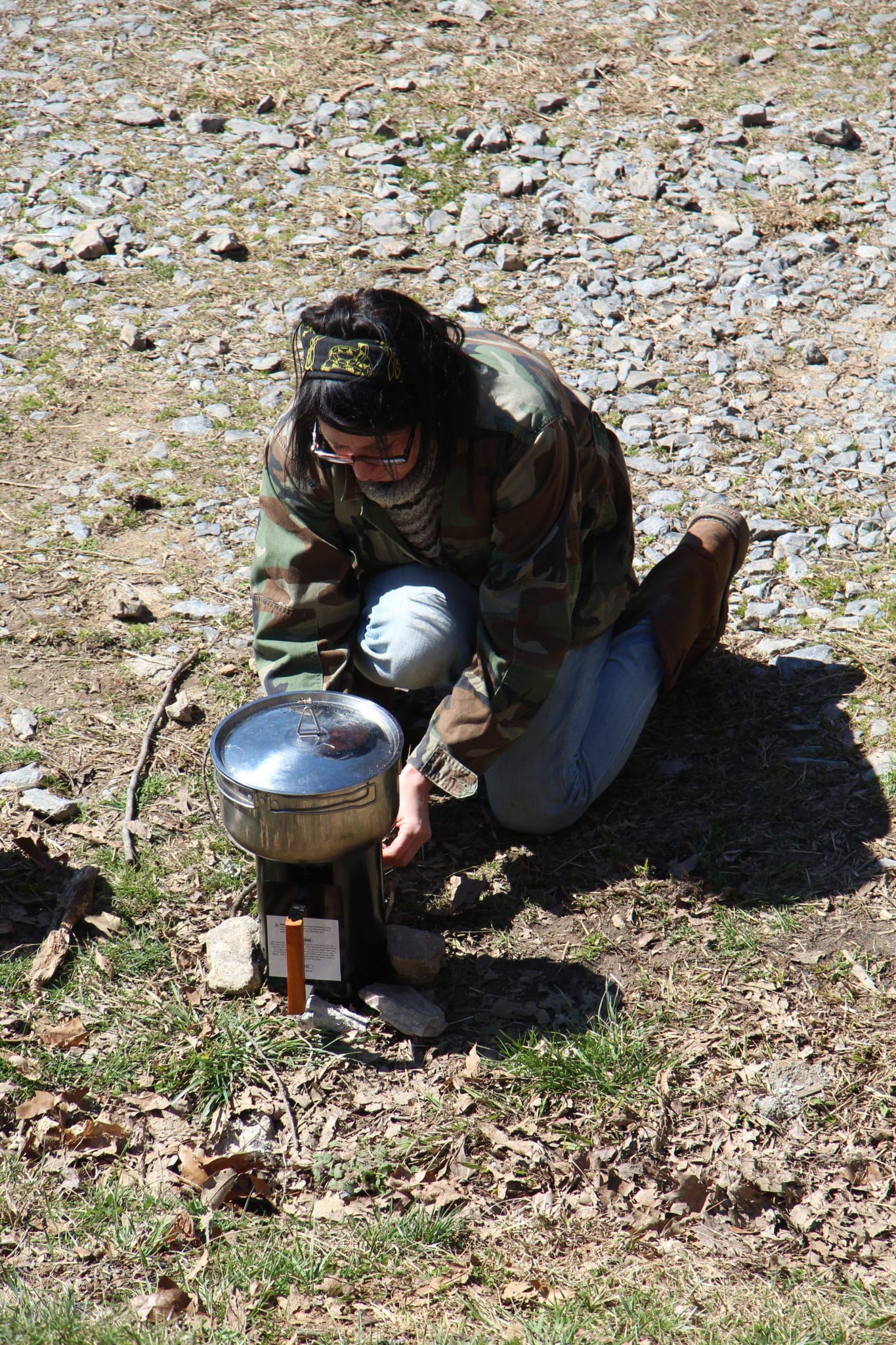 The driveway in front of our house is about the most level place but for the safe of safety when cooking, I put a few rocks around the base. Rocket stoves with a big pot or a tall pot on them can be top-heavy and prone to toppling. This is important to remember if you are just learning how to use one.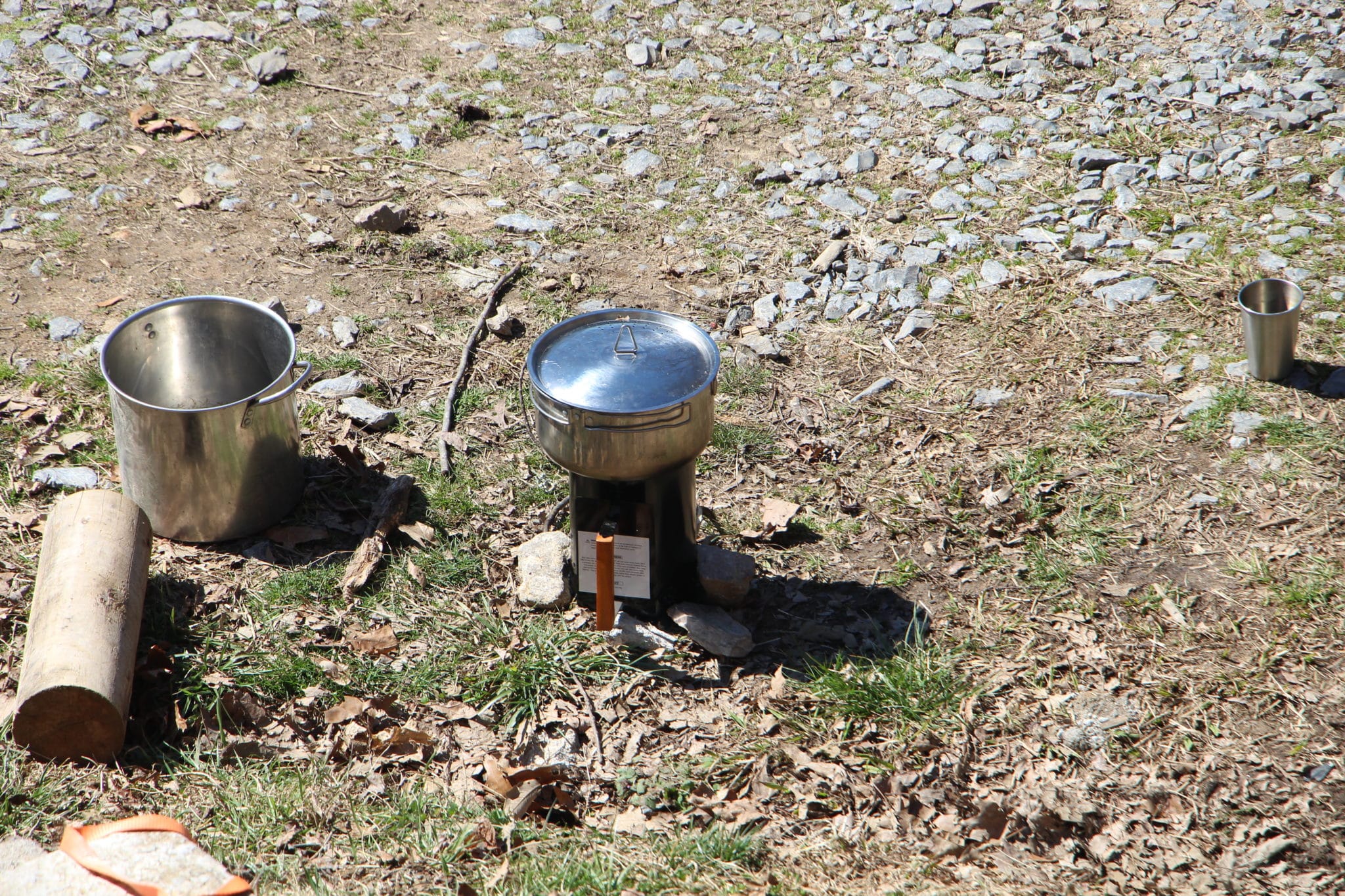 The Mr. BBQ Charcoal Starter we bought has a wood handle. Many of the other brands I looked at online have a heat resistant plastic handle.
As you can see from the picture above, the black paint on this brand of charcoal starter smoked, bubbled, and burned off. It smelled a little when this happened but the smell went away some overtime. I expect that after a few uses it will not be at all noticeable. Of course, if you get an unpainted one, you won't have to deal with that part.
So what did we cook?
We had some freezer-burned meat to cook up for tasty additions to our dog food so we put a few pounds in the pot with cold water. It started to cook fast. I would say that this homemade rocket stove works just as good as ones that cost substantially more.
It is really lightweight and it was very easy to get a fire going and keep it going with very little fuel. I just used the little twigs, sticks, and dry leaves and grass that I could find laying within an 8-foot radius of the stove.
Other BBQ Starters For Rocket Stoves
I found a lot of options on Amazon. Here are a few BBQ starters to consider for your rocket stove project. If you use any of these, be sure to come back to this post and comment on your experience!
Weber calls this charcoal starter a compact model so if you want a smaller rocket stove, this model is an option.
The Kingsford starter is basically a metal and plastic handled version of the starter we purchased for our rocket stove. It is similarly priced as well.
Have you repurposed anything to make a rocket stove? What worked well and what did not?