This site contains affiliate links. As an Amazon Associate, I earn a commission from qualifying purchases at no extra cost to you. Full Disclosure Here.
Leatherman is a brand I have carried perhaps more than any other brand of knife due to my enthusiasm for the classic multitool. My foray into the world of Leatherman began in college when I was working on the school forestry and trail maintenance crew. It seemed like that there were far too many times when someone would either need a pair of pliers, something cut, or simply need to make an adjustment on a chainsaw. If you are out in the woods and 1/2 a mile from the shop, it could be pretty annoying to find out that you had to stop and go back for a tool or even walk back to the work truck.
The classic Leatherman PST was useful for just about all the small tasks I needed to do on that crew. I remember thinking that $35 was a little bit of money to shell out for it at Dick's Sporting Goods back in 2003.
Leatherman Comparison Table
Well, that knife went to Alaska and back with me and sometime during the construction of our house, when we were living in the Old Holiday Rambler camper, and moving stuff around a lot, it went missing. I had other multi-tools after that but I think they were all given to me except for the Leatherman Rev that we had briefly.
A few months ago I went on a search for an Original Leatherman in the box. They stopped making the Original Leatherman in the early 2000s. I always liked the simplicity of the original. It had all the tools you needed and not a ton of stuff that just weighs you down.
So is Leatherman still made in Oregon?
I was suspicious when I started buying Leatherman again because so many companies have started manufacturing at least some of their knives in foreign countries. After doing some research and actually looking at the boxes I received the Skeletool KB and Juice B2 in, it appears that Leatherman knives and multitools are still put together in Portland, Oregon but some of the components are made in other countries.
Leatherman offers a 25-year warranty on all their products.
There have been two instances where Matt and I have had to send back heavily used multi-tools and they were always repaired promptly. The only cost to us was the shipping to the Leatherman. I can honestly say that they have always offered excellent customer service and always honor their promises.
Late night shopping with a beer+a sales email from Leatherman= 2 new knives.
Congratulations to Leatherman on a successful email sale campaign. It was perfect timing. I was done with articles for the day. I had a beer in hand and boom there is a UP TO 50% off Leatherman email nesting in my email. $50 spent and I was 2 knives the richer. My impulse buys online tend to be beauty product boxes and inexpensive gear and knives. It could be worse.
BLADE LENGTH 2.6 in | 6.6 cm
CLOSED LENGTH 3.45 in | 8.7 cm
WEIGHT 1.3 oz | 36.85 g
420HC Stainless Steel
Handle: 6061-T6 Hard-Anodized Aluminum, DLC Coating
2 Tools
This is an extremely lightweight and compact knife. When you first see it you might think it is way too small to be much good but there you are wrong. This is an excellent knife to carry in places where there are knife laws regarding blade length. At 2.6 inches, this is well within the 3-inch limit that some municipalities have.
BLADE LENGTH 2.2 in | 5.6 cm
CLOSED LENGTH 3.2 in | 8.2 cm
WEIGHT 1.3 oz | 36.8 g
420HC Stainless Steel
Handle: Type II Anodized Aluminum
2 Tools
420HC Blade
420 HC Serrated Blade
I think it is pretty neat how Leatherman has started making a broader range of knives and tools. This knife is an inexpensive and functional solution to a classic two-bladed folder design but you get the benefit of serration on one of the blades.
This knife is easy to stash in any bag and would make a decent little everyday carry knife for small tasks. At this price point, it is not a knife that you are going to be cautious to use.
If you are looking for high quality and affordable knives for stocking stuffers for Christmas or for gifting on any occasion, this is a knife to consider. The low price point is what made me go search to make sure that Leatherman was not putting knives together in China or some other foreign land.
Note: This model has been retired but you can still find it for sale new on some sites. Leatherman now produces a similar model called the Leatherman Juice C4. The C4 is about the same size as the C2 but features three additional tools: a saw, awl, and spring-action scissors.
BLADE LENGTH 2.27 in | 5.77 cm
CLOSED LENGTH 3.25 in | 8.26 cm
WEIGHT 4.4 oz | 125 g
420HC Stainless Steel
Handle: Type II Anodized Aluminum
12 Tools
Needlenose Pliers
Regular Pliers
Hard-wire Cutters
Wire Cutters
5420HC Knife
Can Opener
Bottle Opener
Corkscrew w/ Assist
Phillips Screwdriver
Medium/Large Screwdriver
Small Screwdriver
Extra-small Screwdriver
I bought the C2 for Matt as a gift and he has been happy with the tool overall. It is a bit smaller than the Leatherman PST but has a similar range of tools. As stated before this model has been retired from production.
The knife came with a sheath which is not always the case with Leatherman. Since we have a vineyard I wanted to get Matt a Leatherman that actually had a corkscrew on it like the Swiss Army knives I remember from years ago.
A few things that struck us as not ok with the Juice was that within 6 months of carrying it, the knife went through the wash and one of the tools broke off. Now I know that you shouldn't wash your multi-tool but in the past Leatherman's had proven to be tougher than that.
Another issue I had but Matt really didn't care that much about was the made to look like wood grain metal veneer on the handle. After a few months of use, it has marks where the finish was worn. I strongly prefer just a standard metal handle with no fancy veneer. When I sent the tool back to Leatherman to get it replaced I told them about it and they fixed it the way I wanted it for no extra charge. Did I mention they have absolutely fantastic customer service?
Overall the Juice series is made solid and they are lighter weight and more compact than Leatherman's from the early 2000s and before.
BLADE LENGTH  2.9 in| 7.37 cm
CLOSED LENGTH  4 in| 10 cm
WEIGHT  5 oz | 142 g
420HC Stainless Steel
Handle: 420HC Stainless Steel
The original PST was manufactured from 1983-2004. I won mine in an eBay auction. It is an original from 1994 and it came in the original box which understandably showed a little bit of wear.
The PST was the tool multi-tool that started Tim Leatherman's successful company. It is a beautiful mix of simplicity and all the tools you need regularly with a manual labor job or if you go camping a lot.
Leather released the PST again in 2018 to commemorate the 35th anniversary. This version comes in a fancy box and includes a high-quality sheath and you have order directly from Leatherman. If you want an original to use, eBay is still your best bet.
14 Tools
Needlenose Pliers
Regular Pliers
Wire Cutters
Hard-wire Cutters
420HC Knife
Wood/Metal File
Phillips Screwdriver
Large Screwdriver
Medium Screwdriver
Small Screwdriver
Awl
Ruler (8 in | 19 cm)
Can Opener
Bottle Opener
PRIMARY BLADE LENGTH 2.9 in | 7.37 cm
CLOSED LENGTH  4 in| 10 cm
WEIGHT  8.5 oz | 241 g
420HC Stainless Steel
Handle: 420HC Stainless Steel
16 Tools
Needle Nose Pliers
Regular Pliers
Electrical Crimper
Wire Stripper
420HC Knife
420HC Serrated Knife
Saw
Spring-action Scissors
Ruler (8 in | 19 cm)
Can Opener
Bottle Opener
Wood/Metal File
Diamond-coated File
Large Bit Driver
Small Bit Driver
Medium Screwdriver
Leatherman says that the original Wave was the best selling multi-tool they have ever produced.
Matt and I have a Wave because when we were in college, kids would throw out all kinds of things. Well, they didn't exactly throw them out but they would put them in a free box in the dorm and then people could just take what they needed.
If the box got full, the items went to a place on campus called the Free Store where people could just go take stuff that others were done with. I found some neat stuff too but never anything like the Wave he found. We still have it even though we had to send it back to get repaired after years of reliable use. This is another tool that has been with us throughout our entire relationship and most of our long expeditions into the bush.
Personally I always thought the Wave was a bit much to carry around. At the same time, it is really useful and sturdy. It is another model that has been retired and replaced with a similar model. Like any retired Leatherman, eBay is full of them. At this point, the original Wave is not really that hard to find at a reasonable cost but it will not always be that way. I actually found a new Wave on Amazon but you can pick up the Wave+ version for a bit less money. Unless you really just want an original, there is no reason to not just get the Wave+.
The main difference between the Wave and Wave+ is that the Wave+ has two premium wire cutters for both soft and hard wires.
Leatherman ships their knives to you sharp enough to actually use.
Something I have always found really annoying is when a knife or tool manufacturers sell their products in a dull state. Now I realize that part of the reason for this is the liability issue. If some nimrod comes wondering into a store like Lowes and picks up a brush ax and takes it home and it is really sharp and they get hurt, they are afraid of the potential lawsuit in today's sue-happy climate or what if someone gets cut at the store?
Knife companies seem to be catering to this way of thinking by selling dull knives. When I pay for a knife I prefer it to be sharp enough to use right out of the box. While Leatherman has a warning that their products are share on each and every box, at least they are not afraid to sell people a knife that is actually usable without 10 minutes of sharpening and honing time.
So which Leatherman do we carry every day?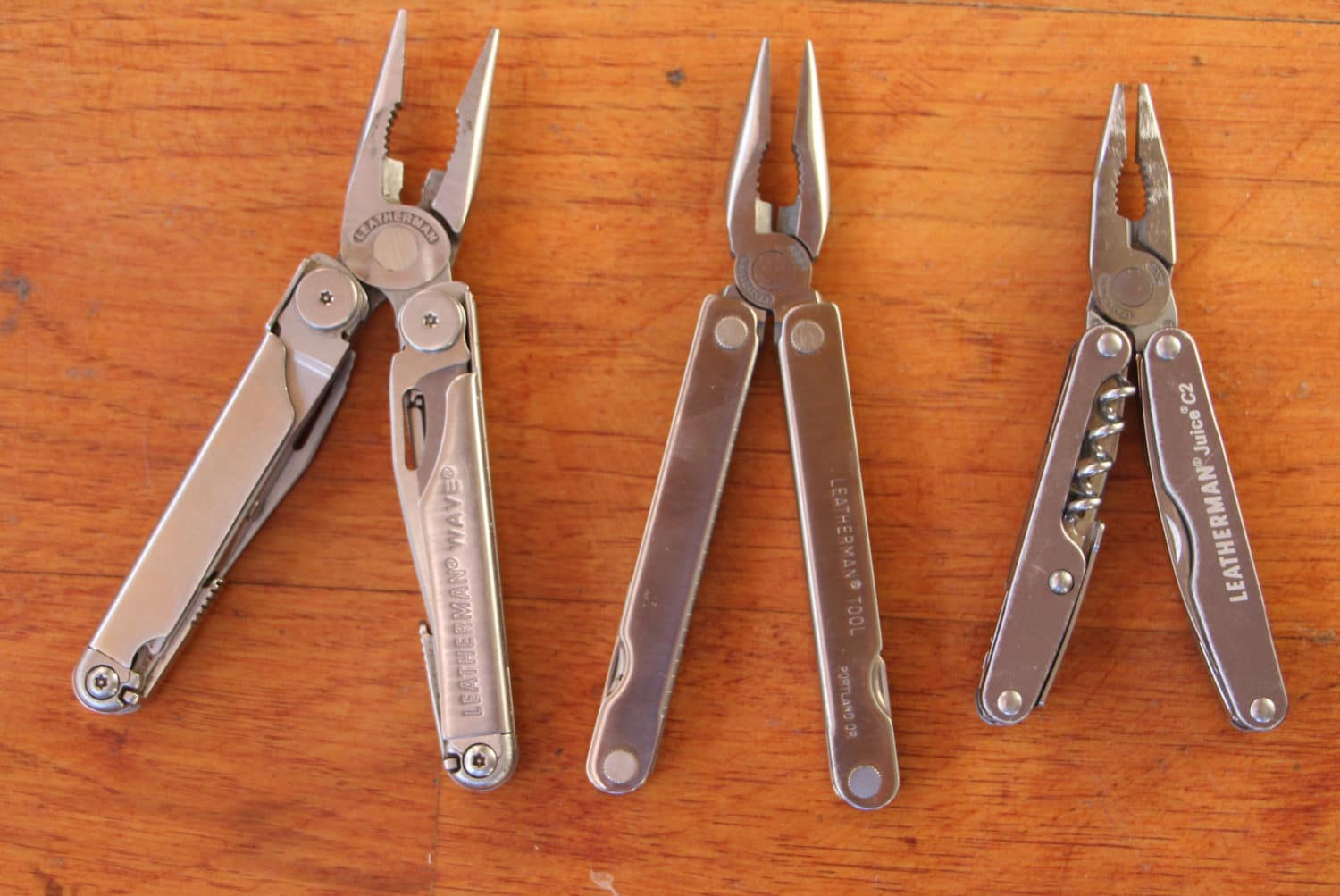 I carry my original Leatherman PST in a sheath on my belt but I also carry a Boker Kalashnikov automatic knife clipped in my pocket for easy access. Matt likes his Juice C2 because it offers a lot of tools and fits easily in a pants pocket without sticking out. He also carries another single-bladed knife for general purposes.
The Wave is great but it is a little large for pocket carry so if you want to carry it then you might want to invest in a sheath. Leatherman makes a variety of high-quality aftermarket sheaths in leather or Cordura.
Leatherman Specialty Tools
Wearables
Leatherman has expanded to make wearable tools that are handy for those that want something that is not a knife. These tools are generally okay for places where any type of knife is not allowed. As far as I know, you can get away with flying with them on your person but they will set off the metal detector. The tools would be handy for anyone that works a lot on machinery. The bracelet style multi-tools look a bit punk or biker for some people but I like them even if I have yet to purchase one.
This is not a wearable for those that like small or dainty jewelry. If you have smaller or larger wrists you may have to add or take away some links. I do think it is kind of neat that you can buy replacement links or just buy individual links and put together a bracelet if you are inclined. If you want a custom bracelet you may just want to contact Leatherman directly and tell them what you want. They do custom work and you may even get a slightly better deal than buying links individually.
Tools For Weapons and Sporting Equipment
If you have am AR-15 or a bow, then Leatherman has a few options for tools that are compact and allow you to service your weapon out in the field.
If you or someone in your family participate in sports like skateboarding or surfing, Leatherman has got you covered. I wish they had made some of these tools when I was younger and used to skateboard a lot. The Leatherman Skate tool is much more compact and easy to transport than the old school tools I had to use.
Other Multi-Tool Brands
I do not have a lot of experience with other brands of multi-tools the way I do with Leatherman. There are good brands out there beyond Leatherman but they have been around a long time and you really cannot beat the customer service, US craftsmanship, and the outstanding warranty.
I have heard varying reviews of Gerber multi-tools but it is worth noting that Gerber is one of those brands that have a lot of different price levels so you should not expect to pay on the lower end of the spectrum and have a comparable tool or one that is put together in the USA even if some components are foreign.
If there is a brand or model of multi-tool that you have had a good experience with, please let me know. I would like to know what others think about the newer Leatherman products such as wearable tools?