This site contains affiliate links. As an Amazon Associate, I earn a commission from qualifying purchases at no extra cost to you. Full Disclosure Here.
If there is one piece of gear that is universal in any bug out bag or survival kit, it is a knife.  Simply put, in situations of self-reliance, there is no shortage of work to be done with a knife. Having the right knife is simply a must.
One company that is doing their best to put out a lineup of quality knives is Wiebe Knives. In this review, learn about their specialty line of knives and enter to win a set of two knives in a giveaway. There will be two winners.
These two Wiebe knives, the Vixen and Skinner, are a useful duo
First Ask, What Do You Want to Do With Your Knife?
Before buying a knife it is important to understand the task you will be asking it to perform. Some knives are more robust, while others are best suited to fine tasks. Oftentimes, a knife that is good at heavy work, may not be well-suited for fine work. Are you looking for an all-around knife, or do you have the room for multiple specialty knives?
How you answer these two looming questions will have a huge influence in what knife you choose.
Wiebe Knives
Wiebe Knives specializes in catering toward the needs of animal skinners, trappers, and fur handlers. Their array of knives is capable of accomplishing every task to professionally put up fur. These specialty knives are well suited for their task, but how well do they meet the needs of those interested in preparing for a long term survival situation?
In order to answer that question, I browsed the Wiebe website and found two that stood out: the Vixen folding knife and the 4" Skinner.
The Vixen Folding Knife
The Vixen folding knife is one of the top knives in their lineup. This folding knife is fitted with a replaceable "wicked sharp" blade. These blades are legitimately surgical-grade and are touted to be as sharp as any scalpel.
One positive aspect of the knife is the 24 replacement blades that come standard with the purchase. These blades are individually wrapped and protected in order to maintain their edge. The Vixen is 7.5" long when in use, and folds up to a compact 4" when folded.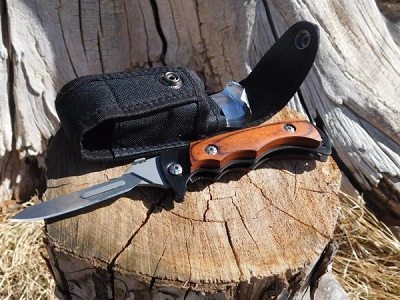 The Vixen with "Wicked Sharp" surgical blades
The folks at Wiebe also throw in a carrying case capable of being conveniently strapped on a belt. The carrying case accommodates the knife in addition to around 15 replacement blades.
The Vixen is light in the hand and can be easily used for extended periods of time. As far as comfort goes, this knife is customized to fit into the hand. Its ergonomic design feels right at home when being put to work.
After getting a chance to test out the Vixen, it quickly became apparent the "wicked sharp" blades would live up to their advertising. In fact, this knife actually comes with a warning about the sharpness of the blades. The surgical blades require only a very light touch and quickly severe animal tissue.
The Vixen takes to heart the old adage "you'll do more damage with a dull blade than with a sharp blade."  Because it is so ultra-sharp, you don't apply hardly any pressure while using it. The blades do all the work. It certainly is one of those knives you have to be careful with.
Another aspect of the Vixen that you may appreciate is the firm fixture of the blade. Because the blades are so sharp, and they are replaceable, Wiebe needed to ensure the blades fit securely to the knife. Having a blade that could accidentally detach is simply not an option with these knives. During the test, these blades never hinted they could mistakenly release from the knife itself. Ironically, they also easily come off with the use of a pair of pliers and the proper technique. Switching out blades takes only seconds, and once secured you shouldn't have to worry too much about the blade coming off.
The downside of the Vixen is twofold. One, as a folding knife with a replaceable blade, it is a very specialty blade. This knife is meant to work on animals and soft tissue in general. It is not a woodworking blade and should never be used as such. In fact, the warning that comes with the knife will tell you just as much. If you have plans of using this knife for anything other than skinning, think again.
Second, in a long term situation, you'll eventually run out of replacement blades. Sure, you can sharpen the blades, although maybe not to their original state. Once sharp, though, you're then stuck with the quandary of where to store these small blades.
Even so, the Vixen might prove to be the ultra sharp knife you'll like having close at hand for those special situations, such as butchering food animals.
The 4″ Skinner Knife
A knife that might make a good tandem with the Vixen is the 4" Skinner. Once again, this knife was specially designed for working with animals and that is its strength.
As the name would indicate, this knife has a 4" blade with a thin blade well-suited for the fine work of skinning animals. This knife comes very sharp in the mail and is ready to use right out of the package. Although the handle is not as customized to the hand as the Vixen, overall it is actually a lighter weight knife. It fits in the hand about like your common Mora knife and is still comfortable after a long working session.
The 4" Skinner Kife is versatile due to its fixed blade
One advantage the Skinner has over the Vixen is the fixed blade design.
Fixed blades have several advantages over folding knives, especially when considering long-term situations. For starters, you don't have to worry about a fixed blade accidentally closing on your fingers. Although the Vixen never hinted it might mistakenly close, you simply never know with folding knives.
Also, as a fixed blade, the Skinner can be put to more rigorous tasks. While using this knife, a certain degree of pressure can be applied to the knife from different angles. As long as the pressure isn't enormous, it will likely stand up to the task. Unlike the Vixen, the Skinner could easily be employed as a fine whittler and woodworking knife in addition to its skinning duties. Its versatility is something you may not want to overlook.
Another feature of the Skinner is its ability to sharpen the blade at your convenience. When paired with a sharpening stone and adept hands, the Skinner can stay sharp for years to come.
Although a quality knife, the Skinner does have some downsides as well. One drawback to this knife is the lack of a sheath to carry it in. When it arrives in the mail there is only the knife with a cardboard covering of the blade. You will either need to store it in a safe place or create your own carrying case to pack it along with you. Secondly, the Skinner is a skinning knife at heart. It was never truly designed for rugged all around use and shouldn't be used as such. If you like to baton wood, or are looking for one knife for absolutely everything, it might not be the best fit.
The Giveaway
The nice folks at Wiebe are offering a set of both the Vixen and the Skinner to two lucky readers.
Although comments are not necessary to win, you do get five "entries" for answering the giveaway question.  Just remember that you must select the "I Commented" entry in the Rafflecopter to have your comment recorded in the random drawing.  The question for this drawing is:
"What type of knife do you include in your Every Day Carry (if any)?"
The deadline is 6:00 PM MST next Tuesday with the winner notified by email and announced on the Rafflecopter in the article.  Please note that the winner must claim their prize within 48 hours or an alternate will be selected.
Note:  Due to Customs requirements, this giveaway is only open to those with a mailing address in the United States.
The Final Word
At the end of the day, both the Vixen and the Skinner are well constructed for the task they were designed for. Hunters and anyone else who is planning on processing animals for food, fur or hides will find these knives useful.
Both have advantages and disadvantages. The Vixen is scary sharp and makes cutting work a breeze, while the Skinner is better able to stand up to abuse. As a duo, they complement each other and are useful additions to a bug out bag or survival kit.
If you enjoyed this article, consider subscribing to email updates.  When you do, you will receive a free, downloadable copy of our e-Book, The Emergency Food Buyer's Guide.   Also check the Facebook page regularly for links to free or almost free eBooks that we personally review just for you.
You can also vote for Backdoor Survival daily at Top Prepper Websites!
[related-posts]
~~~~~~
Below you will find the items mentioned in today's article as well as other personal favorites.
Wiebe Vixen Wicked Sharp Folding Scalpel Knife W/ 24 Replacement Blades:  The Vixen folding knife is available with free shipping.
Wiebe "Skinner":  With its 4″ blade, the Wiebe skinner has many useful applications for survival.  It is also available with free shipping.
Morakniv Companion Fixed Blade Outdoor Knife with Carbon Steel Blade: I can not say enough good things about the Morakniv.  I have a number of them including the "companion' with a 4.1-inch blade and the "Craftline" with a 3.6″ blade.  I use them in the kitchen as paring and utility knives and with the included sheath and carbon steel blades, they stay super sharp.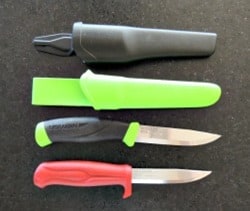 Vigilant Trails Snare Kit:  This is kit is part of the Pocket Survival Kit series by Vigilant Trails.  Designed for small game under 25 pounds, the snares are pre-loaded have a super-fast closing action. The kit is small enough to fit in your pocket and includes instructions and same snare set-ups.  You could make a similar kit yourself, this is a terrific alternative to DIY.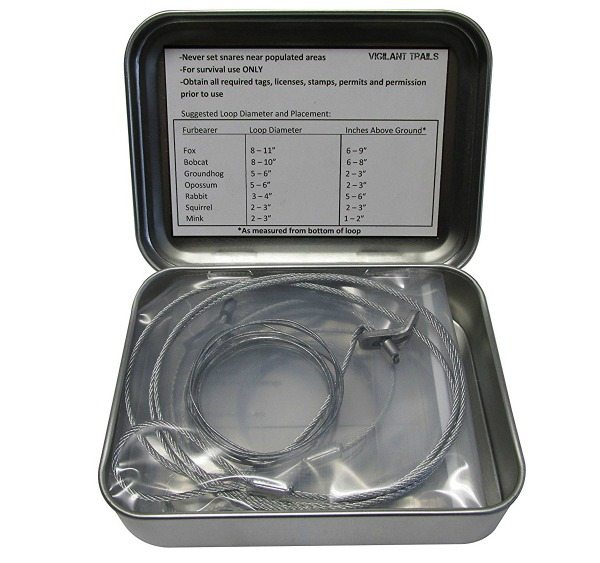 Fiskars X7 14-Inch Hatchet:  I have owned this particular hatchet for over a year. Due to its design, the handle is virtually unbreakable and the head will not loosen. The blade is forged carbon steel and a sheath is included.  I love Fiskars products because they a reasonably priced and have a lifetime warranty. At the same time, I purchased the hatchet, I purchased this Fiskars Axe and Knife Sharpener.
~~~~~
A frequent question I get on Backdoor Survival has to do with healthcare matters when there is no doctor around. This is the definite source of survival medical information for all Prepper's and is my go-to bible for survival medicine.