This site contains affiliate links. As an Amazon Associate, I earn a commission from qualifying purchases at no extra cost to you. Full Disclosure Here.
Home baked bread is one of the simple joys in life.  It is no wonder that I periodically write about baking bread.  I have even gone so far as to say that the key to happiness is baking your own bread!  Seriously, who can resist the aroma and taste from a fresh loaf, straight from the oven, or even from your automatic bread machine?
I think making bread the old-fashioned way is grand.  Rolling your sleeves up and transforming a lump of dough into a smooth loaf is a great way to work off stress. But what if you could save some of the work and create delicious breads by using a manually operated dough maker?   You may have seen these advertised but do they really work?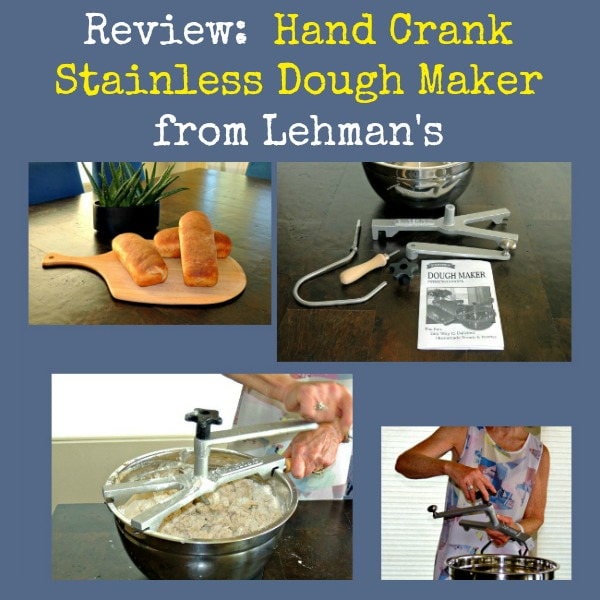 Yes!  In this review of the Gingerich Stainless Dough Maker from Lehman's, I will show you how.  Not only that, Lehman's is providing a hand crank, stainless dough maker to one lucky reader in the latest Backdoor Survival giveaway.  More about that in a moment because first, I want to tell you how it works.
Old Fashioned Goodness Without Kneading
One of the challenges many of us face as we get older is our fingers do not work as well as they used to.  Joints get tired easily, and our dexterity is not what it used to be.  For someone younger, the issue is not sore fingers and hands, but time. Making bread the traditional way takes a long time.
With a hand crank dough maker, you resolve both issues.  After gathering the ingredients and adding them to the bowl, you mix everything for four to five minutes and you are done.  Let me show you.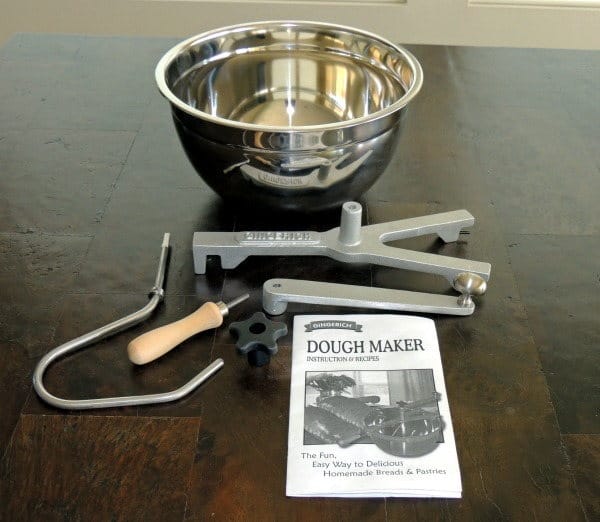 The first step is to assemble all of the parts.  I am not very mechanical but found the process easy.  The instructions in the included manual were a cinch to follow.  There is an easy to dicipher diagram, so even if you just look and don't read, you can put the crank and dough hook mechanism together in about a minute.
The heavy duty stainless bowl holds 8 quarts and as you can see, is drilled with holes so you can attach the dough hook mechanism.  I found the holes to be perfectly aligned which is always a good thing.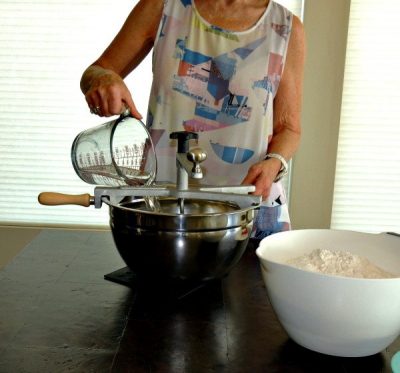 I am the type of person who likes to measure out my ingredients in advance.  For this initial review, I followed the recipe in the manual.  Here I am adding warm water to the bowl; yeast came next and then the remaining ingredients.
True confession:  I totally messed up the order of ingredients but that did not seem to matter.
See the silicone pot holder under the bowl?  That helped stabilize the bowl as I was moving the dough hook around with the crank handle.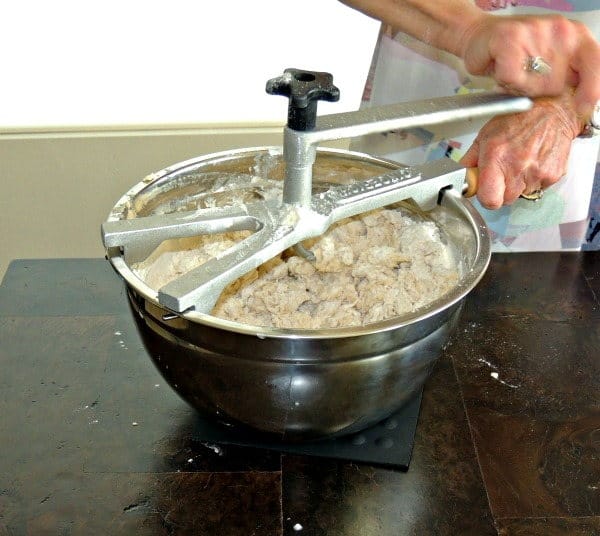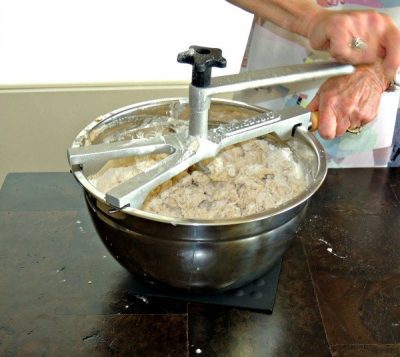 It is a little blurry but here you see both the dough and hand crank action.  This was after 2 minutes of cranking.  I am not going to kid you.  After about 3 minutes, the dough became very stiff and cranking took some effort.  I relieved Shelly from his photographer duties so he could hold the bowl down while I cranked.  I really should have used a non-stick mat under the bowl and not a small, silicone pot holder.  I also should have done this on my kitchen counter and not my dining room table.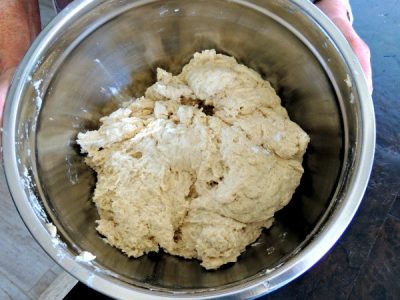 This is what the dough looked like after 4 minutes.  I suppose I could have gone a minute longer creating a nice smooth ball, but this worked fine. Notice how the dough pulls away from the sides of the bowl.
The next step involves dividing the dough into 4 lumps then rolling each out to fit in the pans.  I could not find my rolling pin so I used a pizza roller instead.  Also note the larger non-stick mats I should have used while mixing the dough.
Because there are just two of us, I purposely made small loafs.  After letting them cool, we sliced a hunk and oh my gosh, it was so good.  The bread was fine grained and easy to slice.
As I was writing this review, Shelly called from the kitchen and said "Wow!  This is good.  He had five slices in one sitting so I suppose that says it all!
What Comes Next?
The first time using something new, I like to follow instructions exactly.  That being said, the next time I make bread using my Stainless Dough Maker, I will add a bit of dough enhancer at the rate of 1 tablespoon per 4 cups flour.  This will give my dough a bit of lift.  This is something I typically do when making bread from scratch.  I will also let the dough rise a bit more in the pans before baking.
Something else I am going to try is using home milled flour instead of commercial unbleached flour.  Like I said, it is always good to start with the basic recipe and then branch out from there.  As a matter of fact, the manual clearly states the included recipe is a launching point for adapting your own recipes.
Since this Stainless Dough Maker requires no electricity, it makes sense to bake without electricity as well.  I am going to need to try baking bread using my Sun Oven and see how that turns out,  So many projects; so little time!
The Giveaway
To enter the giveaway, you need to utilize the Rafflecopter form below.  Select one or more of the options after signing in using your email account or Facebook, the choice is yours.  The best way to start is by clicking on "Free Entry for Everyone".  After that, each option you select represents an additional entry.  There are a number of different options so pick and choose, or select them all.
A special word about the giveaway question/comment:  Please read the question and respond accordingly, even it the answer is "I don't know".  This week's question is:
Please share a tip for baking bread, cooking beans, or preparing rice or some other "survival food".
After responding, be sure to indicate you have done so in the Rafflecopter.
The deadline is 6:00 PM MST time next Tuesday with the winner notified by email and announced on the Rafflecopter in the article.  Please note that the winner must claim their prize within 48 hours or an alternate will be selected.
Note:  Due to Customs requirements, this giveaway is only open to those with a mailing address in the United States.
The Final Word
I love bread!  Okay, if you stream Hulu you have seen the ads by Oprah Winfrey where she claims she will do anything for bread.  I can't say that I will do anything for bread but because I do enjoy it, I include regular bread baking as part of my overall strategy for survival if the world goes to heck.
I would like to thank Lehman's for introducing me to this hand crank dough maker and for sponsoring this giveaway.  Good luck!
Enjoy your next adventure through common sense and thoughtful preparation!
Gaye
If you enjoyed this article, consider following our Facebook page.
Bargain Bin:  Below you will find links to the items related to today's article o bread and dough making.
Hand Crank Stainless Dough Maker from Lehman's:  Note that I do not have a financial relationship with Lehman's; I simply believe in their company and the fantastic products they offer both in their store and to the online community.
Norpro Wooden Pastry and Pizza Roller:  If you don't have a rolling pin, or can't find it, try one of these.
Silicone Baking Mat – 2 Pack:  These mats are fantastic.  Nothing sticks to them and they can be used in the oven up to 450 degrees.
Silicone Bread and Loaf Pan Set of 2: If you have not baked with silicone pans before, you are in for a treat.  They distribute the heat well and are a cinch to clean up.  The only drawback to these, if you want to call it that, is they are a bit small than a standard loaf pan.
Dough Conditioner – 4 Pound Can: I shopped around and the best value on dough enhancer was this Honeyville brand.  Adding dough enhancer/conditioner will result in a lighter, fluffier bread.
WonderMill Grain Mill:  The WonderMill is the quietest and fastest flour mill available. You can create super fine flour or coarse flour at temperatures that preserve nutrients, ensuring that you will always have the perfect flour for your food. The WonderMill will not only grind wheat, rice and other small grains, but will also grind legumes and beans as large as garbanzos. It is extremely easy to use – simply fill the hopper and you'll get flour.
Artisan Bread in Five Minutes a Day: The Discovery That Revolutionizes Home Baking: At an average cost of 50 cents a loaf, this bread is easy, delicious and inexpensive to make.  Making your own bread is a skill everyone should have. See Simple Comforts: How and Why You Should Make Your Own Bread.
~~~~~
What are the best oils for your survival kit? Here are my top picks.