This site contains affiliate links. As an Amazon Associate, I earn a commission from qualifying purchases at no extra cost to you. Full Disclosure Here.
There are many reasons why learning about essential oils is useful for preppers.  Not the least of those reasons is to lessen the reliance on expensive and often ineffective and toxic pharmaceuticals.  How often have you filled an expensive prescription only to have side effects or find that the drug simply did not work?  Other than adding these meds to your SHTF barter kit, you are out of luck.
On the other hand, most essential oils are quite inexpensive and have the added bonus that a prescription is not required.  With essential oils, you have the freedom of where to shop, how much to pay, and how to use them.  You can dilute essential oils in a carrier oil or salve, use them in a compress, or diffuse them, or use them in a myriad of other ways suitable to your situation. If you're just starting to get interested in essential oils, you might want to start with this guide.
With that in mind, today I want to answer one of the most frequently asked questions I get regarding essential oils: what are the best essential oils to set aside for my survival kit?   In other words, what are the specific "set it and forget it" oils that are on par with emergency food and water storage?
Nine Essential Oils for the Long Term Survival Kit
There are many factors that have gone into my choices, including an oil's versatility and its ability to resolve multiple woes.  I have also taken into consideration price and shelf life.  More about that in a bit, but first, here my own list of the nine best essential oils for the long term survival kit along with my top 4 uses for each of them.
Treats cuts, scrapes, and burns and works to promote healing

Induces calm, relieves anxiety and stress, promotes sleep

Eliminates the sting of bug bites

Relieves pain and soreness caused by sprains and muscle aches

For more uses: The Miracle of Lavender Oil: 25 Amazing Uses for Survival

Resource:  Lavender Essential Oil
Relieves headache pain

Topical treatment of allergies

Repels ants, spiders, mice and other pests from home and garden

Treats digestive disorders such as heartburn, bloating, indigestion, and constipation

For more uses:  The Miracle of Peppermint Oil: 20 Practical Uses for Survival

Resource:  Peppermint Essential Oil
Use as an antiseptic, antiviral, antibacterial and fungicide.  Kills germs and prevents infection!

Eliminate mold and mildew

Fights colds, sinus infections, respiratory ailments and bronchitis

Treats wounds
For more uses:  The Miracle of Tea Tree Oil: 80 Amazing Uses for Survival

Resource: Tea Tree Oil
Improve concentration and memory plus provide increased mental and physical stimulation

Relive anxiety and stress by calming and relaxing the nerves

Sooth and heal skin disorders by reduce itching, dryness and irritation

Treat respiratory problems and congestion through inhalation

For more uses: The Powerful Healing Qualities of Rosemary Essential Oil

Resource:  Rosemary Essential Oil
Reduce inflammation and relieve conditions where pain and inflammation are present

Heal wounds from cuts, scrapes, and burns
Mitigate depression and feelings of helplessness
Boost and supercharge the effectiveness of other essential oils when used in tandem or layered on top of other oils
For more uses:  22 Powerful Uses of Frankincense Essential Oil

Resource:  Frankincense Essential Oil
Relieve toothaches and reduce the pain of canker sores and gum irritation

Disinfect hard surfaces and utensils

Freshen foul or stale air

Treat wounds, cuts, scabies, athlete's foot, fungal infections, bruises, prickly heat, insect bites and stings.
For more uses:  20 Ways To Benefit from Clove Essential Oil

Resource:  Clove Bud Essential Oil
Provide immediate relief to "clenched" and knotted tendons and muscles

Reduce fevers

Eliminate body odor and other foul smells

Reduce bacterial around the home by using it in DIY cleaning products
For more uses:  23 Awesome Uses for Lemongrass Essential Oil

Resource:  Lemongrass Essential Oil
Remove warts and skin tags

Fight infection by applying topically to gums, chest, or skin abrasions

Prevent fungus and mold including relief from athlete's foot and nail fungus

Control itching from insect bites and rashes

For more uses:  25 Ways to Use Oregano Essential Oil for Health and Wellness

Resource:  Oregano Essential Oil
Use as an effective hand sanitizer

Blend into DIY cleaning products for extra disinfecting power

Create an anti-viral spray to eliminate both airborne and surface micro-organisms

Prevent or relieve the symptoms of colds and flu
Note:  "Robber's Blend" can go by many names, including Shield, Thieves or simply "Protective Blend".  The components are similar and include various amounts of clove bug, lemon, cinnamon, eucalyptus, and rosemary oil.  Although you could make it yourself, having it ready-to-go in your survival kit will save you time and eliminate the need to store the variety of oils needed.

Resource:  Shield Protective Blend
One More Oil For Extra Credit
Promote sound sleep (especially when nothing else works!)

Create a sense of well-being by reducing stress, anxiety, and fearfulness

Heal skin conditions such as dermatitis and eczema

Treat nausea, vomiting, heartburn, and gas

Resource:  Roman Chamomile Essential Oil
What About Shelf Life?
Something that preppers struggle with is shelf life, especially under climate conditions that are widely variable.  This not only applies to food storage, but also to essential oils.  That being said, essential oils have been known to stay viable for years, even when kept at room temperatures.
The issue, so it seems, is that once opened, if not tightly sealed, they may evaporate or oxidize.  Certain oils, and especially citrus oils and some coniferous essential oils are rich in a hydrocarbon class called "terpenes" tend to deteriorate more quickly.
The thing to remember is that in a survival situation, storage conditions will not be optimal.  Besides evaporation, signs that your oils have degraded include a drastic change in the aroma, intense thickening, and cloudiness.  I personally have not had this occur with any of my oils, many of which are over five years old.  In addition, I keep a bottle of lavender oil in my vehicle and even after sitting outside in the sun for the past six months, it smells as fresh as the day it was initially opened.
For more information on the shelf life of essential oils, there is a balanced discussion in this article on the AromaWeb website:  Essential Oil Shelf Life.
A Word About Essential Oils
After a significant amount of research, for health, first-aid, and wellness purposes I use essential oils from Spark Naturals.  There are a lot of reasons, the most important being their commitment to both quality and value.  I am satisfied that the raw materials used in Spark Naturals products are tested and authenticated to be of pharmaceutical grade purity.
In addition, the Spark Naturals commitment to customer service is unsurpassed.  They take care of their customers, period.  If you decide to make a purchase from Spark Naturals, please know that you will enjoy a 10% discount on your order when you use the code BACKDOORSURVIVAL at checkout. (Note:  I do receive a small commission on your purchase and for that I extremely appreciative.)
The Final Word
This article is in response to the many comments and emails I have received asking which oils I personally stockpile for the long term.  This is that list; a list I like to call my "ultimate essential oil survival kit".  In my experience, all of these oils have proven themselves over and over again in my own use, and, with the exception of Frankincense, are reasonably priced if not downright cheap.
My recommendation?  When one of these oils goes on sale, purchase two or three and set them aside for the long term.  If the stuff hits the fan, not only will food become scarce, so will medications and essential oils.  In my own household, we are stockpiling both, with a heavy emphasis on essential oils.  We do this with the blessing of our personal health care provider who is tracking our progress and weaning us from pharmaceuticals when practical.
As with all things related to survival first aid and healthcare, your mileage may vary.  The best you can do is learn is much as you can now to determine what works best for you and your family.  Something that works well for one person, may work differently on someone else.  Use essential oils neat, in a diffuser, or diluted with a carrier oil or simple salve.  Have fun with them and embrace the use of plant-based oils to foster good health!
Note: This article was updated in January 2021
 Below you will find items related to today's article as well as things to get you started making your own scrubs, salves, lotions and potions including Miracle Healing Salve.
Spark Naturals Essential Oils:  I use essential oils from Spark Naturals.  For healing purposes, I feel they are superior.  A good place to start is with Lavender EO.  Note:  Enjoy a 10% discount at Spark Naturals using discount code BACKDOORSURVIVAL.
NOW Foods Essential Oils :  NOW Foods has decent essential oils at a  budget price:  NOW Foods Rosemary Oil, NOW Foods Peppermint Oil and Now Foods Lavender Oil are especially nice.
Coconut (Fractionated) Carrier Oil:  Once you start using coconut oil, you will be hooked.  This is the liquid form of Coconut Oil, also referred to as FCO.  I have been very satisfied with this brand as well as the FCO from Spark Naturals.
White Plastic Jar with Dome Lid 2 Oz (12 Per Bag):  I chose to use these small ointment jars rather than Mason jars for my salve.  I also have similar jars in the 1-ounce size.
White Plastic Jar with Lid 1 Oz (10 per bag): I love the size if these compact jars. They are really inexpensive and shipping in free.  But, as much as I love these, I love these glass jars better!
Aromatherapy Glass Roll On Bottles, Frost Cobalt Blue-Set of 6: You are going to want some of these for your oils.  I put essential oils (singly or in combination) in a roller ball with a bit of fractionated coconut oil and use it to apply EOs topically.   Note that I prefer the cobalt blue roller ball containers but they are also available in clear.  These complement the custom salves I mix up and store in these 1/2 ounce ointment jars.
Beeswax Organic Pastilles, Yellow, 100% Pure 16 Oz:  I ordered the white pastilles but have since learned that the natural yellow pastilles are better.  That said, the difference may not be discernable – just be sure that what you purchase is cosmetic grade.
Glass Droppers, Pack of 6: I bought a package of these and loved them.  When I went to re-order, I accidentally ordered plastic instead of glass droppers.  Learn from my mistake.  The price is the same so get the glass ones.
Tropical Traditions Coconut Oil:  This is my preferred coconut oil.  I love it so much I purchased a 5-gallon tub.  Really, I did!  I find it very silky to work with a love the taste when used in cooking.  Note that no refrigeration is required and although it solid at room temperature, it melts at 76 degrees.
Nutiva Certified Organic Extra Virgin Coconut Oil:  So far I am pleased with the Nutiva Coconut Oil.  It is pure-white, USDA-certified-organic, extra-virgin coconut oil that is cold-pressed from fresh coconuts within two hours of chopping. No refrigeration is required and although it is solid at room temperature, it melts at 76 degrees. I was able to easily liquefy a small amount and put it in a 4-ounce squeeze bottle where I re-liquefy by putting this smaller bottle in a glass of hot tap water.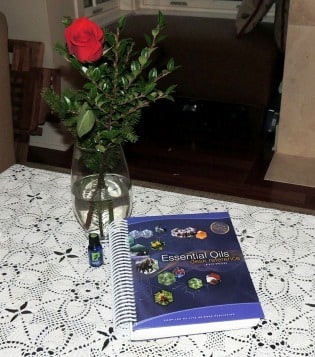 Essential Oils Desk Reference 6th Edition: This is the ultimate gift for the essential oil lover in your life.  I thought long and hard before purchasing this book myself, but once I did, I was so grateful I took the leap.  The information is cross-referenced in many ways making it easy to find what you are looking for.  When searching for a particular remedy, you may see multiple oils listed and any will work but they are presented in order of typical efficacy.  The nice thing is that if you do not have #1 on hand, you can move down the list.  I have found the recommendations to be spot on.
The Complete Book of Essential Oils and Aromatherapy: I first became interested in aromatherapy and essential oils in the early 90s which was before they really became mainstream. I read every book I could get my hands on and dabbled at creating synergy's (a combination of two or more oils that create a chemical compound that is greater than the some of its individual components). My bible then, and even now, is this book.
ZAQ Dew Aromatherapy Diffuser:  This essential oil diffuser uses water and essential oils to make make a mist of micro-particles and disperse them into the air. No heating or burning means the properties of the oil are not broken down. Low energy use. The really cool thing is that the light (which can be turned off) changes colors all by its own self.  Very soothing and I love it!
~~~~~