This site contains affiliate links. As an Amazon Associate, I earn a commission from qualifying purchases at no extra cost to you. Full Disclosure Here.
The Garden Tower was sent to us for an honest review. I have been late in reviewing it because my growing season was cut short last year due to a wind storm, but we will get to that later.
What makes the Garden Tower different from other vertical planters?
At 43″ tall and 36 lbs without soil, the planter itself is great for urban preppers that are short on space and want a solution that can work with their lifestyle.
The Garden Tower is an indoor or outdoor planter that allows you to grow a lot of vegetables in a small space. With the Garden Tower, a mere four sq ft can be used to grow 50 plants year round.
The Tower also allows you to compost, so you waste less and provide valuable fertilizer and nutrition for your growing plants. Simply add compost materials to the center tube and occasionally add some water.
Materials are very eco-friendly and made with your good health in mind!
The Garden Tower is made from food grade USA-made HDPE (non-toxic, BPA & PVC free plastic) components, FDA-approved dye and UV-protection antioxidant package for health, durability, and recyclability.
Vermicomposting tube
The center tube is where you can put things like grass clippings, leaves, and vegetable scraps.
The Garden Tower can be used with worms to create an even richer natural style growing environment. In fact, you are supposed to use worms, but it works without them.
Having worms to break down the compost also helps with any smells that can come from food breaking down slowly. I have never read that anyone thought their tower was smelly or gross.
Rotation
The Garden Tower rotates for easy access to plants and harvesting. The rotation also allows the compost to be more aerated and it can be helpful if you need to adjust it if one side gets more light than the other.
Watering
The Garden Tower stays nice and moist quite well, but you should still check it daily, especially during germination. Making sure to have a little peat moss in your soil mix can help with moisture retention.
When you water, you will notice that it percolates down. Since the water is percolating down, there are nutrients from the soil and compost that are recaptured in the bottom tray. Use this water to pour over the top the next time you need to water. It is a bit like a compost tea.
The tower sits in a very small space. The landing at the front steps is only 4′ x 5,' but if I wanted to, I could add a second tower on the other side and still have room to get up the stairs. That is a pretty efficient use of a space that is mostly unused. I am cleaning off the front of the drawer that holds the compost tea.
Just be careful not to over water and get in a situation where the drawer overflows if you are growing indoors. This is one reason to have a tray to sit the Tower on.
The Cost
This is a well-made garden container, but it has a price tag to go with it. The Garden Tower MSRP is $399.99, so it is a significant investment for many preppers. Even at $399.99, it could pay for itself fast when you consider the following prices for produce.
Organic spinach or mixed salad greens $6.98 per lb
Organic bundle of green onions $1.50
Cherry Tomatoes $2.00 per pint
You only have to produce 57 lbs of salad greens for the tower to have paid for itself in quality food produced in the growing conditions you desire.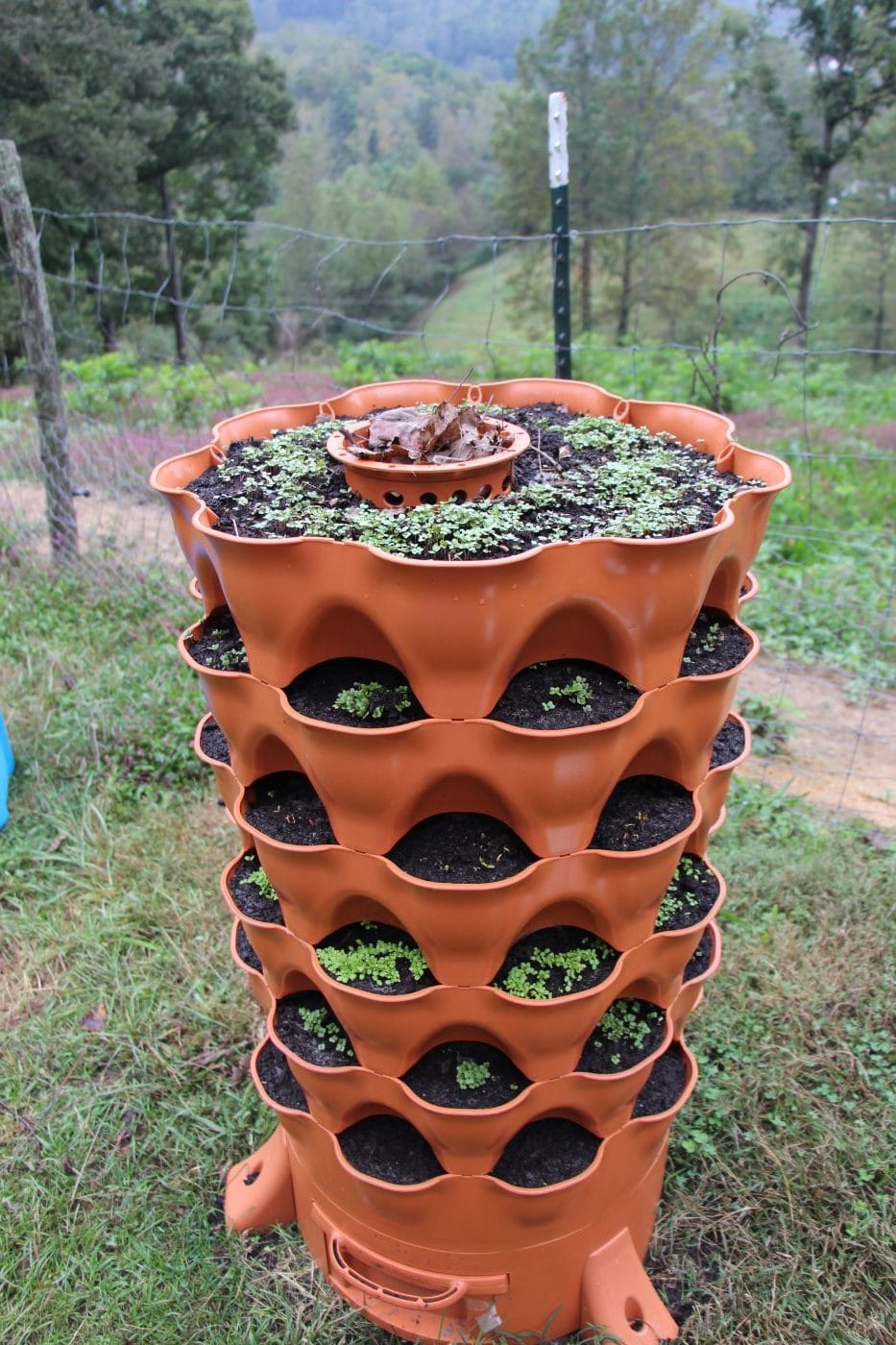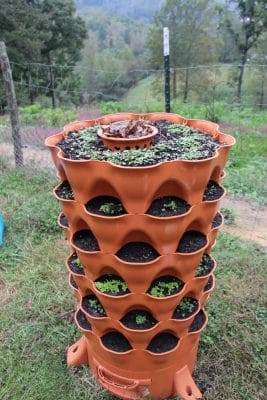 To purchase a Garden Tower, click here.
My challenges
About the time the greens started looking close to a crop we got a big wind storm, and my garden tower fell over. I guess I gave up for a long time on it because winter was coming and we had animals that were pretty determined to eat it. I like having a pet sheep, but she is hard to have around sometimes because of her love for eating gardens.
Honestly, I tend to take on too many projects at once, so this gardening experiment got sidelined when it shouldn't have.  Getting too many things going at once is something I have to work on because it is not the best way to get things done in the prepping world or in other areas of life either!
This season is going to be different!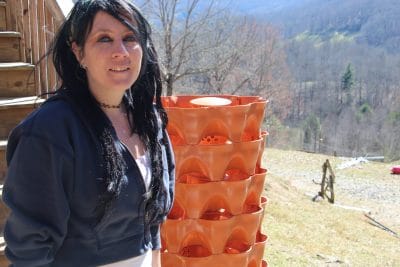 I am starting over again and will be a lot more careful about where it goes. This time we are trying the landing at the foot of the stairs to the front door. I will be better about remembering it there, and I want to use something to stabilize it better in case of romping dogs and lashing winds.
I am planting:
Salad Bowl Lettuce
Kohlrabi
Chard
Siberian Kale
Spinach
Turnips
This early garden is mostly for greens which are always a welcome fresh addition to the daily meals. I am going to try to keep this tower going throughout the year and make a better space inside for it. I had concerns about water spillage on the hardwood and the availability of light. We may have to supply some additional light during a lot of the winter months for decent growth.
The Soil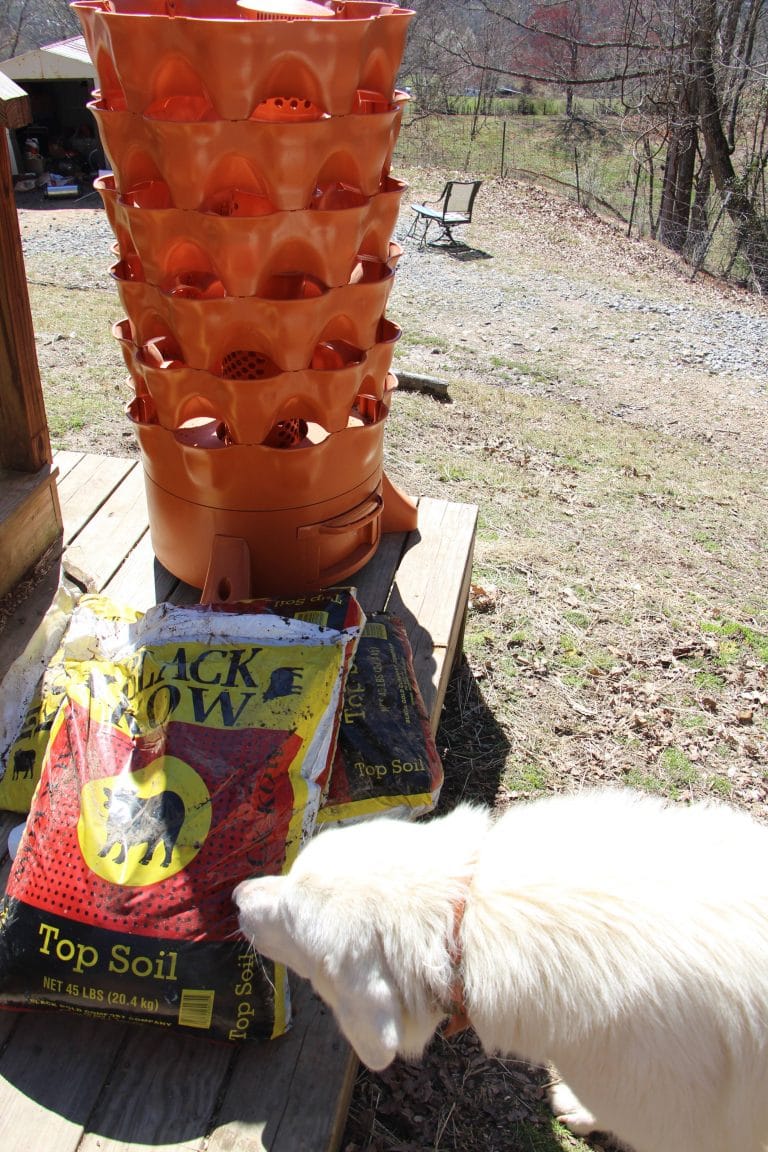 Barkley likes to be involved with every single project we have going. Everything needs the sniff test.
This time I am just using Black Cow in 45 lb bags. If the bags are a bit heavy for you, then you can always scoop it out so much at a time.  It took about six bags of soil to fill the Garden Tower. I have to say that I let these bags lay around and they are much heavier than 45 lbs now due to extra moisture.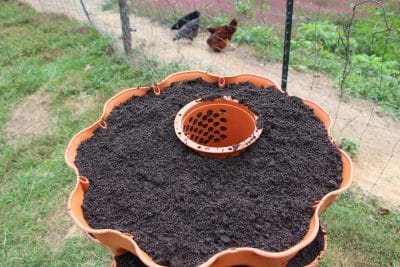 This is a picture of the Garden Tower last season filled with mushroom compost and a little bit of peat moss.
Portability
The Garden Tower can be secured to a wooden platform with wheels, or you can buy a wheel kit separately if you just want to throw a set on fast.
If the Tower is on wheels, it can be moved by almost anyone with ease. I can't help but think about how this planter would be manageable for an older person living in a smaller space too. A garden can bring a lot of joy to someone.
The Garden Tower also breaks down into manageable sizes so you can store or move it. The base is a bit bulky so it may be nice to have some help if you have to lift it.
If you need to store it you reduce its bulk about half buy placing tiers withing one another.
Discounts For Multiple Units
If you want to maximize your gardening power, then you may be considering buying more than one Tower, or maybe you have a friend or two that is curious to try one out? Garden Tower offers discounts depending on how many you want to purchase.
Buying seeds in bulk saves money
A lot of salad greens need to be reseeded fairly often so you will do better and make sure to reseed if you buy bulk packs of seeds you like. Of course, experimenting with different varieties may be fun and is totally understandable when you first start growing with your Garden Tower.
I like Territorial Seed Company for bulk seeds and Sow True. Both companies produce very good quality seeds and have a lot of heirlooms and organic options at reasonable prices. Territorial will also ship plants and starts at times for those that want a head start.
Local feed stores are good for bulk seeds and getting plant starts. For this project, Matt bought seed out of the bulk containers at the feed store.
Growing indoors
It is important to have enough light to grow indoors. If you have the Garden Tower on wheels, you can put it outside and bring it inside if you are in between seasons and fear frost damage.
The Garden Tower has a small footprint, but you should keep in mind how much bulk your produce is going to add. Some veggies can poke out a lot, so you want to allow for that when you are deciding where to put your tower inside your house.
My goals
I will be happy to have some salad greens and tomatoes year round. This tower might inspire me to try doing some more container gardening ventures.
At some point, Matt and I would like to have a green house on the front of our house. We have a concrete block foundation with stucco that retains heat well, and then there are vents on the sides so we could use the collected heat to reduce our energy bills. I can imagine putting this Garden Tower in there for the winter time and how it would maximize the growing space.
Do you have any experience with vertical gardens? Do you container garden a lot? What are your favorite things to grow?
Samantha Biggers can be reached at [email protected].