This site contains affiliate links. As an Amazon Associate, I earn a commission from qualifying purchases at no extra cost to you. Full Disclosure Here.
For years, I have referred to Harbor Freight as the world's best toy store for grown up boys.  Well I have news for you.  Prepper gals also drool over the goodies at Harbor Freight.  One of those "I have been drooling" goodies is a portable power pack for my car.  I am the proud owner of a Cen-Tech 5 in 1 Portable Power Pack.
What is a portable power pack?  First and foremost it is a gizmo you keep stashed in you car so that you have power available to use as a jump starter for a dead battery  Beyond that, if it is a really good one, it will also inflate a flat tire, provide emergency lighting and even power your portable electronics.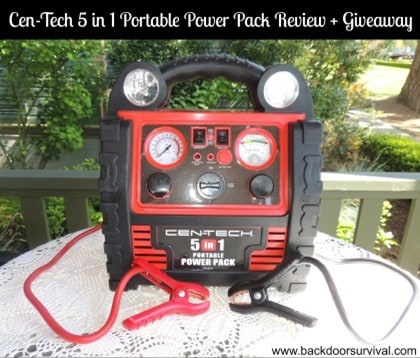 How Does the Cen-Tech 5 in 1 Portable Power Pack Work?
This week I handed review duties over to Shelly, who you will begin to see more often here on Backdoor Survival.  Here is what he had to say:
First, I would like to say that this Power Pack is great – better than the one I currently own by a long shot. I ran it through it's paces and want to share the my thoughts.

The most basic function of the portable power pack is its ability to jump start a car. There is not much that I can say about this feature other than the cables were heavy-duty yet flexible enough to manipulate in tight spaces. This power pack would be excellent to add to your car's emergency kit, especially if you travel regularly for work or pleasure.

Another reviewer stated that they used the Cen-Tech to jump start a 175 HP outboard motor so it must have a lot of cold cranking amps to do that job.

Using the Cen-Tech to jump start a battery is a cinch

The included 300 psi air compressor was handy and eliminated the need for a second device. I appreciated the air pressure gauge so I could monitor the PSI.  On a camping trip, the air compressor would easily inflate an air mattress and at home, the tires on your bicycle.

Easy to read gauges

Cleaning the keys on my keyboard – sweet!

The 12 Volt battery also has an inverter!  There are two AC plugs and 1 USB port.  I successfully powered both and then charged my cell phone and my iPad mini. A nice feature of the inverter is that it has and overload indicator light that comes on when the battery is low.

Rear outlets

Charging the iPad mini

There are two DC power plugs that can be used with appliances that are 12 amps (or less) or 144 watts (combined both outlets).

The four work lights that are built into the handle and are bright.  Two face forward and two face back. If your vehicle broke down at night, these lights will give off a lantern-type brightness and can supplement any flashlights you happen to have with you.

Lighting up a dark bathroom in our home

Review Statement:

This is the most compact all-inclusive unit I have seen at this price point ($100 or less).  Everything on the Cen-Tech unit is clearly marked and the gauges are easy to read, even by on old guy like me. Also, the inverter has its own power source fan which engages when the inverter is turned on.  That is a nice feature.

There is only one drawback which I do not consider negative, just inconvenient.  There is no place the store the AC charge cord which opens up the possibility of it getting lost.  Not that I ever loose anything, mind you.

My opinion is that if you can afford it, purchase one of these Cen-Tech portable power packs for each of your vehicles plus your home.  They are very handy to have around! While it is not a major power bank like you will get with the Jackery 500, it does offer some help for small emergencies like a dead car battery.
Adding my two cents, there is a great, visual Quick Start Guide for mechanically un-inclined types (me?).  In an emergency, this guide will get you from point A to point B very quickly.
The Final Word
Mr. Survival Hubby has had a very basic power pack for years and it has been used countless times to bail us out when the car would not start. I can see it now; he is going to want the new Cen-Tech power pack and I will get the old one.  Truth be told, I will be selling my car soon because I only drive it 900 miles in a good year, so at the end of the day, we both will share our new Cen-Tech power pack.
This is a lead acid battery based power pack so it weighs in at just under 19 lbs. Lighter weight lithium power packs are popular now but they have a much higher price tag attached to them.
Enjoy your next adventure through common sense and thoughtful preparation!
Gaye
Click Here To Vote For Me at Top Prepper Websites!
If you have not done so already, please be sure to like Facebook which is updated every time there is an awesome new article, news byte, or link to a free survival, prepping or homesteading book on Amazon.  You can also follow Backdoor Survival on Twitter, Pinterest, and Google+ and purchase my book, The Prepper's Guide to Food Storage from Amazon.
Spotlight:  Harbor Freight has wonderful prices on all kinds of supplies and gear for the preparedness community.  Even if you don't live close to a storefront (I don't), their fixed shipping rate ($6.99 regardless of the size of the order) makes it easy to have your goodies delivered.
Here are some coupons for you.  They can be used online or in the store:  SAVE 20% OFF One Item at Harbor Freight Tools! Online or In Store.
~~~~~~~~~~~~~~~~~~~~~~~~~~~
Shop the Emergency Essentials Monthly Specials: The monthly specials at Emergency Essentials feature discounts of up to 35% off sometimes a bit more.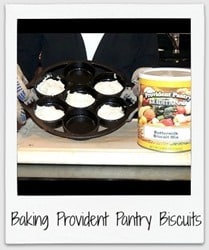 I have mentioned a number of times how much I really love the Provident Pantry Corn Muffin Mix
which I cook up as corn bread in my cast iron skillet.  It is better than anything boxed that I have ever purchased and as good as home made.  I feel the same way about the Buttermilk Biscuit Mix.
Both of these items are part of the Baking Mixes Combo.
This combo is currently on sale for $51.99 or 29% off.  The selection in this combo pack includes Buttermilk Biscuit Mix, Wheat Bread Mix, White Bread and Scone Mix, Cornbread Muffin Mix, Buttermilk Pancake Mix, and Chocolate Fudge Brownie Mix.
Shop the Emergency Essentials Monthly Specials
~~~~~~~~~~~~~~~~~~~~~~~~~~~
Bargain Bin: Getting the goods you need to in place to be comfortable during a power outage when the grid is down can be daunting when you are just getting started. Always, start with food then branch out from there.  Here is a list of some gear to help you along the way.
Coleman Mini Lantern:  You already know that I have a think about flashlights but this is a slightly different take on portable lighting.  It is 7.5 inches tall lantern and weighs just seven ounces, including batteries.  And boy does it give off light.  Inexpensive plus, it is a genuine Coleman.
Ambient Weather Emergency Solar Hand Crank Radio: This is becoming a popular choice with Backdoor Survival readers. This unit is a Digital AM/FM NOAA Weather Alert Radio and a powerful 3 LED flashlight, with smart charger, all in one portable package.
Meyer Classic Stainless Steel Yosemite 8-Cup Coffee Percolator: The reviews are great.
Coghlans Waterproof Matches 10-pack: There are 10 boxes of 40 matches each.  That is a good deal for 400 waterproof matches.
Coleman PefectFlow 1-Burner Stove:  This Coleman One-burner Propane Stove is an easy-to-use portable stove that should meet almost any camp cooking need. The PerfectFlow regulator provides consistent cooking performance by producing a steady fuel stream, even in cold weather, high altitudes, or when fuel is low. Equipped with one 10,000 BTU burner, this fully adjustable stove will last for 2.2 hours on high or up to nine hours on low.
HERCules (Home Emergency Radiant Cooking) Tea Light Oven: The HERC  is powered by tea lights and is safe to use indoors on any surface. 
EcoZoom Versa Rocket Stove: Burning twigs and pinecones, this stove will cook a big pot of rice in under 20 minutes. The stove is solidly built and will burn charcoal as well. There is also a version that only burns biomass for slightly less money.
~~~~~~~~~~~~~~~~~~~~~~~~~~~~~~~~~
The Amazon Top Ten Most Wanted Survival and Outdoor Items
Emergency Preparedness Items from Amazon.com
Help support Backdoor Survival. Purchases earn a small commission and for that I thank you!
Are You Interested in Essential Oils?  The Perfect Gift for Mother's Day!
The Spark Naturals Oil of the Month Club is the best value out there –  all oils are 15ml bottles – shipped out to you once a month (on the same date you ordered the product). The price is $15.99 a month and includes shipping and tax. This is a great way to collect oils at a discounted price.  Be sure to use the code BACKDOORSURVIVAL at checkout.

Geranium – Astringent, Diuretic, Sedative, Tonic and Relaxing
$15.99 with Free Shipping