This site contains affiliate links. As an Amazon Associate, I earn a commission from qualifying purchases at no extra cost to you. Full Disclosure Here.
The importance of a good belt is something that one doesn't notice until it is an issue. Tactical belts allow you to keep your pants up, hands free, and keep some useful items close at hand. A tactical belt can be as simple as a webbed belt and buckle that you add holsters and attachments to as needed to a full belt that includes a lot of different carriers.
For a lot of preppers it is going to be best to get a base belt and add whatever pouches and carriers you need. Tools and devices can vary a lot in size and shape so a custom designed solution can be best. On the other hand, some of the belts that come with a lot of attachments already can be a good value and you can always remove some if needed.
What do you actually want to carry?
A lot of us have seen the extensive tool belts that law enforcement and security officers carry. As a prepper your load is probably going to be smaller. Here are some of the things that I think of when it comes to what a prepper would want on their tool belt. You might want all of these things or just a few depending on your own personal preference and situation.
Gun holster
Scabbard or holder for Knife or Knives. In some situations you might want a fixed blade and then a multi tool for example.
Flashlight holster
Phone case
Radio holster
Keyring
A carabiner or two for various items
Don't overload yourself
Remember that the idea of a tactical belt is to be useful. Just because you can fit a ton of things on your belt doesn't mean you should. Weight is weight and a belt that is loaded down a lot can put strain on your lower back and increase your overall level of fatigue.
If you want to put a lot of items on your belt then think about ways to make the weight better distributed. A thicker belt with more padding may be best for those that want a lot of things on hand.
Measure your waist and hips
You want to get the right size the first time. You don't want a belt that is so large that you have to wrap it around you more than once. On the other hand, you need to allow some play and make sure it is not too tight when you add the supplies you want to carry.
Sheaths and holsters that attach can make you have a bit less room to spare because you are adding some volume to the inner band. If you wear your belt lower than your natural waistline then you need to consider the measurement where you normally wear your belt.
Basic Web Belt
This is a popular style. I used to wear these a lot when I was younger. These belts are great because they are made to fit a wide range of waist sizes. During a survival situation your weight could easily fluctuate or you may simply lose a lot and keep it off from the increased workload.
Another bonus is that they are inexpensive. Having a few of these in your preps is an excellent addition to what you have to barter with others. Just because clothing is easy to get now doesn't mean it will be during an emergency.
Aiduy Tactical Belt Adjustable Military Style

This tactical belt is 1.5 inches wide and made of durable 1000D nylon webbing. The D ring buckle is designed to never open under load pressure so that means this is a belt that can support a lot of holsters and pouches. While belts are adjustable, this belt is made in sizes that only accommodates waists from 31-42.5 inches.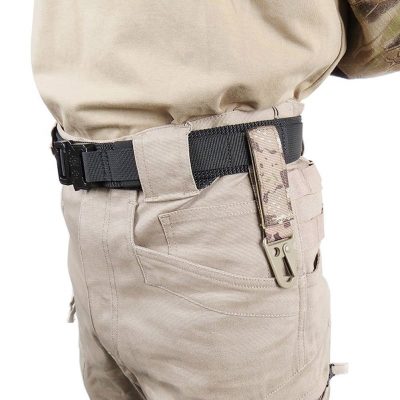 Fairwin Tactical Belt Military Style Webbing

This is a basic belt with a quick release buckle and plenty of strength to hold on your pouches and accessories. This is a belt that is very adjustable and comes in two different size widths to match your needs. Choose from 1.5″ or 1.7″ widths and sizes to fit 34-40″ waists or 38-44″ waists.
If you like to wear your belt lower or higher you may want to consider that when choosing a size. Like a lot of the belts on the list this one is made of study 1000D nylon webbing. To put the belt on you have to release one size of the belt from the buckle in most cases. If you have very large belt loops you may be able to avoid this.
NKTM Tactical Waist Belt Set
This belt includes a ton of pouches and holsters to fit a variety of accessories like a gun, flashlight, extra ammo, multi tool, keys, and more. You get an amazing 9 pouches and holsters plus the belt. If you find you don't need all of them then simply remove. The belt and accessory pouches are made of lightweight yet durable 1680D oxford cloth.
This belt even has a collapsible baton holster so you have a non lethal weapon available if the situation calls for it. I like that this belt is affordable enough that even if I found out that I didn't need a few of the holsters, I wouldn't feel like I spent too much for things I didn't use. This belt fits up to a 47″ waist making it a better choice for larger people than some on this list.
IWB Belly Band Holster CCW Tactical
While this is not a traditional tactical belt, it is something to consider for those that want to carry a few small accessories as well as a pistol. The comfortable band fits a girth of up to 48 inches.
I like that it allows for many different methods of wear as illustrated in the picture above. For those that really don't like the typical belt, this is a great alternative at an affordable price. The disadvantage is that you will not be able to add any other accessory pouches.
OneTigris Padded Patrol Belt
Some people may prefer a thicker style belt. This one by One Tigris offers a lot of padded comfort and back support while being compatible with Molle system pouches and accessories.
The picture on the left shows the belt with a few pouches added but you have to buy these in addition to the belt. The belt is made of 1000D nylon and you can get it in sizes to fit 31″-45″ waists.
UTG Heavy Duty Elite Pistol Belt
This sturdy belt fits waist sizes up to 44″ and can even be worn over a regular belt it desired. It is compatible with a variety of different holders and pouches and comes with 2 included magazine holders. Just add your favorite gun holster and other utility pouches and you are ready to go. The sturdy buckle is strong enough to hold during almost any situation. No sagging pants or uncomfortable shifting.
Belts For Smaller Waists
While some of these belts may come in a larger size too, I think it is important to include a few belts that come in smaller sizes to accommodate younger people and women's needs. It is very important that your belt be able to fit snugly and support the accessories you want to have at close hand.
WOLF TACTICAL Rigger's Belt
This belt is available in a size that goes down to a 28″ waist but can also be bought in sizes to fit up to a 51″ waists, making it one of the most adjustable belts on this list.
Double layers of thick nylon make this a very strong tactical belt. In fact you can hold it out and it doesn't collapse. For those that really want a lot of strength this is an affordable belt that will support your gun holster with no rolling or sagging.
Condor Tactical Belt
The Condor is a highly adjustable belt. Users say that they have adjusted it to fit a 30″ waist but that there is plenty of room to take it down further. The sturdy buckle is strong enough to support a lot of accessories and includes 2 magazine pouches to get you started designing your personal tactical belt system.
Accessory Pouches
There are so many different pouches and holsters out there to choose from. Here are a few to consider.
Zeato Tactical Molle Waist Bag Pocket Belt Organizer

For your money this pouch offers a lot of storage space. You can fit a cell phone, battery bank charger, keys, small flashlight and more. For me this and a good gun holster and a space for a multi tool or tactical knife would be about all I needed on a belt.
UltraFire Flashlight Holster
While these are made for small flashlights, they could be utilized for a baton or pepper spray. You get a 2 pack for a good price so if you are putting together several tactical belts, these are something to consider. They seem to be made of very heavy duty nylon and made to last when put to work under hard conditions.
Eilin Tactical Gun Holster
This lightweight holster helps distribute weight on your belt and it allows you to have your gun in a different position for cycling, riding a motorcycle, and more.
The price on this one won't last long so if this is the type of holster you think might work best for you then it is worth going ahead and ordering now. Heavy duty 600D nylon is made to hold up under trying circumstances and it doesn't absorb water if you get caught out. This is an excellent holster option for paint ball or just a day at the range.
Tactical Molle Drawstring Magazine Dump Pouch
Sometimes you might want to have some extra loose ammo on hand. This drawstring pouch fits on tactical belts with ease, especially those that utilize the Molle system. Satisfied customers report that it can hold 50 standard 2 3/4 inch 12 gauge shotgun shells or some extra magazines if desired. Capacity will vary based on magazine or bullet size. One customer reported using it to carry 3 magazines for his M4 with no problem at all.
If you don't need this pouch for ammo it can also be put to work holding just about any loose items you can think of. The drawstring pouch and the mesh pockets on the side make it easy to get to whatever you are carrying. It almost looks like it would be big enough to stick a water bottle in if you really wanted to!
Comfort is important
Finding a belt that works for you and the right combination of accessories can take some time. Consider the width of the belt you are buying as well as how rigid it is.
If you use a harder gun holster or carry a larger side arm then wider and stiffer may be better or you may want to get a holster that hangs off your belt but the actual holster part actually attaches to your leg. This can help spread out the weight and allow you to have your gun in a different position if desired. Not everyone wants it right on their belt.
What tactical belts have served you well over the years? Do any of our readers in the military have anything to say or recommend when it comes to tactical belts? What do you think are the most important accessories to have on a belt for a survival situation?

If you enjoyed this article, consider following our Facebook page.