This site contains affiliate links. As an Amazon Associate, I earn a commission from qualifying purchases at no extra cost to you. Full Disclosure Here.
You've got a lot of options when looking for the best survival stove.
A survival or emergency stove is something that you can keep in a bug-out bag for easy access when you need it the most in the wild. It is basically your lifeline when the elements are working against you. Depending on the situation, the stove should allow you to boil water, cook food, keep warm, and even act as a source of light in the dark.
In today's guide, we've got only one mission, to help you select an emergency stove that's ideal for your survival situation.
Keep on reading to get to your ideal pick. 
Also Read: Survival Tips
Top Pick
Firebox Bushcraft Camp Stove is our top pick. We think this model is the most versatile emergency stove for almost any survival situation. You can rely on this stove for cooking, boiling water, and keeping warm in the cold. Not to mention that nature provides all the fuel you need.
The Best Survival Stoves Are:
The Firebox is a true survival folding stove with hinged panels rather than separate parts that require time-consuming assembly.
We are impressed by the specially designed hole pattern, which serves several functions. It isolates the hottest part of the stove, preventing expanding material from causing warpage. The inside row of holes allows you to attach a spirit or gas burner. Not to mention that plenty of combustion air gets into the stove through the lower and top rows of holes.
When we used the stove in the woods, we could use wood pellets, thanks to the outside row of holes that allowed for easy mounting of an adjustable fire grid. We even did some barbequing by adding some charcoal on the fire grate and a grilling plate on top of the stove.
Adding pieces of wood to the stove was a breeze with the wide feed ports. Positioning the wood upwards was easy for effective burning.
Another feature that we found to be quite impressive is the fact that we could invert the ash pan to create an adjustable air damper.
Key Features
Versatile folding design
Heavy-duty hinged panels
Vertical and horizontal holes
Wide fuel feed ports
Adjustable fire grate
Extended grill plate
Pros
The fire starts quickly and burns hotter
The numerous holes improve combustion
Easy to use wood pellets or charcoal as an alternative fuel
Grilling and barbecuing is super easy with this stove
Lots of positions for mounting a spirit or gas burner
Cons
It is a little bit heavy
Doesn't come with a locking bail handle pot
Verdict
This is a highly versatile survival stove that we think will help you cook and stay warm out there.
Overall Rating: 4.9
Don't let the tough conditions of the off-the-grid environment put you down on a beautiful morning when you've got this great stove in your backpack.
You can start the morning right with a kick-ass breakfast of black coffee, eggs, and bacon you've got in your backpack. All you need to get this done is the stove and pine cones, pine needles, moss, bark, sticks, or twigs that are all around you in the bush.
Although it takes some doing to put the five panels together, once the whole thing comes together, using it is a breeze.
Out in the field, the stove proved to be a true survival masterpiece. We love the large circular cutout on one of the sides that allowed for easy fueling. The unique design of the opening allowed us to position firewood at an angle for effective burning. Not to mention that we could use big chunks of wood relative to the stove's size.
It produced such an impressively large flame that made boiling water with our camp kettle quicker than we had expected.
Key Features
HD 304 stainless steel construction
5-panel design
Wide fuel feed opening
Collapsible design
Firestarter kit included
Canvas carrying bag included
Pros
Feeding wood is easy and convenient
Lots of venting holes for superior combustion
Cooks food and boils water pretty fast
The sturdy design won't be easily blown away by the wind
Flatpack design allows for easy carrying in the backpack
Cons
Putting the panels together can be a challenge
Collapsing the stove isn't entirely easy
Verdict
It may take some figuring out to assemble and disassemble the stove, but we think it cooks and boils water pretty fast.
Overall Rating: 4.8
When it comes to a minimalist outdoor design and superior combustion airflow, this fire pit from Solo is a great survival stove to consider.
There are two important features that we truly like about this stove. First, it produces very little smoke, so you don't have to worry about inhaling a lot of smoke that could cause problems if you are asthmatic. Second, it is a portable fire pit, which means when you are done cooking you will not leave any trace of fire behind.
The double-wall structure takes in air from the bottom. So, you get air rising to help your wood burn efficiently.
When we put the Solo stove to the test, it truly proved to be a reliable choice for boiling water and cooking hot soup. The heat that came out at the top was very intense. However, we noticed that this stove burned through our wood faster than a typical fire pit.
Key Features
Wood burning design
304 stainless steel
Double-wall construction
Raised ash pan
Heavy-duty base plate
Secondary burn
Pros
Comes ready to use no set up necessary
Burns wood efficiently to produce intense heat at the top
Generates low smoke when burning dry wood
The portable design is easy to carry in the woods
Doesn't leave any trace of fire on the ground
Cons
Tends to burn through wood pretty fast
The surfaces may experience heat discoloration
Verdict
We think the Solo stove is creatively designed and will produce sufficient heat for boiling and cooking. But it may not be the most reliable choice for keeping warm in winter.
Overall Rating: 4.8
Surviving in the woods can be easy with this great propane stove from Coleman as long as you can carry it around with you.
We like the versatility of the chrome-plated grate, which allows you to use different cooking vessels like a pan, stockpot, kettle, or saucepan for cooking and boiling. You can even use a cast iron grill plate for some barbecuing.
The 7,500 BTU cooking power is quite impressive. When we were out camping, this uniquely made propane stove took roughly six minutes to boil water in a 2-quart kettle. We find that's adequate for just about any survival situation. The bad thing is this stove doesn't come with an igniter.
The next best thing that we like about this stove is the adjustable flame. The flame doesn't get bigger or smaller but the temperature does change. When the heat is high, it is truly hot. But you can adjust the flame for a rolling boil or simmer.
Key Features
Up to 7,500 BTUs
Pressure regulator
Full-size cooking surface
Removable chrome-plated grate
Adjustable burner
Pros
No smoke, no problem for people with breathing issues
The grate provides a wide surface area for cooking
The flame can be conveniently adjusted
Easy to stir food in a pot thanks to the large stable base
It takes a fairly short period to boil water
Cons
The propane cylinder doesn't come with the stove
Doesn't come equipped with an igniter
Verdict
For those of you who hate smoke, we think this propane stove is a good alternative.
Overall Rating: 4.7
Whether you are in a survival situation off-the-grid or just out camping in the woods, this portable stove is a highly reliable option for preparing a hot cup of black coffee on a chilly morning.
We like the fact that you can use either a propane or butane cylinder with this stove. It's impressive how easy it is to use this stove. After connecting the gas, all you've got to do is turn the knob all the way down in a counter-clockwise direction and the built-in igniter will automatically turn on the gas.
When we used this stove, it met our expectations as the full-size fire grate accommodated different types of cookware, including our cast-iron pan, tea kettle, and cooking pot. The 8,000 BTU cooking power was great, allowing us to boil water in about six minutes.
Key Features
8,000 BTU
Duel fuel design
Cartridge ejection
Built-in igniter
Full-size fire grate
Stable base
Pros
Suitable for simmering food like rice
Dual fuel design adds versatility
The full-size fire grate provides a wide cooking surface
Starts automatically with the built-in igniter
Ejects the cartridge when irregular gas flow is detected
Cons
The butane may not pressurize in cold conditions
Some models may leak gas when not in use
Verdict
This is a great gas stove that you can rely on in warmer weather. Not to mention that it is super easy to use.
Overall Rating: 4.7
When it comes to solid fuel stoves, we think this amazing model from Esbit is your best bet. This thing is lightweight, compact, and packs well for backpacking.
The first thing we like about this cook set is the self-contained design, which comes with the pot stand, wind deflector, pot, lid, and a mesh bag.
All the parts fit together easily. All you've got to do is place the pot stand on the ground, put one 1/2-ounce fuel tablet inside the pot stand, place the pot on top of the stand, put water in the pot, place the lid, and ignite the fuel to start heating.
When we put this cook set to the test, however, we had to use three 1/2-ounce fuel tablets to get a rolling boil.
Key Features
Hard anodized aluminum design
Self-contained 
Uses fuel tablets
Smokeless flame
Mesh bag
Pros
The lightweight design is good for backpacking
It comes with everything needed to start cooking
Assembling the parts is pretty straightforward
No smoke to worry about
Easy to measure liquids with the volume indicators
Cons
It may take up to three fuel tablets to boil water
Not a great choice for keeping warm in the cold
Verdict
We think this is a great solid fuel stove for backpacking. But you need to carry enough fuel tablets when going off grid.
Overall Rating: 4.6
Whatever the survival situation calls for, you can use this stove to keep warm, cook food, and boil a lip-smacking hot cup of black coffee.
We finally got the chance to use this incredible stove off the grid, and it proved to be a reliable asset. We were impressed by how easy it was to put the parts together, which took less than two minutes. The fire grate sits deep inside the stove, which allowed us to pile sufficient wood for cooking.
We like the three-arm pot support system at the top, which was compatible with all our cookware. We made some delicious omelets with a cast iron pan and hot black coffee with a kettle.
Another thing that we like about this stove is the wind-resistant design, which ensured we didn't burn a lot of wood.
Key Features
Space-saving design
Three-arm pot support
Grill grate
Solidified alcohol plate
Bottom vents
Stable base
Pros
Putting the parts together is a breeze
Supports all kinds of pans and pots
It is quite resourceful for barbecuing
It's well-ventilated for efficient wood burning
It is sturdy and wind-resistant
Cons
It may form pitch black soot when burning evergreen wood
The arms on the fire grate may fail to fold
Verdict
As far as backpacking, camping, and survival are concerned, we think this stove from Ohuhu will deliver amazing boiling and cooking times.
Overall Rating: 4.6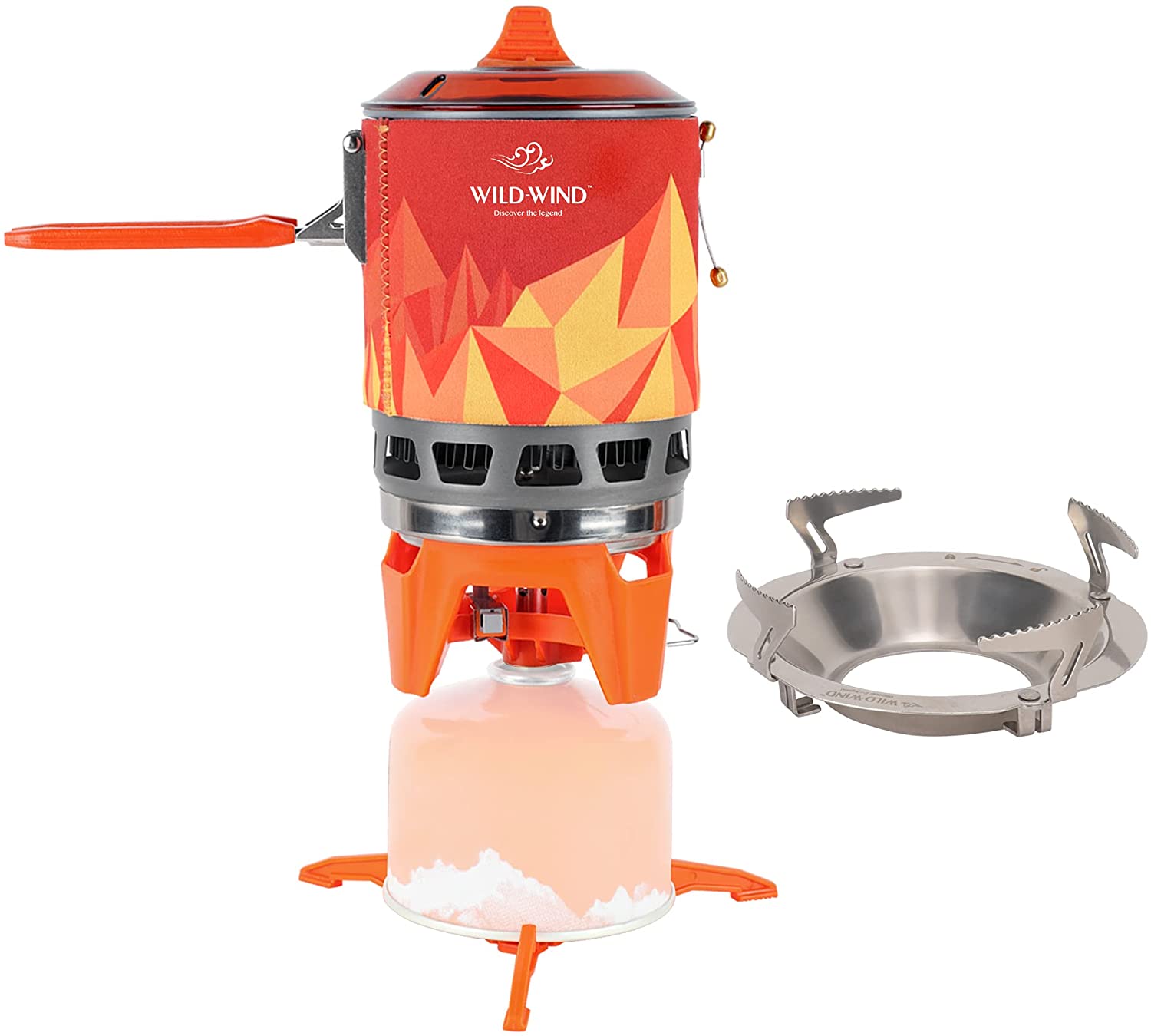 Whether you are hiking or camping off the grid, the X3 outdoor stove from Wild Wind will help you stay nourished and strong.
What's nice about this stove is that it is small, lightweight, and easy to backpack. Its top feature is that it is going to give you boiling water in just a couple of minutes. This makes it a very good option to have in a survival situation.
We appreciate how compact this stove is, considering that the tripod, burner, and multipurpose pot support are all contained in the pot for easy carrying in the woods. But the canister may or may not be a challenge to carry depending on the size you've got.
Another feature that was quite impressive is the multipurpose pot support system, which allowed us to use alternative cookware like a cast iron pan as well as a tea kettle. 
Key Features
Self-contained unit
Big capacity pot
Multipurpose pot support
Canister tripod stand
Piezo ignition
Pros
The compact design is suitable for backpacking
Parts come together easily during assembly
Quick and easy to start with piezo ignition
Converts into a regular stove with the multipurpose pot support
The stove adapts to most gas tanks
Cons
The canister is sold separately
Some models may come with a poorly made pot support
Verdict
We think this is a great stove for you, considering that you can convert it into a regular stove with the multipurpose pot support system.
Overall Rating: 4.6
Coming last on our list is this incredible wood-burning stove from Lixada. It's compact, lightweight, and fits easily into a backpack.
There are a few things that make this stove qualify as one of the best survival stove options. The first thing that we like is the quick assembly of the parts. You just have to click the panels together and the ashtray fits into well-position slots at the bottom. The second thing that we like is the large feed port for easy fueling.
In the field, we could use a mini spirit burner, thanks to the spirit burner support plate that comes with the stove.
Key Features
Flatpack design
Hardened stainless steel
Spirit burner support plate
The wide fuel feed port
Carrying pouch
Pros
Flatpack design fits easily in a backpack
The sturdy structure is not easily blown by the wind
It's capable of a rolling boil in about 4 minutes
Fuel feeding is easy with the wide opening
It can be used with a spirit burner
Cons
It is slightly heavy when flat packed
Doesn't come with additional accessories
Verdict
If you are a big fan of backpacking and off-grid adventures, we think this wood-burning stove is something you should have out there. 
Overall Rating: 4.5
Things to Consider When Looking for Survival Stoves
Here are the most important things to consider when looking for the best survival stove:
Types of Survival Stoves
There are four types of survival or emergency stoves to consider.
Solid Fuel Stoves
This type of stove burns solid fuel tablets. The first thing that we like about solid fuel stoves is portability.
They usually have a flatpack design that fits effortlessly in a backpack. The fuel tablets, however, burn pretty fast, around 8 minutes per tablet. You may need more than one tablet to bring water to a rolling boil at a time.
Liquid Multi-Fuel Stove
As the name suggests, these stoves use liquid fuel like kerosene or white gas. They are quite versatile and rugged.
They normally come with a heavy-duty pot support system and different size bottles. When you first turn a liquid stove on, it is going to produce a liquid flame at first. But as the stove heats up it's going to pressurize the fuel and burn just like a butane or propane stove. Liquid fuel stoves, however, are quite loud.
Gas Powered Stoves
Gas-powered stoves are usually the easiest to use. Most of them come as self-contained units, which means you get the gas burner, pot, and tripod stand.
Although, the gas cylinders are sold separately. Some models may come with a built-in igniter for ease of use. Some even allow you to adjust the heat level for a rolling boil or simmer.
Wood-Burning Stoves
These are by far the most popular survival stoves out there and for good reasons.
First, fuel is freely provided by the surroundings. Second, they are highly versatile, you can use them for cooking, boiling, and barbecuing among other things. Third, most of them are great for keeping warm in the cold.
But they require long prep times, constant maintenance, and produce smoke.
Which Survival Situation Will You Be Using the Stove?
Not all survival stoves are ideal for all survival situations when backpacking.
Solid fuel stoves are usually recommended for short-term emergencies and we recommend packing at least twelve 1/2-ounce fuel tablets. Liquid fuel stoves are suitable for intermediate survival situations, such as a disaster that forces you to evacuate a region for a few weeks.
Gas-powered, on the other hand, are recommended for intermediate and windy survival situations. Wood-burning stoves are the most ideal to have in cold survival situations because you can boil water, cook food, and use them to keep warm around the campsite. 
Along with your stove of choice, you will always want to carry with you a dependable lighter. Check out our list of the types of lighters, so you would know which one to get.
FAQs
Can I build my own survival stove?
Yes, you can create your own survival or emergency stove as well as a fire pit. You just need a metal can and a few cutting and bending tools to get the job done. A wood-burning stove or fire pit is usually the easiest to make.
Are gas-powered survival stoves reliable?
They are reliable in warmer and even windy (self-contained designs) environments. But the major downside with these stoves in a winter environment is that you are going to get some performance reduction. So, that's where your wood and liquid fuel stoves are going to excel.
Final Thoughts
For this roundup of emergency stoves, the winner is Firebox Bushcraft Camp Stove. What makes this model stand out in this list is its versatility.
It meets all the requirements for survival and preparedness. It helps you cook your food to keep you fed. You can boil water for drinking and hot beverages for keeping warm. It provides you with sufficient warmth when paired with the ideal shelter.
So, we recommend this stove for harsh cold conditions in the wild as long as you can get access to dry sticks, twigs, and barks among other wood stuff you can use.