This site contains affiliate links. As an Amazon Associate, I earn a commission from qualifying purchases at no extra cost to you. Full Disclosure Here.
Lighters aren't just for smokers! It is one of the best handy tools to have anytime and anywhere. From your car to your camping kit, it is a good idea to have a lighter within reach. It is affordable, compact, lightweight, and versatile, making it a must-have in your survival bag.
With a lighter, you can start a fire, cook food, purify water, protect yourself against animals in the wild, and stay warm, among others. Nonetheless, they aren't all the same. With this, read on as we talk about some of the most common types of lighters, so you can pick the right one.
What Are the Different Types of Lighters? Types of Lighters You Should Know About
1. Plastic Spark Wheel Lighters 
This is the most popular lighter you will find in the market today. It is the category where most cigarette and disposable lighters belong. As the name implies, it has a spark wheel that is responsible for producing ignition, and in turn, will generate a flame. 
The body of the lighter is often made of plastic. Think of Bic as the perfect example. Meanwhile, its wheel is made of serrated steel. Below the wheel, you will find the flint. Push the wheel with enough pressure, and it will rub against the flint, creating a spark. 
You will also find a plastic lever under the spark wheel, which is what releases fuel as the valve opens. 
While most of these lighters are refillable, most people opt to throw them away. The quality isn't the best, so durability can be an issue. Plus, they are so cheap, so a lot would rather buy a new one instead of going through the hassle of refilling its fuel. 
Take note of some of its limitations. For instance, it often does not last more than 3,000 lights. Plus, it is not windproof. Some might not also like how the spark wheel can easily get hot the longer the flame sustains. 
2. Piezo Ignition Lighter 
A type of ignition that you will most commonly find in portable stoves and gas grills, piezo ignition is utilized in many lighters today. It operates under the principle of piezoelectricity. The latter refers to the capability of a material to have an electrical charge after the application of mechanical stress.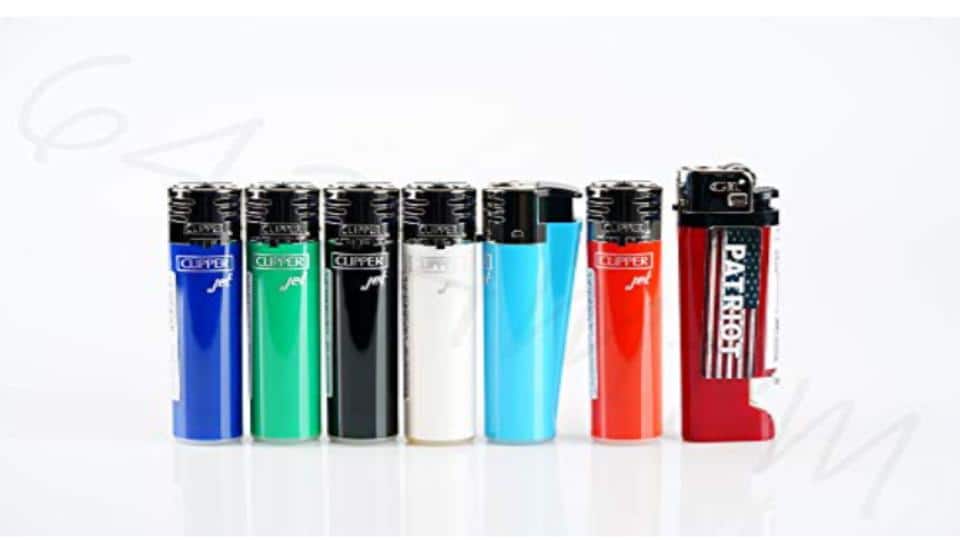 This type of lighter is almost similar to a spark wheel. The main difference, however, is that there is no metal wheel. Instead, it has a plastic that pushes the quartz element to activate the spark. Voltage is created, hitting the fuel inside the lighter to create a flame. Its lifespan is usually shorter than a plastic spark wheel lighter, which is often only 1,800 lights. 
Using butane as a fuel, it is also a disposable lighter that is common amongst smokers. While many are refillable, people will not bother adding more butane since it is cheap getting a new lighter. It is easy to light even when your hand is sweaty or when you're using gloves. Unlike the spark wheel, it has no sharp edges. 
Nonetheless, it also has some drawbacks. For instance, some might not like how it does not work in wet and windy conditions. 
3. Windproof Lighter 
When it comes to windproof lighters, there is one popular brand that most of you are probably aware of—Zippo. For more than a hundred years, it has been a big hit in the global market. It is larger than the two lighters mentioned above. It has a spark wheel, which you have to press to ignite the flame.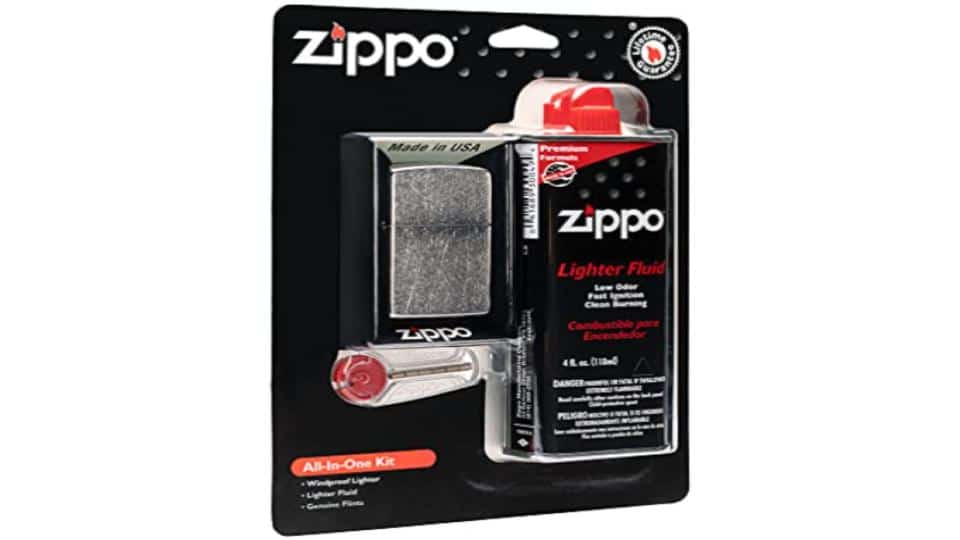 One of the best things about a windproof lighter is that it stays lit, even when you take your hand off the spark wheel. Even when it is cold and windy, the flame stays on. The only way it goes off is by closing its lid. Otherwise, the flame will stay alive just like a lit candle. 
Another good thing about windproof lighters is that they can last a long time, especially if you choose Zippo. You will need a replacement for the wick and flint, but the lighter itself is tough. 
However, take note that it is prone to air exposure. Not to mention, it uses a lot of fuel since it stays lit unless you close the lid. On average, it might take up to 10 days before you need to refuel. It will depend on several factors, such as the extent of use. 
4. Torch Lighter 
The name itself should already give you an idea of the design of this lighter. It has butane in a pressurized chamber. Meanwhile, the fuel forces through the lighter's nozzle. Here, it creates an intense and strong flame, which is powerful enough to light cigars. 
A good thing about torch lighters is that it allows the users to aim the flame in any direction. You can even point it up or down. As long as you are holding the trigger button, the flame will stay lit. 
If there is one thing that you might not like about this kind of lighter, it would be its inefficiency. It uses a lot of butane, so make sure that you always have a can of spare fuel for a refill. 
5. Plasma Lighter 
Claiming to be better than butane, plasma lighter is another type that is worth considering. It does not use gas to generate a flame. Instead, it uses plasma, the fourth state of matter. It started as a Kickstarter project and became more popular around the world because it is a greener alternative to conventional lighters. 
In a plasma lighter, a high-voltage electrical current goes through two nodes. In turn, it produces a highly-charged plasma arc. It creates heat that will light an object, such as a candle wick. 
Among others, one of the best things about plasma lighters is that they are flameless. Not to mention, they are also hotter than your usual lighter and a great option when you are in windy environments. Aside from having no fuel, we also love how it is rechargeable, so you can minimize waste compared to using traditional plastic lighters. 
A plasma lighter also has several shortcomings. For instance, the battery will often need a replacement. Also, the charging time can be long and might not last long between charges, depending on the quality of the lighter you are using. 
6. Utility Lighter 
Also called a candle lighter, the most recognizable characteristic is the long neck. It is the same lighter that you use for lighting a gas stove. It is useful if you want to cook at the campsite as well. With a long neck, it is easier to light a candle, stove, or grill without your hand getting burnt.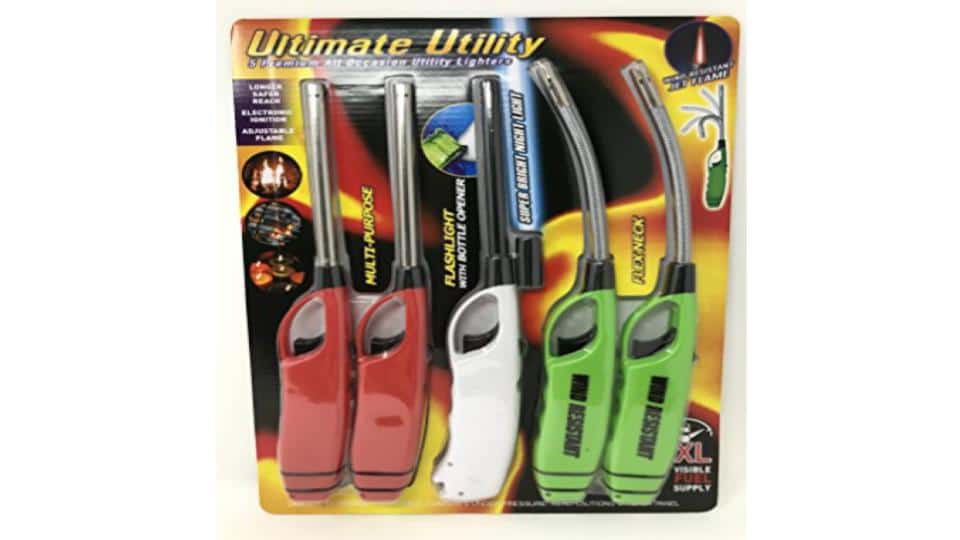 These lighters can have a rigid or flexible neck. The latter is more versatile because you can twist the neck depending on the direction where you will need the flame. These lighters are refillable, making them economical. Nonetheless, since they are affordable, most people consider them as disposable lighters. 
7. Electric Coil Lighter 
A flameless lighter, it is one of the most innovative lighters you can use. It has a built-in battery instead of using butane or any other fuel. It is through the battery's electricity that the coil inside the lighter heats up. It has two ceramic nodes that create electrical energy, which is what will ignite a flame.
You can charge these lighters in a micro USB port, just like your smartphone. Meaning, you can also use your portable power bank, making sure that the lighter is available when you need it the most. 
However, it has limited applications. Most people use it only for smoking. With the coil, you cannot light just anything. Hence, it is not a good choice if you need a lighter for camping or emergency preparedness. 
8. Permanent Match 
If you are looking for a lighter that will make a great addition to your survival kit, then it is hard to go wrong with a survival match. As the name implies, it looks like a classic match. It has a spark stick with a screwed wick. Meanwhile, the main body of the lighter is a chamber that is filled with fuel. 
Compared to a standard match, the flame that it creates is more wind-resistant. Not to mention, it is longer-lasting. Nonetheless, be careful with the advertisements of some manufacturers regarding the number of lights, since they are often more than the true capability. 
9. Floating Lighter 
The name itself is already a clue of what this lighter is like. This is perfect if you are often in the water, such as for those who love boating. It has an innovative construction with a buoyant body, so it will float in the water. Not to mention, it is also waterproof, so you can use it even when it is wet, making it great for survival situations. 
10.Capsule Lighter 
It is the smallest of all the lighters on the list, making it easy to bring anytime and anywhere. Some people wear it as a necklace, so it is always accessible. Depending on the specific brand and model, it can also be waterproof. Nonetheless, because it is small, the fuel will not last long. It is not for everyday use but only for emergencies. 
Whether outdoors or indoors, the Tough Tesla Lighter 2.0 is your go-to ignition source for all your needs. It's waterproof, windproof, and lightweight (so you can take it with you anywhere). It's USB rechargeable, with a built-in flashlight and emergency whistle.
With its dual arcs, this lighter can start fires even when wet or windy conditions are present, making it perfect for camping/hiking trips. This lighter can come in handy where wet wood would otherwise prevent other lighters from working correctly.
It also includes a six-month "Any Reason" Refund Guarantee. This lighter is a must-have for any outdoor enthusiast. It's perfect for camping, hiking, hunting, and more.
The SURVIVE Permanent Match is an excellent addition to any emergency preparedness kit. It's also a great option for camping and hiking, as you can use it to start your campfire, stove, or gas grill. It's convenient and lightweight with many uses so that you can bring it anywhere. 
The SURVIVE Permanent Match is a small, easy-to-carry design that fits easily into any bag or pocket. This product is durable and ideal for use in a natural or urban environment. 
This lighter is an excellent choice for anyone wanting something compact but practical. You'll appreciate all the benefits if you like camping, hiking, and fishing. It's the perfect gift idea too.
These windproof rope lighters are very convenient, portable, and durable. They're lightweight and compact so that you can carry them anywhere. They don't need any refilling of kerosene or gas to work. This feature makes them the most convenient lighters for all weather conditions.
These windproof rope lighters are a handy accessory around the house when the power goes out. It's also perfect on camping trips or other times when matches or candles aren't available. You can also replace the cotton rope once it runs out. However, these three packs aren't disposable, meaning you can use them many times.
You want something lightweight that can fit into tight spaces like your pocket without being bulky. You're looking for a waterproof lighter to protect it from the elements. It will be perfect for enjoying outdoor activities such as kayaking excursions. Lightweight and convenient-flame-less feature.
The Scotte outdoor arc lighter is the perfect tool for any survivalist. It features a plasma arc lighter, an electric lighter, and an LED flashlight. This all-weather magnesium 5-in-1 fire starter is lightweight and comes with a Ferro rod to get a fire going in any weather conditions.
The plasma arc technology lets you light up your campfire or grill while being windproof. The dual-function electric/plasma torch can be both a candle and light up your cigarettes in style. The flashlight has three modes: high brightness mode, strobe mode, and low brightness mode.
The 5-in-1 magnesium fire starter is ideal for emergency survival kits because it can start a fire in wet conditions or when covered by snow. Each kit comes with one sturdy black carrying case. It'll keep all your items together and protected during your next outdoor adventure.
You can adjust the flame with a precision flame control and use the punch if you ever need to pierce something. You can fill it with butane at any gas station or hardware store, so it's always ready when you need it.  
It has a clever safety feature: no button for lighting the lighter. You lift the top slightly, then push it down until you hear a little click inside. With this feature, you don't have to worry about accidentally setting it off. 
The GUEVARA Butane Torch Lighter is a lightweight aluminum lighter with two punch-style jets. It's strong and lightweight so that it won't break easily. The GUEVARA Butane Torch Lighter comes in an elegant gift box and is a practical gift for anyone.
This multi-purpose lighter is a necessary addition to any home. The long metal wands make them perfect for lighting candles, BBQ grills, fire pits, and lanterns. There's a window where you can see how much fuel you have left in the lighter. 
Six of these gas lighters are in a package, meaning they're affordable, so it's great to give them away as little gifts. This product does not include butane fuel, so make sure you have some before you buy it.
They're not just great for your house, though. They're also great for camping trips because the fuel lasts for about 100 lights. Some models even have child-safety locks to help prevent accidents from happening when you're not looking. 
The MEIRUBY lighter is a rechargeable USB lighter. It has good design and construction quality. It's lightweight and compact, which makes it easy to carry around. Moreover, it comes with an arc torch that lets you see while lighting your cigars or cigarettes in the dark.
The long necks of these lighters make them ideal for lighting candles, especially if you don't want to get burned. For those of you wondering, "What are the long lighters called?" you can now rest easy that they're also known as candle lighters or utility lighters and are electric devices that produce a small flame.
The Arc Candle Lighters have a fantastic feature that shows you how much battery life they have left on them. You will see the real-time battery volume on their LED screen (also used as a power indicator). 
This feature makes this product great for long-term use. Once you're done using your lighter, you can charge it again instead of replacing the batteries every few months. 
The USB cord included with this product is tiny. Although this lighter does not come with any other accessories as other brands do, this still works fine without any problems.
If you're a smoker, you're probably familiar with butane lighters. These windproof PROMISE cigar lighters use liquefied petroleum gas to create a flame from the flint wheel and wick. Most people think of them as table lighters or cigar lighters. Did you know you can use them for survival too?
The most significant benefit of having a refillable butane lighter is that you can use it for many years. They're durable and reliable since they don't need batteries or electricity to work.
This feature makes them ideal for use during an emergency. There won't be any worry about whether the lighter will work when needed. You don't need batteries or electricity for this lighter. You can fill it up before going out into the wilds to always have access to light and fire.
With piezo ignition, you don't need matches or flint stones. Press down on this button and watch those flames appear without having anything else involved except pressing down. It's designed for tabletop use, not for carrying in your pocket.
Lighters have many uses, including cooking, lighting candles, and cigarettes, and using them to start fires. A plasma lighter is essential for your camping gear or survival kit. It's rechargeable and windproof, making it a good step up from traditional flint-and-steel models.
These lighters are also splashproof, making them ideal for campers who use their lighters in wet weather conditions. Hikers can also use them through damp terrain. Their windproof feature also means they're ideal for cooking use. Lastly, it'll keep oxygen away from the flame and burns hotter and cleaner than other types of lighters on the market today.
This product has a USB cable for portable charging via standard wall sockets. It's environmentally friendly because manufacturers use recyclable materials. It contains a plastic casing instead of metals like brass containing lead. When people buy these items, they know they're positively impacting the environment.
Disposable lighters are a good choice for people on a budget or who aren't interested in refilling their lighters. They're cheap and easy to carry, so you can slip one into your pocket or purse without taking up much space.
BIC's variety of colors means you can find one that suits your personality and style. Some options are green, red, blue, and neon green. Bic classic lighters aren't refillable, but they're still easy to use (flick your thumb).
Child-resistant safety guard prevents toddlers from accidentally turning on disposable plastic lighters. This feature is vital when they're around gas flames like camping stoves.
The Torch Lighter is a multi-faceted and helpful tool that comes in handy for everyday tasks. It features durable, heavy-duty zinc material. It has a unique one-click ejection knife for cutting thin things like strings, ropes, or boxes.
The refillable butane lighter is eco-friendly as it eliminates waste by allowing you to reuse the product. You can choose to have the flame burn at high or low intensity (depending on your needs). It has a jet blue flame for lighting cigarettes and small stoves. You'll love the creative design of this lighter, with the eagle head and wings serving as the flip-top lid to reveal the lighter flame. 
The manufacturers ship the YANGVVIA lighter without gas, so make sure to fill it up with butane before you go out and use it. This lighter makes an excellent choice if you're looking for something else to give your dad this year for Christmas. He'll love the versatility of this tool.
What Are the Most Popular Lighter Brands?
When it comes to lighters, there are a lot of options. But which brands should you choose?
BIC 
While they're not quite as well-known for their reusable lighters, BIC is one of the most popular brands regarding disposable lighters. This product is excellent if you want an affordable option that will still last a long time and provide consistent functionality.
Zippo 
This lighter brand has been around for a long time. It's best known for its classic designs and durable construction. It's almost like carrying around a piece of art in your pocket. This lighter could be your go-to option if you want something that'll last forever.
PROMISE 
Another popular refillable lighter option on the market today is PROMISE. This brand has been in business for many years. They know what they're doing to make quality products that people want. Their models tend to be more elegant than flashy. If elegance matters most, consider trying them before buying something else.
GUEVARA
This is another brand that produces an affordable line of lighters. This brand doesn't break the bank but still provides excellent functionality and quality. It's a fantastic option for gifts or items to keep in your pocket on the go and will likely fit the bill perfectly.
What's the Difference Between a Refillable and Disposable Lighter?
The main difference between refillable and disposable lighters is: 
A refillable lighter has a replaceable fuel source. 
You must replace a disposable lighter as soon as it runs out of fuel. Disposable lighters are cheaper but not necessarily better than refillable ones.
Refillable lighters may cost more upfront, but they last longer than disposables. You can often customize them with your own logo, too. A refillable lighter is essential to consider if you care about the environment (and who doesn't?). Refilling an old lighter instead of throwing it away means less plastic waste in landfills worldwide.
How to Refill Lighters
Refilling lighters is a simple process that you can perform yourself with the right tools and some basic knowledge. It's pretty straightforward to fill up a lighter. Follow these steps: 
First, you'll need to buy some lighter fluid.
Lift the lid off of the lighter and remove the insert. Grip the flint wheel firmly with two fingers. Remove the metal insert from the lighter case by pulling it up.
Remove the metal casing and set it aside.
To put fuel in the lighter, turn it upside down and lift the felt bottom.
Unfold the paperclip. Gently push one end of the paper clip into the tiny hole and lift the felt backing.
Squirt a little lighter fluid into the cotton ball.
After waiting five seconds, squeeze the canister twice more into the cotton.
Close the felt protector by pushing it, and put the metal box back in the case.
Let the fluid soak into the lighter for 2 minutes.
What Can Lighters Be Used For?
We've discussed a significant number of uses for lighters, but let's take a look at some other common and not-so-common uses for these handy devices. 
Lighters are often used to light candles, a great way to add ambiance and romance to your home. You can also use them as part of an outdoor fire pit or grill when you want to create backyard gatherings with friends and family members. 
Many smokers enjoy lighting cigarettes with lighters. People love having fireside conversations around a campfire that you can start with a lighter and suitable fuel. Lighters are also used in fireworks displays on Independence Day and other special holidays.
Tips for Choosing a Lighter 
It is not enough that you pick a lighter that generates a flame. Consider other factors in picking the right one, including the following: 
Purpose 
One of the first things to do is to determine what you need the lighter for. Is it for cigarettes or cigars? Will you be using it for cooking at home or at the campsite? Or are you buying one that will make a great addition to your survival kit? By knowing your purpose, it is easier to narrow down the choices. 
Size 
From compact to bulky, lighters are available in different sizes. The biggest are the ones that are designed for lighting candles or stoves. Meanwhile, the smallest are those that you can use for survival, making them easy to bring wherever you go. Nonetheless, take note that the smaller ones usually have the least capacity. 
Fuel 
The type of lighter that you choose will dictate the fuel that it has. Butane is the most common, especially in refillable lighters. Naphtha is another option, which has a saturated cloth wick and fiber that absorbs fluid. Meanwhile, you will also find others without fuel, especially those with an electric mechanism. 
Why You Need a Lighter 
If you are a smoker, chances are, you always have a lighter with you. Nonetheless, even if you do not smoke, you will need one for the following reasons. 
Start a Fire 
One of the best reasons to have a lighter is to start a fire. Forget about the traditional mode of survival wherein you need stones to manually create flames. With a lighter, things will be easy. You can start a fire to keep you warm in the campsite, to boil water, or cook food, among other things. You should also find the best survival stove for your needs.
Open a Bottle 
Do not attempt to open a bottle with your teeth! It is better to use a lighter instead. Many of them are designed with a solid and flat body, which can be useful when a bottle does not have a twist cap. 
Seal a Rope or Cord 
If you are using nylon or rope, such as when you are setting up temporary shelter in the campsite, you will have another good reason to own a lighter. It can seal the ends that you have just cut, which will prevent fraying. 
FAQs 
What are old lighters called? 
Old lighters are called Feurzeug or Dobreiners Lamp. It was named after the German chemist who was credited for being the inventor of the lighters that we know today.
What are the most popular lighter brands? 
Some of the most popular global lighter brands are Zippo, Bic, Dunhill, Coleman, Lois, Clipper, MK, and Calico. 
What kind of a lighter is Zippo? 
Zippo is a wind-proof metal reusable lighter. It is more expensive than traditional disposable lighters, but it is worth every dollar because it is beautiful and long-lasting. When it no longer lights, all that you need to do is to refill it with butane. 
Final Thoughts 
Lighters exist in all shapes and sizes. Whether it is for cigarettes, cigars, candles, camping, or survival, among other situations, picking the right one is essential. Some of the most common types of lighters you will find in the market include plastic spark wheel, piezo ignition, windproof, plasma, electric coil, and capsule.