This site contains affiliate links. As an Amazon Associate, I earn a commission from qualifying purchases at no extra cost to you. Full Disclosure Here.
Grain stores much longer than flour, so its natural for many preppers to prefer to stock up on years worth of grain over the flour itself.
By doing this, you also save a pretty penny. But, when SHTF and it is time to open up your five-gallon buckets of grain, you aren't ready to cook. You need to grind the grain into flour, or crack it open, at least, if making soup or alcohol.
Chances are, if you're in the position where you have to mill grain for flour the grid is down and even if you have your own supply of power, you need a way to mill the grain if that fails. Luckily, there are still a wide variety of hand-powered mills available on the market today. With one of these you can pull it out of its box, clamp it to a table, and start grinding away.
Also Read: Prepper List For Kitchen
So which do you need?
Well, you have to consider a few things to make that decision.
What kind of grain are you milling?

Are you making gluten-free flour from cassava or another gluten-free source?
Your mill has to work with your chosen grain, and if you're milling something that makes moisture, like coconut, peanuts, or chickpeas, you need a steel based-mill, not stone.
There is also the potential to motorize most of these hand mills, with any battery-powered drill, in the case that you do have some spare energy for the task. You don't want to heat the grain, so you may need to pause when you use your drill. It's also important to note that many mills which advertise their ability to be motorized are designed for home breweries (Corona Mill, Cereal Killer). These mills don't make fine enough flour for bread, although they do crack the grain open enough for soup if you're desperate.
If you end up growing your own grain after TEOTWAWKI, you'll also have to hull most grains and seeds before you put them in the mill. Generally, grains will come pre-hulled if you're buying them for your stockpile, but its good to double-check this when you're purchasing it. Hulling will add more time to your milling, and requires different equipment. Keep in mind that an average manual grain mill is going to produce enough flour for bread (six cups) in 30 minutes. Some will take a little less time, others will take double, but it is significant time and effort either way.
Manual Mill Comparison Table
There are plenty of other factors to consider, but we'll talk about them on a case-by-case basis. Here are our top five hand grain mills:
You'll see this mill called the bug-out mill, because it is lightweight. But, like all hand mills, it needs to be secured to a table to work. This mill also has impressive claims about its speed, and reviewers who have tried other mills (and who therefore know any milling takes some time) agree it's quite a fast mill. You can purchase a specific drill bit attachment for the mill which is quite convenient. It's also versatile, with one stone and one steel burr. It's more durable than the cheaper mills, and overall the WonderMill Junior Deluxe Flour Mill is our first choice for a prepper's hand mill.
We have previously reviewed the electric powered Wondermill, here.
This mill is the most expensive on the list,  But, with that price comes quality. It's a heavy mill that appears nigh indestructible (and comes with a lifetime warranty). It's one of the only mills that can truly make cake fine flour on the first pass, and it can mill any grain or nut.
You're going to want to bolt this thing to a worktable and simply keep it covered when its not in use. It can come with a fly wheel for easier turning, but young children are not going to be able to use it. You can buy spare parts for it, and it doesn't lend easily to being motorized unless you DIY. If you can afford it, and you're preparing for a long-term SHTF scenario, this is the mill to buy.
This hand grain mill is simply superior to Victorio's older version (the back to basics) such that there is absolutely no reason to buy the older. The new model is larger, more stable, and more efficient. You can buy a Electric Motor for VKP1024 Deluxe Grain Mill by VICTORIO VKP1024-M  for this mill.
As the burr is made of steel and not stone, it is safe for use with wheat, oats, rice, barley, seeds, beans, corn, spice and coffee. Some have found it will not work with larger grains like corn and even if you get it working with them it will take more time. It doesn't produce cake-fine fine, but it is fine enough for bread in a SHTF situation. This mill is not going to last a lifetime, being made of aluminum and some steel, and with only a year warranty. The biggest benefit is the price,  from some retailers, and little more from others. If you don't want to splurge for the Wonder or Country Living Mill, theVictorio Deluxe Hand Grain Mill will fit your prepping needs.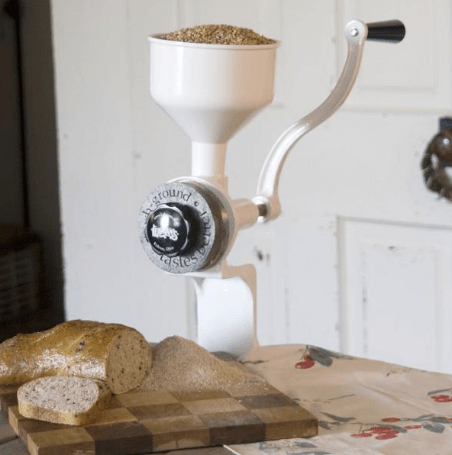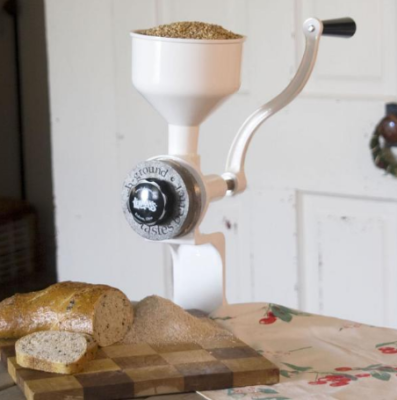 Lehmans sells other hand mills, but they have their own model as well. Lehman's is a little more wobbly while being used than the other mills on this list, and certainly more wobbly than the stable Country Living model, but it will still get the job done on any type of grain or nut, including the ones which create moisture. The cast-iron burs count as a steel bur in terms of what it can grind, but needs to be dried quickly to avoid rust. The Lehmen's Own Hand Cranked Grain Mill is available as of this writing.
Overall, this mill isn't much of an upgrade from the Victorio Deluxe, and at one hundred dollars more it just doesn't make sense. If you can afford more than a hundred for a mill, put your money towards the Wonder Mill instead.
This mill's primary benefit is that even a child or elderly person is able to turn it. The flywheel is large, or if you choose the handle, it is long. Remember that a longer handle or wheel also means it'll take longer to get the same amount of flour as from other mills. The produced flour is not terribly fine, but it'll do for a SHTF situation. The mill is flexible, able to handle any grain or nut, but larger things like corn or beans will take two passes.
Overall, if you need something that is as easy to use as possible, the Messerschmidt Family Grain Mill is your mill. Another tip for making the process easier, is to first grind your grain at a coarse setting, and then pass it through on a fine setting (which you could do with any of these mills).
Final Thoughts 
If money is truly no object, there are some advantages to buying the pricey Diamant D.525 Hand Mill, But, unless you're grinding up something regularly, like animal feed or enough flour for your neighborhood, I don't think many preppers will be able to justify the cost of this one.
The last thing you need to know about a hand-powered grain mill is how to clean it. Most come with a simple brush to dust it off, and that's all that is necessary, unless you've milled something oily. In that case, you'll need to rinse the steel burr and dry it thoroughly.
Overall, a hand-powered mill is an essential for anyone who stores grain, or who plans on growing their own in a SHTF situation.
Plus, your ability to mill grain may make you a valuable bartering partner. A few of the cheaper models may even be great bartering items if a long-term SHTF event happens.
If you're ready to learn how to grind wheat, as well as grow it and cook with it, see Gaye's guide.
If you enjoyed this article, consider following our Facebook page.