This site contains affiliate links. As an Amazon Associate, I earn a commission from qualifying purchases at no extra cost to you. Full Disclosure Here.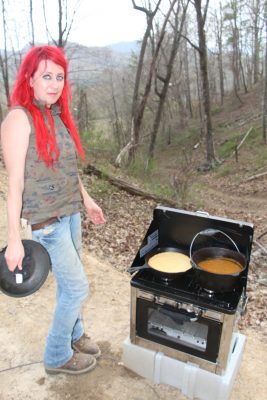 The Camp Chef Oven is a remarkable and economically priced oven and range for anyone that wants all the convenience of a quality gas range in the great outdoors. At around 32 lbs, it is light enough that a single person can move it and with two people, it is really easy.
The Camp Chef Oven & its Parts
The oven uses the standard 1 lb size propane cylinders that you can find at any camping supply store or Wal-Mart. Camp Chef says that a 1 lb cylinder will last about 7 hours if using the oven at 350 degrees F. Other Camp Chef oven users I have talked to or read their review of their oven say that they are impressed with how much cooking they can do on a single cylinder.
You can get an adaptor kit that allows you to hook the oven up to a larger tank, like those sold as grill tanks at gas stations and grocery stores. If you are going to be setting up and cooking often, then the larger tank will save you money over the long term.
Bulk Tank Hose Adaptor For Camp Chef Oven

The oven comes with a regulator designed to use 1 lb cylinders. You just screw the regulator in the back of the oven when setting up and then screw in the canister. 
The windscreen is helpful under varying conditions.
The Camp Chef Oven has a handy windscreen that also protects the burners when transporting or storing. The screen is very strong when laid flat so you can set some items on it if desired. I have to say that a wind of 10-15 miles per hour can actually blow out the eye if you set up and the wind switches direction or it is erratic. Just keep watch under windy conditions or put in an even more protected area than the holler we set up in.
Oven temperature is easy to check.
The oven is rated at 3,000 BTUs.
It took the oven a few minutes to get to ignite. I imagine most of this had to do with the fact that it needed some time to get the gas level right. If you had this set up for regular use you might only run into this issue with the first use.
If the oven doesn't ignite after 5 seconds the instructions say to turn everything off including the range burners, wait 5 minutes, and try again. This means you might want to make sure the oven is igniting before starting on anything that needs cooked on the stove top portion.
I wanted to get the oven up to 400 degrees for my cornbread but with the wind and it being vented, it did not reach this temp on high. I managed to eventually get a regular reading of 300-350 degrees Fahrenheit but it took awhile.
At the same time, the cornbread cooked in a reasonable amount of time so I have to question how accurate the temperature gauge is. It cooked a good cake of cornbread and a temperature gauge is not critical to me getting a good result when baking if I can watch the food a bit. I wonder where the gauge probe is precisely located? Perhaps that is a clue to why I got a good result regardless of the temperature reading.
We cooked dried chili and a cake of cornbread in cast iron. I got to use some of the lard that I rendered and wrote about in this post.
Burners
The two burners are very heavy duty. Each burner is rated to 7,500 BTUS. The supports for your pot are impressive and will hold their own among any quality gas range. I would not be fearful of using the eye for a totally full 7-quart jar pressure canner.
The ignition for the burners is easy to use. It takes a few "clicks" to get them to light the first time after the stove has been set or stored with no propane hooked up to it. After the initial ignition, if you want to turn off the eye or it goes out, a single "click" of the ignitor is all it takes to get the burner going again. I definitely like the fact that there is an ignitor built into each eye and the oven so there is no need for a match or lighter like with a lot of stoves.
Oven Size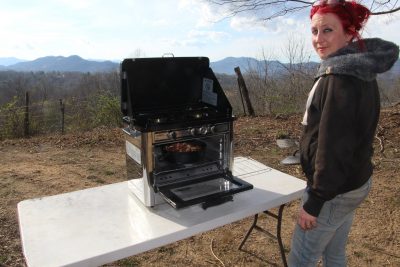 It is nice that you can fit a standard 10 3/4 cast iron frying pan it the oven or a 13 x 9 inch casserole pan. I do want to warn that you need a standard casserole dish. If there is a lot of fanciful handles or embellishments on yours than the handles may stick out too far or the sides be wider so you can't close the oven door.
It comes with two racks so you can use two small cookie sheets or small pizza stones if desired. While the oven is compact it is plenty big enough to cook a full course meal for a family or even a group depending on the dishes you are making.
There are two wire racks so you could actually cook two dishes at once or use a couple cookie sheets of the right size and shape.
Two Burners + Oven= Hearty 3 – 4 Courses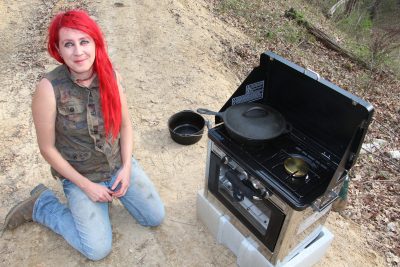 I do like that the Camp Chef oven allows enough room to cook special hearty meals while away from home and electricity. A main dish and 2 sides plus a dessert is not out of the question no matter where you are with this oven.
Stainless Steel and Enamel Construction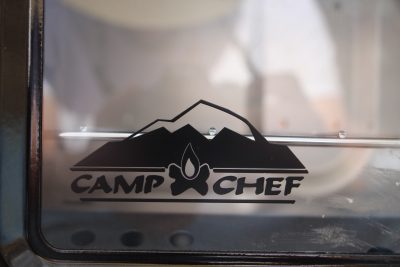 This oven seems to be made of quality components.It offers a contemporary design that looks good out in the woods but also in a nice little cabin kitchen. This is not a rough looking stove that you don't want to be seen cooking on. This is an excellent option for cooking out on some acreage. You don't have to feel limited to just your kitchen or patio when you have a nice little stove and oven like this.
Useful Applications of the Camp Chef Oven
1. Off-Grid Use
This would be a great way to outfit a small cabin kitchen. If you have a really small space you could easily use this to cook large meals. When set up in place you can get a lot of meals out of a bulk propane tank but you can also have the convenience of using the little 1 lb containers if hauling in larger ones is too much weight.
I know all too well that weight can really add up if you are having to carry it a distance. When we first moved up on this mountainside we were carrying 20-foot boards at times. Sometimes spending more for a little more convenience is worth it.
2. Outside Canning
Anyone that has ever done much canning in the summer knows how fast it can heat up your house. If you are looking for a canning stove that is economical and safe to use with pressure canners, then the Camp Chef is where it's at. You can also cook a good dinner in the oven while you can your food!
3. General Household Cooking During The Hot Months
Cooking outside is a lot nicer in the summer than cooking inside a lot of the time. Cooking inside just gets the house super hot and if you are using air conditioning then you are wasting a lot of power. You can set your Camp Chef up outside on a patio, porch, or anywhere in the yard.
So you can throw something in the oven and then go enjoy the AC if you want. If you don't have a good exhaust fan on your inside stove then the Camp Chef can be a good way to cook meals that have a lot of odor to them. No more making the whole house smell like onions and garlic for hours at a time!
4. Tailgating and Picnics
Having a real oven and two powerful burners allows you a lot more food options when getting outside and enjoying time with friends and family. You can have fresh and hot foods for a crowd.
5. Luxury and Car Camping
Taking an oven on a camping trip sounds great to me. No eating just one pot meals and convenience foods when you have a portable gas range and oven! If you are camping with kids this can make it easier to feed them better on camping trips where you can take your car to the site. I have cooked plenty of small camp stoves and I think it would be difficult to cook well with just a single little burner to cook for more than 2 people.
A great thing about this oven is that it can be used where fires are not allowed and during burn bans! 
I like that this oven runs on gas so you can cook outside and at campsites where open fires are not allowed. During a burn ban it can be nice to cook outside. In my area, a burn ban often coincides with hot and dry temperatures where some relief from the heat is welcome.
6. Emergency Use
Ok so you have an electric oven or even an indoor model gas range. Well, guess what? When the power goes out you are totally out of luck if you have an electric stove. If you have a gas range you can probably use your burners but the oven on residential gas ranges often requires a small amount of electricity to use.
The Camp Chef Outdoor Oven allows you to have burners and a decent size oven to cook in during a power outage or emergency. The price point that the Camp Chef comes in at is great for what you are getting.
7. Tiny House and Old Camper Use
Although I have not lived in one of the tiny houses that are very popular at the moment, I did live for 18 months in a 1978 Holiday Rambler that nothing worked in but the oven and range. So I came to appreciate that little oven more when I discovered it helped us keep it warmer in the camper. It also meant that we could have regular style meals. We used it for canning and cooking after the camper was sold to be converted into a storage trailer.
My point is that a little gas range and oven is so useful when you are living small and want to eat well. We were trying to be frugal so that we could put all our money towards building the house we live in now. That meant all meals at home and no eating out just because we were tired at the end of the day.
The old 78 Holiday Rambler we lived in for two winters to save money and build our little house up on the hillside above this valley. I think this was taken in 2009 maybe. We had a few cows and of course the Great Pyrenees dogs. No running water but we had a dorm fridge and an extension cord.
Parts Are Available and Easy to Order!
Anything you are going to use a lot over the years is going to show some wear and tear. I like it when companies make it easy to find parts and order them so you can get as much use as possible out of your products. Camp Chef has made is very easy. They provide the parts list below and all the parts you may need can be added to your online cart using this link.
Camp Chef Customer Service
The folks at Camp Chef are some nice people. They really stand by their products and are available to answer your questions and help you with any issues you might be having. When you talk to them you get a real person, too, not just a robot that sends you to voicemail. They also don't outsource their calls to a foreign country which I consider a big plus in terms of actually getting some help when needed.
Have you ever used Camp Chef products? What recipes do you like to cook in your oven?
If you enjoyed this article, consider following our Facebook page.