If you are like me, you have amassed a huge collection of electronic books, manuals, brochures and documents related to preparedness.  This is all fine and good and something I endorse 100% but there are times when a digital document will be of no use.  Clearly, a grid down situation bubbles to the top but in addition to that, sometimes we just want to pick up a real book and thumb through it to find answers.
One solution of course, is to print out the most important stuff to store in binders or folders.  Good idea but there are issues: namely the cost of all of that printer ink and paper plus the space to store all of these printouts.
Which brings us today's topic.
Not known by many is the fact that you can call or send an email to FEMA and have most of their online reference materials sent to you in printed form.  Now how cool is that?
Are You Ready: An In-depth Guide to Citizen Preparedness
One of the FEMA reference books that is a must have is Are You Ready: An In-depth Guide to Citizen Preparedness.  This particular 206 page book is chock full of useful information presented in a format that is easy to read with photos, charts and checklists.  It can be used as a reference guide or even as a step-by-step manual for taking protective measures to secure your homestead against disaster.
The chapters include:
Basic Preparedness
Natural Hazards
Technological Hazards
Terrorism
Recovering from a Disaster
Plus the three appendixes:
Water Conversation Tips
Disaster Supplies Checklist
Family Communication Plan
I think it is pretty nifty to have all of this information – ready to go and in print form – and 100% free.  Of course our taxes have paid for this but if you don't know about it, you can't get it, right?
Sounds Good.  How do I Get It?
Okay, here is the deal.
To get your own copy, you need to send an email to fema-publications-warehouse@fema.gov and simply state that you would like a copy of "Are You Ready? An In-depth Guide to Citizen Preparedness (IS-22)".
Be sure to include your mailing address (a PO box is okay).  A short time after sending the email, you should get an order acknowledgment telling you it may take 4-6 weeks to arrive although mine arrived in less than 2 weeks.
You may also call 800-480-2520 with the same request.
If you would like an electronic copy as well, here is download link:  Are You Ready? An In-depth Guide to Citizen Preparedness.
The Final Word
Regardless of your personal feelings about FEMA, their website at www.ready.gov is a storehouse of useful information.  I find the information available at the site invaluable to my own research and also as a starting point when mitigating the risks in my own area.
Just keep in mind that any publication related to preparedness – whether free online or purchased on Amazon
or elsewhere – is only as good as the follow-though you take to insure that you have done what you can to put together the food, water, supplies and skills to survive when disaster strikes.
Enjoy your next adventure through common sense and thoughtful preparation!
Gaye
Bargain Bin:  One of the best places to seek out survival gear is the outdoor and camping section of your local sporting goods or hardware store.  Here are some basics from Amazon to set you on your way to having the right gear available to do the job without spending a ton of money.  Don't forget a Rothco Pack
to carry it all.
Emergency Fire Starter
:  Hugely popular with my readers, this inexpensive magnesium emergency fire starter will do the job for less than $5.
LifeStraw Personal Water Filter
:  At only 2 ounces (in weight), the LifeStraw is suitable for a backpack or bug out bag.  It is easy to use and requires no chemicals to remove a  minimum of 99.9999% of waterborne bacteria.
Survival Kit Military Style Can Opener
:  This is a no frills P-51 military surplus can opener.  Less than $3 for two.
Rothco 550lb. Type III Nylon Paracord
:  Pick your poison, color-wise, just be aware that some colors are more expensive than others.  What to do with Paracord?  Read: 44 Really Cool Uses of Paracord for Survival.
SE 7-Inch Hunting Knife with Fire Starter
:  Another inexpensive option for a highly rated knife. It has a full-tang stainless-steel tanto blade and  includes a green cord-wrapped handle a belt sheath with a Velcro securing strap, and a magnesium alloy fire starter.  Less than $10.
Tinder-Quik Fire Tabs
:  There are times when your DIY fire starting materials may not be available.  These fire tabs will fit the bill nicely.
Ka-Bar Black Kukri Machete
:  This is on my bucket list (or shall I say the Survival Husband bucket list).  I am still doing some research but this looks like a best in class at the under $40 price point.  What is a machete used for?  Chopping brush, clearing a campsite, or cutting small branches come to mind. This Kukri measures 17 inches overall with an 11-1/2-inch blade and it comes with a black leather/Cordura combination sheath.
Chainmate Survival Pocket Chain Saw With Pouch
:  This is a survival chain saw that includes a belt loop pouch. Here is what one of the reviewers said: "This thing EATS wood and weighs nothing!! It takes a little bit of effort but you can chew through a hardwood tree half a foot thick in literally a couple minutes; half that if you use two people (one on each end)."
Cyalume SnapLight Industrial Grade Chemical Light Sticks
:  You know how I love my light sticks.  Keep them in drawers next to the bed, your kitchen junk drawer, your car, your backpack – everywhere.  Read:  Lighting Your Way With Chemical Lighting.
---
I eat a lot of fruit (usually three whole fruits a night as a bedtime snack) and in a SHTF situation, fruits will be something I will really miss. The Freeze-Dried Fruit Favorites Combo
from Emergency Essentials is something I use all year round. With the grocery store a 20 mile round trip journey, I like the thought of being able to rehydrate my own fruit, in the quantity I want, at a moments notice.
The selection includes Apple Dices, Bananas, Peaches, Pineapple Dices, Blueberries and Strawberries.
But not to be left out, there are veggies too. The deluxe supply of Freeze Dried Vegetables
includes 18 #10 tins of the following veggies in various quantities: Broccoli, Cauliflower, Sweet Corn , Green Beans, Green Peppers, Green Peas, Mushrooms, Potato Dices, Spinach, and White Onions.
Like this and want more?
CLICK HERE to receive Backdoor Survival Posts by Email (usually on Tuesday, Thursday and Sunday)
CLICK HERE to sign up for the new Backdoor Survival Newsletter! (Periodically)
CLICK HERE to visit Backdoor Survival on Facebook (updates posted every day or so)
CLICK HERE to follow Survival Woman on Twitter.
Spread the Word – Tell your friends: Share Backdoor Survival with your friends. All you need to do to send them a short email. Now that was easy!
Need something from Amazon (and who doesn't)? I earn a small commission from purchases made when you begin your Amazon shopping experience here. You still get great Amazon service and the price is the same, no matter what.
And just in time for the holidays, Amazon has a cool new promotion that can help you find great gifts for the holidays. It is called Shop Amazon – Most Wished For Items. This is great because when you go to the page it gives you a quick category overview, if you are looking for fashion, electronics, toys, etc., you can go right there first. This is a great tool to find gifts, but it's also a great way to find products that people are 'wishing" for and this way you know what the top products are.
Shop Amazon Tactical – Great Selection of Optics, Knives, Cases, Equipment
Amazon's Most Wished For Items in Sports and Outdoors
Help support Backdoor Survival. Purchases earn a small commission and for that I thank you!
---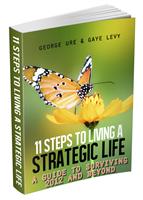 11 Steps to Living a Strategic Life: What? You haven't picked up a copy of 11 steps yet? This little book will provide you with the motivation to get started or stay on track with a self-reliant life. 11 Steps to Living a Strategic Life, co-authored with my long time pal, George Ure, and can be on Amazon and at Barnes & Noble.