This site contains affiliate links. As an Amazon Associate, I earn a commission from qualifying purchases at no extra cost to you. Full Disclosure Here.
    Camp Chef sent me a bit of gear to test, and I have been impressed with the quality and value you get. For this review we are testing out the following items:
Professional Grill Box MODEL #: BB30L
Pro 60 X Two Burner Stove MODEL #: PRO60X
Professional Flat Top Griddle 30 MODEL #: SG30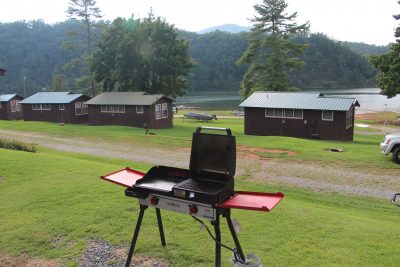 Two 30,000 BTU Burners
Matchless Ignition
Three sided windscreen
Folding side shelves
Adjustable leg levelers for those times when the ground just isn't level
48.5 lb weight means one person can carry this stove in the travel bag. There is a steel handle on the back of the stove that helps with transport too!
32-inch cooking height is comfortable for most
Heat control dials make it so easy to make sure you get the right cooking temperature fast!
Stove Cooking Area: 448 sq. in.
Affordability
    Compared to a lot of stoves this is a bargain. For around $200 you get the base stove. The accessories and extras you can buy later as you want or can afford to get them.
If I went to Lowes or any home improvement store and spent a similar amount of money on a grill, there is no way I would get as good quality of product, and it would just be a grill/smoker if I were lucky.
 I was also sent a bag to carry the stove in. I recommend it but it is not essential.  I did not include the cost of purchasing a propane tank but a lot of you may already have one of those. 
Versatility
One thing I like about this stove is that it solves a problem I have with having cooking appliances that only serve one main purpose. I like versatility. With the array of accessories available and how they can be put on with ease or removed, this stove can be a grill, griddle, pizza oven, or just two nice propane burners for cooking and canning.
 Propane hookup the smart way.
  Ever get frustrated because after you detach your grill tank, the end gets dropped in the dirt causing clogs, leaks, etc. or at least a lot of angry digging and cleaning? Well, Camp Chef regulators have a convenient hook, and the stove itself has a slot to hook to so you have a place to get that regulator and line out of the way for transport or just when you need to change out tanks.
 Uses standard grill tanks
Camp Chef included a wire that serves as a drink holder. How many grills have that?
  The regulator that comes with the stove easily hooks up to your standard 20 lb propane grill tank. You could, of course, hook this up to a larger tank in an emergency or for a more permanent outdoor kitchen style installation but it is hard to beat the convenience of the 20 lb tanks even if the ones you get at exchanges rather than filled, only have 15-17 lbs in them. At least you can get them changed 24 hours a day at least somewhere close by.
Easy to transport
Some grills and stoves are bulky and hard to load and transport wherever your adventures may take you.
The Camp Chef Explorer is one of those outdoor cooking systems that makes you wonder why everyone doesn't seek out more versatility for their grilling needs. I have to say that I think that this is something I will be using for years to come and will not meet the fate of so many grills I see when going pasts people houses, mere expensive lawn ornaments that didn't last!
Other Accessories
This stove is compatible with Camp Chef's full line of 14″ accessories, so it is easy to find and order things to get the most out of your grill.
I think the set up they sent me is good to start with because you can grill, griddle, or just use the eyes which is enough to do a lot of different meals,
The accessory I want the most at this point is the artisan pizza oven that goes over it. While it is around $130-$170 that is little to pay to get a great crust outside with no using a ton of wood.
You can get the pizza oven accessory to fit a single eye or a double propane burner version. The larger version doesn't cost much more, so that is what I want to get but I could see having the smaller one if you don't have a lot of people to feed and want to keep one burner clear for another use.
Propane is fast and easy, and I always have a spare tank because the kitchen range is propane as well.
 Side shelves are designed with common cookie sheet sizes in mind. I love that it securely holds a pan in place and the shelves provide a lot of space to put utensils, condiments, spices, or whatever else you need to make a great meal.
Grill Box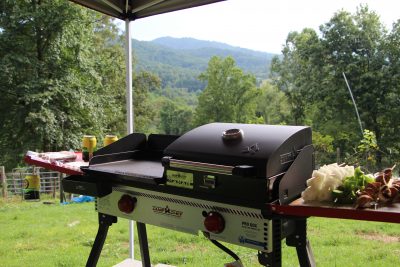 This is a fantastic grill box that comes apart for easy cleaning. The lock helps seal in the heat.
There is great temperature control and even cooking when using this box. The temperature gauge on the top is right on, and it stays steady once you reach a certain point. No more burning food due to major temperature fluctuations or wind
Use a single side for one thing or get accessories to have one large cooking surface.
While I got sent a flat top griddle and a BBQ box you can get versions of both that fit over both burners if you want.
Roller Bag
If you have to move a lot of kitchen and cooking gear, a bag that rolls can be a big help. Of course, this is only great if you have a pretty nice surface to roll on. Wheels will help a little in uneven terrain, but very many rocks or anything and you will be carrying it.
Grilling Steaks
We picked up some ribeyes from a local farm and grilled them. The great temperature control on the grill made it amazingly easy to get a perfect medium or medium rare steak with no dried out spots or burning.  These were some big steaks, each coming in at about 0.80 lbs. This gives you an idea of just how much you can fit on a burner. I would say on one side of the grill you could fit a minimum of 8 steaks in the 6-8 oz range. The thickness of your cut is, of course, going to be a major deciding factor.
Kabobs
Kabobs and some great sweet Italian Sausage from Hickory Nut Gap Meats. The farm raises pastured pigs, beef, poultry, and more and they have a full line of cured sausages! Their farm is a great place to visit and have some fun in you are in the Asheville, NC area. You will find a lot to take home at their farm shop.
How could we test a grill box without doing kabobs? It just wouldn't be right. You can fit a lot of kabobs in a single burner grill box. I have to say that it would be amazing how many you could fit in the grill box that takes up the whole two burner surface. If you have a big family or get together with people a lot, having something to cook on that can feed everyone at the same time is nice! I have seen some well-intended meals go a bit downhill because there were too many people for the stoves and cooking tools being utilized. Only being able to fry a few things at once doesn't cut it when you have 15-20 people waiting to be fed!
Lake Fontana
Lake Fontana is very big and beautiful! We stayed at Almond in the lower right portion of the map. I have fond memories of canoeing to Chambers Creek and camping for days in college. There is so much to see out at Fontana!
Lake Fontana in the Fall
We don't get to lake much with all that we had to do around our place, but every once in a while we do. Lake Fontana is closest, and it is so big I will never explore it all. There are around 400 miles of shoreline, and the lake is 30 miles long! There are some amazing places you can boat to and explore the old ruins of the houses and infrastructure that was there before the Tenessee Valley Authority made everyone leave.
This year my mother-in-law rented a cabin for a few nights for everyone to stay in and we got a pontoon boat for half the day. When I saw how small the grill was for cooking outside, I immediately made my mind up that the Camp Chef had to come with us. It lifts so easily into the truck.
Two people lifted it into the truck with the legs folded and the tank detached but the grill box and griddle in place. The lake is a bit over an hour, so we didn't fool with putting everything in the cases.
We made three different meals with the Camp Chef at the lake. It made it super easy to cook for six people and do it fast with minimal mess to clean up.
The first meal we did was burgers. This was done a bit late at night due to some late arrivals. This makes a very good burger without adding any binders to your meat as long as you have a decent fat content. The grill box makes the meat heat evenly, so you don't have a situation where your burger is practically totally raw in the center, and half burned on the outside. To me, a major test of any grill is cooking burgers and sausages.
Breakfast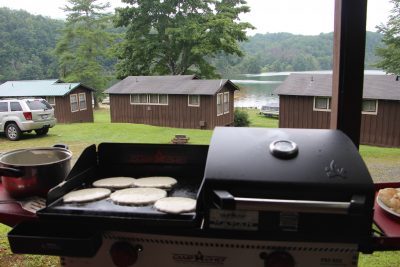 This was a meal I was looking forward to. We have never had a big surface like the griddle to cook on while away from home.  This breakfast consisted of pancakes, eggs, and local sausage patted out. We had some canned pears and butter to go on top!
This is just what we needed to get a great start to the day. I like that you can cook a huge breakfast for a lot of people so fast and you are just using one cooking surface and not dirtying a ton of pots and pans. We were all able to eat a hot breakfast at the same time without anyone having to stand around and wait or have some items get cold while others cook.
 Kabobs 3 Different Ways
My husband is a really good cook no matter what he is cooking on. His advice has improved my own cooking over the years!
For our last dinner on this lake trip, we did chicken, lamb, and beef kabobs. Rice and stir fry were cooked inside on the electric stove.
The kabobs stayed good and juicy on the inside and packed a lot of flavor. I will say that some meats need more time than others to cook so if you are putting different types in the same grill box, make sure to arrange them so that you can turn or pull off the grill, those that are cooking faster.
Making sure to lock down the grill box, so there is no draft at the edges of the grilling surface can help reduce the incidence of slower cooking time on the outside edges.

Uses For Prepping & Emergencies
Ok, so I know that I have demonstrated a lot of vacation meals and not really any prepper situations. Even if you don't cook outside a lot generally, having a propane stove can be handy.
You need a backup way to cook, especially if you typically use electric stoves.
The Camp Chef stove allows you to have an easy to store stove for emergencies. The stove can also be operated with just one eye on if you are just cooking something basic in a single pot. A single 20 lb propane cylinder lasts a long time when you are cooking. We use propane to cook all our meals and my stove doesn't even burn 15 lbs in a month and the maximum BTU output is similar.
Most people use their grill as the main back up source of cooking. It is usually the only other method they have unless they have something for camping. Why not have a more versatile cooking system for a longer emergency?
The Camp Chef is not just a grill or just a set of burners. I like products that do more than one thing but also do it well!
Allows for a better variety of foods during an emergency.
I could make it on mixes and other survival foods but having some variety in cooking couldn't hurt morale during hard times. I know that a natural event like a flood was easier with comfort foods like pizza when I was a kid out in Washington. With the Camp Chef you can grill, boil, fry, BBQ, and even bake pizza and bread if you have the right accessories. I know a lot of you have flour and breadmaking supplies put back for when the shelves are bare but you are going to need a way to cook that!
Camp Chef Artisan Pizza Oven Accessory
The above pics are stock pics from Camp Chef and not my own. The stove the pizza accessory is shown on is a very slightly different model than the one I reviewed.
Propane is simple to store fuel for cooking.
Yes, I know that propane is something that could become scarce but for now, it is very easy to get and inexpensive. You can also store propane for the long term.  If I am just cooking, a 100 lb tank would easily last us 7 months or could be stretched out to year even if we used wood for some meals when we could.
Cook for a crowd and with less mess.
Using the Camp Chef made me think about the typical number of dishes and pots and pans that I need to create a meal from scratch and I think that using this cooking system reduced the number of dishes to wash.
In some cases, the entire meal could have been eaten just using paper towels rather than plates and with no pots or pans. Kabobs and sausages or burgers are all hands on foods that keep the dishes to a minimum if you are careful.
Cook a lot of food fast and with no smoke.
The smells that come from a delicious dinner are one thing but creating a lot of smoke may not be something you are too keen to do in a survival situation. You also want to reduce the time you have to spend cooking for a lot of people because there are probably a lot of things to take up your time that normally would not.  If everything is taking longer to do in a given situation, anything that can help ease the hustle a little is welcome.
Things I Noticed
This is where we get into discussing some things that stood out to me. Some of these may matter to some but not to others but I think they are worth mentioning.
Most everything is not stainless steel.
Well, I need to point out that this is not a stainless steel stove nor is the grill box or the griddle. You can get some accessories in stainless steel if you are willing to pay the extra cost and order them. This means you need to put this stove up or at least use a grill cover. Camp Chef makes a grill cover but you can also just get a generic one or at a big box store too. I bought one that was too big on clearance but it means I can leave everything on the stove and the shelves out and still cover everything.
I am fine with it not being stainless really but for some, it may be more of a deal breaker.
Griddle rusts easily at first.
I know that Camp Chef says that the griddles are preseasoned for cooking but I think that like so many pans that claim this, a griddle or cast iron pan does a lot better after you get it good and hot yourself a few times and oil it.  The rust I saw when it got a little water on it when I forgot to cover it well was minimal but it does tell me that the seasoning needs a little help. It is a lot more seasoned now and it cooks great.
Leveling the stove is important if frying/using the griddle.
Even a griddle that just takes up one propane burner can have a decent amount of grease or oil on it. If the stove is not level the grease runs down so you don't have a lot sticking around where you are cooking. This is something true of any stove of course but it can be easy to forget with a mobile stove until you have a lot of fat running off.
Conclusion
If you don't have a grill already, this is the one you need! Sorry I know it sounds salesy but as much as Matt and I cook and can, we are picky about stoves and outdoor cooking gear and this stove and all the options it offers impressed us both. It can be hard to find a product where it is clear that they went the extra mile to go beyond what a typical grill can do or offer and they did it at a cost that affordable and you can add on to the usefulness over time by getting more accessories.
People that don't have a lot of space or that go on family getaways or car accessible camping and hiking trips would enjoy this stove and grill combination. You can fit the whole thing under some beds even if you needed to or keep it in a very small space in a storage unit for seasonal use.
Do you have Camp Chef products? What has been your experience with them? So far everything I have received has been excellent quality.