This site contains affiliate links. As an Amazon Associate, I earn a commission from qualifying purchases at no extra cost to you. Full Disclosure Here.
Field boxes sure come in handy. While these are often called ammo cans too, a lot of people are using them to store a variety of items. Here are a few advantages and uses for all field boxes. Let's be clear that these boxes are made to be a less expensive and sometimes easier to find version of the military types that are made of metal.
Plastic field boxes are strong enough for most needs and they will never rust like a metal ammo can.

Waterproof
Impact-resistant
Stackable (Although you have to stack the same brand on each other. More on this later.)
Space efficient
Made to hold heavy loads
Average Cost: Under $7
These are commonly found at Wal-Mart and a lot of sporting goods stores. For storage at home and holding ammo, they have worked very well.
Average Cost: Under $11
Plano and Sheffield Comparison
Sheffield Plastic Field Boxes
Three Unique Locking Options
Base-to-lid Interlocking System
Compression fit lid is water resistant and dust resistant
This is the first time I have bought this brand. After taking as close a look as I could online, I ordered one. I found mine on Amazon. I am not sure what other stores sell this brand.
Two different factors led me to look at other field boxes beyond Plano. First I wanted a field box that would fit specific items so it needed to be slightly taller than the Plano's we already owned. I also wanted to see how much tougher of a box you would get for a roughly 30% higher cost.
Sheffield offers more locking options.
On the Sheffield, you can choose to lock your box on either side or use the metal hasp in the middle. While three locks is probably a bit much you could definitely have that many if you wanted to.
The Plano has a single locking option. For a lot of folks, that is plenty. For example, if you are using these to store basic items, especially those you want easy access to at all times, chances are you are not going to lock every single ammo can or field box you own.
The space inside is a bit different. The Sheffield box has thicker plastic everywhere.
The Plano box would not hold a 6-inch wide book placed on its side but the Sheffield would. The seal to keep out water and dust is more substantial on the Sheffield.
Hinges
The hinges are more substantial on the Sheffield Field Box and they are reinforced with more ribbing.
Ribbing=Reinforcement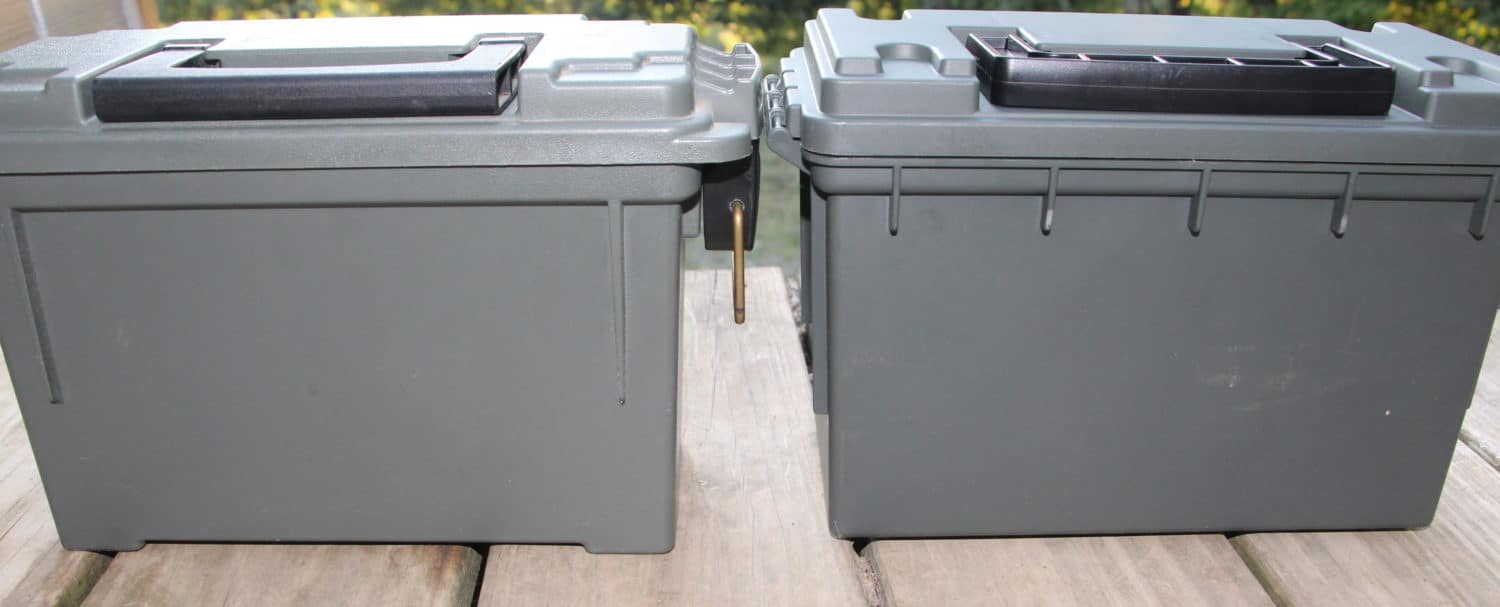 It is worth noting that the ribbing is better on the Sheffield. If you plan on storing very heavy items.
Stacking Field Boxes
Ammo cans or field boxes are made to lock together if you stack them on top of one another. The problem is that stacking different brands together doesn't always work so well. In the case of Sheffield and Plano, it doesn't work out to stack them together. Plano stacks on top of Plano and Sheffield on Sheffield.
That being said, the Sheffield boxes do stack and lock together more securely so if you want to stack boxes high, this may be an important characteristic to take note of.
Handles
The handles are plenty strong on both but the Sheffield has more ribbing and reinforcement which means if you are carrying a lot of weight, it is going to hold up better over time. There is a big difference between lifting and moving things a lot and just stashing a box somewhere.
Conclusion
Both field boxes are sturdy and reliable. For everyday use, the Plano offers an exceptional value but for security and overall sturdiness and sealing, the Sheffield is a better box.
I think that we will just keep buying Plano unless we really need the added sturdiness or if we are worried about major water intrusion over the years.
Remember that while these are strong plastic, if someone really wants to get into either, they are going to do it with a bit of ingenuity. The security is enough to dissuade some or at least keep things safely stored away from children. Both of the boxes reviewed in this post are affordable so for some, it may be a good idea to have a few of each for different purposes.
Is there a brand of field box you recommend? Do you have any experience with Plano or Sheffield Field Boxes?