This site contains affiliate links. As an Amazon Associate, I earn a commission from qualifying purchases at no extra cost to you. Full Disclosure Here.
There are a lot of choices when it comes to plate carriers. For those that are unfamiliar with this term, a plate carrier is a tactical garment that is designed so that you can insert bulletproof or knife proof plates of your choosing.

If you plan on wearing body armor then it will pay to invest in a good plate carrier because you will be more comfortable. A good fit is essential so that it does not rub in places or move around so that you are unprotected in some key areas.

Soft Armor Vs. Plates
Some that are new to the world of body armor may be wondering why not just get a bulletproof vests that has softer plates. The answer is that soft body armor cannot offer the level of protection you get from an actual plate. 

Soft body armor will only stop some handgun rounds but nothing like a 5.56 x 45 or 7.62 x 39 round. For that, you are going to need at least a Level III plate. Be careful when buying plates that you double-check the level of protection offered. There is a difference between Level III and Level IIIA.

The price you pay for armor is determined by the level of protection offered, size, and any special features. At times of high demand, you may have to wait a little longer than you are used to in order to get your order. Every time there is a major gun incident or any civil unrest, the wait time may increase whereas in slumps you may get things fast. Sometimes different options in plates and carriers take longer.
If you are willing to go with another color, for example, you can get a plate carrier delivered within a few weeks if you choose a common color like black or khaki but some camo options take several months from some manufacturers. The site you buy from will give you an estimate before you order if there is any substantial lead time.

Plate carriers and plates are harder to hide than soft armor.
Plates and carriers add considerable bulk. Without wearing pretty loose clothing, it would be difficult to conceal the fact that you were wearing bulletproof gear.

Plate carriers vary in the amount of plates and coverage they are capable of providing.
Some carriers only allow for plates on the front while others may allow you to put in side panels and back panels. Remember that the more panels the more weight you are going to have to carry. While wearing this armor for a few hours maybe one thing, what if you had to wear it all day and walk a long way? While some of the soldiers, security guards, and law enforcement reading this.

I remember having to wear a weighted vest to pass the PAC test for wildland firefighting. At the time I was heavier than I am now but I was also 14 years younger. The vest was ill-fitting and rubbed my thighs so that it was hard to move. It looked like a cheap vest you would be given to work at some store but stuffed with weights. I saw a video of a recent pack test with actual packs and was envious.

 The whole thing weighed 45 lbs and you had to walk 3 miles in 45 minutes. No running allowed. I passed but it made me realize how uncomfortable wearing something like that could be, especially if it didn't fit right.

During that same time period I could throw in a 45 lb pack and hike 3,000 feet up Deer Mountain in Ketchikan, AK with Matt. The way weight is distributed is really important.
Men's Vs. Women's
There are plate carriers that are designed more for women than men but they are fewer in number. I talked to my buddy Dave at Wolf Tactical about this and his advice was to wear some soft armor to help pad things out a bit.

Layering clothing and your plate carrier.
There are t-shirts that are made to help with the heat and moisture that can occur if you are wearing a plate carrier for a long period of time. Proper layering can do a lot for your overall comfort throughout a long day.

Materials and reinforced stitching are important factors.
You want a plate carrier to be tough. After all it is going to be supporting substantial weight if you have a full set of plates and also some magazines or other gear strapped on. Quality of materials and stitching will influence what you pay for your carrier.

Brands of Plate Carriers
To show you a few plate carrier options I am going to showcase some brands and try to pick out options on the lower end and higher end of the price scale. Carriers range from $45 on up to $500 or more but most are under $300. I just like to show a range because some people want a more high-end carrier because of their work and the amount of time they have to spend in it daily.
 I will say that even the lower-cost ones that are going to be shown to you are still trusted and used by a lot of people.

Please note that the links will take you to the most current pricing. I do not feel comfortable offering pricing information because prices can change over time or there may be a great sale going on. 
AR500
This company makes a variety of plates, carriers, soft armor, and more. They are highly recognized in the industry,


Construction: 500D Cordura, impact-resistant buckles, and mil-spec webbing
Stitching: Reinforced Bar-tack, double, and double backed stitching
Thread: High strength bonded thread
Weight: 1.6lbs
Colors: Black, Coyote, Olive Drab and Multi-Cam
Armor Compatibility: Standard 10" x 12" in all body armor variants to include Steel, Ceramic, Polyethylene, soft or hard construction.
Please Note: This carrier does NOT fit AR500's 10″ x 12″ Square Back Plate.
Construction: 500D Cordura, impact-resistant buckles, and mil-spec webbing
Stitching: Reinforced Bar-tack, double stitching, and double backed stitching
Thread: High strength bonded thread
Weight: 2.5lbs 
Colors: Black, Coyote, Olive Drab and Multi-Cam
Armor Compatibility: Standard 10" x 12" or 11" x 14" body armor in variants to include Steel, Ceramic, Polyethylene, soft or hard construction.

This carrier is a good compromise for those that want a full-featured plate carrier that offers versatility in what plates are used and doesn't break the bank. At 2.5 lbs you are getting a lightweight carrier that will be a little easier to wear all day and in hot conditions than some. 

This plate carrier is the most feature-rich and expensive in the AR500 plate carrier family but for that, you get quite a system of pouches and storages as well as the option for as many plates as you want. Comfortable straps and adjustment points will ensure you are as comfortable as possible on those long days. The MOLLE system really does a good job of helping distribute weight well.
Most plate carriers are designed to handle 5.56 magazines. If you shoot another caliber than the number of magazines you can carry may vary or they may simply stick out more. Sometimes I have problems with AK-47 mags not fitting so well in some cases that are designed for the really common AR-15.

Crye Precision offers some amazingly lightweight plate carriers made to extremely high-quality standards. At the moment their lead time to get you a carrier is 11-16 weeks due to high demand. That says something especially considering this carrier will set you back more than $200.
For that, you get a plate carrier that is made of thick nylon and that features unique straps that offer good weight distribution and comfort.
You can attach pouches on the side to carry additional plates. Keep in mind that if you want the pouches for the sides they are sold separately. There doesn't appear to be a lead time on these so you can add them later without waiting a long time if you want. Pouches can be mounted on the inside or outside so you have some versatility.
Tyr Plate Carriers
This is the most expensive brand in this article. Why is a plate carrier priced at over $400 you might ask? What is so special? Well for starters these plate carriers are made of a material that during tests had 7-10 times the abrasion resistance of the military spec nylon that is used for many other top-quality carriers. Theoretically, this should mean that your plate carrier will have a much longer lifespan if you don't run into major trouble.
Tyr is one of the few manufacturers that makes plate carriers and soft armor designed for women. The problem is that some of the ones designed for females cost more than double what the male version does. Most ladies are not going to drop over $1,200 on a plate carrier.
Condor Plate Carriers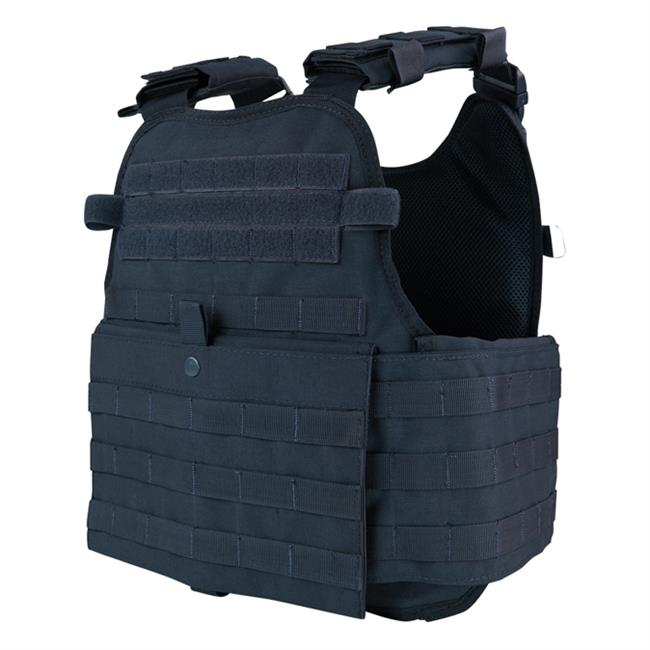 When I talked to the guys I know that run military surplus stores or work in a field where they were a plate carrier daily, the name Condor came up all the time. This plate carrier company offers decent quality at a reasonable price. It is not seen as the best out there but it is good enough for many to wear every day.
Plate carriers from Condor generally run $45-$170 depending on what style you get. This puts them in the same price range as AR-500 but Condor makes a lot more styles of carrier than AR-500 and a lot of them are under $100.
This company seems to make everything tactical from pants to backpacks and armor. Plate carriers run from $150-$280 putting them in the mid to high range for many carriers. They do offer some options for women that are affordable which is a rarity.
Carriers are made of abrasion-resistant 500D nylon and tested for comfort when on the move. You can purchase side panels if you want side plates too.
[vid url="https://youtu.be/l6Hx4lKtRs4″]
Budget Plate Carrier
I found the plate carrier below on Amazon. It seems to get decent reviews. I thought I would throw it in here for those looking for a more budget-friendly carrier.
This plate carrier allows for side plates and comes in your choice of three colors that vary in cost slightly. GFire offers a 2-year warranty so you can wear this around a bit and see if it suits you.
Match your carrier and plate size up.
There are different sizes of plates and some carriers will only accommodate plates up to a certain size. Some people reading this may already have plates and just be looking for a carrier. If that is the case make sure that the carrier will accommodate what you have.
Get out the tape measure and take a real chest measurement. Remember to account for any other layers you will be wearing.
Usually adding some bulk will not change the size of the plate carrier you order. The problem is if you are close to the top end of the size you order and then add layers. Many top-quality plate carriers are made to order. You don't want to find out 4-16 weeks after your order finally arrives that you got the wrong size. This is a serious gear purchase so it is worth measuring yourself and double checking the size charts.
More Concealable Plate Carriers
Most of the plate carriers on this list are not going to be easy to hide unless you wore a huge coat. If concealability is a feature you desire, here is one option.
This carrier offers a low profile and is made of the highly abrasion-resistant material mentioned before. The carrier is rated as Level II soft armor before you even add any plates.
The quick attach system allows you to add on an additional chest rig. Side pouches will hold M16 mags.
Plates
There are three types of plates that are commonly sold. These are ceramic and steel for hard armor and Kevlar in combination with other tough materials for soft armor. I wrote a post on bulletproof plates that offers more details.
For some information on bulletproof clothing and backpacks, check out this older post of mine. This post is written with parents and office workers in mind that want some options for clothing and backpacks that offer discreet protection.
What plate carriers have you found to offer the most for your money? I am curious about options that offer more concealability too since some people are not going to have the option of being in a highly visible carrier that often.