This site contains affiliate links. As an Amazon Associate, I earn a commission from qualifying purchases at no extra cost to you. Full Disclosure Here.
If you have ever had an injury that limited your mobility, you will understand why knowing how to deal with mobility challenges following a disaster is important.  A sprained ankle, a broken leg, a fractured arm; all of these can severely restrict your ability to dig your way out of or evacuate in the aftermath of a disaster.
These temporary disabilities are annoying and inconvenient at best.  Now put yourself in the shoes of an individual with a permanent disability; someone who requires a walker, a wheelchair, crutches, or a scooter to move around.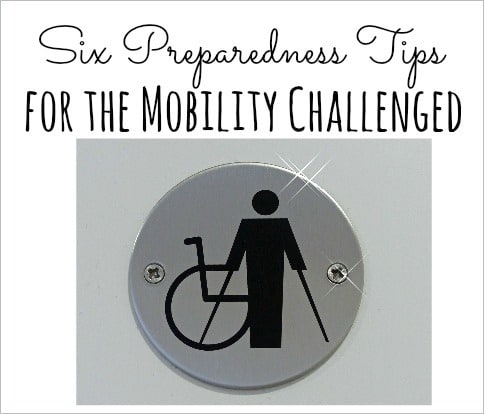 Clearly, getting out of harm's way will be slow as ordinary objects such as furniture, stairs, curbs, and doorways become obstacles or even barriers to escape.  Add to this the challenge of moving about during chaos and panic and you can understand why planning advanced survival tactics is important.
Today I share six preparedness tips for the mobility challenged.  But please take note.  These tips are for everyone because when and if the time comes, it may be you with the challenge and not your neighbor, your spouse or your friend.
Having an awareness of the obstacles that a person with mobility issues faces will make you a better prepper.
The Basics of Prepping Apply to the Mobility Challenged
Regardless of any physical challenges, the basics of prepping still apply.  Accumulate food, water, first aid, self-defense, and the other items to get by under dire conditions.  Have the gear you will need to stay warm and the means to cook your food when the grid is down.  Practice your homesteading skills and develop a community of like-minded people to watch your back as you will watch theirs.
These are basic tenets of preparedness and things you will do because these are the things that all preppers do.
Six Preparedness Tips for the Mobility Challenged
1.  Store Your Stuff
Store emergency supplies in a pack or backpack that can be attached to crutches, a walker, a wheelchair, or a scooter.

Store the needed mobility aids (canes, crutches, walkers, wheelchairs) close by in a consistent, convenient and secured location. If possible, keep extra aids in several locations.

Keep specialized items ready, including extra wheelchair batteries, oxygen, catheters, medication, prescriptions, food for service animals, and any other items you might need.
2.  Put Together a Specialized Emergency Supply Kit
Keep a pair of heavy gloves in your supply kit to use while wheeling or making way over glass or debris.

If you use a motorized wheelchair or scooter, consider having an extra battery available. A car battery can be substituted for a wheelchair battery, but this type of battery will not last as long as a wheelchair's deep-cycle battery. Check with your wheelchair or scooter vendor to see if you will be able to charge batteries by either connecting jumper cables to a vehicle battery or by connecting batteries to a specific type of converter that plugs into your vehicle's cigarette lighter in the event of loss of electricity.  And if so, get some of these cables to keep in your emergency pack.

If your chair does not have puncture-proof tires, keep a patch kit or can of "seal-in-air product" to repair flat tires, or keep an extra supply of inner tubes.

If possible, store a lightweight manual wheelchair.
3.  Know your surroundings
Arrange and secure furniture and other items in a manner that will provide a clear path of travel and barrier free passages.

If you spend time above the first floor of a building with an elevator, plan and practice using alternative methods of evacuation.

If you cannot use stairs, determine in advance which physical carrying techniques will work for you. Understand that there will be instances where wheelchair users will have to leave their chairs behind in order to safely evacuate a structure.

Sometimes transporting someone down stairs is not a practical solution unless there are at least two or more strong people to control the chair. Therefore, it is very important to articulate the safest mode of transport if you will need to be carried.   As an example, for some, the traditional "fire fighter's carry" may be hazardous due to respiratory weakness.

Plan at least two evacuation routes; you never know when your primary means to exit will be blocked or inaccessible.
4.  Communication Skills are Important
Practice giving clear, concise instructions regarding how to move you. Take charge and quickly explain to people how best to assist you.  Determine in advance how much detail will be needed and drill your "speech" with a trusted friend that will give you some feedback.

You know your abilities and limitations and the best way that someone can assist you or ways in which you can assist them. Again, practice giving these instructions clearly and quickly, not in four paragraphs but a few quick phrases, using the least amount of words possible.
5.  Community
Create a network of neighbors, relatives, friends, and coworkers to aid you in an emergency. Discuss your needs and make sure everyone knows how to operate your equipment.

Discuss your needs with your employer.

If you live in an apartment building, ask the management to mark accessible exits clearly and to make arrangements to help you leave the building during a disaster.  The more people who know where you are and the need for assistance the better.
6.  Other Important Items
Be sure to make provisions for medications that require refrigeration.

Keep a list of the type and model numbers of the medical devices you require.

Wear medical alert tags or bracelets to identify any disabilities that may not be visually obvious to a stranger.

Just like any other survival skill, it is important to practice your emergency plan through regular drills.  Imagine the worst and practice for that.
The Mobility Challenged are Not Helpless
Let me be clear on one very important point.
While mobility challenges are real, the mobility challenged is not helpless.  If they are preppers, they garden, tend farm animals, preserve food, practice self-defense, teach, sew, entertain, and embrace self-sufficiency with gusto.
Whereas in an emergency, the mobility challenged may need some extra assistance, at the end of the day it is the grey matter between their ears that counts.  The ability to think, reason, and take appropriate action is a key component to being a prepper.  Do not lose sight of that when working with your mobility challenged neighbor and comrade as you pursue your preparedness journey.
The Final Word
Mobility challenges is not an area where I have the first-hand experience. Sure, I nursed family members who had temporary mobility challenges following an operation but I never had to deal with mobility challenges during an emergency.  That said, as part of my interaction with Backdoor Survival readers and during my own research, I have come to realize that certain, mobility-related strategies could become important when we least expect it.
Fortunately, also while researching this article, I found that there are some really good resources available from government agencies, senior centers and just plain folks that are willing to help formulate preparedness strategies for people with mobility challenges.
One of the better resources I found was the free booklet Emergency Evacuation Preparedness by the Center for Disability Issues and the Health Professions.  You can download a copy by clicking on the link and I encourage you to do so.
The life that gets saved just might be your own.
Enjoy your next adventure through common sense and thoughtful preparation!
Gaye
If you enjoyed this article, consider voting for me daily at Top Prepper Websites!
In addition, SUBSCRIBE to email updates  and receive a free, downloadable copy of my e-book The Emergency Food Buyer's Guide.
Bargain Bin: Today I decided to share some of my own, favorite prepping and survival items.
Blocklite Ultra Bright 9V LED Flashlight: One of my readers (James) claimed that these work great. So I bought one. Then I bought another.  All told, I now have 8 of these spread out in drawers, in emergency kits, the car, everywhere.  This is my number one pick for a small, but effective flashlight.
GI P38 & P51 Can Opener Combo Pack:  This is one of the army's greatest tools. Can be used for dozens of jobs. Makes a great can opener, cutting edge, groove cleaner, screw drive, clean fingernails, open seams and many, many more practical uses.
Windstorm Safety Whistle:  When being heard is a matter of safety or even life and death. you want a whistle that is not only loud but that can be heard for a long distance.  This particular whistle is not the cheapest on our there but I have proven to myself that this particular whistle can be heard a long distance away and above howling wind and other competing sounds.  (It pairs nicely with the Paracord Lanyard.)
Survivor Outdoor Fixed Blade Knife with Fire Starter:  This knife measures 7 inches long overall, has a full-tang stainless steel blade, is equipped with thick green cord-wrap handle and has a nylon sheath plus a magnesium-alloy fire starter.  How does it work?  This is not a Kershaw, Gerber or other high-quality blades.  On the other hand, the fire starter works great (better than great) and is worth the price entire set.
Smith's PP1 Pocket Pal Multifunction Sharpener: I wrote about this is in the article The Easy Way to Sharpen a Knife Without Spending a Lot of Money. It sharpens everything from pocket knives to kitchen blades. Very portable and easy to use.
SE BT20 9-Volt Battery Tester: I do not know anyone that is sorry they purchased an inexpensive battery tester.  Mine sits in my desk drawer and is used 3 or 4 times a week. (Actually, I own 3 that are stashed throughout the house.)
LifeStraw Personal Water Filter:  The LifeStraw contains no chemicals, no batteries, and no moving parts to wear out. It features a high flow rate and weighs only 2oz. It works quickly, taking roughly 3-5 seconds of sucking to start the flow of water through the filter. It's ultra-light and inexpensive but effective.  There is also the LifeStraw Family that will purify up to 12 liters per hour.
Kershaw OSO Sweet Pocket Knife:  The sky is the limit when it comes to survival knives.  For the beginner, or someone on a budget, a decent quality, the all-purpose knife is what you need until you have a chance to use it and learn what you like and don't like, feature-wise, before you invest in something more pricey.
Maximal Power FC999 Universal Battery Charger: This nicely built charger will charge AA, AAA, C, D, N, 9V, Ni-MH, Ni-CD, and Alkaline batteries. It has an LED display so that when you first put a battery in the charging bay, you know whether it is viable for charging or simply bad and ready to go back to the recycle box. Yes, it really works, even under solar power.
Clara's Kitchen: Wisdom, Memories, and Recipes from the Great Depression: Of all of my books, this is one of the few I go back to over and over again for inspiration and motivation.  Clara is in her 90s and I hope she lives another 100 years! If you don't know about Clara, be sure to read Depression Cooking: A Visit to Clara's Kitchen.
The Survival Medicine Handbook: A Guide for When Help is Not on the Way: This book will teach you how to deal with all the likely medical issues you will face in a disaster situation, and including strategies to keep your family healthy even in the worse scenarios. It covers skills such as performing a physical exam, transporting the injured patient, and even how to suture a wound. This medical reference belongs in every survival library.
The New Artisan Bread in Five Minutes a Day:  Baking bread from scratch for the first time has got to be one of the most rewarding things a new prepper can do to feel self-sufficient.  This book will make it easy and will be a welcome holiday gift for both the new and more experienced bread maker.
Help support Backdoor Survival. Purchases earn a small commission and for that I thank you!
~~~~~~~~~~~~~~~~~~~~~~~~~~~~~~~~
Are You Interested in Essential Oils?
Which are the best oils for your survival kit?  This article describes my top picks.

~~~~~~~~~~~~~~~~~~~~~~~~~~~~~~~~
 
When most people start thinking about family preparedness, they focus on food. Not shelter, gear, sanitation, power, self-defense or the myriad of other concerns that need to be addressed following an emergency or disaster situation. Quite simply, food is the number one concern people have second only to their concern for having an adequate supply of water.
The Prepper's Guide to Food Storage is a book about food: What to store, how to store it and best practices. It is a roadmap for showing ordinary citizens that long-term food storage is not something that will overwhelm or burden the family budget.
This book is based upon my own tried and true personal experience as someone who has learned to live the preparedness lifestyle by approaching emergency preparedness and planning in a systematic, step-by-step manner. Nothing scary and nothing overwhelming - you really can do this!
~~~~~~~~~~~~~~~~~~~~~~~~~~~~~~~~