This site contains affiliate links. As an Amazon Associate, I earn a commission from qualifying purchases at no extra cost to you. Full Disclosure Here.
Today I share the next author interview and giveaway in the current Backdoor Survival Spring 2014 Book Festival.  Jim Cobb, the author of The Prepper's Complete Book of Disaster Readiness, is joining us for an interview and is also providing one lucky reader with a free copy of hisbook.
This is an extra special interview because Jim is a member of my "Prepared Bloggers" group – a very special community of abut 100 bloggers with prepping, homesteading and self-reliance websites.
Enjoy the interview and be sure to check out the details of this week's giveaway below.
An Interview with Jim Cobb
Tell me about your book, The Prepper's Complete Book of Disaster Readiness. What is it about?
The Prepper's Complete Book of Disaster Readiness provides readers with a practical, common sense approach to prepping.

It covers everything from developing a survival mindset to assembling various types of survival kits. While the focus is on sheltering in place, there is a fair amount of discussion about bugging out as well as forming mutual assistance agreements with family and neighbors. No conspiracy theories, no wild histrionics, just practical information suitable for both rural and urban preppers.
What type of research did you have to do while writing your book?
Very little actual research, honestly. The vast majority of the information provided comes from living a preparedness lifestyle for about thirty years.
How long did it take to write?
I tend to write in spurts, rather than sitting down with a manuscript every single day. I might spend several hours today on a book, then not touch it again for a few days. From the day I signed the contract with Ulysses Press for this book, it took about six months for me to turn in the final manuscript. But, again, that's nowhere near six months of solid writing.
Every book, fiction and non-fiction, includes a message. What message do you hope my readers will take with them after reading The Prepper's Complete Book of Disaster Readiness?
The message in this book is fairly simple. If you take the time and expend the effort to better prepare yourself and your family for emergencies, you'll be well ahead of the competition, come what may.
Can you tell us a little bit more about yourself?
Well, as I alluded to earlier, I've been prepping since long before that word came into common usage. I started very early, when I was still in grade school actually. Suffice to say, I've been at it a long time.

In addition to being an author and consultant, I work as a private investigator. I've been working in the investigation field, in one capacity or another, for almost twenty years. In that time, I've handled a wide range of cases, from missing persons to homicide, theft to auto accidents. I'm married to the love of my life and together we have three adolescent weapons of mass destruction.
As an author in the survival, prepping and/or homesteading niche, what are you personally preparing for?
The world is truly in a state of flux and has been for some time now. While I'd like to think I'm preparing for small emergencies, such as severe weather or a power outage, more and more it looks as though there may be some dark days ahead.
Do you have plans for another book?
By the end of 2014, I'll have a total of five books out in stores.

My first, Prepper's Home Defense, came out in 2012 and is still the #1 best-selling home security book on Amazon. The Prepper's Complete Book of Disaster Readiness is my second book and is available now. My third book, Prepper's Long-Term Survival Guide, will be out in March. Then, in early summer I'll have Countdown to Preparedness being released. My fifth book, Emergency Urban Survival Plan, will be out in the fall.

Gaye's Note:  Watch for the Prepper's Long-Term Survival Guide in the Summer 2014 Book Festival!
Is there anything else you would like to share with my readers?
My primary home online is //www.SurvivalWeekly.com. I also have a disaster readiness consulting business found at //www.DisasterPrepConsultants.com. I am very active on Facebook – //www.facebook.com/survival.weekly.

I always welcome interactions with my readers and encourage anyone who has questions related to prepping or survival to get in touch through one of those sites.
The Book Giveaway
A copy of The Prepper's Complete Book of Disaster Readiness has been reserved for one lucky reader.  We had so much fun with last week's poll that I thought we would do it again.
Here it is:
Given the resources, where would you live to ensure your long term survival?

A.  I am all set the way things are – I am not going anywhere.
B.  I am staying in the same general area but moving to different home.
C.  I plan to get out of dodge and move to  ____________________  <fill in the blank>.
To enter the giveaway, you need to respond to the poll in the comments area at the end of this article. The deadline is 6:00 PM Pacific next Wednesday with the winner notified by email and announced in the Sunday Survival Buzz.  You will have 48 hours to claim the winning book.
Note: If you are reading this article in your email client, you must go to the Backdoor Survival website to enter this giveaway in the comments area at the bottom of the article.
The Final Word
The purpose of this book is help you mitigate the effects of a disaster, be it large and catastrophic, or small and seemingly insignificant (to everyone but you, that is).  It is written in a conversational tone – almost like you are talking about preparedness with a friend.  There is no fear mongering and no doomsday in Jim's book.
If I can make one more endorsement it is this: I have a very small home with limited bookshelves. I keep The Prepper's Complete Book of Disaster Readiness right next to my desk, along side the Survival Medicine Handbook and The Complete Book of Essential Oils.  Now that should tell you something!
I hope you will enter the giveaway to win your own copy of Jim Cobb's eminently useful and readable book!
Enjoy your next adventure through common sense and thoughtful preparation!
Gaye
New:  Click Here To Vote For Me at Top Prepper Websites!
If you have not done so already, please be sure to like Facebook which is updated every time there is an awesome new article, news byte, or link to a free survival, prepping or homesteading book on Amazon.  You can also follow Backdoor Survival on Twitter, Pinterest, and Google+ and purchase my book, The Prepper's Guide to Food Storage from Amazon.
In addition, when you sign up to receive email updates you will receive a free, downloadable copy of my e-book The Emergency Food Buyer's Guide.
Spotlight Item:  The Prepper's Complete Book of Disaster Readiness
Is your survival plan complete from A to Z? Are you truly 100 percent prepared? Because if you overlook one vital area, fail to stock one critical supply or underestimate one potential danger, your whole plan could come crashing down. The Prepper's Complete Book of Disaster Readiness guarantees you won't miss a thing as you prepare for the most important moment in your life.

This bible of prepping shows each and every life-saving step necessary to keep your family alive and well when the world around you is in chaos, including how to:

• Efficiently store water and acquire additional fresh water after a collapse
• Build a shelf-stable food stock and supplement it by harvesting edible wild plants
• Strengthen the security of your home as well as have a back-up bug-out plan
• Treat illness and stay healthy when there are no doctors or hospitals
• Build a safe and secure survival retreat that allows for long-term off-the-grid living
Bargain Bin:  Today is all about books.  Listed below are all of the books in the current Backdoor Survival Book Festival. There are both fiction and non-fiction titles and a bit of something for everyone.
And if not, at the very least pick up the free Kindle app so that you can read Kindle books on your PC or favorite electronic device.
Spring 2014 Book Festival #5 – Fiction
Brushfire Plague: Reckoning
Through Many Fires: Strengthen What Remains
Flight of the Bowyer
The Jakarta Pandemic
The Perseid Collapse
Leaving The Trees
Fury of the Fifth Angel
Fugitives from Northwoods
Phoenix Island: A Tale of Disaster, Survival, and Rebirth
Spring 2014 Book Festival #5 – Non-Fiction
The Prepper's Complete Book of Disaster Readiness: Life-Saving Skills, Supplies, Tactics and Plans
Simply Canning: Survival Guide to Safe Home Canning
The Prepper's Pocket Guide: 101 Easy Things You Can Do to Ready Your Home for a Disaster
The Prepper's Cookbook: 365 Recipes to Turn Your Emergency Food into Nutritious, Delicious, Life-Saving Meals
Jake and Miller's Big Adventure: A Prepper's Book for Kids
The Pantry Primer: How to Build a One Year Food Supply in Three Months
~~~~~~~~~~~~~~~~~~~~~~~~~~~~~~
Shop the Emergency Essentials Monthly Specials
Whether you are shopping for food or the latest in emergency supplies and gear, you will find great prices, terrific sales, and excellent customer service at Emergency Essentials.
Each month, I shop the sales and as a result have gradually built up a well stocked emergency food pantry with favorites that I also use in day to day meal planning.
Note:  I do earn a small commission on your purchase making this an excellent way to support Backdoor Survival which will always be 100% free for everyone.
Shop the Emergency Essentials Monthly Specials
~~~~~~~~~~~~~~~~~~~~~~~~~~~~~~
I earn a small commission from purchases made when you begin your Amazon shopping experience here.
The Amazon Top Ten Most Wanted Survival and Outdoor Items
Emergency Preparedness Items from Amazon.com
Help support Backdoor Survival. Purchases earn a small commission and for that I thank you!
~~~~~~~~~~~~~~~~~~~~~~~~~~~~~~
No list of books would be complete without my own e-book, The Prepper's Guide to Food Storage.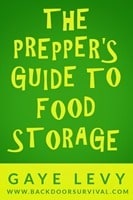 The Prepper's Guide to Food Storage is a book about food: What to store, how to store it and best practices. It is a roadmap for showing ordinary citizens that long-term food storage is not something that will overwhelm or burden the family budget.   It is based on my own tried and true experience as someone who has learned to live the preparedness lifestyle by approaching emergency preparedness and planning in a systematic, step-by-step manner.

Whether you simply want to prepare for natural disasters or whether you believe the world is headed toward a major food crisis, this book is for you. It covers basic tips and techniques you can use to stock your food storage pantry so that you can be assured that your family will have food to eat, no matter what.