This site contains affiliate links. As an Amazon Associate, I earn a commission from qualifying purchases at no extra cost to you. Full Disclosure Here.
When I first started prepping, I was totally engrossed in learning as much as I could about survival tactics from the Great Depression.  For one reason or another, I have renewed this interest and have been spending my spare time reading books as well as watching some of the classic films and documentaries that depict the era.
Something I have learned is that women of the era were creative in the kitchen and took dibs and dabs of this and that and in order to create tasty meals as best they could.  That said, it wasn't until the 50's that the ubiquitous tuna casserole came into prominence, most likely due to the ease of preparation using pantry staples.  On the other hand, meals created from pasta or potatoes plus a vegetable and a scrap of meat were quite common during the Great Depression.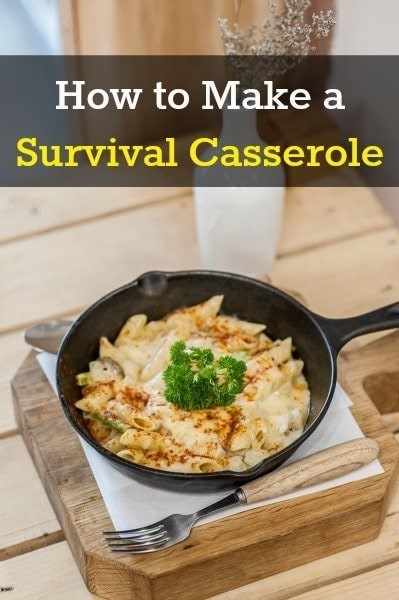 Bringing things forward to the 21st century, I like to prepare what I call "Survival Casserole".  This is my amalgamation of the lean pantries of the Depression coupled with the casserole mania of the 50th.
With that introduction, today I share how to make a survival casserole that is easy, delicious, and a cinch to make with items in your preparedness pantry.
Survival Casserole is Not Your Mama's Tuna Casserole
The inspiration for the Survival Casserole that I am sharing today was the book Clara's Kitchen: Wisdom, Memories, and Recipes from the Great Depression which I reviewed in the article Depression Cooking: A Visit to Clara's Kitchen. Taking a hint from Clara, I not only use existing pantry items, but also odds and ends of leftover items that are hanging out in the refrigerator or on the counter.
This is good, wholesome food that is also filling, tasty and budget friendly.    While it is similar to the ubiquitous tuna casserole our mothers and grandmothers made in the 50's and 60's, it is not your mama's tuna casserole.  How long has it been since you have had this comfort food from days gone by?  I know that I hadn't even thought about it for years.
Survival Casserole

Ingredients:

1 package of dried pasta; typically a pound
1 can of tuna or canned chicken; can be doubled (see note below about tuna)
1 can condensed cream soup; mushroom or chicken; can be doubled
1 cup shredded or crumbled cheddar or other type of cheese (reserve half for the topping)
Odd and ends of leftovers from your refrigerator or pantry

Topping:

Breadcrumbs or cracker crumbs, depending on what you have on hand

Directions:

Cook the pasta. The exact amount does not matter. I happen to like whole wheat spaghetti so that is what I use. Also, I have made this casserole using less than a full package and more than a full package. This allows for flexibility to use whatever you happen to have on hand.

Grease the inside of a 9 x 13 baking pan, 12" cast iron skillet, Dutch oven with cooking oil, coconut oil, or some other fat.

Preheat your cooking source to about 350 degrees.

Combine all ingredients, holding back half of the cheese.

Mix well, then pour into your pan. Sprinkle the remaining cheese plus the breadcrumbs or crushed crackers over the top.

Bake for about 25 minutes until bubbly.
This is the basic recipe but as I indicated earlier, it is very flexible.  Let me share a few of my personal notes.
I have made this using cheese right out of the refrigerator as well as rehydrated, freeze dried cheese from cans in my food storage.  The taste is the same.  I have also used rice instead of pasta, a combination of cheeses, and have added a few hefty shakes of Tabasco or other hot sauce for flavor and bite.  On occasion, I have added a can of peas or a can or corn (thanks, Clara!), although most frequently I use leftover cooked broccoli.
Whatever I do, I can not seem to ruin my Survival Casserole.  It is always tasty and filling.
A Word About Canned Tuna
Whether you choose to consume canned tuna is up to you and a matter of preference.
Although I still have a dozen or so cans of tuna left from the pre-Fukushima days, my canned tuna eating days are almost over.  In spite of what the so-called officials say, I believe the likelihood and risk of radioactive waste contaminating our seafood is too great for my way of thinking.  Luckily, I find canned chicken to be a great alternative.  In addition, it is readily available at a reasonable price.
What you do is your own personal business but for me Pacific seafood of any type is off the plate, so to speak.  I simply do not want to chance it.
3 Tips to Remember from the Great Depression
There are three takeaways from reading and studying depression era cookbooks:
Keep things simple using a few ingredients as possible
Prepare one-pot meals that can be cooked in the oven, on the stove top, or in an outdoor cooker

Insure that the meal is budget friendly so that you can feed a houseful without breaking the budget

~~~~~~~~~~~~~~~~~~
The Final Word
Prepping is not always about preparing for a SHTF situation.  Instead, survival means being prepared for the small bumps in the daily road of life.  Some days, actually many days, that road is a rocky one.
Sometimes the budget is tight due to raising prices, unexpected bills, loss of income or all three.  Other times there are hungry mouths to feed but no time to shop, or the grid is down due to a winter storm.
Whatever the reason, it can be fun to mix a bit of pasta, protein and canned soup to come up with your own special creation and call it "Survival Casserole".  Have fun with the idea of creating unique, budget friendly casseroles that are different each time your make them. 
In the meantime, if you already have your own special casserole recipe or even fond memories of times gone by, be sure to share in the comments below.
Enjoy your next adventure through common sense and thoughtful preparation!
Gaye
If you enjoyed this article, consider subscribing to email updates.  When you do, you will receive a free, downloadable copy of my e-Book, The Emergency Food Buyer's Guide.
You can also vote for Backdoor Survival daily at Top Prepper Websites!
 I put some thought into the things I would want to have if or when there is another Great Depression. These are all items I currently own.
Cast Iron Skillet with Hot Handle Holder: I feel that everyone should own a basic, 12" cast iron skillet.  In spite of the myth, they are easy to care for and over time, will become a family heirloom.  On grid or off grid, cooking with cast iron is the way to go.
The Ringer Cast Iron Cleaner – Stainless Steel Chainmail:  I purchased one of these in October and it is friggin' fantastic.  You will never ever have to scrub cast iron again.  I can't say enough good things about this gizmo.  You want one (and I definitely need to do a review).
Growing Up in the Great Depression: If you liked Clara's Kitchen, you are going to love this book.  Written by 93 year old Delores Mixer, learn about her life growing up during the Great Depression.  The ways that she and her brother contributed to the family "kitty" are ingenious.  (Going to the Ice Warehouse, picking up pieces that fell off the ramp, then selling them to neighbors for a few cents a chunk – that is just one example.)
Clara's Kitchen: Wisdom, Memories, and Recipes from the Great Depression: If you don't know about Clara, be sure to read Depression Cooking: A Visit to Clara's Kitchen.
Artisan Bread in Five Minutes a Day: The Discovery That Revolutionizes Home Baking: At an average cost of 50 cents a loaf, this bread is easy, delicious and inexpensive to make.  Making your own bread is a skill everyone should have.
Healthy Bread in Five Minutes a Day: 100 New Recipes Featuring Whole Grains, Fruits, Vegetables, and Gluten-Free Ingredients: Ditto.
How to Live on Wheat: Everything you need to know about wheat.
Morakniv Craftline Q Allround Fixed Blade Utility Knife:  Also known as the Mora 511, this is now my favorite knife. It is made of Swedish steel and is super sharp.  Many Backdoor Survival have emailed me indicating this is now their favorite knife too.
Kershaw OSO Sweet Knife: This "oh so sweet" knife is a solidly built, stainless steel knife that comes razor sharp right out of the package. It will pretty much cut through anything the price is amazing.
Emergency Mylar Thermal Blankets (Pack of 10): I do believe in helping my neighbors in the community so a supply of these will be handy to hand out to those in need. You will be surprised at how warm these will keep you. Be sure to test one out in advance so that you have the confidence to trust the blanket in an emergency.
~~~~~~~~~~~~~~~~~~~~~~~~~~~~~~
Help support Backdoor Survival. Purchases earn a small commission and for that I thank you!
~~~~~~~~~~~~~~~~~~~~~~~~~~~~~~
Which are the best oils for your survival kit?  This article describes my top picks.