This site contains affiliate links. As an Amazon Associate, I earn a commission from qualifying purchases at no extra cost to you. Full Disclosure Here.
Almost all the big knife makers have at least one version of the neck knife. Some might ask why would you want to carry a knife around your neck when you could carry it in your pocket?
Well, you might be surprised at just how handy a neck knife can be, I remember that my first little lock-back knife used to be worn around my neck. I had a thick piece of yarn ran through the lanyard hole.
This allowed me to wear my knife even when I was wearing a dress with no pockets. I would tuck it into my shirt and have easy access to my knife when I wanted to whittle. I forgot it in my pocket at school once and it dropped out.
I got told on, of course.
Back then all they did was take it and give it to me to take home at the end of the day. Times were different back in the 1980s and early 90s. They wouldn't haul you to jail for a forgotten knife or even call your parents back then. The recess lady kept it until the end of the day and gave it back to me.
While a lot of people think of a neck knife as a slasher that you can get to in a hurry, there is a lot more to them than that. In this post, you will find neck knives that are useful for a variety of bushcraft needs including gutting fish and birds as well as some that are primarily for self-defense and easy concealment.
Also Read: Self Defence Tool
Reasons to Carry a Neck Knife
Before we dive deep into the intricacies of choosing a knife that suits your needs, we should clear out that neck knives are not just for fashion or to look cool. These are just some reasons to carry one:
Neck knives are often compact and easy to conceal
Useful as a backup weapon
Easy to access
Can be worn even if you don't have pants pockets
Bushcraft
Hunting & Fishing
Things to Consider When Picking Out a Neck Knife
Now that you know neck knives are useful, it's time to think about what to look for before you buy one. Before you make a purchase, ask yourself the following questions:
How long of a knife are you comfortable with?
Is the knife primarily for self-defense or do you want it to be functional for bushcraft and camping tasks?
How concealable does it need to be?
Are you looking for a knife you can wear in your boot easily when not worn around your neck?
How big are your hands? Do you need a knife with a longer handle?
How often do you intend on using your neck knife?
What is your budget?
Our Top Picks For Best Neck Knives
Now that you know what to look for in a knife, all that's left is buying your own. The following are our top picks for the best neck knives in the market.
Steel: 8Cr13MoV Stainless Steel
Blade Length: 3 5/8"
Handle: 3 1/4″ long G-10 Styled Griv-Ex™
Overall Length: 6 7/8"
Sheath: Secure-Ex® Neck Sheath with Bead Chain Lanyard
This is a high-quality and inexpensive neck knife from the team at Cold Steel. I like how the handle is shaped on this knife and that it is large enough to accommodate those with big hands as well.
You need to use knives that are comfortable in order to be safe and get the most done. The blade guard is substantial which is something I always like to see as a feature on all types of knives.
The weight of the knife impressed me because you are getting a clip point blade that is 3 5/8 inches long on a knife that weighs 2.6 oz. That is not going to make you feel like you are carrying a lead weight around your neck. In fact, you might even forget you are carrying it at times.
The bowie blade design is an old one that a lot of people are comfortable with. I am glad to see it as part of Cold Steel's neck knife lineup.
Steel: 1095 Cro-Van
Blade Length: 3 1/4"
Overall Length: 6 3/4"
Handle: 1095 Cro-Van
Sheath: black plastic injection molded glass-filled nylon sheath and 550 cord
1095 Cro-Van steel is a high carbon content steel that is known for being tough
Ka-Bar is a well-known brand in the knife community. Their combat knives are widely used by the military and they are made in the USA. This is a full tang neck knife based on a design by Ethan Becker.
The knife comes with a chain for wearing and a plastic sheath that works with a TDI belt clip so you can attach the knife to the inside of your boot or belt with ease. At 6 3/4″, this knife could be well hidden in a standard 8″ work boot. Some choose to wrap the handle in paracord for a more comfortable grip.
Steel: 7Cr17MoV Stainless
Blade Length: 3.125″
Overall Length: 6.625″
Handle: Steel 3.5″
Sheath: Hard plastic with lanyard
In the past, I have found Schrade to be a decent budget brand. This particular model of neck knife has been discontinued but there are still a lot for sale.
For your money, you get a stainless steel full tang knife with a decent sheath and pocket clip. A standard ball chain for neck carry is also included. The Schrade offers a partially serrated blade which adds to the versatility in survival situations.
The handle is skeletonized but you can wrap it in paracord if desired. It is kind of neat that there is a bottle opener feature in the handle.
Steel: Stainless
Blade Length: 3.25″
Overall Length: 7.00″
Handle: G-10 3.75″
Sheath: Nylon
Smith & Wesson is normally known for firearms but they also make knives. This knife is a fixed blade extended tang model. This means that the tang goes beyond the handle and ends with a lanyard hole.
The stonewash metal finish is interesting and reminds me a little bit of the Damascus steel look. The blade is a classic drop point design.
The knife is stainless steel but has G-10 handles added for a nice grip without wrapping in paracord.
Steel: 1095 Cro-Van
Blade Length: 3.25″
Overall Length: 7.00″
Handle: 3.75″ 1095 Cro-Van
Sheath: Hard Plastic
This is a slightly different design than the Becker Necker. While this is a drop point high carbon steel blade too, the handle is what makes up most of the difference.
I advise comparing the handle types before buying so you can make the choice that is best for you. Becker-designed knives are popular so you may decide you want both.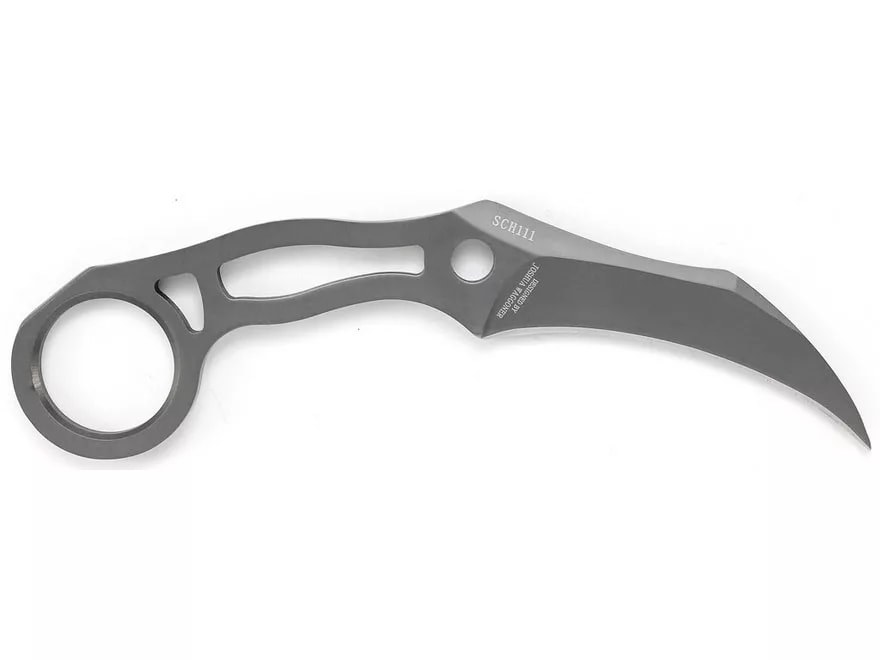 Steel: 9Cr18MoV
Blade Length: 3.00″
Overall Length: 6.50″
Handle: 3.50″ 9Cr18MoV
Sheath: Polymer
I know there are a lot of karambit fans out there and wearing one around your neck is a popular way to carry one. This full tang neck karambit from Schrade is one of the best neck knives for self-defense. Let's face it, the karambit may have some other uses beyond self-defense, but the reality is that defense is one of the biggest reasons people buy them in the USA.
This karambit is stainless steel and features an oversized finger hole for a better grip. If you have found other karambit holes too small, this might be a good option to try out.
The entire design is skeletonized to reduce weight. You get a hard plastic sheath, ball chain, and some paracord with the knife. If you want to learn more about karambits, check out our review of the best karambits on the market!
Steel: 5Cr15MoV
Blade Length: 2.125″
Overall Length: 5.125″
Handle: G-10
Sheath: Polymer
Every CRKT that Matt and I have had has proven to be top quality. This neck knife stands out to me because it has a fantastic handle and grip. The size is a bit smaller than a lot of the neck knives in this article. With most knives in this post being over 6″ in overall length, the Folts comes in at just over 5″.
I say this because if you find a lot of neck knives bulky, this is a good one to consider. It comes in at a mere 2.5 oz weight including the sheath!
CRKT has a lot of top-notch knifemakers design knives for them. This beautifully simple and functional design comes to us from Alan Folts, a knifemaker based in Greenville, NC.
Steel: Bohler N690
Blade Length: 3.25″
Overall Length: 7.00″
Handle: 3.75″ Bohler N690
Sheath: Polymer
I really have a soft spot for Boker knives. This neck knife continues the Boker tradition of quality. This may be the best neck knife for bushcraft, crafted by icon and military leader Tony Lennartz and featuring Bohler N690 steel.
Since I was unfamiliar with this particular type of steel, I looked it up and discovered it is produced in Austria by a small company that makes steel for knives and surgical instruments. It has a high carbon content of 1.07% which is comparable to the high end of carbon content that is expected in 440C stainless.
The Kydex sheath is sturdy and comes with a ball chain and can be used with Tek-Lok belt adaptors.
Steel: Stainless
Overall Length: 3.75″
Handle: Stainless
Sheath: Kydex
I couldn't help but add this neck knife in because it stands out so much. Don't get me wrong, I question how useful it would truly be. The Hawkit is without a doubt the smallest ax I have seen. Since it is made by Boker I have no doubt that the steel and overall quality are good.
This is really quite small even for a neck knife. At 3.75″ overall length, it would be easy to forget you were even wearing this on your neck.
Boker claims this little neck knife can be used for a lot of things you might normally only expect from a multi-tool. According to the Boker website, the Hawkit can function as a small knife, nail puller, mini crowbar, bottle opener, and for loosening shackles or holding bits.
Steel: AUS-8
Blade Length: 1.25″
Overall Length: 3.00″
Handle: 2.00″
For those that want a neck knife that looks like a piece of jewelry, there is the Mantis. You could wear this to the office and someone would just think it was a necklace. The black pearl accents complement a lot of looks.
While this just comes with a cord to wear around your neck, you could replace the cord with a fancier style chain or even mix and match chains and different cords depending on what you are wearing.
I know this is not for everyone, but I think jewelry that is functional is pretty neat. Some people may not want something that looks tactical all the time.
Steel: 8Cr13MoV
Blade Length: 2.83″
Overall Length: 7.44″
Handle: 4.61″ 8Cr13MoV Paracord Wrapped
Sheath: Hard Plastic
Dare I say this is one of the more attractive tactical look neck knives in this post? This knife is on the larger side for a neck knife and it boasts a wide blade and handle.
The spear point blade is made of 8Cr13MoV stainless steel which although made in China, is supposed to be comparable to AUS-8 stainless in terms of performance.
The heavily wrapped paracord handle offers a good grip and the sheath is designed to be sturdy and offer a quick release so you can get your knife out fast when you need it the most.
The Thunder Strike is designed by Pat and Wes Crawford of West Memphis, Arkansas.
Steel: 440C
Blade Length: 1.625″
Overall Length: 4.00″
Handle: 2.375″ 440C
Sheath: Hard Plastic
Okay, I promise this is the last Boker on the list! I thought this was a neat design because while it is styled like a karambit in many ways, the wider and shorter hawkbill design makes it different. With a blade length of just 1.625″ and an overall length of 4.00″, this is a very compact and lightweight neck knife. The oversized finger hole offers a good grip and control.
The entire knife is made of quality 440C stainless steel that has been coated with titanium. It comes with a Kydex hard plastic sheath and ball chain. The price is less than half of the cost of the Para-1 from Boker that I previously discussed in this post.
Steel: AUS-8A
Blade Length: 2.25″
Overall Length: 6.31″
Handle: 4.06″ AUS-8A
Sheath: Hard Plastic
I knew the instant I saw this knife from Cold Steel that it had to go in this post. Out of all the knives I have talked about so far, this is the only neck knife that was primarily designed for those that hunt birds and fish. I really want to take this knife trout fishing when Matt and I head up to our secret fishing spot.
Cold Steel is known for its quality products and for carrying on old designs that are hard to improve on. The Bird & Trout is based on a 100-year-old design. The loop at the end of the handle makes it easy to hang the knife off of your finger when you have to multi-task when cleaning fish or birds.
The sheath and chain make it easy to have this knife on hand when out in the bush. I was glad to see that the Bird & Trout is made of AUS-8A stainless steel. If you want a very useful neck knife for hunting and fishing, I have a feeling this knife will not disappoint.
Ready to Buy a Neck Knife?
I was surprised how little some well-known brands charge for neck knives. Like any tool, it is best to not get the least expensive brand or style if you intend on using it very often.
At the same time, throwing a few inexpensive neck knives back for trade or barter may not be a bad idea. You may also want to get a cheaper knife to try out and see if you even want to wear something around your neck.
As of now if I was going to pick out a knife on this list to try out, I would go for the Bird & Trout by Cold Steel because we fish some and we butcher our own meat out regularly. For self-defense, the Boker Plus Newton K-Bit seems like it would be comfortable to wear and easy to conceal.
For overall versatility and use, the Cold Steel Mini-Tac Bowie is a solid choice.
The Mantis necklace would make a good gift, especially to a loved one that works in an environment where they have few or no options for self-defense weapons. Sometimes I get asked how men can encourage their wives to get more prepared, so I will say this, jewelry with another purpose might be a good start.