This site contains affiliate links. As an Amazon Associate, I earn a commission from qualifying purchases at no extra cost to you. Full Disclosure Here.
To say that I have become obsessed with making my own DIY cleaning supplies is a bit of an understatement.  Each week I am trying out something new – hoping to come up with the perfect cleaner.
It is not that I love cleaning – I just love the results.  That said, over the years I have embraced the "good enough" method of house cleaning and household chores.  Still, if there is a better way that happens to be better or cheaper, then this frugalista is all eyes and ears.
So why is this important to preppers?  It is important because post crisis (disaster, collapse or what have you), maintaining a clean and sanitized environment will be key in avoiding sickness.  Not only that, but a clean environment will smell better and will have a calming effect on frazzled nerves.
Today I would like to share with you the DIY cleaning supplies and gear that I believe should be in every prepper's survival closet. These are the recipes that I use and the equipment that gets the job done. Almost everything can already be found in your home or can be purchased inexpensively.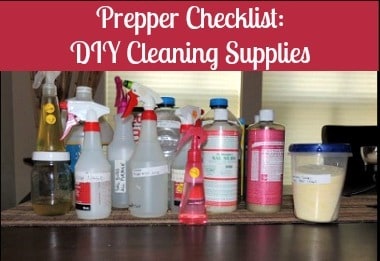 Assorted DIY Cleaning Products – Some worked well and others not so much
DIY CLEANING INGREDIENTS
Vinegar
Borax (such as Twenty Mule Team)
Washing Soda (such as Arm and Hammer)
Baking Soda
Bar Soap (plain old bar with no moisturizers such as Ivory or castile soap)
Vegetable Glycerin
Dawn Dish Soap
Rubbing Alcohol
Essential Oils (such as Peppermint or Tea Tree)
Dr. Bronner's Sal Suds
DIY CLEANING GEAR
Microfiber Cloths aka Magic Rags
Old Toothbrushes
Scrubber Sponge
Refillable Spray Bottles
Refillable Pump Bottles
Refillable Juice or other Jugs
An Old Bucket
Hand Grater
Mobile Washer
Disposable Gloves (latex or nitrile)
Good Old Fashioned Elbow Grease
DIY CLEANING RECIPES
A word about these recipes.  These are the concoctions that I am currently using.  They are not the only ones that will work but to me, they are uncomplicated and do the job just fine with a minimum of ingredients.
Window, Floor, General Surface Cleaner aka Peppermint Juice

1/2 cup white vinegar
32 oz. (1 quart) cups water
1/4 tsp. to 1/2 tsp. peppermint essential oil

Make up a batch of Peppermint Magic in a repurposed juice jug.  Fill your spray bottles from this master supply.  Using different essential oils, you can make Tea Tree Juice, Lemon Juice or some other scent.  I prefer peppermint oil or tea tree oil for their antibacterial and antiseptic qualities.

All Purpose Cleaner aka Sudsy Sal

1 Tbl. Dr. Bronner's Sal Suds
32 oz. (1 quart) cups water

This stuff is terrific.  I have been using it everywhere around the house for the past two weeks and love it love it love it.  It works well on my granite counters and it gets the greasy crud off my sinks.  One of my favorite uses is to use my Sudsy Sal instead of running water to clean my dishes before putting them in the dishwasher.  Okay, post disaster we won't have a dishwasher but trust me, you will use a lot less water if you spray, swish, then rinse.

This stuff even removed spots from my clothing.  I am still discovering new ways to use my "Sudsy Sal" and am ranking this cleaner right on up there with my beloved vinegar.

Disinfecting Spray Cleaner

1/4 – 1/2 cup Rubbing Alcohol
32 oz. (1 quart) cups water

There are times when I want to go the extra mile to insure that germs are destroyed.  While not as pleasant to use as Peppermint Juice (with vinegar) or Sudsy Sal (with Sal Suds), cleaning with alcohol is the surefire way to take care of the nasties.  It also will brighten things up (such as granite countertops and stainless steel) by removing any left over film from other products.

And to tell the truth, I think it is good to switch around from time to time.  But that is just me.

Dirt Cheap Soft Soap or Body Wash

1 cup grated bar soap
10 cups water, preferably filtered
1 tbl glycerin
1 – 2 tsp essential oils, optional

The instructions for making Dirt Cheap Soft Soap can be found in the article DIY Cleaning: Dirt Cheap Soft Soap.

 

Since writing that article, I have also successfully diluted the homemade soft soap and used it as a body wash.

One other thing.  The type of bar soap that you use may determine just how much you will need.  Some bar soaps produce a very thick soft soap while others are a bit runny.  The secret is to let your batch sit for 24 to 48 hours and add an extra spoon full of soap flakes or an extra bit of water after-the-fact if needed.  Most of the time though, it will be fine just as it is.

You will never purchase soft soap again.  And by the way, the bars of soap you get in hotels when you travel work just great.

Better Than Good Laundry Soap

3 tablespoons Borax (such as Twenty Mule Team)
3 tablespoons Washing Soda (such as Arm & Hammer)
2 tablespoons Liquid Dish Soap (such as Dawn)
8 cups water – preferably filtered

Recently I have experimented with a DIY powdered laundry soap using a grated bar of Fels Naphtha soap plus the other dry ingredients.  The results, however, were marginal.  The investment in liquid dish soap is worth it in my opinion and is definitely a lot less expensive than using Dr. Bronner's Castile Soaps in the laundry.

For instructions on making your own batch of Better Than Good Laundry Soap, read The No Mess No Fuss Method of Making DIY Laundry Detergent.  And as far as getting your laundry clean without a washing machine?  Try the mobile washer and a large bucket or even in a bathtub.  It works well with just a modicum of brawn.

Drain Cleaner

1 cup baking soda
1 cup white vinegar
Hot or boiling water

Pour the baking soda and vinegar into the drain and let it sit for an hour with the stopper down.  Remove the stopper and add a kettle of really hot water (or boiling water if you are careful) down the drain.  If you do this every month of so, the drain will stay nice and clear.

This works great in bathroom sinks where hair, makeup and other particles can quickly create pesky clogs.

Toilet Bowl Cleaner

Baking Soda
Sudsy Sal (from above)

Empty the toilet bowl by turning off the water.  Spray the bowl with Sudsy Sal then liberally sprinkle the bowl with baking soda.  Let it sit for a few minutes then get out your scrubber sponge, and an old toothbrush and scrub away.  Yes, you may need some elbow grease too but isn't this a lot better than a toxic chemical cocktail?
BUT WHAT ABOUT ??
Now I am sure that many of you have a favorite DIY cleaner of cleaner recipe that I have not included.  I even have a few additional recipes of my own that work just great but seem irrelevant in a post SHTF situation.  Case in point:  DIY furniture polish.  I can clean my wood furniture quite nicely with Sudsy Sal but who the heck will care if my furniture is polished up nice and shiny following a SHTF event?
Another example is citrus cleaner made from orange peels soaked in straight vinegar soaked.  Yes, it smells nice but it is still just plain vinegar.  It seems wasteful to me to use straight vinegar when you can heavily dilute it with water and get the same or better results.  Besides, you have to wait two weeks.  Who has the time for that?
That said, if you have a tried and true DIY cleaning recipe, be sure to let me know.  Being obsessed, I will probably give it a try.
THE ULTIMATE CLEANING TOOL
Old toothbrushes are the ultimate cleaning tool.  They are perfect for getting into all of those nooks and crannies including under the rim of the toilet bowl.  And the best thing is that they are 100% fee.
The one thing that I do recommend that you purchase are some microfiber rags. Some of mine are over 14 years old and still go going strong albeit a bit stained. For a modest investment, you will give up using paper towels and old tee-shirts as rags forever.
I like to color code: yellow for general cleaning and green for glass and windows.
THE FINAL WORD
You don't have to wait for a disaster to start making you own cleaning and laundry supplies.  The money you save will be substantial – certainly enough to purchase something more useful that a toxic brew of chemicals pitched to you by Madison Avenue.  I am convinced that once you start making your own cleaning products, you will never look back.
Enjoy your next adventure through common sense and thoughtful preparation!
Gaye
Click Here To Vote For Me at Top Prepper Websites! Did you know you can vote daily?
If you have not done so already, please be sure to like Facebook which is updated every time there is an awesome new article, news byte, or link to a free survival, prepping or homesteading book on Amazon.  You can also follow Backdoor Survival on Twitter, Pinterest, and Google+ and purchase my book, The Prepper's Guide to Food Storage from Amazon.
Bargain Bin: A lot of products were mentioned in today's article.  I won't link to all of them but instead will highlight those that I have purchased online myself.  Other items (such as the borax and washing soda) can also be purchased online (search Amazon) but may be considerably less money when purchased locally.
Dr. Bronner's Sal Suds Liquid Cleanser: I know that Dr. Bronner's Magic Castile soaps have a cult-like following but I prefer the Sal Suds.  I call my DIY cleaner "Sudsy Sal".
Soft 'n Style 8 oz. Spray Bottles: I happen to like these smaller bottles and you can not beat the price for a set of 3.  Likewise for these Pump Dispensers.
NOW Solutions Glycerin Vegetable, 16-Fluid Ounces: You will need this for your Dirt Cheap Soft Soap.  I paid almost as much for only 4 ounces locally.  This is a great price and 16 ounces will last forever.
NOW Foods Peppermint Oil: I favor peppermint essential oil (okay, I like lavender too) so this is what I get.  But there are many types of essential oils to choose from.  Take your pick.  One thing you will find is that a little goes a long way.
Microfiber "Magic" Rags:  No list of cleaning supplies would be complete without these wonderful microfiber cloths.  They will last you for years and will allow you to replace paper towels forever.  Truly.   I color code using green for glass and windows and the other colors for everything else.  I love these.
Mobile Washer:  This is hand operated washing machine.  Like a plunger, it uses a technique of pushing and pulling the water through clothes to clean them well without wearing them out. It uses a minimum of water and less soap due to the agitation motion. Use in a bucket (5-gallon suggested), sink or tub.
---
Shop the Emergency Essentials Monthly Specials: The monthly specials at Emergency Essentials feature discounts of up to 35% off sometimes a bit more.
One really good special this month is their Do it Yourself SuperPail Combo.  It includes 8 x 6-Gallon Buckets with Lids, 8 x Metallized Storage Bags and a 10-Pack of Large Oxygen Absorbers.
Don't forget that you do not need fancy equipment to seal the metalized bag.  A cheap hair iron will do the job.
Conair Flat Iron 2″ Ceramic Straightener: I use a hair iron to seal my Mylar bags. Forget about a hose and a vacuum sealer. A cheap hair iron works great – just be sure to get one with 2" plates.
~~~~~~~~~~~~~~~~~~~~~~~
I earn a small commission from purchases made when you begin your Amazon shopping experience here.
Amazon has a cool new feature called Shop Amazon – Most Wished For Items. This is an easy tool for finding products that people are 'wishing" for and in this way you know what the top products are.  Like I said, very cool.
Shop Amazon Tactical – Great Selection of Optics, Knives, Cases, Equipment
Amazon's Most Wished For Items in Sports and Outdoors
Help support Backdoor Survival. Purchases earn a small commission and for that I thank you!