This site contains affiliate links. As an Amazon Associate, I earn a commission from qualifying purchases at no extra cost to you. Full Disclosure Here.
For a number of weeks I have been bragging about my homemade, almost free, DIY soft soap.  Surprisingly, only a couple of readers had called me on the fact that I have been sending out teasers, one right after another.
So okay, no more teasing.  Today I am going to share with you my DIRT CHEAP SOFT SOAP.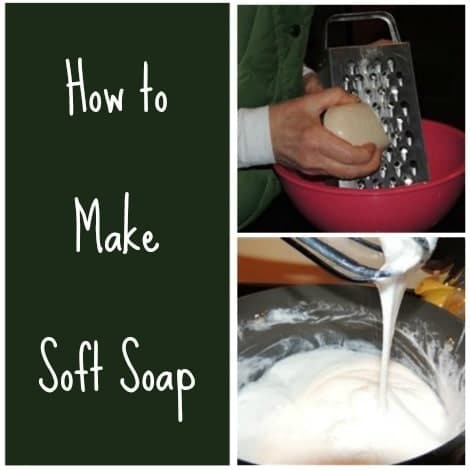 And by dirt cheap, I mean as low as 80 cents or less for a gallon jug of the stuff.  Now I like a bargain as much as the next person, but this is so good and so cheap that I am wild and insanely crazy about it.  And the best part about it is that I only had to purchase one item to make up a batch of this wonderful stuff – namely a bottle of vegetable glycerin.
So how did I do it?  Let me share the basic recipe.
How to Make Dirt Cheap Soft Soap
The basic ingredients of Dirt Cheap Soft Soap are bar soap, water, and glycerin.  In addition, you can add some essential oils for fragrance but that is totally optional and not needed if you start out with scented bar soap.
Ingredients:
1 cup grated bar soap
10 cups water, preferably filtered
1 tbl glycerin
1 – 2 tsp essential oils, optional
Directions:
1.  Grate the soap.
I used my Cuisinart for the first two batches which was pretty wild.  The soap grated up up into a fine powder that floated about my kitchen.  It smelled heavenly – clean and fresh – but it looked like smoke.  In subsequent batches, I used an old fashioned box grater.  I grated a full-sized bar of Yardley Oatmeal and Almond soap in less than 5 minutes.
2.  Place the grated soap flakes into a large pot and add the water and glycerin.
I used filtered water (what I call Berkey water) because I did not want strange odors in my soap.  And our tap water does smell like a hot tub if you know what I mean – pretty icky.

         
3.  Put the pot on the stove and turn the burner up to a medium heat.
After about a minute, you will see the flakes dissolve.  This happened a lot quicker with my Cuisinart soap – say about 1 minute – but the grated soap only took a minute or so longer.  At this point I took my whisk and whipped up my brew into a heavenly, bubbly froth.  You probably do not need to do this but I had read on forums where the some homemade soft soap was more like snot (sorry) and I did not want that!

I whisked away and practically doubled the quantity of soap in the pot.

    
4.  Set your homemade soap aside to cool.  Let it sit overnight or for a few hours at a minimum.
Dirt Cheap Soft Soap (which I named, by the way) will get thicker as it cools.  I have found that different soaps thicken differently.  Some got too thick so I simply added more water the next day and whisked it up some more to blend it all together.
5.  Pour your Dirt Cheap Soft Soap into containers.
For each batch I used 2 re-purposed 1/2 gallon apple juice jugs as storage containers.  I used a funnel which helps a lot.  I then used the juice jugs to fill my counter top soap dispensers.

    
Tips and Hints
The cheapest way to make this soap is to use freebie bars of soap that you have saved over the years from hotel rooms or in my case, cruise ships.  I always take these little travel toiletries with me when I check out since I did pay for them, right?  So maybe they were not exactly free but you know what I mean.
I also used some scented gift soaps that were given to me years ago.  I do not use bar soap at all so these have been languishing in a box under the sink for ages.  The latest batch was made using a bar of Yardley Oatmeal and Almond bar soap that I purchased at the dollar store.
I did add about 2 teaspoons of lavender essential oil to the hotel/cruise ship soap version but the scented soaps retained their pleasant smell without the need for anything else.  And even the hotel soaps smelled nice but I happen to love lavender so there you go.
Different types of soaps may produce different results.  Do not be afraid to add more water if your soap is too thick.  And also, don't feel that you need to have fluffy soap.  I just happen to like it that way.  Experiment and have fun with it.
The quantity may vary from batch to batch.  It may be the soap, the humidity, the whisking – who knows?  Expect some variability and go with the flow.
I have not tried it, but if you are using a high-quality bar soap (perhaps one of those gift soaps), you may be able to leave out the glycerin.  Like I said, I have not tried it and the glycerin was cheap enough.
The basic recipe can be doubled or cut in half or even fourths.  I have had the same success no matter what.
Cost Breakdown
At $6.46 for 4 ounces, I probably overpaid for the glycerin since you can purchase a full 16 ounces online for a lot less.  No worries, that still works out to 80 cents per batch and next time I will purchase a larger quantity to bring the cost per tablespoon down.  (Remember, there are 2 tablespoons to each fluid ounce).
The 4.25-ounce bar of soap made up 1 1/2 cups of grated soap so with each batch I had some leftover for next time.  Working the math though, I come up with .67 cents per cup of soap (assuming you paid a dollar), so the total cost for a full gallon using purchased soap was $1.47.  Compare this to the cost of a one-gallon jug of "Softsoap Moisturizing Hand Soap" at Costco for about $11.
The Final Word
The Survival Husband simply loved this stuff from the get go.  I had no idea he felt our day to day name-brand soft soap was drying and rough.  Go figure.  And me?  I feel like a chemist when I stir up a batch and the clean up is a breeze.  It is soap, after all.
The other thing I want to mention is that Dirt Cheap Soft Soap is my name for this stuff.  I made it up and I think it fits.
I would love to have you try this and share your comments and experience with the rest of us.  Let me know how it all works out.
Enjoy your next adventure through common sense and thoughtful preparation!
Gaye
Thank you for voting for me daily at Top Prepper Websites!
SUBSCRIBE to email updates and receive a free, downloadable copy of my e-book The Emergency Food Buyer's Guide.
Bargain Bin:  If you are planning to mix up some Dirt Cheap Soft Soap, check around your home.  Chances are you already have everything you need except, perhaps, the glycerin.
NOW Solutions Glycerin 16-Fluid Ounces:  Compared to what I paid, this is a real bargain.  I have been purchasing the NOW brand of essential oils and have been very happy with them, even though they appear to be budget prices.
NOW Foods Lavender Oil:  I tend to use cheap essential oils in my soap products since their use is for smell only.  (Come on, really.  The soap goes right down the drain!)  Pick you scent.  I happen to like lavender but seems to me that peppermint, orange or rose would work wonderfully as well.
Yardley of London Naturally Moisturizing Bar Soap: The Yardley soap worked well and can be found at the dollar store but the available scents are limited.  Amazon or even your local drug store will have more variety.
Box-style Hand Grater:  As easy as it was to use the Cuisinart, it just felt "better" to grate the bard soap by hand.
OXO Good Grips 3-Piece Funnel and Strainer Set:  This is the set I have in my kitchen.  OXO products are known for their quality and usability.  And here is a hint.  If you purchase an OXO product and don't like it, send them an email or give them a call and they will refund your money.  I bet you did not know that!
Dr. Bronner's Sal Suds Liquid Cleanser: I know that Dr. Bronner's Magic Castile soaps have a cult-like following but I prefer the Sal Suds.  I call my DIY cleaner "Sudsy Sal".
Soft 'n Style 8 oz. Spray Bottles: I happen to like these smaller bottles and you can not beat the price for a set of 3.  Likewise for these Pump Dispensers.
Umbra Vapor Glass Soap Pump: I have been collecting glass pump bottles for years but you can also use re-purposed – you guessed it – soft soap bottles.
~~~~~~~~~~~~~~~~~~~~~~
~~~~~~~~~~~~~~~~~~~~~~
I earn a small commission from purchases made when you begin your Amazon shopping experience here.
Amazon has feature called Shop Amazon – Most Wished For Items. This is an easy tool for finding products that people are 'wishing" for and in this way you know what the top products are.  All you need to do is select the category from the left hand side of the screen.
Shop Amazon Tactical – Great Selection of Optics, Knives, Cases, Equipment
Amazon's Most Wished For Items in Sports and Outdoors
Help support Backdoor Survival. Purchases earn a small commission and for that I thank you!
Are You Interested in Essential Oils?