This site contains affiliate links. As an Amazon Associate, I earn a commission from qualifying purchases at no extra cost to you. Full Disclosure Here.
As much as I enjoy reading and learning about living off-grid, nothing interests me more than off-grid cooking using a wood burning stove. Sure, there are rocket stoves, and all sorts of grills available for use outdoors but it is a big, beautiful, antique-style wood-burning stove sitting in the kitchen that captures my imagination.
Alas, at present I do not have the space to add a full-sized wood burning stove to my modern kitchen.  That does not preclude my desire to learn as much as I can about off-grid cooking using wood and biomass.
Today I am thrilled to bring us one step closer to learning our way around an off-grid kitchen.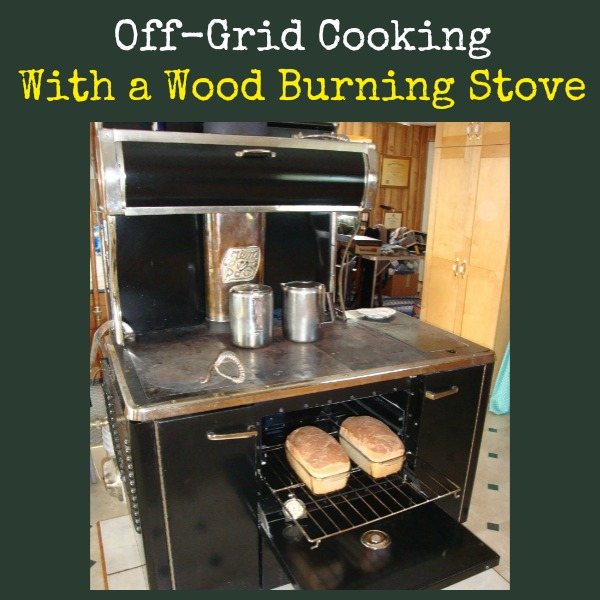 Some of you may remember the article One Man's Perspective From Living Off Grid.  In it, you were introduced to Ron Melchiore and his lifelong commitment to living off the land.  Much to my delight and to our benefit, today his wife, Joanna shares her experience maintaining and flourishing with an off-grid kitchen!
The Off-Grid Kitchen
For over 30 years I've been faced with meal planning and preparation while living off-grid. My husband's book Off Grid and Free-My Path to the Wilderness, has a short chapter devoted to our wood burning cookstove but I'll elaborate on some of the finer points of my off-grid cooking experiences.
I grew up in a typical house and learned how to cook and bake with an electric range. When I met Ron, moved to Maine and began homesteading, he already had an antique wood cook stove set up in the kitchen and I learned how to use that stove to cook and bake. Believe it or not mastering the wood cookstove was not that difficult.
When we moved to a remote lake in the wilderness that's accessible only by float plane, I remained committed to cooking with a wood stove. An electric stove was out of the question due to its high energy consumption. A gas model was of no interest either. Cylinders of gas need to be purchased and flown in by bush plane, an expensive proposition. If propane ever becomes in short supply or unavailable, we'll be completely unaffected.
Since we are surrounded by acres and acres of firewood available free for the taking, a wood cookstove is by far the most practical choice for us.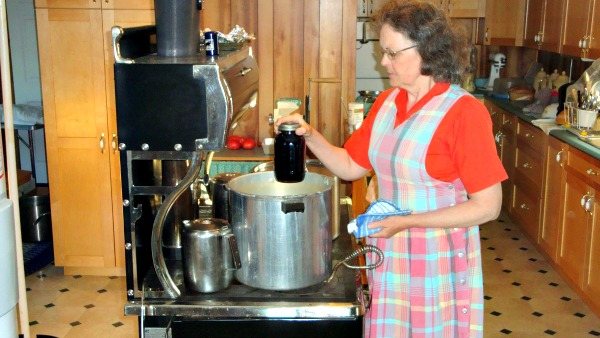 Wilderness canning on a wood stove
I use my kitchen woodstove every day, spring, summer, fall and winter. I do all of my canning, baking, and meal preparation with this appliance. The stove was brand spanking new when we bought it 16 years ago. It came with a warming oven, water reservoir tank attached to the right-hand side and a water jacket installed in the firebox.
This means the stove is plumbed so water pipes run to the firebox and then back out to a 45-gallon hot water storage tank. Every time I make a fire to cook, can or bake, I'm also heating our home's water so that we have hot running water at both sink faucets and the shower. What an off-grid luxury! The set up is also very efficient as I'm getting the most I can out of each piece of firewood.
I have a set of good quality stainless steel pots with heavy bottoms in various sizes ranging from small saucepans up to stock pots. But my favorite cookware is cast iron.
I have an assortment of skillets passed down from Ron's Grandmothers and my Mom which range from 6″ up to 12″. The largest pans hang on hooks from the ceiling on either side of my stove for easy access. Depending on what I'm making, I'll employ several Dutch ovens differing in size from 8″ to 13″ in diameter. The biggest Dutch oven accommodates our Thanksgiving turkey and Christmas ham. After butchering, I also use it to render fat scraps prior to soap making.
My most prized cast iron piece is my antique waffle maker. A ring holds the lidded waffle iron in such a way that I can pivot the waffle iron back and forth so both top and bottom of the waffle cook evenly over the open fire. What a neat device! A muffin pan, griddle, and corn stick pan round out my cast iron collection.
Seasoning cast iron assures a non-stick surface and keeps the cooking vessel from rusting. Seasoning is the process of baking on a thin coating of grease. I use either oil or shortening. I wouldn't trade any of my cast iron for Teflon or T-fal coated pans.
Because we live so remote, we only shop twice a year. This means I make virtually all of our bread and other baked goods from scratch. Fortunately, anything can be cooked on or in a wood cookstove: yeast breads and rolls, coffeecakes, muffins, biscuits, sweet breads such as pumpkin and cranberry bread as well as cakes, cookies, pies and crisps. Roasts, stews, soups, casseroles and even pizza are all possible with a wood cookstove.
What do I cook and what do we eat?
I tend to make items that feature ingredients we grow or that grow wild. For example, we are surrounded by an abundance of wild blueberries and cranberries and I make numerous things with these fruits: blueberry muffins, pancakes, pies, and crisps; cranberry muffins and bread and of course cranberry sauce.
Through summer, we eat from the garden enjoying each veggie as it comes into season. First are radishes and early greens of lettuce and spinach, followed by peas, broccoli, zucchini and beans. By the end of summer, we are blessed with an abundance of corn, tomatoes, peppers and even cantaloupes. Our gardens yield such a bounty, I'm never lacking for the makings of a meal.
Who wouldn't want a pantry filled with home-canned goodness?
This time of the year, the garden has long been put to bed, but it continues to feed us. Not just from the produce I've canned and frozen, but also from the good winter keepers stored in the root cellar: potatoes, carrots, celery, Brussels sprouts, and cabbage.
We eat a lot of cabbage in the fall and early winter. It stores well, we love it, and it's a versatile vegetable since it can be used in so many ways: in soups, as side dishes, in casseroles, as an entree such as cabbage rolls and in many salads such as various slaws. I've included one of our favorite cabbage recipes. I haven't included measurements because in all honesty when I make this, I never measure. I just sprinkle on the seasonings. Figure one wedge of cabbage as a serving and go from there.
Baked Cabbage

Wedges of cabbage, core removed
Cajun spice( chili powder can be substituted)
Salt and pepper
Thin slices of fresh garlic
Bacon strips
In cast iron Dutch oven, put about 1/2″ of water. Arrange cabbage wedges in bottom. Sprinkle liberally with Cajun spice, salt and pepper.

Put several slices of garlic on each wedge ( we like garlic so I put 3-4 slices on each wedge but you may prefer less). Top wedges with bacon, about 1/3 to 1/2 strip per wedge. Cover Dutch oven with lid.

Bake 350 degrees 1 hour. Enjoy!
~~~
Ron and his wife currently live 100 miles in the Canadian wilderness on a remote lake. As part of the back to the land movement that originated in the 70's, they have spent their adult years living the homestead dream. You can follow and contact Ron and Johanna on Facebook or at their website, //www.inthewilderness.net/
The Final Word
After reading about how Joanna cooks, cans, bakes, and heats her home with a wood burning stove, I am super-fired up (no pun intended) about expanding my outdoor cooking repertoire.  Cooking with propane is one thing, but wood?  This is one more skill that hope to really master.
For those of you that are enamored with vintage wood stoves, or even modern wood stoves, you can find a bunch of really cool pictures over on my Pinterest page, Vintage Kitchens, Stoves and Sewing Machines.  Don't blame me if you start to drool!
Enjoy your next adventure through common sense and thoughtful preparation!
Gaye
If you enjoyed this article, consider following our Facebook page.
Bargain Bin:  Below you will findthe items related to today's article as well as my cast iron favorites.
Off Grid and Free:My Path to the Wilderness:  After reading this article, I am sure you will agree that Ron and Johanna are the ultimate preppers.  Here is a link to his book which I am certain you will enjoy!
Lodge Logic Cast Iron Pre-Seasoned Drop Biscuit Pan: Biscuits with jam are one of my favorite comfort foods.  This is the pan I purchased for biscuit making and to me, it was worth the cost.
The Ringer Cast Iron Cleaner – Stainless Steel Chainmail:  I purchased one of these in October 2015 and it is friggin' fantastic.  You will never ever have to scrub cast iron again.  I can't say enough good things about this gizmo.  You want one.  Read my review here: How to Clean Cast Iron the Easy Way.
Lodge Cast Iron Dutch Oven:  I do own a number of large stock pots but for the most part, when making chili or stew I reach for my cast iron Dutch Oven.  Cast iron holds the heat and can be used indoors or outside over a campfire.  When the price is right (and they do fluctuate), I want to get one of these enameled cast iron pots.
Cast Iron Skillet with Hot Handle Holder: This purchase changed the way I cook. I use my cast iron cookware for everything from salmon, to bacon and eggs, to biscuits. Everyone needs at least one big beautiful cast iron skillet.  If you have any questions or doubts about using cast iron?  Read 7 Tips for Cast Iron Mavens.
~~~~~