This site contains affiliate links. As an Amazon Associate, I earn a commission from qualifying purchases at no extra cost to you. Full Disclosure Here.
If you haven't tasted a salad or smoothie with microgreens, you need to ASAP!
One, you'll love the flavors.
Two, the colors are unforgettable.
Three, microgreens have so much nutritional value.
Four, just do it!
BTW, do you know microgreens grow even in a disposable food container?
We've rounded up the best-tasting microgreens, so you can see the many options available to grow at home.
Top Pick: Our best pick is the Food to Live Broccoli microgreens seeds because they come in many size packs to your favor if you're a first-time grower. Plus, broccoli microgreens are among the most delicious. Read on!
The Best-Tasting Microgreens Are:
Broccoli microgreens grow fast, so you'll have your first bunch of greens in less than two weeks. 
These microgreens pack enough nutrients to qualify for a large portion of your plate. They bring vitamins A for your immune system and vitamin C to repair tissues and remove free radicals. They also have a high quantity of sulforaphane, which lowers your risk of cancer. 
You can add these microgreens to your salads, pizzas, or sandwiches for a crunchy taste with a hint of bitterness.
Broccoli microgreens are easy to grow as you only soak them in water for up to 24 hours. The packs are available in various sizes, this particular one being an 8-ounce pack. You can also get 2-pound and 4-pound packets. Thus, it's cost-effective as you'll plant what your household can consume.
Key Features
Different size packs
Grows in about two weeks
Organic
Pros
High nutritional value
Easy to grow
Rich flavor
Affordable
Cons
Some seeds take too long to germinate.
Verdict
The Food to Live broccoli seeds bring a lot to your diet as they have minerals like calcium and vitamins A, E, D & B. They are also rich in cancer-fighting nutrients. But, you have to grow them first. Also, you'll need to soak them for about 24 hours and water them daily to germinate fast.
Overall Rating: 4.3
Arugula can be an ingredient in numerous dishes, from scrambled eggs to sandwiches and burgers. But, you'll love the spicy flavor more when you add these microgreens to your salads.
Arugula microgreens have one of the most beneficial nutrients—lutein. It improves eye health, suppresses inflammation, and fights free radicals in your system. These microgreens also have beta-carotene.
These microgreens have colorful green leaves. Add them to a salad with red tomatoes and cream-colored parmesan cheese, and you have a delectable combo.
Key Features
Grow all year round
High germination rate
Grown in a tray with soil
Pros
They add flavor to salads
Grow fast
Need a few resources to grow
Cons
Sensitive to too much moisture
Verdict
In seven to 14 days, arugula microgreens will be ready. They grow that fast, and they only need a growing medium, water, and sunlight. You don't have to pre-soak them.
Average Rating: 4.6
You can harvest radish microgreens in about 10 days from the day you plant them.
Radish is the most colorful of these greens as some varieties have red stems and green leaves. Their peppery taste is unforgettable, so prepare for tantalizing salads and omelets. For instance, prepare a potato salad, pour your salad dressing, and sprinkle some radish microgreens on top. Mix and serve.
Daisy Creek Farms with Jag Singh shows you how easy it is to grow radish microgreens at home. The three-minute tutorial takes you through the planting phase with almost daily pictures as the seeds germinate. In about two days after planting, the seeds will germinate and shoot cotyledons.
Source: Daisy Creek Farms with Jag Singh
Key Features
Tasty and peppery
Rich in vitamin C 
Sprouts in 48 hours
Rich in fiber
Pros
A bagful lasts a long time
Good germination rates
Little seed wastage
Cons
May turn moldy
Large seeds meaning lower plant density
Verdict
Radish microgreens stand out for flavor and variety. On top of that, they grow fast, and you can add them to so many dishes, including sandwiches.
Average Rating: 4.4
You'll love their sweet, earthy flavor in your smoothies, avocado toast, and salads.
Most people grow microgreens indoors as they aren't demanding plants, and they only need water and sunlight. But, wouldn't you love to know that you can grow microgreens in a bigger area outdoors? Well, you can grow beet seeds outdoors. They germinate in about three days and are ready to pluck in a few days or weeks.
Key Features
Require sun exposure
Blooms in summer to fall
11 to 21 days growing period
Pros
Bold, lovable flavor
Stunning color 
Grows indoors & outdoors
Cons
They take more time to grow.
Verdict
Beets will have you waiting for up to 21 days before you can enjoy some in your meals, but their flavor and appetizing color are worth the wait.
Average Rating: 4.1
It's time to up the flavors in your meals by growing some sunflower microgreens. Their texture is like that of spinach, but they have a nutty flavor like raw sunflower seeds. 
Your microgreens will be ready to harvest in two weeks if you plant them today. After that, it's up to you if you'd like to sprinkle some in your salad or cook them in soups.
Key Features
For growing in a variety of mediums
Can grow in a tray
Vegan
Organic
Eight-ounce pack
For planting in the fall
Pros
High germination rate
Tasty microgreens
Easy to grow in a tray
Cons
May mold if they don't germinate fast
Verdict
A key to a high germination rate is following instructions on the type of medium and how to water your seeds. This pack of sunflower microgreens is easy to grow, and the yields are commendable.
Average Rating: 4.2
Kale microgreens are delicious in soups, stews, pasta, and so many other dishes, not to mention you'll get numerous nutrients.
They bloom in several seasons like winter, summer, and spring, something that'll ensure you have microgreens on your plate throughout. You'll also have up to 5,000 seeds that can grow enough greens for a few months. 
Therefore, it'll be economical to grow your microgreens than get them from a farmer's market. Plus, the harvest time is a week or two from the day you plant them. They don't require too many resources to grow them; you can use a soil mix or moist paper towels. 
Key Features
About 5,000 seeds
Harvested in 7 to 14 days
Grown in several seasons
Can grow indoors
Pros
Grows fast
Minimal planting resources
Rich in nutrients like antioxidants
Cons
Germination not guaranteed
Verdict
Kale microgreens have a rich flavor that almost tastes like broccoli. 
Average Rating: 4.4
Chives are some of the oldest herbs. Their microgreens bring a mild garlic and onion flavor to your potato salad, pizza, fish, and a whole lot of other dishes. You can use these microgreens as a garnish.
Even as you enjoy the taste, you'll also be sampling the medicinal and nutritional value of chives. For instance, they have choline and folate to improve your memory and cancer-fighting compounds like sulfur.
Key Features
Grow indoors
Full sun exposure
Aromatic flavor
Pros
Medicinal benefits
Flavorful
Cons
Verdict
Chives take between 14 and 25 days, so you have quite some time before you can enjoy this flavorful herb.
Average Rating: 4.6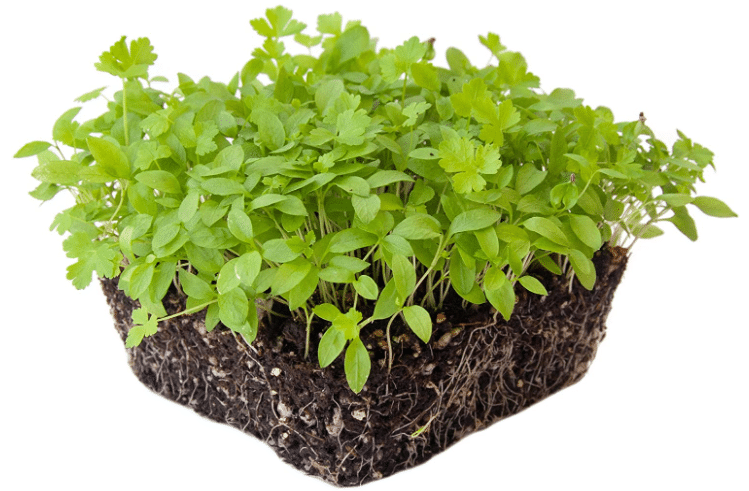 You may not have to buy garnish when you have up to 18,000 seeds to grow in a container on your window sill. Every 21 days, you get a bountiful harvest of parsley microgreens. It could even become a small business where you supply family and friends with these greens.
Parsley microgreens will bring a mild taste to your smoothies; mix them with apples, bananas, strawberries, and dates for a nutritious smoothie. They also add color and flavor to salads.
Key Features
They grow in soil medium
About 18,000 seeds
Take 21 days to grow
Pros
High favor intensity
Mild flavor
Garnish for any dish
Cons
Verdict
Parsley has so many health benefits that you'll want a handful of parsley microgreens in every meal. It improves liver health, strengthens your immunity, and inhibits some cancers.
Average Rating: 4
Why Are Microgreens Very Popular?
They Grow Fast
The seeds germinate into microgreens between seven and 25 days, depending on the variety. Thus, you're sure to have fresh, small greens every day if you plant various types. Since they don't take up a lot of space, you can plant two varieties in separate containers to add diversity to your daily greens.
They Are Nutritious
Microgreens get the title superfoods for a reason, as they have more nutrients than mature greens. It's a fact that you'll be getting antioxidants, vitamins, and minerals to fight diseases like cancer and diabetes. For example, when you mix sunflower and basil microgreens, 100 g of the mixture has 88 mg of calcium, 2.2 g fiber content, and other nutrients like potassium and iron. 
On top of that, they increase fiber content in your system to improve gut health. It's easier to get nutrients from microgreens because you can add them to so many meals in a day. For example, you can have some beets in your breakfast smoothie and for lunch, garnish your baked chicken with parsley microgreens.
Easy to Grow
Yes, you can grow different varieties in a container placed on your window sill. It's such a simple process that you'll even make it a hobby. Imagine misting seeds every day for about seven days only, and you have microgreens to harvest. There's no tedious plowing or weeding like it is with mature greens. But you should be able to distinguish it from sprouts. Check out this guide on sprouts vs microgreens.
Suit Many Dishes
Microgreens are delicious as garnishes in salads, vegetable soups, and pizzas. You'll also love them in juice and smoothies, omelets, frittatas, burgers, sandwiches, and tacos.
FAQS
Do Microgreens Taste Good?
Yes, microgreens are some of the most flavorful foods you'll come across. They have a variety of tastes, from nutty flavor to mint and earthy. 
You have to know what you're about to add to your salad or meat dish as some microgreens are bitter. Do we start with the good stuff or give you the awful flavors first? Let's first mention the good stuff, the kind you want in your meals. 
Sweet-flavored microgreens include beets, fennel, chard, kale, sunflower, and turnip. Spicy microgreens include radish, arugula, and flax. 
There are also microgreens with a mild taste, such as parsley, broccoli, basil, and chives. 
The other batch is the type that should never cross your mind because they have a pungent taste. They include oregano and cilantro. Oh! And the colors microgreens bring to your plate will have you looking forward to your next salad bowl. 
What Are the Sweetest Microgreens? 
A few sweet ones are turnip, sesame, lettuce, and pak choi. We've listed more above.
What Are the Fastest Growing Microgreens?
Microgreens that grow in one to two weeks are the fastest-growing. These include radish, which takes seven to 15 days, and lettuce, which takes between eight and 12 days.
In 10 to 15 days, you can harvest cress, sesame, kale, sunflower, mustard, pak choi, and turnips.
What Microgreens Do Chefs Use?
Chefs have many varieties to choose from, so we'd have to list over 100 types of microgreens they love. Thus, we can say that chefs use microgreens for different purposes. 
For instance, they use them for visual appeal and balancing the flavors and colors. All the microgreens that can do that will find their way into a restaurant's kitchen. Some mustard purple beside the red stems of radishes and the green leaves of cress makes one colorful plate. Don't you think so?
Final Thoughts
Microgreens aren't a new thing, as many who love them have been planting them for decades. Food to Live Broccoli seeds stood out for us because of their nutritional value compared to mature greens. 
They have a mild, appealing taste, and they take only two weeks to grow. To grow them, you need a medium like soil, a container, sunlight, and water. That's it! Plus, they are organic seeds. 
As you decide to start a small garden of microgreens on your window sill, consider the flavors you want in your food, the appealing colors you'd like to see, and the duration the seeds take to germinate.