This site contains affiliate links. As an Amazon Associate, I earn a commission from qualifying purchases at no extra cost to you. Full Disclosure Here.
Augason Farms has grown into one of the most popular choices in the US for survival food and ingredients that can be stored long-term. They're based in Utah, which is home to many Mormons and survivalists – two categories of people that are huge buyers of food for long-term storage.
The Mormon Church requires all families to maintain a year's worth of emergency food, so it makes sense that a company producing tasty, nutritious survival food would be able to thrive in this state.
With four decades in business, Augason Farms as long-since turned into a national brand with hundreds of different food and ingredient products designed for long-term storage. I picked up one of their black bean burger packs, as well as their black beans and rice product, for this review.
Black Bean Burger Mix
Augason Farms' black bean burger mix is very easy to use. All you do is mix it with water and let it thicken for ten or fifteen minutes, then shape it into patties and grill it for a few minutes on each side. You're left with a tasty patty that can be eaten as-is, as a burger, or crumbled into other recipes.
The patties are very easy to make and cook, and surprisingly tasty. The spices are a delight, and although they're salty, in a survival situation your sodium needs are potentially much greater than in your normal non-collapse day to day life.
Therefore, they're no saltier than any other food meant for long-term storage. These would be delicious crumbled into powdered scrambled eggs as a breakfast item or made into a burger, especially if you have tomato, lettuce, and other burger fixins.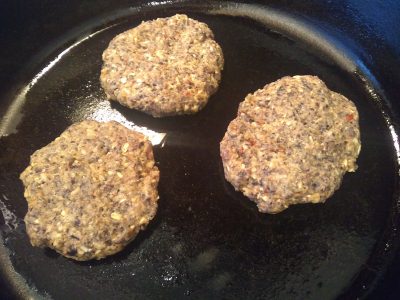 The mix format is what allows this versatility. You can make patties and keep them in that shape, or crumble them into casseroles, broths, burritos, salads, pasta, or any other dish to add protein and flavor. I could even see wrapping a patty up and putting it in my pocket to give myself an "energy bar" while I'm out foraging, hunting, checking traps, or gathering water.
Anything that would taste good with a bit of southwestern flair would go great with these, as they're heavy on Mexican-style spices like cumin and onions. A spritz of lime or garden-fresh tomatoes would go phenomenally with these in a platter of prepper's tacos. My brother tried breaking a patty into pieces and covering a slice of seeded rye toast with melted cheddar and ranch dressing, and found it to be a genuinely hearty and delicious meal.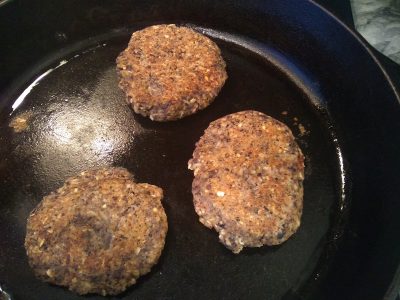 These patties are also very easy to make even without instructions – all you have to do is make sure you don't add too much water to the mix. The consistency thickens considerably after fifteen minutes, so it will look too watery at first. But once you get used to the ratio of mix to water, you can make these in a pinch by playing around with ratios until you get the right texture.
Black Beans & Rice
Augason Farms' black beans and rice was easy to make as well – just add the mix to boiling water, and let it thicken for about fifteen minutes. The flavor was rich with spices, but seemed quite a bit saltier than the burger. The texture was also bit mushy.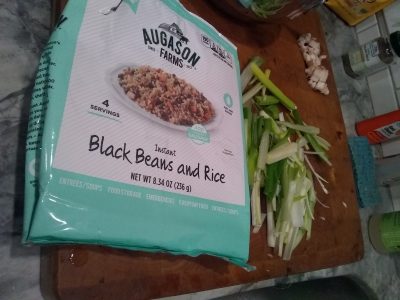 I was impressed with the texture of the bean burgers; the way they firmed up and got sort of crispy after grilling. But the black beans and rice was more of a bean mush with rice in it, and I found the saltiness to be a bit more extreme, so a straight side dish, I found them too salty to be palatable. However, they would make for an easy burrito filling, and might work well wrapped in some other kind of flatbread.
I could also see them making a good thickener stirred into lentil soups. And in a survival situation where you can't afford to be picky, the black beans and rice would make a strong survival food as part of a nutritionally-diverse stored food pantry.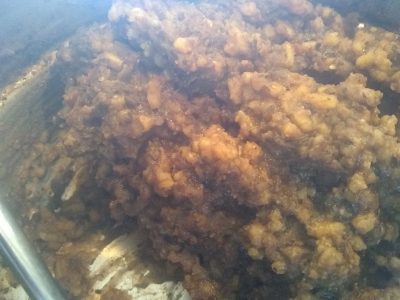 Like the black bean burgers, the black beans and rice are nutritionally dense and rich in Vitamin C, iron, carbs, and protein, and are low in fat. I just wish they were less salty and had a better texture, with more distinct beans and unbroken rice grains. I wonder if the bag got beaten up en-route, crushing the beans and causing the final product to come out mushier.
Shelf Life & Final Thoughts
On shelf life, the black beans and rice is good up to fifteen years unopened. Pretty good, but their black bean burgers are good up to 25 years. This is definitely something to keep in mind when you're shopping their products.
For me, the saltiness of the black beans and rice mean that I'd only use them in a way that diluted them – working them into burritos, soups, eggs, spreading them on unsalted crackers or bread, or using them in other dishes where they'd be mixed with other things.
The black bean burger I would take on camping trips, but the black beans and rice I probably would not, since there are other options I'd prefer even within Augason Farms' product line that I find far preferable.
The serving size on both products was decent, but since neither is meant as a completely standalone meal, the caloric value reflects that. My 8.34-ounce bag of black beans and rice makes four 190-calorie servings, and the two-pound, fourteen-ounce tub of black bean burger mix makes thirty-eight 120-calorie servings. Since it's a big tub you could make bigger burgers, the tub just wouldn't last as long as the 38 servings advertised.
Despite my preference for the black bean burger, in a true survival setting, both the burgers and the black beans and rice make for a filling, rich, nutritionally-dense food item. And for that, both of these long-term food storage products would make a solid addition to any prepper's pantry.
Where to Buy: You can order directly from Auguson Farms here .
Author Bio: Eric is a nature-loving writer, experience junkie, and former Boy Scout who never forgot that time-honored Scout Motto: Be prepared. Aside from camping and survival, he loves writing about travel, history, and anything he finds strange and unique!
If you enjoyed this article, consider following our Facebook page.