This site contains affiliate links. As an Amazon Associate, I earn a commission from qualifying purchases at no extra cost to you. Full Disclosure Here.
The Boker Kalashnikov automatic knife is an amazing tool at a very fair price. I can be a bit of a knife snob at times, but Boker has always been good quality to me. I had Boker knives when I was a kid. For those that had them years ago, keep in mind that they are not all 100% made in Germany now.  The knife I am reviewing today is made in Taiwan.
This version of the Boker Kalashnikov features a plain style blade.
I want to point out that you can get this knife in a variety of blade styles. Some of, you may want a few versions of this knife for different purposes. I got my knife at Grindworx. They carry the whole range of Kalashnikov automatic knives in all blade styles. They shipped fast.
Blade Length 3.25″
Handle Length: 4.375″
Overall Length: 7.625″
Weight: 3.7 oz
Retail Price: $39.99. For a knife under $50, this is an amazing knife for everyday carry and self-defense.
Here is my Boker Kalashnikov review.
Automatic But Safe
You have to push quite hard to make the blade come out. I cannot imagine anything making this happen involuntarily.  I do like the push button style and will keep that in mind when purchasing other knives. 
Carrying in a sheath or cleaning daily is advised
I experienced pocket lint issues carrying this knife. The lint got caught in the mechanism that sends the blade out. I could not do anything until it was cleaned. The lesson is that debris can be a problem so pay attention and keep your knife cleaned out. Those that do a lot of outside work may experience dirt and debris more often.
Very sharp right out of the box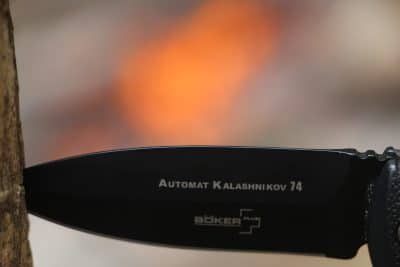 One thing that gets both Matthew and me is when we buy a tool that is made for cutting, and it is dull as dirt! A dull tool can be more dangerous than a sharp one and cause you to work too hard. Brush axes are one item that is always dull at purchase, but they are supposed to be an ax? It's enough to make one go mad sometimes.
The Boker Kalashnikov is super sharp right out of the box so you can experience the knife at its best. Just remember to touch up the blade once in a while and you will be good to go.
The Grip
I like how comfortable this feels in my hand. I have big hands, and this feels comfortable and not so small that I feel like I have to be careful with it.
Aluminum grips and body helps keep the weight down. One thing to keep in mind when carrying this knife is that it is easy to forget you are carrying anything since it weighs less than a ¼ lb. I dropped it once due to the pocket situation I mentioned and the work I was doing. I had to go back and find it because I did not notice the weight difference in my pocket. It just doesn't register.
The Pocket Clip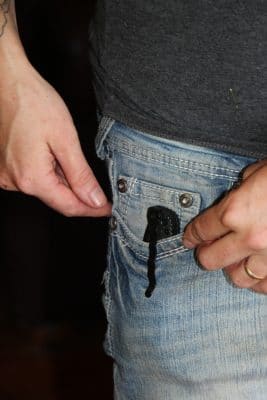 This knife has a very sturdy metal pocket clip that fastens tight. Unfortunately, the brilliant manufacturers of women's jeans have all conspired to force us to wear pants with nonfunctional pockets. The clip is as good as it gets but just make sure that you have pockets big enough to clip it in. Men's pants allow for it to clip in no problem.
There is always the option of a sheath on your belt, but that would limit the speed at which you could wield the knife in a defensive situation. You may want to change how you wear your knife depending on the circumstances.
For those that like a lot of of attachment options, the lanyard hole is big enough to use with paracord.
No rust
The Boker features an AUS stainless steel blade so rust is never an issue. The blade is powder coated which protects the metal overall from wear and tear.
Legality of Knives
I always feel the need to remind readers that not all knives are legal everywhere. Please check your laws before ordering and know what all the rules are for carrying. Laws can get a bit funny, so it is important to understand them.
This knife is an automatic or "assisted opening knife" with a blade length of 3.25″. Some areas may allow assisted knives to those that have a disability but may be more restrictive of others carrying. A concealed weapons charge is no fun.
Strong Springs
The knife makes a very satisfying clicking sound that makes me think of greaser films from the 50s. I just can't help it. You can kind of hear it in the video below.
Lock In Place
It is nice that the blade firmly locks into place when the button is pushed. thanks to the advanced liner lock. You have to push the button and close the knife, so no accidental foldings leading to cuts. I had that happen once when I was a kid even though I was generally careful.
This style of lock is known as a plunge lock. There is a notch on the blade of the knife. When the spring loaded button is pressed, it goes into the notch, thus locking the blade until you push the button in again.
The knife is easy enough to close after you push the button in. Be firm when pushing the knife in so that it is set up to deploy when you push the button again. If you don't have it pushed in right, then the springs are not set and the knife will not open right.
There is no thumb stud on this knife for those that like that option.
The Kalashnikov Name
Recently the Kalashnikov name has become a marketable one and expanded to include knives and clothing with the emblem. This knife comes in a box that is made to look like a clip from the Kalashnikov rifle. The AK-47 is one of the most well know assault rifle styles in the world. I grew up in a house with AK's and have a few myself, so I can appreciate the styling. Commemorative or collaboration knives are nothing new. And quite common. Just look at Case and how many different logo knives they have done over the years. Each one of these knives has a serial number on the blade and they say they are part of a limited production run. I see no limits really happening so this is probably a marketing ploy at best.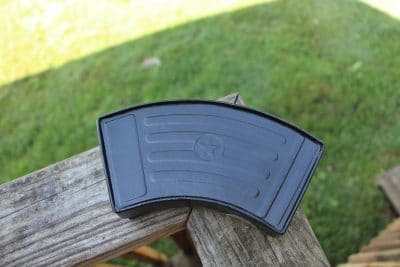 This knife has the potential for EDC and Bug Out Bags
This knife would excel in a bug out situation, but I would advise keeping your knife maintained because if the lock mechanism or anything goes, it may not be as useful to you.
Good starter knife for someone that wants something that can take care of multiple concerns like doing everyday chores and be used for defense. Seconds can count. During an SHTF scenario, you are going to want some backup self-defense item on your person beyond just a firearm. Always have a backup weapon if you are going to be in a defensive situation or bugging out during SHTF.  You can get sheaths, and this knife is small enough you could conceal it in various areas of your body such as a boot.
Smaller Version
There is a smaller version of this same knife available for those with smaller hands or that want something that is extremely concealable. I advise getting out a ruler and comparing the two sizes to your hand, so you get one that you are comfortable with.
I could see possibly having both sizes because you could stash a smaller one in your car or something. Carjackings and general idiocy are on the rise. Being a hard target is important, and part of that means having the means to back it up a little bit. Most creeps want an easy victim.
The numbers for the Kalashnikov Mini are below. The blade length is nice for those that live in areas with blade length restrictions.
Blade Length 2.5″
Handle Length: 3.25″
Overall Length: 5.75″
Weight: 1.95 oz
Testing Basic Tasks
Had a few wires that need stripping. Yes, I know this is not the ideal way to do it but I want to test out this knife. It cut through some very thick coating on this heavy gauge wire.
Other Knives In The Kalashnikov Series
Boker makes various blades styles in the kalashnikov series. You can get a tanto blade, drop point blade, or spear point blade currently. Availability can vary as some blade styles seem to be more popular than others.
Creating tinder for a fire
A knife can sure be a big help when you are trying to get some tinder for a fire. This knife has a sharp edge that helps you get what you need fast. No need to struggle with getting a fire going if you have a little bit of dry windfall wood and a great knife.
Whittling
Hardwoods are still no match for this knife. Like I said it is sharp right out of the box. No spending a bunch of time to get a good edge before your knife truly shines.
Cutting up meat
This knife could take care of a lot of food prep if needed. The sharpness and the locked in place blade help with safety. Butchering and meat preparation can become a big part of your life fast if times get hard. Having knives that can do a lot of tasks is beneficial.
Remember that no knife is perfect for all situations
This style is versatile but it may not be what you want for every situation. A lot of people would still want a good Bowie knife in a survival situation. I like this Boker but it is not going to be for everyone. The button is quite hard to push so some may want an automatic that is easier to get open.
Boker makes a variety of knives. The Boker Plus series is a good option for those that want to spend a little more and get the best quality Boker can deliver.
Samantha Biggers can be reached at [email protected]
For much more information and knife reviews: Get Backdoor Survival LIFELINE!