This site contains affiliate links. As an Amazon Associate, I earn a commission from qualifying purchases at no extra cost to you. Full Disclosure Here.
It is an old classic and we all know the words: "Summertime and the livin' is easy. Fish are jumpin', and the cotton is high."
Without a doubt, summer is the time that most of us break out of our cocoons and embark upon all manner of projects, both large and small.  I know that I do and, no surprise, most of my projects are preparedness related.  That being said, I have a lifetime of projects on my to do list and the poor Survival Husband; his list is long enough for two lifetimes.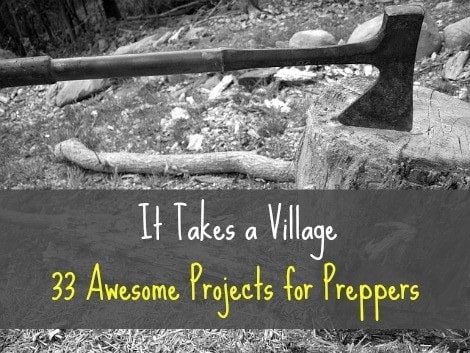 Anyway, to use the cliché "it takes a village", I asked one of my blogging colleagues, Todd Walker, the editor of Survival Sherpa, whether I could share his list of DIY projects with Backdoor Survival readers.  Todd, being the kind of guy he is, responded with "never a problem sharing any of my stuff."
Now let me tell you about Todd.  He is a master MacGyver type that can figure out how to do anything!  I know that because I visit his site frequently and he has the best DIY projects around.  Today, with that introduction, I share with you the Survival Sherpa list of 33 Awesome DIY Projects for Preppers.
33 Awesome DIY Projects for Preppers

DIY skills may one day turn a tinkering hobby into life-saving knowledge. Turning book knowledge into useful stuff takes initiative.

You have to start somewhere.

Below you'll find a slew (33 counts as a slew, right?) of ideas to help you on your journey to self-reliance and preparedness. Most will take only a few minutes and minimal skills. Others require hours and sweat equity. Doers of the Stuff don't mind. It's just what we do.

Let's get started Doing the Stuff:
About Todd and Survival Sherpa
Todd's vision is simple:
Helping each other on the climb to self-reliance and preparedness…the Survival Sherpa way…One step at a time.
He is the husband to the lovely Dirt Road Girl, proud father and grandfather, a government school teacher, a lover of the primal lifestyle, and blogger who is passionate about living a self-reliant lifestyle full of liberty.
He is also founder of the Doing the Stuff Network where you will find even more projects to keep your weekends busy and your prepping bucket full!
The Final Word
Did I tell you this was awesome or what?  If you happen to try one of these projects, I hope you will come back and share the results.  I would love to learn what worked and what didn't and heck, if you like, I will even share your experience in an article and share the byline!
You know where to find me.
Enjoy your next adventure through common sense and thoughtful preparation!
Gaye
If you enjoyed this article, please consider for voting for me daily at Top Prepper Websites!  You can also SUBSCRIBE to email updates  and receive a free, downloadable copy of my e-book The Emergency Food Buyer's Guide.
Bargain Bin:  I have been working on an all-new article listing must-have items for the Prepper that is planning to hunker-down in place.  There are a lot of reasons for doing this with the foremost being that with some experience under my belt, what I think is useful now differs somewhat from what I thought four years ago.  I am also sensitive to cost concerns because to be honest, I have found bargain solutions to be just fine in certain situations.
Here are a few select items from my article which is, for now, still a work in progress.
LifeStraw Family Water Purifier:  Taking care of water needs is high at the top of my list. The Lifestraw Family contains no chemicals, no batteries and no moving parts to wear out. It features a a high flow rate and is the perfect solution to your portable water purification needs – whether bugging in or bugging out. As of this writing, shipping is free.  Here is my review:  Clean, Drinkable Water – LifeStraw Family Review.
Potable Aqua Water Treatment Tablets: Potable Aqua Water Purification Tablets make questionable water bacteriologically suitable to drink. Easy to use and the water is ready to drink in 30 minutes. One 50 tablet bottle treats 25 quarts of water.
EcoZoom or Solo Stove:  Having someway to cook outdoors is another priority.  A rocket stove that burns biomass or wood is a must since propane or other fuels may not be available.  Both of these stoves are easy to use and burn hot and fast. See Building a DIY Rocket Stove.
2000 Hour Flashlights:  You will need to build these yourself using the instructions in Ron Brown's The Amazing 2000-Hour Flashlight.  This short little e-book will give you detailed instructions for adding a 30-cent resistor to a flashlight so that you can create a light that produces useful illumination for 2000 hours on the same battery.
Eveready 3-LED 6Volt Floating Lantern (battery included):  This is the flashlight and battery you need to build a 2000-hour flashlight.  Prices fluctuate plus, you may find a cheaper price at a big box hardware store.  That said, I live in the middle of nowhere so I pay a bit extra for the convenience of having things shipped to my home.
Kindle or other eBook reader:  Are you surprised?  If the grid is down, you are still going to want to have access to your eBooks and reference manuals plus some way to keep your mind occupied.  I happen to have both a reader and an iPad and both can be charged using an inexpensive solar charger (see below).
Solar Charger for Standard Batteries:  This Goal Zero Guide 10 Plus Power Pack , coupled with the Goal Zero Nomad 7 Solar Panel is what I use to charge up AA and AAA batteries as well as my electronic devices. I purchased mine as a kit from Emergency Essentials.
FordEx Group 300lm Mini Cree Led Flashlight:  This is a great flashlight for cheap! It is super mini sized, bright and waterproof.  Plus, it uses a single, standard AA sized battery.  And that – the single AA battery – is what makes this a winner.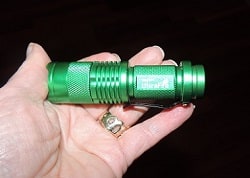 One of my 4 Mini Cree flashlights – this one is green!
Tac Force TF-705BK Assisted Opening Folding Knife: ALSO A FAVORITE! What I really like about this knife is that is is very easy to open and close.  That said, it is very sharp.  If you shop for this knife, be aware that some colors are less expensive than others.  I purchased the black one but I thought long and hard about the pink.
Are You Interested in Essential Oils?
Help support Backdoor Survival. Purchases earn a small commission and for that I thank you!