This site contains affiliate links. As an Amazon Associate, I earn a commission from qualifying purchases at no extra cost to you. Full Disclosure Here.
For many preppers, after setting aside water, the journey begins with food.  When you think about it, that makes sense.  Without food for sustenance and energy, everything else is moot.  You need food to stay strong, healthy, and mentally balanced which in turn gives you the wherewithal to protect and defend yourself from the nuances of mother nature, and sadly, your fellow man.
A lot can be said for having a robust closet full of long-term food storage products. But what about your day to day pantry?  Have you considered how important a well-stocked pantry is to your preparedness efforts?  By stocking your everyday pantry with simple, budget-friendly ingredients, you can prepare delicious meals at a moment's notice, and save money for the more esoteric preps such as water filters, emergency radios, medical supplies and the other items you will need if things get dire.
With that in mind, here are some tips for creating a money-saving pantry that will get you through the toughest of times.
Preparedness Begins With A Well-Stocked Pantry
01. Set aside a pantry area
As basic as this sounds, scattering your canned foods, dried goods such as beans and rice, unopened condiments, and other staples willy nilly all over the place will leave you frustrated and disorganized.  As unbelievable as it sounds, in my own home I have set up a day-to-day pantry in the linen closet and store my linens elsewhere.  As an added advantage, there is also room in the linen-closet (now pantry) for oversized cookware and appliances.
02. Label all canned foods, packaged foods, and bulk food with the date of purchase
For the most part, the use-by dates you find on food products are a myth and can be ignored.  Still, rotating so you use the oldest items first is common sense.  The easiest way to do that is to get out a Sharpie and date your item using bold, black numbers that you can see without glasses.  Honestly, that is what Sharpies were made for!

Additional Reading: What You Need to Know About Eating Expired Food
03. Examine cans thoroughly before use
Toss out any canned goods that have bulging lids or sides or appear to suffer leakage.  This may denote the build up of gases inside that are toxic.  It is simply not worth the chance.  Please, no taste testing!
04. Buy pantry items when they are on sale
Once you embrace the truth abut bogus use-by dates, you can take advantage of sales and stock up.
05. Remember to buy what you eat and eat what you buy
If you want to try something new, purchase a small quantity at first.  If you family enjoys it, watch for the next sale and stock up.
06. Become proficient at making soups, stews, and chili's
Soups, stews, and chili's are budget friendly and can adapt to whatever you have on hand, including leftovers.  Typically meat products are the most expensive part of your food budget but with soups, stews, and chills, a little meat goes a long way.

Note:  See below for my own chili recipe.
07. Purchase fruits and vegetables in season
Not only will you save money, but they will be fresher and more tasty than their brethren that have traveled half-way around the world to get to you.  It has been my experience that most supermarkets will purchase locally (or at least within the surrounding state area) when they can.  Look for signs such as "locally grown corn" or apples, tomatoes, squash, and other produce items.
08. Be very careful at farmer's markets
What I am going to say next may be a travesty to some of you, but farmer's markets are not always the best deal out there.  If you live in a tourist area, the prices may be double or even triple the grocery store price for organic produce.  Even more alarming is sometimes the produce is trucked in from hundreds of miles away and is not truly local in the sense we expect.

Ask a lot of questions to ensure that you really are supporting local farmer's.  This will ensure that you are getting what you think you are getting.  And lest you think I am down on farmer's markets, nothing could be further than the truth.  I am 100%  in favor supporting our local farm community and am willing to pay more when doing so.
09. Don't shun canned fruits and veggies simply because they are "canned"
Canned fruits and veggies are picked at the peak of the season and are nutritionally sound.  Be mindful of sodium and sugar content however and select no-salt or low-sugar options if you can.
10. Grow stuff
Although in some cases easier said than done, almost everyone can grow a few herbs and a pot of peppers of tomatoes.  Technically not growing, you can also sprout microgreens.  As much for the soul as for the food value itself, every little bit you can do to supplement the grocery store budget will help you save for non-grocery items.
11. Stock up on stock
If you don't make your own, purchase quality organic chicken, beef, or vegetable stock when they are on sale.  Chicken stock, especially, will add flavor to otherwise bland foods, and, in my experience, this is one area where the organic product is well worth the price.
12. Commit to using leftovers
There is almost no leftover that cannot be saved and added to soup.  I save all of our leftovers in the freezer then once a month or so, I gather them up and prepare what I call "Garbage Soup". using organic chicken broth as a base.  Over the years there have been some remarkable combinations, including spaghetti and meatballs floating around in a large pot of chicken soup.  Add some rice, beans, or canned tomatoes to your garbage soup and you have a very filling meal.
13. Acquire old-time cookbooks that emphasize scratch cooking.
Many modern cookbooks include packaged and processed foods in the ingredients list.  What's with that?  Instead, pick up some old cookbooks from the 40s and early 50s, and learn to cook from scratch.  Your food will be more nutritious, will taste better, and will cost a whole lot less than the pre-packaged equivalent.

Additional Reading:  8 Reasons Old Cookbooks Are Important
14. There is no such thing as perfection when it comes to eating and cooking
Likewise, your pantry does not have to be perfect to be robust.  It is all a matter of scale.  Do what you can to fill your pantry with basics that you enjoy and that you can afford.  As with your long term food storage, take the time to build your pantry slowly and methodically.  A year from now, you may be pleasantly surprised!
Here is How to Make a Simple Chili
As long as we are on the topic of pantries, here is one of my all-time favorite pantry recipes.  It is tried and true a hundred times over as well as being highly variable.  Sometimes I skip the meat and add extra beans instead.  I also mix and match types of beans and double or even triple the recipe.  Let your pantry, and your imagination, guide you.
Backdoor Survival Chili

3/4  pound ground round or other chopped meat (leftovers okay)
2 cups water
1 1/2 cups canned corn
1 cup bottled salsa
2 Tbl chili powder
2 ½ tsp. ground cumin
1 ½ tsp. dried oregano
2 cups cooked  beans or 16 ounces canned beans (any type)
1 can diced canned tomatoes, undrained

Cook the ground round or other chopped meat in a large Dutch oven coated with cooking oil over medium-high heat for 4 minutes or until the beef is browned, stirring occasionally.

Stir in the water and remaining ingredients and bring to a boil.

Reduce heat, and simmer for 25 minutes, stirring occasionally.
The Final Word
With each passing day, I find it is impossible to separate prepping from day to day life.  They have become one and the same.
For someone struggling with a reluctant or non-believing partner or spouse, building a robust pantry can become an important first step in nudging them over to the other side.  Once they see the advantage of eating out of a pantry without the need to run to the grocery every day or two, the next logical step is to expand their mindset to embrace another aspect of prepping.  It also does not hurt that you will be saving money.
Regardless of where you are in your path to preparedness, take a long hard look at your day-to-day pantry.  If there is room for improvement, consider embracing some of these tips as part of your overall preparedness strategy.
Enjoy your next adventure through common sense and thoughtful preparation!
Gaye
If you enjoyed this article, consider following our Facebook page.
Below you will find the items related to today's article as well as other personal favorites.
Lodge Cast Iron Dutch Oven:  I do own a number of large stock pots but for the most part, when making chili or stew I reach for my cast iron Dutch Oven.  Cast iron holds the heat and can be used indoors or outside over a campfire.  When the price is right (and they do fluctuate), I want to get one of these enameled cast iron pots.
The Ringer Cast Iron Cleaner – Stainless Steel Chainmail:  I purchased one of these in October 2015 and it is friggin' fantastic.  You will never ever have to scrub cast iron again.  I can't say enough good things about this gizmo.  You want one.  Read my review here: How to Clean Cast Iron the Easy Way.
A Prepper's Cookbook: Twenty Years of Cooking in the Woods:  This book was extremely popular when it appeared in a Prepper Book Festival. As the back cover says ""Deborah D. Moore will take you on a fun, step by step journey to recreate the same meals she makes every day using only what she has stored in her pantry."  Your will love this book!  Be sure to also read the interview with the author here:  Prepper Book Festival #12: A Prepper's Cookbook.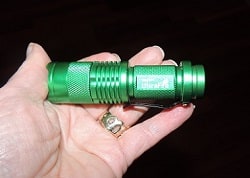 Mini CREE Q5 LED Zoomable 1200 Lumens Flashlight:  As of this writing, this little gem is with free shipping for everyone.  Time to stock up!
Survivor Outdoor Fixed Blade Knife with Fire Starter:  This knife measures 7 inch long overall, has a full-tang stainless steel blade, is equipped with thick green cord-wrap handle, and has a nylon sheath plus a magnesium-alloy fire starter.  How well does it work?  This is not a Kershaw, Gerber or other high quality blade.  On the other hand, the fire starter works great (better than great) and is worth the price entire set.
Mighty Charger for Both Alkaline and Rechargeable Batteries:  I don't know why I have not reviewed this nifty battery charger yet but I do need to do that.  The Mighty Charger is a compact charger that works with both Alkaline and Ni-MH AA, AAA batteries and 9V batteries. I like it's small form factor and the fact that it will automatically detect the type of battery and charge it up.