This site contains affiliate links. As an Amazon Associate, I earn a commission from qualifying purchases at no extra cost to you. Full Disclosure Here.
Editor's Note: This is an updated and revised edition for 2021.
Hurricanes, tornadoes and floods are rampant around the world right now. While experts work to decipher the reasoning behind the new line of super storms, it is paramount that you are able to protect your family regardless of what Mother Nature throws your way.
Safe rooms are fortified rooms installed in or near a residence or business. It is designed to keep you and anyone in the safe room with you protected from elements that might otherwise lead to injury or death.
One of the most common storm conditions to injury and kill people is wind. Found in extreme storms like hurricanes and tornadoes, wind gusts have the ability to rip a home off of its foundation. Tree branches, street signs, cars and home debris are common culprits of storm death.
Protecting yourself and your family are critical. Installing a safe room specifically designed for inclement weather and potential intruder invasion can mean the difference in survival. While you can build a safe room on your own, it is often more cost-effective to install an industrial grade prefabricated unit in a designated spot within your home or just outside underground.
Safe Room Essentials
Consider the costs of building or installing a safe room. This doesn't include the cost of delivery and installation, which might include digging a spot and creating a foundation of cement for structural integrity.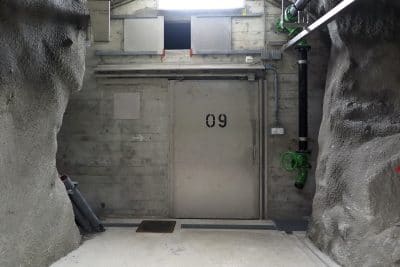 It also doesn't include the costs of stocking supplies needed in the safe room. Supplies include emergency food and water rations for the number of people and amount of time potentially spent in the safe room. First aid supplies, blankets and clothing are other essentials. You will also want to have a NOAA radio, extra batters, and flashlights on hand to stay tuned to the changes in weather and get the "all clear" signal to emerge from the safe room and building.
Security
A safe room is going to need some locks. The security a safe room can protect your family and some supplies during an emergency. If you build your own you need to be careful what type of lock you choose. The strength of the doors is another major factor not just for storm resistance but in keeping out intruders.
Safe rooms for inclement weather are multi-purpose. Some of the really strong varieties could be used as a hiding spot during SHTF or a long emergency, especially if camoflauged well.
Choosing the Right Safe Room
When choosing a safe room, there are several things to consider beyond just money. First is safety. Choose a product that meets or exceeds FEMA standards in construction and material grade. These have been tested to withstand high-winds and impact.
Look at the type of weather you are primarily protecting against. There is little time to prepare for a tornado but more extended time to prepare for a hurricane. Consider the more warning time means the more people you might be housing for protection, whether extended family or neighbors who are not as prepared as you are. This affects the size of the unit you shop for.
Consider where the safe room will be located within your property. A safe room in a basement will be different than a safe room underground steps from your backdoor. Some safe rooms are designed exclusively for above ground use while others are designed for underground use only. Don't buy the wrong one; you won't be able to rely on its effectiveness.
This above ground safety shelter is made of steel with an easy to assemble and re-assemble design to move and relocate if desired. Emergency exit panels allow quick exit in emergency situations along with a side sliding pocket door that opens regardless of blockage.
This unit meets the National Wind Institute, National Storm Shelter Association and FEMA storm standards. Protects against impacts from F5 tornado winds up to 250 miles per hour with 15 pound 2×4's hitting at 100 miles per hour. Serves as a storm shelter and emergency home invasion shelter.
Dimensions:
84 inches wide

114 inches long

80 inches tall

3,000 pounds
Editor's Rating: 10/10
Pros:
Fits up to 25 people depending on variant

Versatile above ground installation

Shielded air vents
Cons:
Not waterproof

Improper user assembly can lead to vulnerable segments
This in-ground shelter is perfect for a small family backyard shelter. Designed for easy installation without needing grounding anchors. Made with polyethylene material giving it an expected lifespan of 1000+ years. Exceed FEMA storm impact standards with an aluminum door with three steel locking points. Holds up to five adults.
Wall construction is ½" thick double wall construction of polyethylene. Maintains a 6 foot height within the unit making a bit cramped for taller individuals.
Dimensions:
Editor's Rating: 9/10
Pros:
Battery operated lighting system

Limited lifetime warranty

Rust and rot proof design
Cons:
Additional installation contractor required to place in-ground

Outward opening door may be covered limited exit ability
This above-ground storm shelter is suitable for garage or basement installation. The shelter kit meets FEMA National Wind Institute standards and is suitable for up to six standing adults people.
It must be anchored to a concrete slab limiting some location choices but doesn't need a crane or other heavy equipment reducing installation costs. Air vents provide consistent airflow.
The steel construction frame has a welded vault door that resistant to impact to ensure easier exit. This unit is designed for short-term safety needs since it is smaller and doesn't have a lot of space or design for occupant sitting.   
Dimensions:
48 inches wide

60 inches long

84 inches tall

2,200 pounds
Editor's Rating: 9/10
Pros:
Tru-Vault Door locks six bolts in one fast easy motion

Powerful 500-watts unit

Clear lid for monitoring
Cons:
Air vents at bottom can become blocked

Must be anchored to concrete
This above ground tornado shelter boasts 64 square feet of internal space housing up to 16 adults during severe storm conditions. It meets FEME National Wind Institute standards for EF-5 tornado winds and impact.
The 10-guage steel construction is prefabricated for precision, thus tight secure fitting at installation. The door has triple locking latching for additional safety.
Led lights are battery operated with down flow air vents. Large interior provides adequate space to store emergency supplies and create a more comfortable safety shelter.
Dimensions:
96 inches wide

96 inches long

84 inches tall

2,264 pounds
Editor's Rating: 9/10
Pros:
Extended height for comfort

Easy assembly doesn't require contractors

Internal and external locking mechanism to safely store items inside when not used as shelter
Cons:
Door swings out which can get blocked

Large unit requires large space
Harbor Enterprises In-Garage Tornado Storm Shelter
Harbor Enterprises In-Garage Tornado Storm Shelter: Designed to work within your existing garage for added protection and quick access. Anchors flush to the garage floor with 10 gauge steel construction. Sliding top door and airflow vents provide easy access along with removable stair treads for added space inside.
This is a versatile shelter designed for easy access for a small family. It's efficient space design doesn't take excessive space in the garage and is easy to install. It includes a locking bench, battery operated LED light and fan and even includes a television mount. Unit is coated with coal tar epoxy to reduce corrosion.
Dimensions:
48 inches wide

96 inches long

84 inches tall
Editor's Rating: 8/10
Pros:
Removable features for space and comfort

Easy assembly doesn't require contractors

Durable construction with flexible use
Cons:
Cumbersome top entry can be blocked

Requires adequate garage space
FAQs
What is the FEMA wind test?
FEMA uses the Texas Tech University's National Wind Institute and its Debris Impact Facility to determine the effects of objects impacts structures at hurricane and tornado force winds. When it comes to storm shelters, impact is determined by 2×4" studs at 100 miles per hour which replicates the impact during EF-5 tornadoes with winds up to 250 miles per hour.
Are there items that I should put in the storage shelter?
FEMA and the American Red Cross recommend keeping emergency supplies in the storm shelter. This includes enough water, food, first aid, clothing, blankets and medication for anyone expected to be in your shelter. Shelters don't have a commode; plan for a portable commode with disposal system of bags.
Most survival experts recommend having at least one gallon of water per day per person. Allot approximately half a gallon for drinking and the rest for cooking and hygiene. Plan on canned or freeze dried foods that store for years.
Inventory items annually, looking for expired or damaged items. Make sure any clothing or special needs are addressed such as diapers, season clothes and emergency blankets. Plan for pets to have enough food and water as well.
How long should we plan on being in the shelter?
While most storm warnings are for a short period of time, should your shelter be in the direct path of a tornado, your exit might be blocked by debris outside of the shelter. It is wise to plan for at least 2 weeks of food and water.
As part of your emergency supplies, keep a whistle, radio and walkie-talkies in the shelter with extra batteries. This will help you alert rescue works to your location should your family be trapped in the shelter.
If you enjoyed this article, consider following our Facebook page.
Do you want more information about how to protect your family if the SHTF?  Get Backdoor Survival LIFELINE