This site contains affiliate links. As an Amazon Associate, I earn a commission from qualifying purchases at no extra cost to you. Full Disclosure Here.
In this review, we discuss Patriot Pantry as a provider of emergency staples. Specifically, we discuss the quality of their food, the ease of preparing, and its nutritional value.
Special thanks to them for supplying a 72-hour kit which included:
Maple Grove Oatmeal
Granny's Home Style Potato Soup
Blue Ribbon Creamy Chicken Rice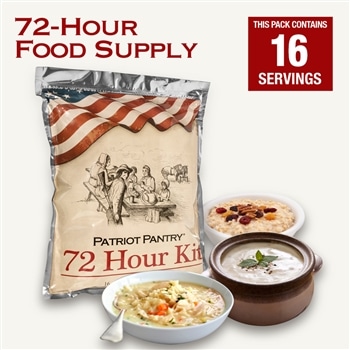 If you visit their site, they are under My Patriot Supply. They began in 2008 with the goal of being a provider for Patriots who want to be independent by being prepared and self-reliant. Their message is right on, and they bring an important point up about not relying on mainstream food suppliers and grocery stores.
That point is backed up by the fact that in a food crisis, grocery stores will only have what their suppliers send. Food at the grocery store is not a guarantee. Nor is quality food a guarantee unless you take a stand and focus on being independent of modern food sources.
First Impressions of Patriot Pantry Food
The food was good. It had plenty of flavor without being overly salty. It had a richness to it that was not greasy or fatty. Those are two things that I look for in quality food, and I felt that overall, this was quality food.
It smelled good cooking and tasted good when done. It did not leave you hungry an hour later, and it was not so full of instant carbs that you needed a nap.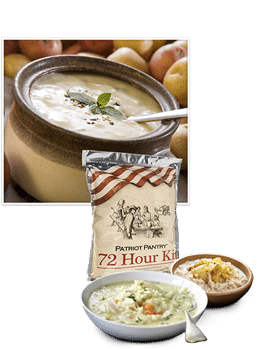 First, hats off for this being an American Made Brand. The 72-hour kit had more than enough food for one person for 72 hours. It holds 16 servings which work out to three square meals per day.
Maple Grove Oatmeal – 8 servings
Granny's Home Style Potato Soup – 4 servings
Blue Ribbon Creamy Chicken Rice – 4 servings
The Pros
There are plenty of pros for this brand and these products. Of the three foods, I loved the oatmeal, which I will add to my food stores.
The oatmeal was easy to cook, had great flavor, and excellent texture. My second favorite was the Blue Ribbon Creamy Chicken Rice and a close third was Granny's Home Style Potato Soup. I thought that the Blue Ribbon Creamy Chicken Rice and Granny's Home Style Potato Soup were very close in flavor.
Both were good, but one had chicken, and the other did not. What I loved about the Blue Ribbon Creamy Chicken Rice was that is cooked up beautifully without being starchy or clumpy. It was restaurant quality chicken and rice in a rich, buttery cream sauce.
The Soup was good too, though I would have preferred a different flavor only because of its similarity to the Blue Ribbon Creamy Chicken Rice, that's just me being picky.
Great Packaging – Easy to read directions, clear nutritional information, Easy to identify contents.
25-Year Shelf Life – Fits easily into a long-range food storage strategy
Freshness – Each package has a 25-year shelf life and contains either an oxygen absorber is flushed with nitrogen
Made in the USA
$1.56 per serving. ($24.95/16)
The Cons
For a home environment, these do not really equate to negatives as you have the time and resources to prepare meals. In a situation where the power was out, or there are limited resources then cooking for 20-minutes might be an issue.
These meals, while quite good require that you stir them frequently otherwise, they stick and then burn. Knowing this going in makes this not such a big deal.
No single serving directions except for the oatmeal.
Cook time for was 20-minutes for both Granny's Potato Soup and the Creamy Chicken Rice.
Requires constant attention while cooking for both Granny's Potato Soup and the Creamy Chicken Rice.
Overall, the food was awesome, and I am planning on trying some of their other options and adding their Maple Grove Oatmeal to my routine. However, I would have loved something simpler to fix without the time investment or the fuel investment.
Again, that's home environment versus emergency preparedness or bug-out situations.
The Nutrition
Overall, the nutritional content of all three of these foods high. They each offered a nice mix of calories to carbs to protein.
The best of the three IMO was the Maple Grove Oatmeal for the simple fact that two servings (1 cup) had nearly enough calories, volume, and carbs for me to get a good start on the day. My food goals are three square meals with lunch being the largest and then a healthy snack between meals.
Maple Grove Oatmeal
Two servings of oatmeal hit the spot and because this is oatmeal the carb-energy mix was balanced. It does have 14 grams of sugar per serving so for two servings you are taking in 28 grams of sugar and 88 carbs.
If you need a perfect mix of fast and slow burning carbs, then this is a good choice. Add a few fresh strawberries, and you've hit your 667-calorie goal for breakfast (2000/3) – 2,000 calories per day divided by three meals.
For a cup of oatmeal, I could power my morning and not feel hungry.
Calories per Serving: 240
Total Carbs per Serving: 44 grams of which 14 grams are sugars.
Total Protein per Serving: 6 grams
Blue Ribbon Creamy Chicken Rice
Nutritionally speaking this was my least favorite of the three. It is high in calories for a 2/3 cup serving there are 490 calories. That's both good and bad in my book. It's good if you need the extra calories and not so great if you don't. My per meal goal to hit 2,000 calories per day is 667, and the 2/3 cup portion eats up nearly all of that.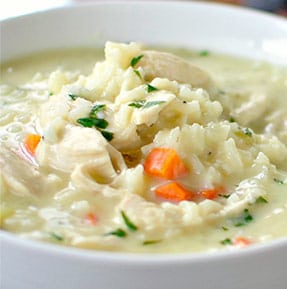 The good news is that it offers plenty of carbs which equate to easy energy without being full of sugar. There is only a single gram of sugar per serving. If you need a long-range energy source to fuel a big day, then this is a good choice.
If you are just sitting around watching the grass grow, this is not such a good choice, but then every food has its' strengths and weaknesses. It offers great flavor, high calories, lots of carbs, low sugar, 28 percent of your sodium intake, 8 grams of protein.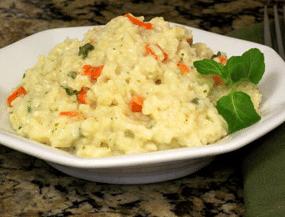 This is a good meal for lunch where you need a bit more calories before you hit the dinner hour.
Calories per Serving: 490
Total Carbs per Serving: 60 grams of which 1 grams are sugars.
Total Protein per Serving: 8 grams
Granny's Home Style Potato Soup
The soup is my second favorite of the three meals for nutritional value. Regarding taste, it was full of flavor and satisfying. It has a nice balance of calories to carbs to protein, but you need to supplement with other foods to make this a meal, especially for a product in a 72-hour emergency food kit.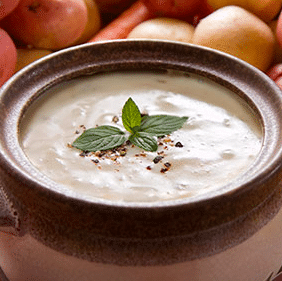 There are only four servings of the soup in this kit, so unlike the oatmeal, it is harder to double up on portions.
Overall, this is not bad and it kind of works well with the Patriot Pantry food mission, which is to be independent. To round out this meal, I added some vegetables from the garden and a grilled chicken breast. It was plenty of food to meet my calorie intake without a carb crash. So, it was a win.
Understanding that you will need additional calories with some of these meals is important. In a crisis, I could have added a serving of oatmeal from the pack as dessert/snack and been just fine. There are extra servings of oatmeal even if you double up on breakfast. To be clear, there are enough calories in this kit to feed you for 72 hours.
Calories per Serving: 270
Total Carbs per Serving: 42 grams of which 3 grams are sugars.
Total Protein per Serving: 5grams
Helpful Suggestions:
Here are a few things I would like to see to make this product (72-hour Kit) 100 percent perfect.
It would be nice if there were fruit in this pack either to use as a snack between meals or to help add calories to meals. Even dried vegetables would be good.
A few single serving meals too would be helpful. Even though the bags are resealable, it felt like the intention was that a pouch needed to be cooked all at once.
I would have loved to have sampled the coffee too, and in a 72-hour kit, a few single servings of coffee would have been beyond wonderful.
Overall Impression
There was very little here that I did not like. The 72-Hour Kit was awesome, satisfying, and had plenty of flavor. Yes, there were a few little oddities but nothing major. I would and do recommend Patriot Pantry as a brand.
They have been around now for almost a solid decade. I also very much like their stand on food security, that this is a product made in the US and whatnot. They have a good selection of foods and survival supplies, and their prices are fair.
Will you need to supplement meals? Yes, but that is standard across the board. If you shop wisely from Patriot Pantry, you should have little problem building balanced meals without the huge cost per meal that you find with other survival Outfitters.
Biggest Pluses from Their Site:
There were a few things I really loved here.
Bottom Line:
I was happy with the 72-Hour Kit. I'd like to see more options that do not require cooking for 20-minutes, but the quality of the food was great.
Would I shop here? Yes. In fact, I have a little list of things I want for my own emergency food supply from Patriot Pantry. I also love their stance on why we need emergency food.
Patriot Pantry – Visit them and see for yourself.
About the Author: David is an active prepper and freelance writer. He lives in rural Northern California in the shadow of an active volcano. He hunts and fishes as a means of providing. He brings a science background to his writing and discusses botany, biology, geology, and weather as they apply to living, growing your own food, and surviving.  He is a master gardener and understands food production, storage, and preserving. He lives five miles down a single-lane road and he deals with power outages, wildfires, earthquakes, flooding, and crazy pot growers, raiders, medical emergencies, law enforcement and the potential of that volcano. 
If you enjoyed this article, consider following our Facebook page.