This site contains affiliate links. As an Amazon Associate, I earn a commission from qualifying purchases at no extra cost to you. Full Disclosure Here.
One of the most common questions that I am asked  from non-prepper friends and acquaintances is what exactly is a rocket stove and how do I get one.  I try not to roll my eyes over this because although rocket stoves are common among campers, backpacking enthusiasts and former boy scouts, they are a relative unknown to city dwellers and individuals that do not spend a lot of time outdoors.
According to Wikipedia, a rocket stove is an efficient cooking stove using small diameter wood fuel which is burned in a simple high-temperature combustion chamber containing an insulated vertical chimney that ensures complete combustion prior to the flames reaching the cooking surface.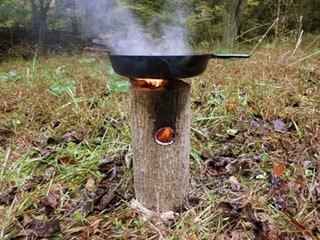 Seems simple enough, especially when you consider that rocket stoves are found more commonly in third world countries where wood fuel sources are scarce so an efficient system for converting twigs, branches, pinecones, leaves and other bits of biomass to fuel is essential to cooking.
There are a number of commercial versions available and indeed, I own both the Solo Stove and the EcoZoom Versa.  On the other hand, if you are a bit handy with some basic tools, you can build your own for as little as a dollar or too.  All it takes is a bit on interest and a bit of work.
Last month I connected with Ken Youngquist at SurvivalTek regarding a unique rocket stove that he built from a log her found on his property.  The advantage of this particular rocket stove was that it was elevated, making it easy on the back while feeding fire or cooking.  Not only that, it kept you off of the damp ground, which, depending on where you live, is a big plus.
I was fascinated by the one log rocket stove and shared it over on Facebook where it received a ton of comments.  Today, on Survival Friday, I share it with you.
The One Log Rocket Stove
Years ago I wrote about how to make "The Swedish Log Candle" and have since noticed many variations of the same theme appear throughout the internet. While log candles can be used for cooking, rocket stoves in general have been a popular topic as well. There are now a number of various rocket stoves that are made out of a single log, similar in effect to a log candle. After viewing several videos on one log rocket stoves I decided to try it out for myself.

Although I believe pine would be a preferred wood, I used a seasoned poplar log that I had available. I recommend using a corded high-torque drill for this process. I set the 14″ log upright and used a 1 1/2″ blade bit to drill a 6″ deep hole down the center from the top. Then I laid the log on it's side and drilled a second hole, intersecting the first hole at it's bottom end.
Just a note: at the point of intersection, a blade bit can give a hellacious "kick" so be careful as you approach that point. After blowing out the saw dust I set the log upright to begin preparing it for fire.
As long as I took the liberty of using an electric drill to make a natural material rocket stove, I also took the liberty of using a manufactured tinder by using bamboo skewers. Purists can figure a way to approach this project more naturally but I figured "who cares? This is fun!"

I collected a bundle that was about a third of the volume of the hole and poured gasoline on it and the hole walls before inserting them down the shaft. It's important to "wet" vs. "flood" so as not to have the fluid stream out the bottom hole. Use caution when lighting it with a match or lighter. In this case gasoline was handy but other accelerants would work as well.

Conventional rocket stoves have larger diameter holes and thus fuel can be fed from the bottom hole. When I tried this approach it seemed to choke out the airway and snuff out the existing flame, so I recommend feeding any kindling from the top during the initial process of establishing the stove's fire.

Once the flame was established I selected three 1″ high stones that I placed around the top surface of the log which became the tripod or trivet for my pot and pan. I initially brought a pot of water to boil for coffee, then continued with a pan with which to fry bacon and eggs.

Although this rocket stove takes some "manufacturing" to make, it is a great project for a number of reasons. These can be made ahead of time and stored for power outages, camping trips and garden gatherings. Outside of a little tinder and some accelerant, they are self contained and don't require the gathering and consumption of local natural materials. They can be controlled and extinguished by using a spray bottle of water and thus can be used multiple times. Because it is elevated, it can also be used in a wet environment.

Furthermore, they last for hours and are a joy to use.

---

About Ken Youngquist:  SurvivalTek is the creation of Ken Youngquist, a guy who from his youth was captivated by primitive living skills, and in his adulthood, was intrigued by the television Series MacGyver. The result has been the study and practice of survival skills, and the desire to pass on the mantle of preparedness to others.  SurvivalTek contains almost 6 years of weekly articles that support subjects of interest to those of us wanting to learn more about survival and preparedness techniques.
The Final Word
Having the ability to cook outdoors is so important that I tend to write about the various options frequently.  This is definitely an area where one size does not fit all.  Whether you prefer to build one yourself using Ken's method, build one using the method described in Building a DIY Rocket Stove or purchase one outright, there are a number of options available to insure that you will be able to cook when the grid is down.
And just when you think you are all set, don't forget to practice using your rocket stove!  As with all survival skills, practice makes perfect.  Learning how to build a fire in your rocket stove and how to cook with it is an all-important task that should be done 3 or 4 times a year, just for practice sake.
The bonus is that you might actually have a bit of fun in the process.  And who can argue with that?
Enjoy your next adventure through common sense and thoughtful preparation!
Gaye
If you have not done so already, please be sure to like Facebook which is updated every time there is an awesome new article, news byte, or link to a free survival, prepping or homesteading book on Amazon.  You can also follow Backdoor Survival on Pinterest.
In addition, when you sign up to receive email updates you will receive a free, downloadable copy of my e-book The Emergency Food Buyer's Guide.
Bargain Bin: Cooking outdoors?  Then for sure you need some fire-starting and cast iron goodies. These items are good not only for cooking outdoors, but as part of your survival kit in general.
BIC Disposable Classic Lighter With Child Guard:  This six pack of Bic lighters is reasonably priced but check around since these often go on sale locally.  BICs just work – every time.
Zippo Street Chrome Pocket Lighter:  Zippo has been creating virtually indestructible, windproof refillable lighters for more than 75 years. The Zippo Street Chrome pocket lighter is no exception. This lighter features a classic textured chrome finish and carries the same lifetime guarantee–to either work or be fixed by Zippo free of charge–for life. This lighter uses butane fuel. All wearable parts including flints and wicks are replaceable.  Every prepper should own at least one Zippo!
US Forge 400 Welding Gloves Lined Leather: These well-priced gloves provide complete heat and burn protection. They are made of soft and supple top grain leather for comfort and pliability, plus they have an internal liner gives more comfort and durability. These will keep you hands and arms safe while cooking outdoors over an open fire.
Ove Glove Hot Surface Handler, 2 ct   I cannot say enough about these hand and arm protectors.  I have permanent scars from hitting my arm on the rack of my oven.  I can only imagine what I would look like if I did not use these with my cast iron cookware.  Forget the colorful silicon hot pads.  These are 1000 times better!
Lodge Logic 12-Inch Pre-Seasoned Skillet: This purchase changed the way I cook. I use my cast iron cookware for everything from salmon, to bacon and eggs, to biscuits.
Swedish Firesteel: Using this basic pocket fire-starter, you can get a nice fire going under almost any conditions.
Light My Fire Tinder Sticks:  Some people prefer to purchase tinder and this is a good choice.  I like to use cotton balls soaked in petroleum jelly that I make up myself, a couple dozen at a time.  They store well in a small Ziploc baggie or re-purposed mint tin.
UCO Stormproof Matches, Waterproof and Windproof with 15 Second Burn Time – 25 Matches:  A ZIPPO or BIC lighter are always good to have but it would not hurt to have some stormproof matches as well.
Lightweight Anodized Aluminum Outdoor Mess Kit:  This is a well-priced mess kit that is lightweight and with decent reviews. 
Solo Stove:  I was so impressed that I renamed this the "Amazing Little Solo Stove".  The price is affordable but for a small amount more, you can get a version that also burns alcohol.
Lodge Cast-Iron Camp Dutch Oven:  I originally purchased this Dutch oven because it was so darn cute.  But over time, I have learned to love it for its versatility.  Remember, a camp stove is designed so that you can bake with it by arranging charcoal on top of the lid as well as underneath the Dutch Oven itself.bows – are on sale. These are great candles, even for non-emergency purposes.
---
Shop the Emergency Essentials Monthly Specials
The monthly specials at Emergency Essentials feature discounts of up to 35% off sometimes a bit more.
This month, the Tote-able Toilet with 2 Enzyme Packets
is on sale for $14.95.  I priced purchasing the bucket and toilet seat lid separately and found that it was more economical to pick up this kit.  I am planning to fill the bucket with other sanitation supplies plus, of course, plenty of TP.
I also recommend the Mobile Washer. This is hand operated washing machine. Like a plunger, it uses a technique of pushing and pulling the water through clothes to clean them well without wearing them out. It uses a minimum of water and less soap due to the agitation motion. Use in a bucket (5-gallon suggested), sink or tub.
These are just two of the items on sale this month at Emergency Essentials.  Click on the link below for more great deals from Emergency Essentials.
Shop the Emergency Essentials Monthly Specials
---
Like this and want more?
Follow Backdoor Survival on Facebook
Follow Backdoor Survival on Twitter
Follow Backdoor Survival on Pinterest
Follow Backdoor Survival on Google+
I earn a small commission from purchases made when you begin your Amazon shopping experience here.
The Amazon Top Ten Most Wanted Survival and Outdoor Items
Emergency Preparedness Items from Amazon.com
Help support Backdoor Survival. Purchases earn a small commission and for that I thank you!