This site contains affiliate links. As an Amazon Associate, I earn a commission from qualifying purchases at no extra cost to you. Full Disclosure Here.
I fell in love in an inflatable boat.
The Brandywine River raised me. Undoubtedly. This river that runs through Chester County, PA, and spills out into the Delaware River was home to some of the best fishing around. Home to schools of tenacious smallmouth that were perfect for learning how to spin fish and then fly fish.
Long before I ever considered fishing a top 3 survival skill, I was spending my summer weekends waist-deep in the waters of the Brandywine. For years it was my father at my side and then it was my pit bull Baxter.
One hot August afternoon my then-girlfriend, love of my life, Michelle and I inflated a boat and took along a fishing pole before heading downstream towards the Brandywine Creek State Park. Though I had spent a lifetime on this river yet I had never seen it this way. I had never been able to float over the deepest parts.
That inflatable boat ride took 3 hours longer than we expected and when we arrived back at my Kia Rio, we were starving. However, I was able to deflate that boat and just place it in the trunk of my car. Even back then, I understood just how important a boat like this could be.
I didn't catch a damn thing that day but a tree that wound up whipping us into the underbrush. Still, the little lady and I had a great time on the water.
Survival Fishing Out of an Inflatable Boat
My inflatable boat excursion happened about 15 years ago and, like everything else, the inflatable boat market has changed considerably. There are inflatable kayaks that are built to fish the ocean!
Carrying poles and casting lines is hardly your only option when fishing, in fact, if I were out to catch fish for my survival and in quantities to feed my family, I wouldn't even take a pole.
A simple tidal river and a gill net can provide you with more fish in 15 minutes than you could likely catch in 15 days. A gill net is a simple net that is floated using two buoys in a channel or fishing lane that is productive. If you hit the spot at the right time your net will fill in minutes.
The thing about the gill net is that you cannot set it from the bank. You have to set it from a boat. While you might not have the means to afford a boat or even transport it, a blow-up could be just the answer you were looking for.
Hunting, foraging, and trapping are all great ways to procure food but our history has been one of settling on rivers and coasts. One of the biggest reasons was so that we could fish. Our ancestors didn't carry bait casting reels, they fished with nets.
I will never stop fishing from the bank or wading with my fly rod but, as a survivalist, I would be a fool not to have a gill net and a means of setting it.
Using an Inflatable Boat to Bugout
Let's be honest, the bugout is a great idea if you have access to a piece of land and some shelter on that land. If not, it can be a very tough go to safely bug your family out.
Some years ago I was feverishly searching for a piece of land. This was for the camping, bugging out and whatever outdoor madness my family and I would have liked to get ourselves into.
I came across an island.
It was out of my price range but it opened my eyes to a bunch of opportunities that exist out there for preppers and survivalists as legitimate bugout locations. Of course, if you are going to bugout via island, you need a boat to get there.
This limits how many people can become a threat right off the bat!
An inflatable boat doesn't even present itself as you drive to the point or walk to the point where you hit the water's edge and navigate to your island bugout location. This makes your BOL even less suspect. Those who know you will "know" you don't own a boat and those who see you driving or walking will also "know" you don't have a boat.
If fitting your favorite inflatable boat into a vehicle is out of the question you might even consider caching an inflatable boat! You secret agent you!
Honestly, though, if you have a watertight container to fit your boat in, bury this close to the water's edge and only disturb it when the time comes to get to your bugout island or location.
Navigating waterways over roadways in a disaster can be much more efficient, particularly if you are headed downstream. Perhaps you can position yourself in such a way that the downstream current can slash miles off your bugout route.
10 Inflatable Boats for Fishing or Bugging Out
I have never seen an inflatable boat that carries on your back after it's been blown up! The Packfish by Sea Eagle can be carried around on your back when it is deflated, in a large backpack but it can also be carried FULLY INFLATED on your back, too!
The Packfish is my favorite inflatable boat on this list. It is built for fishermen but is also hyper-efficient. At 7′ long and 3′ wide this boat features plenty of room for you and your gear. There are built-in rod holders and areas for tackle and even a couple drink holders!
The two chamber fill keeps you safe if one pops and you are leaking air.
To me, this is a fisherman's dream boat and would be perfect, not only for those weekend fishing trips but great in an SHTF situation where bugging out and setting nets or fishing traps becomes necessary.
PROS
Dual Air Chamber
Fishing Rod Holder
Compartments for Gear
CONS
If you need a big brother for bigger water you will find that this 12 foot monster pontoon might be the solution for you. This is a larger pontoon style kayak that can carry multiple people.
Featuring 1100 Denier PVC backed with polyester it is one of the stronger designs on the market. 1100 Denier is notably different than the industry standard for quality inflatable boats for fishing at 1000.
The marine plywood bench seating works for two people. This model also comes with oars and drag handles all over the boat. For travel you get a carrying bag and a foot pump for manual inflation.
PROS
Seriously Durable
Great Handling
Fits Two People Comfortably
CONS
No rod holder for fisherman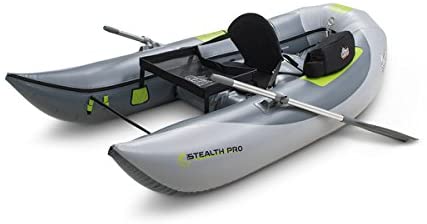 This inflatable boat gives me all kinds of GI Joe vibes. I am about 90% sure I had a toy boat just like this growing up. That counts for something! The outcast is a little less involved compared to our first two choices.
This pontoon-style inflatable boat is reminiscent of those early fly fishing tube boats that came out in the early 2010s. I love the adjustable PVC sleeves that are built for all kinds of accessory add ons like rod holders and anchors.
The spacious low profile design is great for fly fishing in ponds and lakes. You will navigate with fins so you do not wanna venture into big rivers with this kind of boat.
PROS
Sleek, Low Profile Design
Great Fishing Boat
Easy to Add On Accessories
CONS
Not Designed for Fast Water or Currents
This Kayak is all about affordability. If this inflatable boat pursuit seems interesting to you but you are on a tight budget pay close attention to the Intex Explorer and what it has to offer.
This 10′ x 3′ has a 400lb capacity and gives you all kinds of options from navigating a river to fishing back creeks. The adjustable and inflatable seats are one of the most important aspects of comfort in this kayak.
The Intex Explorer also features a bottom fin for improved maneuverability and, two oars and a pump to get your boat on the water in a hurry. The price is unbeatable and would be perfect for OPSEC operations.
PROS
Kayak Style for Speed and Stability
Highly Adjustable for Comfort
Ridiculous Value
CONS
Less Durable Design and Lining
This inflatable pontoon boat has great stability and handles well even in moving water. This model, by Classic Accessories, also features a motor mount so you can put some real power behind this boat. This is a one-person boat but it has everything you need!
With removable storage and over 20 pockets, you can stow all your preps on this inflatable pontoon. When I think of a bugout pontoon, which I have never thought about till now, this is the kind of boat I would want to have at my disposal.
With a rod holder that can be mounted in 6 different positions, you can quickly shift from bugging out to fishing for food in a survival situation.
The aluminum oars are two-piece so they can be broken down for even tighter storage when you are not using or traveling with this boat. The side pockets on this boat even turn into a neat little gear bag. Just an added bonus.
PROS
Increased Stability
Massive Storage Capacity
Motor Mount
CONS
The steel frame could be a problem for tight storage and travel
This aluminum framed dinghy boat is broken down into sections and the inflatable portion comes with a foot pump for on the go inflation. Storage space for this boat in its deflated form is 4'x2'x1′ and gives you an idea of how you can fit it into your bugout plans.
This could be the type of boat you cache, as I mentioned above if space during travel is an issue.
The PVC thermo bonded seams are of the highest level when it comes to inflatables. You also get a 2-year leak free guarantee. When you spend money on an inflatable boat like this, you take the guarantees and you keep companies honest.
Also features a repair kit and oar locks to keep everything safe. It all carries in a large storage bag, as well.
PROS
Aluminum Section Seating
Thermo Bonded Seams
Repair Kit
CONS
On the large side for storage
This no frills, no nonsense boat is another great budget option. Don't assume that means you cannot handle rough waters. This boat has a traditional design, 6 person capacity and grab lines all around the inside.
Just a few days ago we were crossing a bridge over the James River, which is 12ft above flood stage, and we saw two guys and GoPro traversing the rapids in a boat just like this one.
While this is a more affordable option it still comes with some important amenities like rod holders and molded drink holders. There is a smaller three person option that is just over $100 for the ultimate bargain hunter.
PROS
Great Value
Multiple Sizes Available
Fishing Rod Holders
CONS
If we are being precise about the style of these boats this is actually a float tube. However, a float tube is cheaper than a boat and can be very effective over lakes and ponds. These are often powered by the rider with fins.
For fishing the float tube is a dream and with a simple anchor system you can literally sit over cover, in the center of a lake or pond, and just catch fish. It's a great time.
When it comes to bugging out this would lend itself to downstream movements only or traversing a smallish lake. It would be a lot of work and if you had extra gear to shuttle you would be really in for a struggle.
The nice padded seat makes this a comfortable ride and the added bonus is that it packs into a backpack for ease of use. Its also incredibly cost effective.
PROS
Affordable
Great for Fishing
Backpack for Carry
CONS
Tough to Steer
Not Ideal for Travel with Gear
The most affordable boat on this list, the Sevylor Colossus 3 person boat is a solution for about one to two people, if we are trying to achieve anything other than floating. It's an option none the less.
The heavy-duty PVC construction is more durable than a pool float but I wouldn't stake this boat on any rocky or shallow floats. You should stay on top water and stay without hindrance as best as you can.
It comes with a couple oars, oarlocks, double lock valves for easy inflation and a grab line to keep the people on board safe.
PROS
Inexpensive
Grab Line
Easy to Operate
CONS
A premium two seater dingy option that comes with a ton of features, the White Marlin is an inflatable boat for the person who gets out on the water pretty often. This is not the boat you wanna cache in the dirt till SHTF.
Heat welded seams, this PVC design creates a rock solid bottom floor to the boat so that you are standing on something sturdy rather than a airy cushion.
The boat is designed for fresh and salt water. The 1100 Denier PVC is even UV resistant as well as puncture resistant. This boat is built for a motor and designed to plain easily and take punishment. It's a vessel an every weekend vessel to say the least!
This boat can be setup in a matter of 10 minutes but its massive size means that it will take up lots of space in storage. That said it is one of the most legitimate boats on the list.
PROS
Extremely Durable
Massive Size and Storage
True Hard Boat Bottom
CONS
Conclusion
These 10 inflatable boats for fishing and bugging out are all great models that add tremendous benefits to the average survivalist or outdoorsman. For a long time, the ability to get out on the water was reserved for people who had trucks that could pull trailers and the money to upkeep a boat.
As these inflatable boats have hit the market and improved, it has opened doors for people from all walks of life to get out onto open water even if they simply drive a sedan, like me!
Anytime you can find an advantage you should hold onto it with both hands. If owning an inflatable boat will increase your ability to catch fish and feed your family or deliver you safely to a bugout location, it may be a solid investment.
For me, the inflatable boat is a no brainer. For prepping and pleasure there is just something very special about being able to traverse familiar water in a new way. It opens up fishing opportunities but also ignites that flame of exploration within.