This site contains affiliate links. As an Amazon Associate, I earn a commission from qualifying purchases at no extra cost to you. Full Disclosure Here.
When it comes to emergency lighting, flashlights and lanterns rule.  The problem, however, is that they require a power source, be it batteries, propane, or some other type of fuel.  There are candles, of course, but candles do eventually burn out, plus, in some environments and especially around children, candles can represent a safety hazard.
The option of choice, for many, is solar lighting.  Indeed, I have a SunBell that gives off a lot light and is easily recharged, even on a cloudy day.  That marvelous piece of gear comes at a price though.  (In all fairness, the SunBell also charges my phone and other portable devices.)
With that introduction, today I am going to show you how to make your own DIY emergency lights from solar yard lights.  This is not a new concept and many of you are undoubtedly already using these lights yourself.
Before you yawn off though, let me explain that in this DIY, we will be adding a switch to those ubiquitous solar yard lights, so that once the lights are charged up, you can turn them on then off again, thus mitigating setting them out in the sun each day.
How to Make Emergency Lights from Solar Yard Lights
Using inexpensive solar yard lights for emergency lighting inside your home is an easy deal.  Charge them up in the sun, bring them inside, and you have light. The problem, however, is that once the activation tab is pulled on the lights, they have to be put in sunlight each day to ensure that the battery is charged up and ready to go during an emergency. This is not a practical solution.
To get around this, some people do not pull the activation tab until the light is actually needed in an emergency. This essentially is a one time use. Again, not a practical solution.  We are going to solve this conundrum by installing a micro switch that can turn solar lights on or off whenever we want.
To begin with, you are going to need a solar yard light.  There are various makes and models of solar yard lights available.  In this article, I am using a 1 lumen light purchased at Wal-Mart but you can find comparable solar lights just about anywhere, including your local hardware store.
You are also going to need some "Micro Switches".  If you can not find them locally, or from eBay.  When shopping on eBay, search for "On Off Mini Push Button Switch for Electric Torch." They are shipped directly to you from Hong Kong, so allow some lead time to get your micro switches.
Step One
First remove the screws holding the base plate to the solar unit. There are 3 screws on the light shown.
Step Two
Carefully clamp the base plate in a vise. Drill a hole through the base plate, slightly larger than the diameter of the round part of the switch base. A ¼" drill bit was used on the light being modified. It is easier when you first drill a small pilot hole.
Step Three
Attach the micro switch to the base plate. Shoe Goo (good to have in your preps regardless), works very well. A hot glue gun would also work well.
Turn the switch so that one of the leads is as close to the small circuit board as practical. If necessary, trim the glue the manufacture used above the hole as shown so that the switch mounts flat to the base plate.
Step Four
Locate the wire that goes to the negative end of the battery. Cut this wire, leaving enough length to attach the wire coming from the circuit board to the closest terminal of the micro switch. Carefully remove enough of the wire insulation to expose a short length of bare wire.
Step Five
Locate some wire with about the same gauge as the wire cut. Don't worry about the color of the wire as no one will ever see it. Solder about 1" of additional wire to the wire coming from the ground end of the battery. You can insulate the wire splice if you wish with Shoe Goo or other cement.
Next, solder both ends of the cut wire to the micro switch terminals.
Step Six
Now you are ready to test the operation of the micro switch. Pull the actuating tab. The LED light should turn on and off when you toggle the micro switch
Bend the micro switch terminal connected to the battery ground and reposition the wire so that they fit inside of the solar unit. Lastly, place the base plate back on to the solar unit being careful not to allow any of the wires to be placed over the screw holes. Re-install the screws that attach the base plate to the solar unit.  You are done!
Using Your MacGyver'ed Solar Light
When you want to turn your modified solar lights on or off, simply push the micro switch button.
When turned on, you can expect it to provide light for up to eight hours.  Keep in mind, though, that lights having only 1 lumen do not put out a lot of light,  That said, if you place several in a dark room, you can see well enough to easily move about without running into things.  Also, if you turn the lights upside down, they stand up very well
Something to remember is that you will need to turn the light on when you take the light outside to recharge it in the sun. Likewise, turn the light off when you remove it from the sun light. The beauty of this is that when the solar light is not in use, the battery will stay charged for a long time before needing recharging.
Here is one last additional tip. If you have a lot of lights to charge up outside at once, create a charging stand by drilling holes in a board to hold the lights when the bottom of the solar light has been removed.
The Final Word
To be truly prepared, we all need options as well as redundancy.  The beauty of these DIY indoor emergency lights is that they are inexpensive if not downright cheap, and can be used over and over again without reliance on an outside power source.  In addition, although they do need to be charged in the sun, most of the better quality yard lights will also charge up in the shade.  They just need more time.
Before closing, I would like to thank an anonymous reader in Idaho that submitted the idea and concept for this article.  As I tell you often, the readers and fans of Backdoor Survival are the best on the planet!
If you decide to build some of these indoor emergency lights yourself, be sure to check back in and let us know how they worked out for you.
Enjoy your next adventure through common sense and thoughtful preparation!
Gaye
If you enjoyed this article, consider voting for Backdoor Survival daily at Top Prepper Websites!  In addition, SUBSCRIBE to email updates  and receive a free, downloadable copy of my e-book The Emergency Food Buyer's Guide.
Spotlight: A totally new version of  Ron Brown's  best-selling book, The New 2000-Hour Flashlight has been released in both print and eBook format.  This is a complete re-write and although I can't take credit for a lot, I once again did provide input into this new version.
The first edition had 54 photos; this new edition has 128.  Not only that, it shows how to modify various brands of flashlights and not just the Eveready.
Bargain Bin:  Below you will find links to the items related to today's article.
Boston Harbor Non Metal Solar Light: These are great lights, with a 8 hour run time when fully charged.  A variety of solar yard lights are also available at Wal-Mart.
Micro Switches (10 Pieces): These are readily available.
Shoe Goo: Now really, Shoe Goo belongs in every emergency kit. Why did I not tell you about that sooner?  This stuff will repair, boots, shoes, gloves, broken heels and a whole lot more.
Surebonder Mini Dual Temperature Glue Gun: This is nice little glue gun and something else that has lots of uses.
SunBell Solar Lamp:  The SunBell Solar Lamp is a very cool portable lantern that does whole lot more than sit on a tabletop.  I love the fact that it can be used as a task lamp or flashlight and that it can charge my phone.  The fact that it charges my mobile device, too, is a bonus. For more information, read my review SunBell and Little Sun Solar Lamps.
Dorcy LED Wireless Motion Sensor Flood Lite: Don't let the price lead you to think this wireless flood light is wimpy. I have two of these and feel that these lights are worth double the price.  Using D-cell batteries, the Dorcy floodlight will light up a dark room or a dark stairway in an instant.  I can not recommend these enough.
FordEx Group 300lm Mini Cree Led Flashlight:  FAVORITE! Here we go with another flashlight.    It is super mini sized, bright and waterproof.  Plus, it uses a single, standard AA sized battery.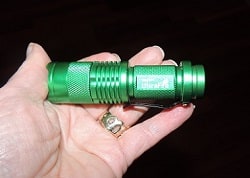 Blocklite Ultra Bright 9V LED Flashlight: I now own six of these little gems. There is a similar flashlight called the Pak-Lite (which is more expensive) but it does not have a high-low switch like this one. These little flashlights just go and go, plus, they make good use of those re-purposed 9V alkaline batteries that you have recharged with your Maximal Power FC999 Universal Battery Charger.
Help support Backdoor Survival. Purchases earn a small commission and for that I thank you!
~~~~~~~~~~~~~~~~~~~~~~~~~~~~~~~~