This site contains affiliate links. As an Amazon Associate, I earn a commission from qualifying purchases at no extra cost to you. Full Disclosure Here.
While soft cheeses do not need to be pressed, or should be pressed only lightly, hard cheeses need to be pressed to expel extra liquid and allow the cheese curds to "knit" together to form a lovely texture.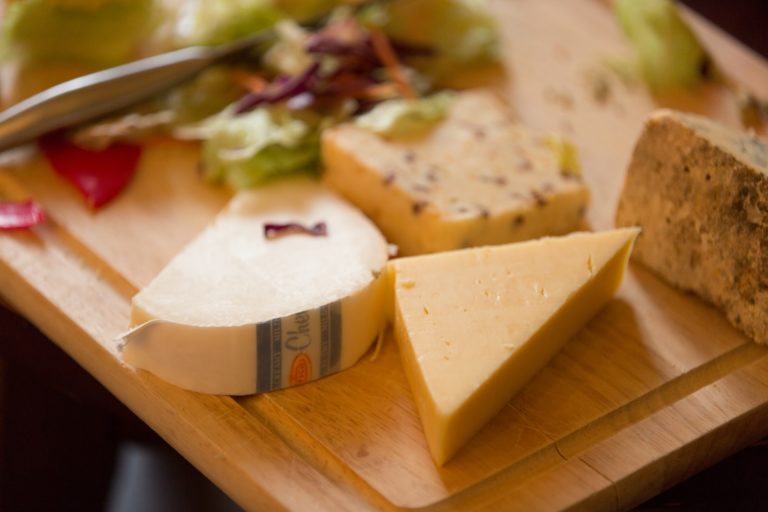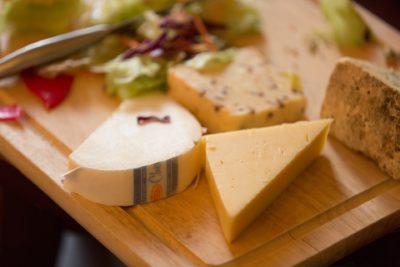 The beginner cheesemaker can avoid getting a press if they want to stick to the soft cheese, but once they are interested in making some cheddar, or any of the other delightful hard cheeses, they have to buy a press.
A press can be a big investment, some selling for almost a grand. Even if you're looking at one of the cheaper models, you want to make sure you're getting the product you want. There are different kinds of presses, different materials, sizes, and weight systems to consider.
Sometimes, the combination of factors you're looking for isn't available on the market (especially if you're looking for low price) so many choose to make their own cheese press, and we'll go over some great ways to accomplish that. But first, let's talk about what makes a good press.
Factors to Consider
There are a few types of cheese presses, but not all are suitable for home cheesemakers.
Dutch cheese presses use a lever and weight to exact force on the cheese.
Wall presses use a lever too, but are installed directly on your wall.
Screw cheese presses apply force down on the cheese from the torque of the handle, and they are less precise than dutch presses.
What I call spring presses have much the same design as screw, but you press down on a bar to apply pressure instead of screwing a handle.
Pneumatic cheese presses are useful for the professional, but we won't cover them here.
Usually when pressing you start with a lighter weight and move to a heavier one, allowing as much fat as possible to remain in the cheese while the clear liquid (whey) trickles away. Thus, a good press also has a drip channel or drip tray, where the whey can be caught.
Different cheeses need different weights, so a good press will come with a set of weights, sometimes measured in psi, so you can change sizes and type of mold to achieve different looks with your cheese. Hard cheese needs to be pressed more. The size of the press will also dictate how large your cheese mold can be. Wall presses usually give you the most flexibility in terms of size.
The press should be easy for you to use and clean. More math is involved with Dutch and Wall style presses than screw presses. Yet, more precise presses have their advantages in quality of final product, especially for the inexperienced. Some presses can be disassembled for cleaning, some are dishwasher friendly, and still others require oiling to seal up the wood.
Speaking of wood, the material your press is made out of is another key factor. While wooden presses can look beautiful, they need more maintenance than other materials, and not all types of wood are safe to use.
Stainless steel is safe and easy to clean, but cools of the cheese faster than other materials, which sometimes matters to very precise cheesemakers. Food-grade plastic is often used as a middle ground between wood and steel, being easy to clean but not as heat conductive as steel.
Perhaps the key part of the cheese press is the follower, the disc put on top on the curds that is pressed down. It must be made of non-reactive material (some woods, stainless steel, some plastics). It has to be sturdy enough to withstand the force of the press, which can get up to 250 pounds on some presses.
The press should also be designed so that the follower remains level. If not, you'll get oddly shaped, or even spoiled cheese.
To re-cap, make sure you consider your potential press:
materials
maximum pressure
pressure measurement system, if there is one
maximum cheese mold size
cost
stability
quality of follower
overall size it will take up in your kitchen
ease of cleaning
prettiness, if you wish
Dutch Presses
This is the most basic offering from New England Cheese Making, made out of maple wood. You will have to assemble the press and be vigilant about cleaning it. It's side supports make it impossible to adjust the press to take more than an 8 inch mold, but the compact design is a bonus for those who don't plan on making larger cheese wheels.
The various notches provide a lot of room to adjust the pressure, but weights are not included with the press. There is room for a whey drainage tray, but you have to purchase one separately or use a baking tray. At the price this is a relatively inexpensive press.
This press is different from the other Dutch designs because is is made entirely of stainless steel. If you don't like the idea of drying and oiling wood, this is a more hygienic option. It's relatively high in terms of price.
An extension kit is available also, which will allow you to press two cheeses at once at a lower price than The Cheesemaker's Dual Dutch press (which is only available by wholesale anyway). This press only takes up to 5 inch molds, and the weight is sold separately. Or, of course, you could use household items as weights. There is no drip tray.
This press is another wooden option, and a step up from New England Cheese's Dutch Press. It is sturdier and able to press more than twice the max weight. The press is more expensive, but with that you get a whey drainage tray, and can purchase the very popular Tomme molds at a reduced cost.
It holds up to a nine inch mold. This is the most reasonable Dutch style press, being a balance between cost and functionality, as long as you're okay with caring for wood. This is our first choice Dutch style press.
Screw Presses
Some cheesemakers are just not going to like screw presses. They are less precise and can take some getting used to if you've been using Dutch style presses.
However, they usually come with more features and can allow for easy adjustments that more advanced cheesemakers will want to make. While some have gauges, allowing for more accuracy, others don't.
This press is made of stainless steel, with a food-safe plastic base, and rubber feet to protect your counter-top. The materials are easy to clean, and the base is made to collect the whey in one spot, though you'll have to add a tray. The screw is nicely sized to help you grip it.
There is no pressure gauge. The rest of the press is small, accepting only a 6 inch cheese wheel, and only applying 100 pounds of pressure. It is a moderately priced press, and the price includes a free cheesecloth. In my opinion, the mix of materials makes for an unattractive look, but that doesn't matter to most.
If you purchase this press directly from Homesteader's Supply it is usually $185, making it a relatively reasonably priced press. The majority of the press is made from old growth maple wood, and treated with cold-pressed coconut oil to protect it.
You can order different woods, and even untreated wood if you prefer to use a different oil (be sure it is a food safe oil). The press also comes with two followers and two hoops. The large hoop is 7 inches tall and 6.5 inches in diameter, which is the max size the press can hold.
There is no whey collection tray. Most find the press beautiful, but some would prefer a press with a pressure gauge, and there have also been reports of the press warping. Still, this is our first choice screw press.
This press is for the home cheesemaker who wants a larger, sturdier press than the Cultures for Health Press, and wants something made entirely of stainless steel, that can be popped into the dishwasher. It is smaller and applies less maximum pressure than the Ultimate Cheesemaker, which is why it's not out first choice.
The maximum pressure is 50 pounds and it will create only a 1.5 pound cheese. It's a cheap press at 129.99, and has unique slots for whey to drain out of. Seven turns of this screw will apply ten pounds of pressure. This is our first choice stainless steel press.
Nasco Stainless Steel Cheese Press
This press stands out among screw presses because it has a pressure indicator. It's also made entirely of stainless steel. Unlike the Whey Station, its main stainless steel competitor, it has rubber feet to protect your counter. But, it is not dishwasher safe.
It's also significantly more expensive, and is smaller at 2 gallons and comes with a four and a half inch mold. Reportedly, the handle is hard to use. Unless pressure gauges matter to you, or rubber feet, we would suggest considering the Whey Station instead, assuming you're set on stainless steel.
The Unique Style of a Spring Press
Over the many centuries humans have been using cheese presses, different names have been used for various presses. I'm using spring press to mean a specific method of securing the force of the press, while others may use spring and screw press interchangeably, or may call any press that uses a spring a spring press.
The difference between screw and spring presses is small. While both press downward on the cheese, with screw presses you push down on a bar and then secure it, whereas all you need to do for screw presses is turn the knob. There are not many commercial options using this design, but spring presses are simple to construct, so many DIY presses are spring presses.
The dual spring on this press makes it more stable than single-spring models and easier to keep level.   The press itself is wood with a follower made of polypropylene (a plastic which is food safe), but you can choose a stainless steel or plastic mold to fit your preference.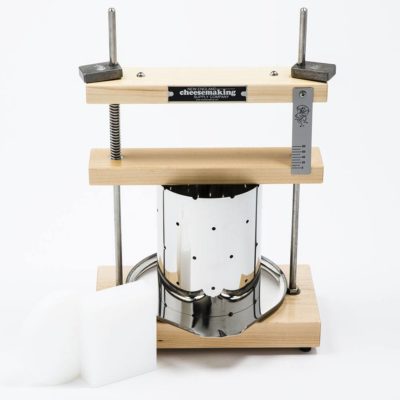 The press is expensive, at 279.95, but comes along with three free cultures, which may make the cost more reasonable to you, depending on whether you wanted those cultures in the first place. You can select a drip try to go with the press, or a mold, in stainless steel or plastic.
It is made in the USA, if you prefer to buy domestic, and has a one year warranty, against manufacturing defects. Overall, we wouldn't recommend this press over our top screw press, but it is a good option if you don't like Dutch
You can find other presses like this online, like this offer specifically made for cheese. But, the style isn't very common. If you want a spring press but don't like New England Cheese Making's version for one reason or another, you may need to make your own.
Wall Presses
A wall press is installed directly on a wall and a level is used to apply force, much like a Dutch style press. The advantage is greater stability, as some dutch presses fall over depending on how much weight you're putting on them.
You'll need to buy or create weights for wall presses. Although, much like with the spring press, this style is uncommon and you'll have to make it yourself if you want one.
These plans are for a large wall-mounted cheese press, which you can make out of wood and a few more specialized pieces. The plans include a sticker that acts as a scale for the carious weights. Some report that the plans are not very clear to them, but for 54.95, you're not taking much of a risk.
The same plans area available from Central Street Farmhouse, for the same price. You can also modify these plans to make a freestanding Dutch style press, as the company details here.
DIY Cheese Press
You can make your own cheese press, but typically they do not give as consistent results as quality purchased presses, depending on your skill. Beginners will be pleased at how cheap and simple many of these designs are, including the 10 dollar homemade cheese press built in the video below. Its mechanism is very simple.
Another version of this press can be found at Self Sustained Living.
If you prefer to use a Dutch Press, the plans found in this forum post are lovely, and create a very stable and fine looking press. It will require more woodworking skill than many other DIY presses.
A DIY spring press that looks very stable is detailed in this video. The family also sells the presses if you would prefer to buy one.
If you are looking for a wall cheese press instead, the version from HandyFace is brilliant and simple.
Of course, I can't have a whole article on home cheesemaking that doesn't mention Gavin Weber, the Cheeseman, whose cheese making videos are informative and widely popular. On his website, Gavin details the DIY screw press he uses to make his cheese.
This man knows his cheese, so his DIY press is likely very robust and would be our first recommendation. He also details other DIY presses in his article, its certainly worth the read.
Getting Started With Cheesemaking
As stated at the beginning of the article, soft cheese making is the way to get started. They are ready to eat quickly and often just require straining through a cheesecloth or yogurt cheese maker. You can use pasteurized milk or raw milk for making cheese. Some people do not recommend using raw milk while others rave about the benefits.
You don't need gallons of milk to get started either. A single gallon will yield several pounds of soft cheese. Yield varies on the type of cheese you are making and the type of milk you are using. Check out this post on how to make yogurt cheese from powdered milk if you want to start off easy. You can also use fresh liquid milk too. 
If you enjoyed this article, consider following our Facebook page.