Editors Note: This is an updated and revised edition for 2019.
Footwear is a critical part of prepping. Without the right shoes, bugging out is not going to be possible. You have to be able to cover some ground and be comfortable while you do it.
Around your place during good times you may need footwear that is going help you get through those times when you got a lot of heavy work to do. Maybe you like to get out on the trail regularly and need a boot that offers good support. All of these are reasons why boots should be a major consideration for any prepper.
Before we talk about some of the boots to consider, let's go over a few things to consider when deciding which one is right for you. It is also good to consider having several pair of boots since footwear can become hard to find during a SHTF scenario.
It may seem like their are shoes everywhere you look but a lot of them are worthless for anything but the most casual use. During a major emergency finding a size that even comes close to working for you may be close to impossible.
Finding the right boot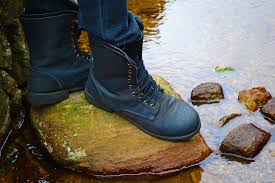 Obviously there are a ton of great boots and companies that I did not include here. Custom made boots like those made by White are great and they can be refurbished for extremely long wear but they are outside of a lot of people's budget. In the long term, you may be better off buying a more expensive boot that lasts longer but you also cannot wait around and not have what you need.
Hiking Boots Versus Work Boots
Some people really prefer hiking boots for hitting the trail but I am so used to logging boots that I use them for hiking. It seems that hiking boots are not made to be as thick or tough as work boots so if you are going for major durability and foot protection then go with a heavy leather work boot. This is a generalization of course. There probably are some hiking boots that are better than some cheaper work boots.
Work boots or logging boots weigh more but you will get used to it in little time. Heavier boots can help with physical fitness goals as well. Slogging along in boots that weigh 5-7 lbs makes a difference.
Hiking boots are better at allowing your feet to have good ventilation. Under a lot of circumstances, they are no doubt a lot more comfortable. Some boots fall a little in between a hiking boot and a work boot in how they are made.
The choice is ultimately yours of course. The main things you need to consider include will you be comfortable walking for long distances in them and will they protect your feet and keep them dry.
Ankle Support
Taller boots are more supportive. While low top shoes may be your go-to, when it comes to boots, those that are in the 8-inch height range are a good bet. If you are shorter then a 6-inch boot may be alright too. Some prefer the extra support of a 10-12 inch boot but they usually cost more and are harder to find. 6 and 8-inch boots are the most common.
If you have a hard time finding the right size, make sure to order from a retailer that offers easy no hassle returns.
Plenty of other major online retailers learned quickly that when it comes to offering shoes for sale, you better have a good return policy. Try to order shoes soon enough that you allow yourself time to get a replacement if you really need them right then.
Consider finding a brand you really like and know your size in and sticking to it
There is something to be said for having an old reliable brand. This allows you to be able to keep an eye out for major markdowns on the brand you like. Sometimes you can find your size at a remarkable discount.
When you have a brand you are comfortable with it takes the hassle out of future boot buying. I am not saying you should not be on the lookout for a bargain in another brand at times, because you should. There are some great bargains out there.
American Versus Foreign Made
There is something to be said for American made boots if you can find them for a reasonable cost. Sometimes the foreign-made version of the exact same boot and brand is so much less that it is hard to turn down. I like to buy the American made Carolina boots when I find a factory sale and they are almost the same price as the foreign-made version.
As far as I can tell with this brand, the domestic boots are made with a higher level of durability. Is it worth almost twice as much? I am not so sure about that but keeping an eye out for a bargain when it comes along is not a bad idea.
Climate
The right boots for me living on a mountain in the South are uninsulated. If it gets cold, some thick socks are all that is needed. Sometimes I will bring out the snow boots for sledding but generally an uninsulated boot is the way to go in a warmer climate year round.
If you live in a place where there are major temperature swings between Summer and Winter then you are going to need several pairs of boots, one insulated and one that is not. Having the wrong level of insulation can make it miserable or impossible to wear your boots.
Terrain
The terrain where you live is an important consideration when choosing boots. I live on a mountain and all around me are mountains. My chosen boot needs to be able to handle a lot of uneven terrain, rocks, etc. If you live where it is flat and not a lot of rocks then you might want something that is lighter weight or not made of thick leather.
Some preppers may also have concerns about snakes when bugging out so snake proof boots could be the boot of choice.
Size Up
Add a half size for thick socks and maybe even a full size if you have heavy duty thick insoles you want to use.
This may be something you are used to doing anyway but you really need to account for some extra needed space. Remember that some boots do stretch out considerably over time. A pair of thick leather boots after being oiled and worn for a week feels a lot different than when you first put them on.
Hunting boots are often forgotten resources for quality all-terrain boots
When it comes to comfort and covering ground, a lot of people are happy with hunting boots. When you are looking for a quality boot for working around your place, hiking, or bugging out, there is a good chance you will be happy with the durability and support of a hunting boot.
Realize that sometimes companies change over the years
I have noticed it myself and also had the fact pointed out to me by readers that some companies are not what they once were. This often has to do with where goods are manufactured or if the company was bought out by another. Sometimes to cut costs and keep prices the same, the quality can go down. If you bought a brand 20 years ago and were happy with it then be aware that it might not be what you get in today's world.
Wearing good boots in crowded situations helps increase your chances of getting away without injuries if you have to move fast or there is unrest.
Call me paranoid or whatever you want but being raised by a Vietnam vet with PTSD has resulted in my being a little funny about crowded spaces and escape routes. On the rare occasion, I go to a music event or anything crowded you can bet that if I can at all possible get away with it I will have on boots or footwear that I can high tail it out of there in. I also try to pay attention to exits. Also if you are at an event it is not worth getting your feet stomped just to wear fun and attractive shoes.
Carolina
Carolina Women's Logger, my go-to boot for the last 14 years
This has become our go-to boot for many years. For starters, they are low to moderately priced for a quality boot and made of real leather that is thick enough to withstand a lot of damage. We do a lot of outside work here and basically live in our boots so we get 6 months to 1 year out of a pair and always use gel work insoles in them for extra support.
The time frame I am giving is dependent on what projects we have going and how much walking we have to do. My husband Matt and I are very hard on shoes and basically never wear anything but boots.
Carolina also makes Logger boots in women's sizes which can be a challenge to find at a reasonable cost. I stock up on these boots anytime there is a sale. Usually, I can get them for $75-$110 per pair. I would say their sizing runs about average.
Ladies buying boots should consider buying men's to get a good deal
If you are a woman you can sometimes do well by getting the men's version on sale but they do tend to be a bit wider than a woman's boot so that is something to be aware of. An insole can take care of most size issues.
Sometimes men's boots are available as small as a size 4 so even women with small to average feet are not always left out when it comes to finding men's boots on sale. Usually, men's boots sizing is 2 sizes larger than women's so if you wear a size 10 women's you would get a size 8 men's.
This is another company that has both foreign and domestically made boots. All of the Georgia boots my husband and I have owned over the years have been good quality.
This company has been around for 50 years and during that time they have established quite a following of loyal customers. Prices are in the moderate range at $75-$220 depending on the exact style you want.
They are sold a lot of places so sales are not uncommon. People are picky with their footwear, especially if they do a lot on their feet.
Boots are warrantied for a year after you purchase so if the sole pulls apart two months in, you won't have any problems exchanging. It is honestly pretty rare for someone to be completely dissatisfied with this brand.
This brand is popular with hunters, laborers, and hikers alike but a lot of people know them for their hunting boots. They have a good warranty and are moderately priced. The range of styles and sizes is large so preppers have a lot to choose from.
I have bought Danner's before and been quite happy with them. They are durable, true to size, and they have a very loyal following of customers with some refusing to wear anything but Danner when it comes to work or hunting boots.
They are still mostly made in Portland, Oregon and you get an outstanding warranty and customer service. There may be a few designs that are made overseas.
Some Columbia boots are better than others. Their rubber rain boots we were not impressed with. Hiking boots still seem to be of higher quality and they are readily available from a lot of online stores and local outfitters.
LL Bean
I usually cannot keep a pair of hiking boots for a year because I wind up doing a lot of digging or kicking at things around the farm and vineyard and that destroys them. I bought a pair of LL Bean Trail Model Hikers on clearance for $60 2 years ago and they are still going strong even though I have abused them quite badly.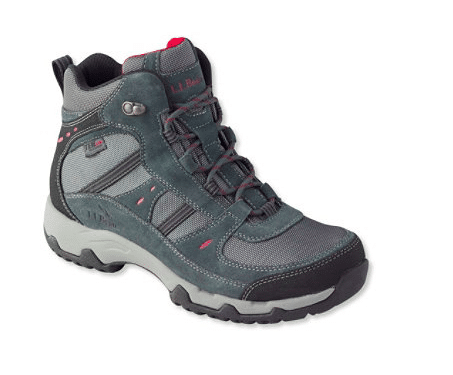 There are a few loose stitches but I still have the original boot laces in them even which is amazing because with my logging boots I go through several pairs of laces in a year. The loose stitch is from digging of course and I can repair it. If you are not picky about colors, you can get some fabulous deals shopping LL Bean Clearance and out of season.
If you are ever unhappy with your boots, LL Bean has a return or replacement policy that is second to none. For cold weather boots, they are a great choice as well, with some of their boots still being made in Maine and at a lower price than you would expect.
Budget Boots
I bought 4 pair of these for very cheap per pair. While they are not as good as the Carolina's they were excellent back up boots and good for lighter tasks.
I like Sketcher shoes but a lot of them are made for a more casual shoe wearer than I am. For the money and as a backup boot they are worth keeping a watch out for.
Hot Climate Boots
The Vietnam era jungle boot is a popular choice for hot climates. These boots are very affordable and make a great back up boot even if they are not your main one. If you need an inexpensive summer boot then this is a reasonable choice.
These are made of lighter colored materials so if you don't care for the black and green Vietnam jungle boots then these are an excellent alternative. I have found these for $15-$20 a pair at flea markets in the past.
What boots do you keep on hand? Are there any brands that you have had a bad experience with? How about letting us know what your favorite go-to boot is and why?
Author Bio:
Samantha Biggers lives on a mountain in North Carolina with her husband and a pack of loyal hounds in a house her husband and she built themselves. When not writing she is working in their vineyard, raising Shetland sheep, or helping her husband with whatever the farm and vineyard can throw at them. 
If you enjoyed this article, consider following our Facebook page.