Samantha lives on a mountain in North Carolina with her husband, Matthew, in a house they built. They have a small steep slope vineyard, raise sheep, and grow gourmet mushrooms. Since 2017 she has been proud to write for Backdoor Survival. 
 Samantha learned the foundation of preparedness on the banks of the Skagit River in the North Cascades of Washington State while being raised by a single father who saw heavy combat in Vietnam during the Tet Offensive. At 16 she moved with her dad to his home state of North Carolina where she worked on some farm projects before attending Warren Wilson College and graduating with a degree in Environmental Studies with an emphasis in Sustainable Forestry. After college, she and her future husband spend a few years in Ketchikan, Alaska before returning to North Carolina and moving into a small 1970s Holiday Rambler camper on 11 acres of family land given to her by her father. This is when the adventure of building a house and farming began! Over the years her articles have appeared in various homesteading magazines such as GRIT, Back Home, Backwoods Home, and Countryside and Small Stock Journal. Her writing can also be found on Lew Rockwell and The Organic Prepper.
She also maintains a personal blog. Samantha Biggers: Survival and Knowledge For Uncertain Times. 
 Her husband, Matthew Biggers takes all the original pictures used in her articles and occasionally writes a few himself!
While writing for Backdoor Survival, Samantha became friends with the original founder, Gaye Levy. They discovered they had a lot in common, including being born and raised in the same area.  They talk often about prepping and life in general.  Although Gaye has moved on to writing and managing her site, Strategic Living, she continues to offer more support than she realizes! Gaye no longer writes or owns Backdoor Survival but you can find many of her posts still on the site today.
Education:
Samantha was homeschooled starting in the 7th grade. After graduating from Freedom Christian Academy, a through the mail homeschool based in Kentucky, she was accepted and attended Warren Wilson College located in beautiful Swannanoa, NC. Warren Wilson is a work college with only 800 students. While there she worked on a variety of work crews but spent the most time on the Natural Resources Crew (NRC). The crew was responsible for maintaining many miles of trails, running an on-site sawmill, providing the school and faculty with firewood, and managing 650 acres of Appalachian forest. Other duties included growing and selling Shiitake mushrooms grown on logs harvested from the college forest.
She graduated from Warren Wilson College in 2005 with a Bachelors Degree in Environmental Studies with a Concentration in Sustainable Forestry.
Interviews:
Homesteading and Preparedness With Samantha Biggers of Backdoor Survival, The Prepper Website Podcast
An Inside Look At Bulletproof Backpacks, ABC Amarillo
How To Prepare Your Emergency Survival Kit, Healthline
Articles For Other Publications:
Forest Management For The Farm, GRIT Magazine January/February 2013
Raising Dairy Calves For Meat, Countryside and Small Stock Journal
Canning Chickens For The Pantry, Backwoods Home Magazine, May/June 2012
Samantha can be reached at [email protected].
— 
Gaye Levy, Founder of Backdoor Survival
When I first started Backdoor Survival in 2010, my goal was two-fold First, I wanted to share my angst and concern about our deteriorating economy and its impact on ordinary, middle-class folks such as myself.  And second, I wanted to become a Prepper of the highest order and to share what I was learning (and am still learning) along the way.
I believe I have succeeded.
Those of you that have been around for awhile know that I speak my mind and sometimes I rant.  That said, I have a few things to pass on.
First, Backdoor Survival is now and will always be free.  You might say that this is my way to giving back to our human community.  I do my best to share what I know in the areas of self-sufficiency, prepping, food storage, cooking, health, freedom and more.  Needless to say, this blog has become my passion and although I no longer work in the 9-5 world, writing and maintaining this website has become a full-time avocation.
Second, I will never tell you what to do, just offer my opinion.  It is your responsibility to choose your own path and to make the decisions that are right for you and your family.  From time to time I may offer opinions that you may disagree with.  That's perfectly okay and I respect that.  Disagreeing demonstrates that you are a thinking person, and I have the utmost respect for that.
Third, you will never ever find ripped-off content or ripped-off photos on Backdoor Survival.  I do not want to dwell on this but having been on the ripped-off side of the equation, I will never do that to someone else.  That said, I welcome others to post an excerpt of my material as long as a link back to my original article is included.
Fourth, I mean it.  This site is now and will always be free.  No donations requested nor accepted.  Of course, I do appreciate the commissions I earn from some of the links on my site, including Amazon
, Spark Naturals, and Emergency Essentials. The purchases you make do not cost a penny more than you would pay elsewhere and the earnings pay for my overhead and other costs with a bit left over to enjoy life.
About me personally?
I grew up and attended school in the Greater Seattle area. After spending many years as an executive in the software industry, I started a specialized accounting practice offering contract CFO work to emerging high tech and service industries. Awhile back I abandoned city life and moved to a serenely beautiful rural area on on San Juan Island in NW Washington State.
These days I call Arizona home and am actively pursuing the purchase of a mountain retreat along the Mogollon Rim.
As you may have noticed, I am a bit of a glamourista but hope you do not hold that against. me.  My bug out bag includes makeup and other items to make me look and feel good if SHTF.  Please do not criticize this choice that I have made.
I have been married to Shelly Ayon (aka the Survival Husband) since 1975.  We met on a blind date and were engaged two days later.  Tucker the Awesome Wonder Dog is an important member of my family as is my brother Steve and his family, including Karen, Zachary, Allison, and Andy.
I am blessed in many ways but mostly I am blessed by the readers who stop by regularly to read what I have to say.
Thank you again for your loyalty to Backdoor Survival!
. . . Gaye Levy
PS:  Still curious?  Read "Why Backdoor Survival?" for even more information.
James is a freelance writer and podcaster in the survival and preparedness niche. He lives in Virginia with his two sons, wife Michelle and his Pitbulls (Lola, Bowser, and Link). James works with a roster of top clients in the prepping and survival world who rely on him for writing services. The author of 6 self-published books on regional cooking, prepping and dystopian fiction. James is also the owner of The Prepper Broadcasting Network. The network creates 14 pieces of audio content on preparedness per week between 5 hosts.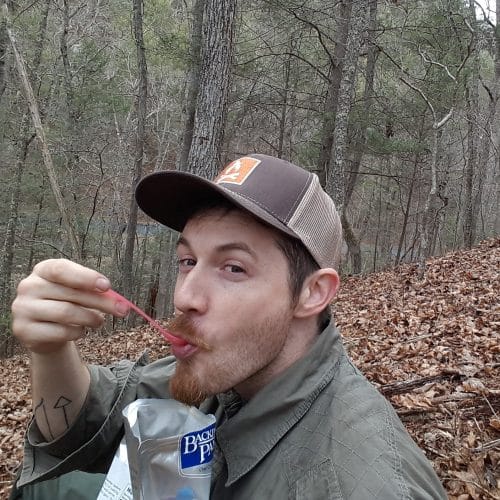 David Stillwell is a lifelong naturalist with a background in healthcare and biology who lives in the heart of wildfire territory in Northern California. Prepping for him is a way of life and necessary on a daily basis. He focuses on food production and agriculture and grows 80% of what he consumes.
Scott is a journalist who has written for dozens of sites, including Yahoo Autos, Hooniverse, GT Spirit, The Mustang Source, and more. Scott's website and YouTube channel are popular automotive destinations. He also enjoys writing about a wide range of outdoor topics.