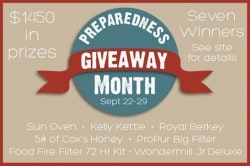 As I have mentioned before, I am part of a small group of bloggers that have formed an alliance as "The Prepared Bloggers".  I am proud to be a part of this group because they represent the best of the best.  No slackers or cut-and-paste bloggers here!
In honor of Preparedness Month, The Prepared Bloggers are proud to present a Preparedness Month Mega giveaway. And by mega, I mean huge.  In partnership with six great companies, we have rounded up seven great prizes for seven different winners.
The Preparedness Month Giveaway Prizes
1 Royal Berkey System–From LPC Survival–This system is perfect for 2-6 people, filtering 3.25 gallons in about 2 hours.
. . . Read More