This site contains affiliate links. As an Amazon Associate, I earn a commission from qualifying purchases at no extra cost to you. Full Disclosure Here.
When it comes to emergency lighting, I am hooked on redundancy.  In my desk alone, I have at least six flashlights, probably more.  Talk about overkill.  On the other hand, as much as I love flashlights, when the batteries are dead, that's it.  It is time to get out the recharger or pop in some new AAs.
Solar lighting is also an option and I have a number of solar lights as well.  The problem is they require sun.  Granted, many will charge up when it is overcast, but that takes time. Sun is an iffy thing during Pacific Northwest Fall and Winter so solar charging can take up to 10 hours and sometimes longer.
Imagine emergency lighting that requires no batteries and no sunlight.  Today I introduce you to the UV PAQLITE line of emergency lighting and especially to their new ORB, a glow stick/flashlight combo that fits on your key chain. In addition, I have a UV PAQLITE gift set valued at over $80 to give away to one lucky reader.
The ORB from UV Paqlite
Because I think it is the coolest thing ever, I am going to start with the ORB.
As you can see in the photo, the ORB is quite small; perfect to clip to a keychain.  The neat thing about it is that it is both a glow stick, requiring no power, and a flashlight.  The flashlight does require some power but that is easily provided by charging it up via any standard USB port using the included cable or one that you already own.
The ORB has three modes: flashlight mode, hybrid mode, and sensor mode.  When in flashlight mode, the flashlight stays on. In hybrid mode, the ORB sends out a short burst of light every two minutes.  This keeps the glow stick side super bright. Sensor mode is just that, it activates the hybrid mode by sensor only when it is dark.  I like to call this the "set it and forget it" mode.  It works great.
I have been testing the ORB for awhile, clicking the ON switch on and off over and over again and continues to work flawlessly.  No flaky switch mechanism here.  The USB port is hidden under a little door but is easily accessible.  A red light stays on during the charging process then turns green when fully charged.
As far as longevity, according to the company, in hybrid mode, the internal lithium ion rechargeable battery will run 100 hours on a single charge.  Alas, I have not had it on for that long to test this claim.
Why do I like the ORB?  Besides it's cool form factor that is?  There are 3 reasons.
1.  As much as I love my glow sticks and consider them an emergency lighting essential, using them day to day for non-emergency purposes can get pricey.  With the ORB, I have a forever source of light. When the internal battery runs down, I can charge it back up using my computer, a wall charger, or even one of my many solar chargers including my favorite Sunferno, Sunjack, or RavPower chargers.

2.  At night, while taking evening hikes through the woods, it can get very dark.  The ORB is small enough and portable enough to clip onto my pack or even onto Tucker's leash, lighting my way without my being concerned about batteries or a charged up solar device.

3.  It's a flashlight!  Need I say more?
The UV Paqlite
As much as I adore the ORB, the mainstay of the UV Paqlite product line is the UV PAQLITE itself.  Many of you have mentioned the Paqlite in your comments and rave about them.  So what is the UV Paqlite?
In my own words, it is a bunch of special light-absorbing crystals encased in a heavy vacuum sealed bag that can be rolled, stuffed, or stashed just about anywhere.  It comes with an attached keychain so you can hang it up, and it gives out enough light to see in the dark.  Not enough to do any serious reading, mind you, but definitely enough light to avoid being in pitch black darkness.
For my own use, I added a zip tie to use in lieu of the keychain but that is a matter of personal preference.
The crystals in the UV Paqlite charge in just one minute of sunlight or 5 to 10 minutes of ambient light.  I tested my samples both ways and the results were the same.  In darkness, they definitely produce a soft glow that stays viable for about 6 hours.  Keep in mind that the website indicates they dim after about 10 hours but I found they dimmed sooner than that.  Your mileage may vary.
For a more technical discussion of the why the earth crystals in the UV PAQLITE are unique and how exactly they work, visit this page on the UV Paqlite website.
Other Goodies
There are an number of other UV Paqlite goodies available.  All of them provide emergency lighting without batteries.
There are reusable glow sticks in various sizes, nightlights, and a necklace.  The necklace would be great for kids don't you think?
The Giveaway
To enter the giveaway, you need to utilize the Rafflecopter form below.  Select one or more of the options after signing in using your email account or Facebook, the choice is yours.  The best way to start is by clicking on "Free Entry for Everyone".  After that, each option you select represents an additional entry.  There are a number of different options so pick and choose or select them all.
The deadline is 6:00 PM Pacific next Tuesday with the winner notified by email and announced on the Rafflecopter in the article.  Please note that the winner must claim their prize within 48 hours or an alternate will be selected.
The Final Word
I am constantly amazed by the strides that have been achieved in the area of emergency lighting.  There are now a multitude of options available included chemical lighting, solar lighting, USB powered lighting, and now, the UV PAQLITE using photo luminescent crystals.  I especially like the ORB because of its rechargeable flashlight capability.
Although these light sources will not replace the bright, sustaining light of a Coleman lantern, they can be a valuable addition to the emergency kit.
Enjoy your next adventure through common sense and thoughtful preparation!
Gaye
If you enjoyed this article, consider voting for Backdoor Survival daily at Top Prepper Websites!  In addition, SUBSCRIBE to email updates  and receive a free, downloadable copy of my e-book The Emergency Food Buyer's Guide.
Below you will find the items related to today's article and also to some of my favorite solar items.
UV PAQLITE:  A selection of UB Paqlite products are also available.  Check out the reusable glow sticks.
Non-Electric Lighting Series:  Ron Brown's series on non-electric lighting should be in every prepper library.  Most of the books are only 99 cents each in eBook format.  Also, see The Amazing 2000-Hour Flashlight.
Coleman MicroPacker Compact Battery Lantern:  I absolutely love this little lantern!  It folds down to nothing and the batteries last forever.  I have yet to change them since I purchased the lantern a year ago.
Sunferno Flintstone Portable Solar Panel with Rechargeable Battery Pack:  This study solar power pack is lightweight and small enough to be used in an EDC kit.  I especially like that it has 2 USB ports.
RAVPower 15W Solar Charger with Dual USB Ports: This compact, three panel, solar charger will charge two devices at once, including tablets, smartphones, Kindles, and even AA/AAA battery chargers.  For more information, read: Gear Review: RAVPower 15W Solar Charger with Dual USB Ports.
SunJack USB Battery Charger for AA/AAA Ni-Mh and Ni-Cd Batteries:  Keep your AA or AAA battery powered devices fully charged anywhere. The SunJack USB battery charger charges your AA/AAA Ni-Mh/Ni-Cd batteries from any stable 5V USB port or power bank.  It will charge fully drained batteries in about 5 hours.
SunJack Waterproof LightStick: The versatile SunJack Lightstick is impressive for its compact form factor and extremely durable, waterproof casing.  In addition to providing portable lighting, it will charge 3 USB devices on a single charge.
Maximal Power FC999 Universal Battery Charger: This nicely built charger will charge AA, AAA, C, D, N, 9V, Ni-MH, Ni-CD, and Alkaline batteries. It has an LED display so that when you first put a battery in the charging bay, you know whether it is viable for charging or simply bad and ready to go back to the recycle box. See How to Recharge Alkaline Batteries.
Help support Backdoor Survival. Purchases earn a small commission and for that I thank you!
~~~~~~~~~~~~~~~~~~~~~~~~~~~~~~~~
Essential Oils for the First Aid Kit
Consider adding an assortment of health and wellness related essential oils to your first aid kit.  At a minimum, include melaleuca (tea tree), lavender, oregano, peppermint, rosemary, and clove oils.  At a cost of less than $45, these six essential oils will serve you well in a wide variety of first aid and emergency situations.
You can read about these and other healing essential oils in 20 All Purpose Remedies Using Essential Oils or other articles on this archive page: Interested in Learning About Essential Oils.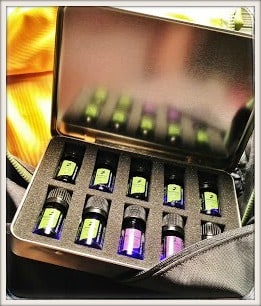 For an even broader selection of oils consider this Spark Naturals Health and Wellness Kit which includes a total of 10 oils and blends, nicely packaged on a tin that is perfect for your first aid kit.  And note that with any purchase from Spark Naturals you will enjoy a 10% discount by using code BACKDOORSURVIVAL at checkout.